Sunday, May 23 – Ajaccio, Corsica
We woke up to another beautiful morning, and were already docked in Ajaccio.
Ajaccio is the capital of Corsica, and is located on the west coast of the
island. The name is pronounced in several different ways, depending on who
you talk to – even our guide said it two different ways! Ah-JAH-chee-oh was
how it was pronounced on ship-wide announcements, but our guide called it
either Aye-YA-cho or Aye-JAX-yo.
We didn't have an early tour, plus it was a short one, so we were looking
forward to a day of relaxing a little bit more, since the previous two days
(Rome and Florence) had been SO long.
Our tour was called "Country Train and Snack" – it took us up into the
mountains to Col du Cricheto, then we rode a train to an overlook of
Lake Tolla, followed by a snack of local types of sweets.
Our guide was Malika, a native of Corsica, who apologized for her poor
English, but we thought she did just fine. She was very nice and we
enjoyed her company. We got on the bus and drove about 45 minutes, first
south along the coast, enjoying some lovely views of beaches and coastline,
and then we turned east into the mountains. I had no idea that Corsica had
mountains – in the northern part there is one about 9,000 feet high! There's
places they can ski during the winter. We could still see snow on some of
the higher peaks.
The drive itself was beautiful – so many green fields and trees and lots and
lots of wildflowers – and I love flowers.
We stopped at a little restaurant at Col du Cricheto, which is where the
"train" was. The train was actually just a tram with the front car made up
to look like a train engine.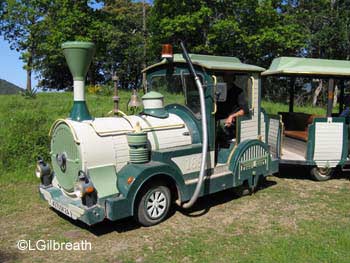 After a quick restroom stop we got on board,and it took us up a road about a mile or so, to a point where we could look over on Lake Tolla. Malika told us this is actually a man-made lake, and used to generate hydroelectric power.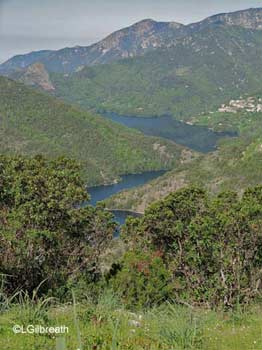 We had about 15 minutes to wander around up there. I enjoyed seeing and
taking pictures of many different kinds of wildflowers that were new to me
and very different from what I've seen in the U.S.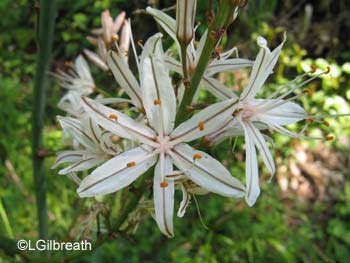 Malika pointed out the chestnut trees to us, and the chestnut pods that
were all over the ground. The Corsicans produce flour from the chestnuts
and use it in cakes, cookies, bread, etc.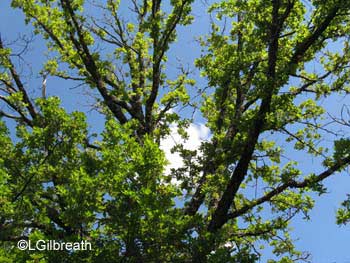 Once we arrived back at the bottom we had our snack – there were a couple
of kinds of sweet breads and two kinds of cookies, all made with chestnut
flour. The canellettas, which were like a shortbread cookie, were
especially good. They also had carafes of a wonderful red wine – it was
just a little bit sweet and paired very well with our snack. (There was
bottled water and juice available also.)
The drive back was just as pleasant as the drive up – actually maybe a
little better since the light on the mountains was better. (I'll leave out
the part about the baby in the seat behind us that screamed for about 15
minutes – the parents really tried to quiet him down, but it was just one
of those things.)
We were back at the ship by about noon. We went back aboard and grabbed a
quick lunch, and then went out to wander around the city. Unfortunately it
was Sunday, so lots of things were closed – including the tourist
information kiosk. I was hoping to get a map. We wandered around the
harbor and out to the sea wall. You can see what a beautiful day it was!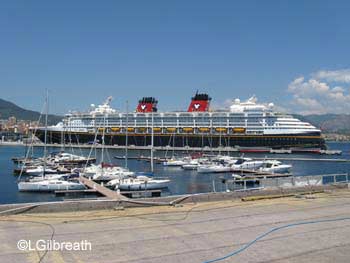 Since we didn't have a map we wandered around – hoping to find the
Maison Napoleon (Napoleon was born on Corsica), but didn't find it,
though we found a lovely square that had a statue of Napoleon and his four
brothers. Did a little souvenir shopping, too. Very few people on Corsica
seem to speak English, unlike in most of the other places that we have
visited, and neither of us speaks French beyond "merci", "bonjour" and "au
revoir".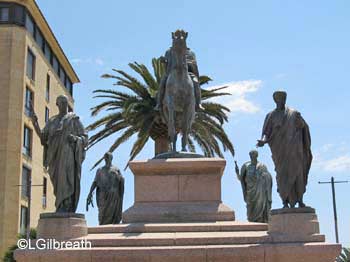 We went back to the ship around 4:00, and the ship sailed just a little
after 5:00.
Of all the places we have visited on this cruise, this is the one that I
really fell in love with, and would most want to come back to. For a
relatively small island it had a wide variety of different terrain from the
beaches to the rolling hills to the mountains. There's a large national
park in the middle of the island – Malika was telling us that there are
multiple hiking trails that go across it, with huts to stay in along the
way. Everything from a two week trek that that goes diagonally across the
island to three to seven day hikes that cross at other narrower places.
Though I'd definitely have to learn some French before returning here –
it would be very difficult otherwise. And you don't want to be on Corsica
in July and August when apparently the highs approach 120!!! Whew. But
it was absolutely gorgeous at this time of year. Have I mentioned the
flowers??? 🙂
Dinner tonight was Flavors of the Mediterranean. The appetizers
were really good, though I was disappointed in what I selected for my
entree – there were several others that also looked good. Dessert was a
flourless chocolate cake that was very good, though lighter and moister
than a lot of them are – I think there was some cheating going on. 🙂 Or
maybe just some Disney magic in the kitchen.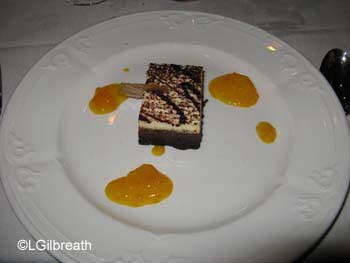 Tonight's towel creation was a rabbit. Looks like a happenin' hare wearing
the sunglasses, doesn't he? 🙂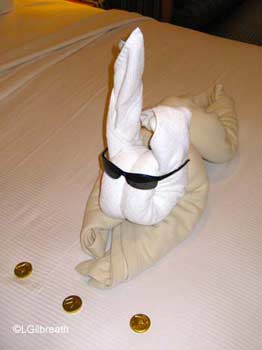 It was really a wonderful day!
Tomorrow should be another "easy" day – we'll be in Villefranche, and our
tour isn't until 2:00, so we have all morning to relax or do whatever.