Monday, May 24 – Villefranche, France
Actually it's Villefranche-sur-Mer, if you want to get technical about it.
Pronounced Vill-eh-FRAHNSH, or VEEL-frahnsh, depending on who you talk to.
Another absolutely beautiful morning – "picture-perfect", as Brent, our
Cruise Director, is so fond of saying (they've been giving him a bad time
about that, apparently). But it's true – we have been so fortunate with
the weather on this cruise!
I got up a little before 7:00 and went to do some laundry before the
laundry room got busy. Went out and walked on deck while waiting for the
washing machine to finish. Jane and Guy, whom we had met at the DVC event
on our first at sea day, were there doing laundry, too, so we chatted for a
while – they were on the same tour this afternoon that we were on. Really
nice people.
As usual, the washing cycle was fast, but drying the laundry took more than
twice the time – they really need to have more dryers than washers. That's
one of my few complaints about this ship – they need more laundry rooms.
Jane and Guy told me they waited four *hours* to do laundry one evening
because things were so backed up. Yikes.
After the laundry was finally done Lee and I went to Lumiere's for breakfast.
Similar menu to what we'd had the other morning. I opted for fruit,
yogurt, and toast, while Lee had the Lumiere's Candle, which included
French Toast, a Belgian Waffle, and Buttermilk Pancake.
Villefranche was another port where we had to use tenders to actually reach
the pier. We wanted to go into town and wander around before our tour, but
would've liked to return to the ship for a little while before our tour –
but tendering made that very difficult. We decided to go into town but
take everything (like our tour tickets) with us just in case we stayed on
shore that whole time.
Once we reached Villefranche we got a map at the information desk which had
a walking tour of Villefranche on it. The map was in four different
languages, including English – it was just about the only thing that we saw
in English all day! Many other signs were in French, Italian, and maybe
Spanish, but not English.
The tour took us to a couple of churches, including St. Michael's, which is
another church in the Baroque style.
The instructions on the map weren't very detailed, so we ended up going
down to the beach when we didn't need to. Yikes, the beaches here are
covered with pebbles and not sand at all – that didn't look very
comfortable! But there were lots of people out there. It was a Bank
Holiday in France, which meant that most people were off work and school –
and also meant that a lot of the shops were closed and bus and train
transportation were running on a much more limited schedule.
Eventually we got back on the "correct" route and went over to La
Citadelle, which is the old fortress. Now it's got museums (closed for the
holiday), the town hall, and police headquarters.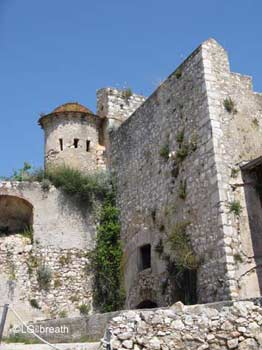 There were some beautiful gardens there, too.
It was about noon by then, but we hadn't finished the walking tour – we
either had to go back to the ship for a quick lunch, or finish the tour and
find something in town – we decided to do that, and avoid two more trips on
the tender. So we walked over to the Port de la Darse, though there
wasn't really much to see there. It was a nice walk along the coastal path
until we got to the actual marina area, and there it was all docks and
small shipyards and fairly industrial. There was another rocky beach there
that was quite popular, though.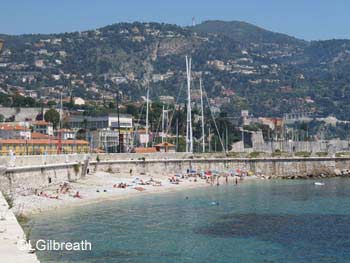 Back in the main part of town we found a small boulangerie along Rue du
Poilu and bought a couple of sandwiches for 4 euros each. On wonderful
French bread – they were really tasty. Our tour had previously taken us to
a very nice plaza with some benches and a fountain and trees and so we went
there to eat our lunch. We still had about an hour before our tour – Lee
got some banana (yuck!) gelato and we sat on the wall by the water for a
while.
Jane and Guy were also on our tour and we met up with them – they managed
to get us the four seats up front on top of our double decker bus which was
wonderful – we had the best view of the scenery from there since we could
see forwards and to the side!
On the ship they had advertised this tour as "Nice and easy, wine and
cheesey" – it was Eze (Ehz) and Nice (Niece) with a wine and cheese tasting
in Nice. It started at about 2:15. We actually had to drive into Nice to
get to the high road that would take us over to Eze. Eze was a walled
medieval city, built when the Moors started invading the local area.
We had to walk up a lot of steps to get there, and even within the city there
were steps leading to small shops and the upper levels of the place. All
built of stone. Very picturesque. We only had about 20 minutes of free
time, unfortunately – so no time to get all the way around the city or do
any shopping – and there were lots of interesting-looking shops that were
actually open even though it was a holiday.
We drove back to Nice, but this time we drove past the port and saw a lot
of the fancy yachts, and drove past the (rocky) beach, and past the casinos
and parks and churches and fountains. I really wish we'd had time to walk
around on our own here – there were lots of interesting things to see.
They parked the bus near the old part of the city and we walked from there
to the wine cellar where we were doing on our wine tasting. This really
WAS a cellar, and we had to go through a rather narrow and not very tall
door (even I had to duck) to go downstairs. Apparently this was originally
part of a monastery. The lighting inside was really nicely done.
They served us three wines, a white, a rose, and a red, each accompanied by
some bread and cheese – goat cheese, blue cheese, and camembert. The wines
were all very nice – I think we both especially enjoyed the rose. (There
were kids on the tour, and they had grape juice for them.)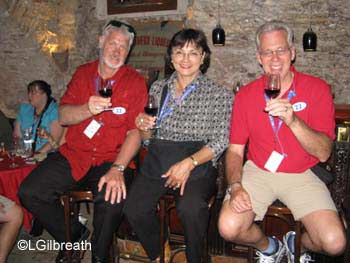 After three glasses of wine we staggered out of the cellar and back to the
bus. Our guide, Corinne, was thin and fairly petite and she was downright
giddy on the way back. 🙂 It was a lovely way to spend an afternoon.
But as usual we were running late – we were supposed to be back at the pier
by 6:00, but it was closer to 6:15 – and then we had to take the tender
back to the ship. Lee and I really wanted to see tonight's show, which was
the Crew Talent show, and it started at 6:45. We were pulling up to the
Magic right about then, but fortunately we were near the doors and were
some of the first people off the tender. Lee went straight to the theater,
though I made a quick stop at our stateroom to drop things off, and
fortunately the show started a little late so I didn't miss anything.
It was very good – there are some very talented crew members who are not
actually part of the entertainment staff. There were two singers who were
just as good as any who are on staff. I think we saw 8 different acts,
including a couple that were just for laughs. (I'm not sure I will ever
forget the sight of Brent, our cruise director, and two other officers
lip-syncing an aria from The Three Tenors from behind a podium. When they
stepped from behind it near the end we could see they were all dressed in
pink tutus!)
Geronimo took advantage of our being gone all day to do the evening service
on our room early, so we returned from our excursion to find today's towel
animal. (We'd left Lee's spare pair of glasses on Sharky when we left for
the day – don't they make the turtle look very intelligent?)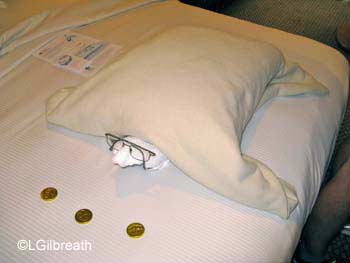 Dinner tonight was The Captain's Gala. Attire was listed as Cruise
Casual, but everyone at our table (and many other guests as well) went
semi-formal. Unfortunately, except for dessert, this was my least favorite
dinner – the menu just did not appeal to me at all. (The featured dish was
lobster tail, which I don't care for.) But dessert helped redeem the
dinner a little bit – it was Warm Chocolate Lava Cake. Which was
very good – made with excellent chocolate, but it was only just barely warm –
it would have been even better if it were hotter.
There was also a dessert buffet in Lumiere's tonight – but when you've just
finished eating dinner at 10:30, a dessert buffet that starts 45 minutes
later isn't very appealing.
This was an excellent day thought it ended up being a lot longer than we
had expected – we really thought we'd have more time on the ship.
Tendering made that very inconvenient, though. But I'm glad we had time to
wander around Villefranche.
Tomorrow is our last full day – a day at sea. I can't believe the cruise
is almost over!