Tuesday, May 26 – Day at Sea
A last day at sea! Hard to believe that this is the last full day of our cruise – it certainly doesn't seem like we've been on the ship for 10 days already.
Another beautiful morning with fairly calm seas. I got up and went running on Deck 4 – it was a lot easier than it was on the morning we had rough seas! Not very many people out and about yet, either.
We went to the lecture at 11:15 on Barcelona – learned some things about Gaudi and his style. Two words: Catenary Arches! (A catenary arch is the curve produced by a hanging chain or rope when supported only at each end. Though Gaudi used inverted catenaries, mostly.) The lectures have been pretty interesting, and I've learned a fair bit about the ports! We missed two of them, but they have been running them on channel 228 on the stateroom TVs. Unfortunately I haven't managed to catch the first 20 minutes of the one of Villefranche – it's always starting just when I have to go
off someplace else!
We had lunch at Parrot Cay – it was a seafood buffet today. It ended at 1:30, and we got there about 1:10. The servers seemed more concerned with getting people out of there so they could tear down the buffet and set up for dinner than they were with doing any serving – ours never came back to our table to ask if we wanted refills on drinks or anything. (Not our regular server, and definitely the worst service we've had on the cruise.) The buffet itself was ok – though the clam chowder wasn't very good – the piece of clam were tough and stringy. This photo is of Lee's plate – I found the combination of banana cream pie and sushi to be, um, interesting.
I spent some time in the spa, but otherwise most of the day was spent packing our bags. since they were supposed to be out in the hallway by 10:00…which meant that we had to get them put out before we went to dinner. So sad to be packing!!!
Dinner was the "Till We Meet Again" theme, with the procession of the chefs with their flaming Baked Alaskas and the servers waving their flags. They actually were pretty quick with everything tonight – we were done with our entrees by 9:30, and I think we were out of the dining room not much after 10:00. We said goodbye to our tablemates, since none of them were planning to come to breakfast in the morning. They were a fun group of people.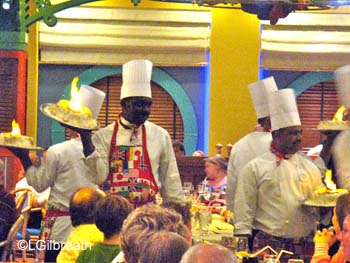 Dessert tonight was (of course) the chocolate one – Chocolate Decadence – Ignatius pretty much doesn't even ask me any more. 🙂 Though tonight's special was the Baked Alaska. Lee was the only one who ordered that one.
There was a special character celebration in the Atrium at 10:30, so we went to see that. They had a whole bunch of characters and some of the actors from several of the shows come out and greet guests and pose for photos, then they did a little "goodbye" thing. I don't remember that from our Caribbean cruise – but we might have just missed it because of yet another late dinner.
Our final towel animal was this snake – hmmm…what does that mean, saving the scariest one for last? 🙂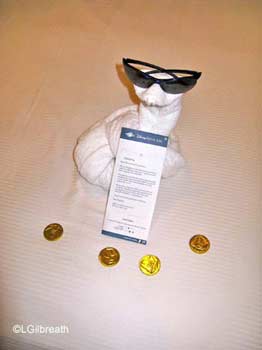 Wednesday, May 26 – Back to Barcelona
The ship was docked by about 5:00 in the morning, though passengers couldn't get off until 7:30. They wanted everyone off the ship by 9:15.
Our breakfast was in Parrot Cay. It was sad leaving our stateroom for the last time…but all good things must come to an end, right?
Breakfast was rather subdued, though it was pretty busy – and of course having everyone's carry-on bags cluttering up the area between the tables doesn't help. We said our final goodbyes to Ignatius and Nathan – Nathan is hoping to get onto the Wonder when it comes out to California to do the Alaska cruises, so maybe we'll see him there. (He got to offer us fresh ground pepper one last time!)
We tarried a little bit, but they kept making announcements basically just telling everyone to "get off the ship!", so we went out the gangway and back into the terminal. We found our bags without too much trouble and then boarded the bus that would take us back to the Hilton for one more night. (The bus was playing Disney's "We're going to the port" video with all of the characters getting ready to go on the cruise – we thought that was just cruel!!!!)
They had us to the hotel by about 10:00 – our room was ready so we were able to just drop off our bags and head out into Barcelona again. I wanted to visit Parc Guell again, since we'd gotten rained out the first time. It was a beautiful day today, and pretty warm, too – mid 70's, but it felt warmer in the sun, especially when we were doing all of that walking uphill to get to the park from the Metro station, and then walking up hills and steps within the park. It was still very crowded, though, but at least I got to see the "dragon" (which we think looks more like an iguana) this time.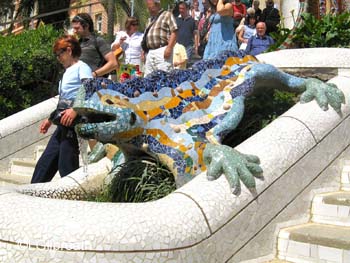 There were also LOTS of performers in the park – we saw musicians playing everything from Chinese silk music to guitars to hammer dulcimers, and even a didgeridoo! There were also lots of people dressed up posing for pictures – one guy dressed as a caveman seemed to be quite popular.
On the way back to the Metro station we stopped and had lunch at a cafe – had a margarita pizza that was pretty marginal. But it gave us some energy, and we were pretty hungry by then after a lot of walking.
Ahhh…but there was MUCH more walking to come!
We took the Metro to the Paral-lel station and then the funicular that took us up onto the lower slopes of Montjuic (Mont-zhew-EEK). Apparently most people take a tour bus from there but we walked to the top to the Castell. Lots of stairs going up – between Montjuic and the metro stations we climbed a lot of stairs today! The signs to the Castell left a bit to be desired – we got most of the way up and our route that had been so well-marked was suddenly not marked at all. We had to do some backtracking and even scrambling up a hill, but we eventually got up there.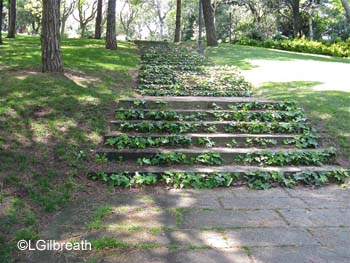 Very nice view though it would have been a lot nicer if it wasn't so hazy. We noticed that throughout the trip we never really had very clear skies any place that we were.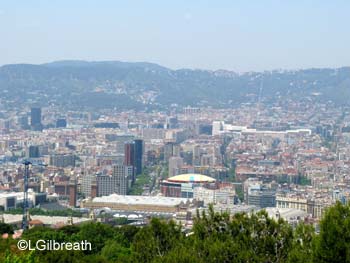 We could see the Disney Magic docked at the port terminal, and we were very sad that it was going to sea without us! It just didn't seem fair somehow.
In the "Visitor Center" at the Castell we bought a map for 50 cents, which had all of Montjuic on it, since we wanted to walk over to some of the areas they used in the Barcelona Olympics.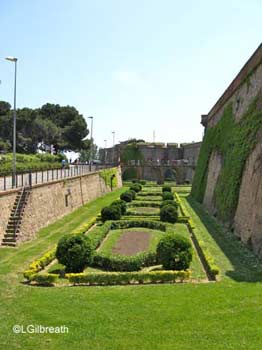 At least this time we were going DOWN hill most of the time. 🙂 We walked past the Olympic stadium.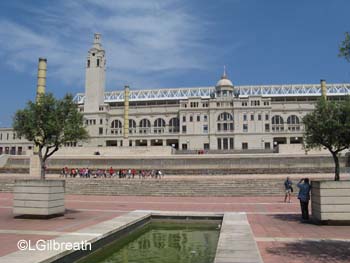 And past the art museum (but didn't go in).
Unfortunately the Magic Fountain wasn't performing – we found out later that it's only at night, and even then it's only Thursday-Sunday at this time of year, so it's something we should've done one of our first two nights here. Oh well…we'll know for next time.
When we were here before the cruise I'd seen someone carrying a Valor Chocolates bag, so we'd asked at the hotel where the shop was, and were given an address near Plaza Catalunya. Alas, we didn't find it, but we did find the Casa Batllo, another building designed by Gaudi, with lots of those catenary arches.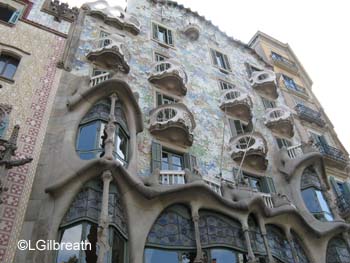 Took the Metro back to the Diagonal Mar area – it was about 6:00 by then and we were pretty tired. But we went back to the mall and got another pitcher of Sangria from the same guy who had made it for us before, and that tasted really good.
No towel animal to greet us when we returned to our room tonight. 🙁 But there was a nice sunset.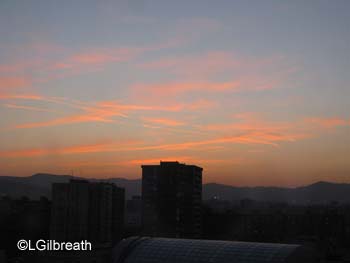 Thursday, May 27 – Home
This was a VERY long travel day. We had an 11:20 a.m. flight, and the shuttle picked us up a little before 8:00. Traffic getting through downtown Barcelona was pretty bad – it took us about an hour to get to the airport! But we still had plenty of time before our flight. When we checked our bags they asked us who had packed them, if they'd been with us since they were packed, if anyone had given us anything – questions they no longer ask in the U.S. And she also asked us what kinds of electronics we had, and if any of those had been repaired or used by someone or otherwise out of our control.
While wandering around the airport we saw the entire Spencer family – never saw them on the ship at all, though!
Boarding the plane took a long time because they had to ask the same "has this been out of your control" questions about our carry-ons as we all boarded. The flight to JFK was quite smooth, and the winds were favorable so it took less than 8 hours.
We landed a little early and got through immigration and Customs ok. We lucked out a bit with Customs – our bags came out relatively early (and on this trip my bag showed up first *every* time – that's very rare!), so the Customs line wasn't too long when we got in it – but we looked back a few minutes later and there were lots of people behind us.
So, now we had about 4 hours to kill until our flight to San Diego. We had to go through Security again, and that line was rather long, so we were glad we weren't in a hurry! JFK really isn't a very nice airport, at least not most of the part that we were in – very crowded and congested. If I have a choice I won't go through here again.
We got something to eat, and then found one of those charging stations in a relatively quiet part of the airport and plugged in for a while, and I wrote a fair bit of this blog.
Our flight was supposed to board at 6:20 and leave at 7:00…but we didn't make that. And even with the original schedule we were supposed to be on the taxi way for 45 minutes before we took off! But then there was a thunderstorm, so they wouldn't let us push back from the gate at all…we finally took off after being on the plane for about 2-1/2 hours. (They did give people the option of getting off the plane before we pushed back from the gate, but no one took it – there weren't going to be any other flights to San Diego at that time of night!)
We lucked out and didn't have anyone in the window seat – good thing, since the reading light over the middle seat didn't work, and I would not have been happy if I couldn't read for that entire time! So I moved to the window. It also meant we could put our backpacks under the middle seat and stretch out a little more. We both slept a little bit, but not much. Got into San Diego at 11:45 instead of 10:40, and made it home about 12:30. Over 26 hours since we'd left the hotel.
It was nice to get home and sleep in our own bed, though it's going to take the body clock a while to adjust to that 9 hour difference – we went to bed at about 1 a.m., but I was awake and finally got up at 5:15 in the morning and Lee wasn't too much behind me.
It's a long weekend with the Memorial Day holiday, though, so at least we'll have a few days to catch up on things before we have to go back to work on Tuesday.
I'll have some final thoughts on our cruise (and of course the all-important food blogs!) still to come.
I wanted to thank all of you who commented on the blogs – I'm sorry that I haven't answered personally, but internet access on the ship is not that fast. I will try to get to some of the questions now that I'm back home.