The Flowers and Fireworks D23 event began on Saturday evening, May 15th and ended Sunday evening, May 16th. It was announced earlier this year as one of the Walt Disney World D23 events.
Tickets went on sale April 8th and I was ready at the computer. The March 2010 First Anniversary Party sold out in moments, as did the December Magic and Merriment D23 event.
I was a bit concerned with the $195 price tag but decided to go ahead and purchase 2 tickets. My order went right through and it later turned out the event never did sell out.
The D23 website had event information so I knew ahead of time the general schedule of events.
Included with the cost of your ticket:
Private dinner on the beach at Disney's Grand Floridian Hotel & Spa
Private viewing of the Electrical Water Pageant and Wishes
Presentation on the Magic Kingdom's fireworks spectaculars
Continental breakfast at Disney's Beach Club Resort
Exclusive presentations from Dan Cockrell, Michael Jenner, Eric Darden, and Daniel Wasilick
Private VIP seating at Chubby Checker's Flower Power concert
Private dessert party and viewing of IllumiNations: Reflections of Earth
Commemorative gift (one per guest)
CHECK IN
Check in for the D23 event was held just off the lobby of the Grand Floridian Resort and Spa. I arrived right at 9am and check-in went smoothly.
Barry Jacobson was on hand to greet D23 members and assist in giving out our "goody bags".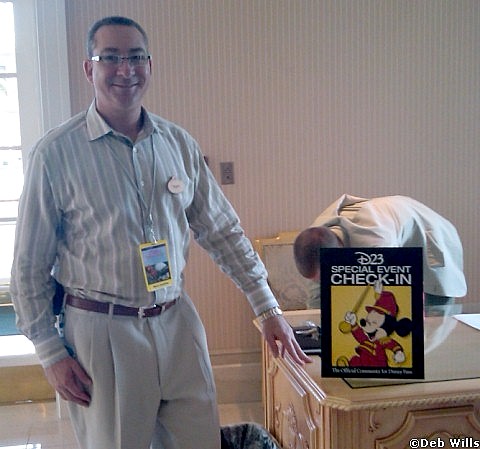 I chatted with Barry for a few moments and asked where the other D23 folks were, like Steven, Jeffrey and the ladies. For a variety of reasons each was unable to attend. Several folks commented throughout the event that an additional D23 Cast Member would have been nice. Barry did a great job, but I agreed that additional D23 folks would have added to the event.
Contents of the D23 Bag:
— A Wide Brim straw hat with the D23 Flowers and Fireworks ban in green.
— D23 beverage coozie
— Credentials and lanyard for the events
— D23 Welcome Letter
— D23 Event Itinerary
— D23 bag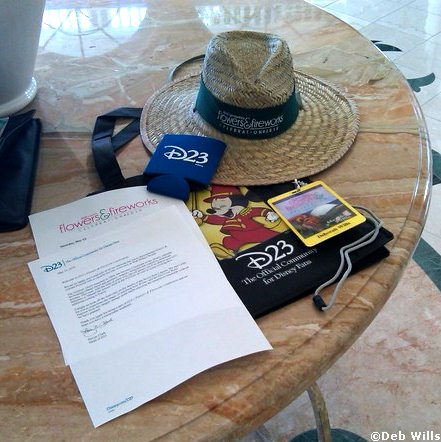 Accompanying me to the D23 event is Sharon Sipple who would be doing the All Ears photography.
Itinerary
Saturday May 15
9am – 5pm – Check in and receive packet at Grand Floridian
7:30pm Cookout on the beach at the Grand Floridian with a special fireworks presentation and special viewing of the Electric Water Pageant and Wishes
Sunday, May 16
8am – Begin check-in for morning presentations at the Grand Harbor Ballroom at Disney's Yacht Club
8:45am Breakfast is served
9:30am – 11:00am Morning Presentations from Epcot Vice President, Dan Cockrell, WDW Parks Events Content Development Operations Manager, Michael Jenner, Twinings Tea's Daniel Wasilick and Epcot's International Flower and Garden Festival Horticulture Manager, Eric Darden.
11:00am – Free time to explore the Flower and Garden Festival
7:15pm – Check-in for Flower Power Concert featuring Chubby Checker and the Wildcats.
7:45pm – Concert begins
8:30 – Dessert party at Italy Isola with viewing of IllumiNations: Reflections of Earth
First Official Event was the Cookout on the beach at the Grand Floridian with a special fireworks presentation and special viewing of the Electric Water Pageant and Wishes
While the day was quite warm, the evening was amazing with a cool breeze and perfect sky.
I headed over to the Grand Floridian around 6:15pm to check out where the event would take place. The lobby had a number of D23 folks relaxing and enjoying the orchestra. I walked over to the beach area (behind the themed pool) and found that set up was still going on. I spoke to one of the Cast Members who told me no one would be allowed in until 7:30, the official start time. Back to the lobby I went to relax in the air conditioning.
Around 7pm Sharon and I went back to the BBQ area and found that folks had indeed been allowed to go ahead and sit down at the tables while setup continued.
As we looked around for a table, Brenda and Ron waved us down and had some seats saved for us (thanks!). Steve and Vickie Barrett also joined us at the table along with 3 D23 event regulars!
There were lots of Disney figurines for decor on the buffet tables: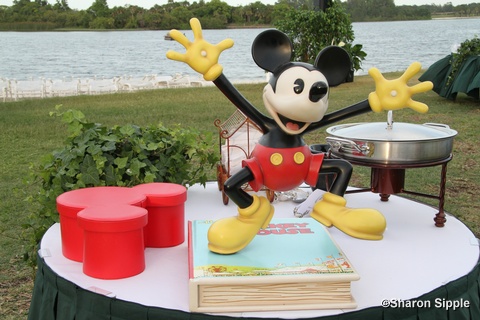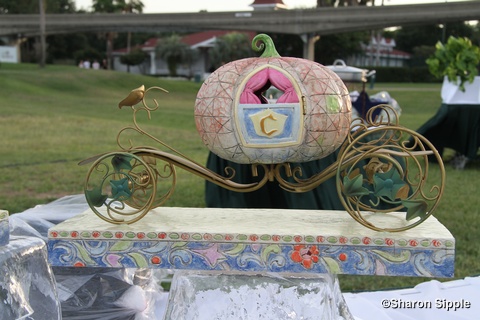 The grills were going strong and the smells filled the air.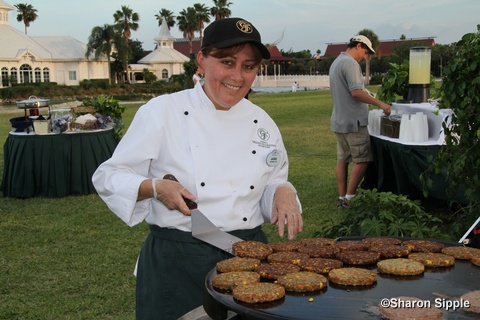 But before dinner was served, 2 very special surprise guests arrived and gladly posed with everyone for photos!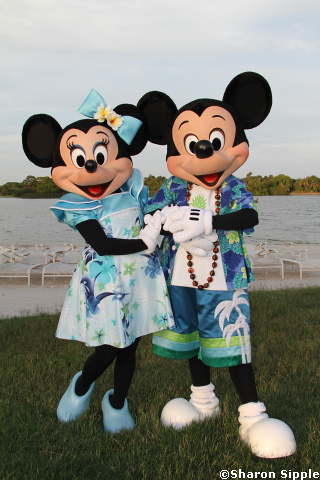 If the evening had one negative it was the fact that the only beverages that were complimentary were lemonade and an herbal, caffeinated tea.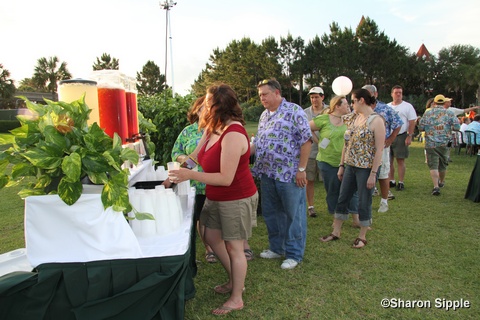 The charge for adult beverages, I totally understand. However, paying $4 for a bottle of water (when the event cost $195) was over the top. I know a number of folks, including myself, were not happy about this. Eventually a couple of iced water coolers were brought out for everyone.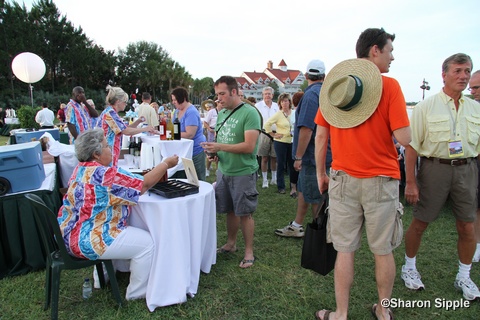 Now, onto the food itself!
Grilled Beef Burgers
Vegetarian Burgers
Grilled Chicken Breast with Floridian Citrus Barbecue Glaze
Grilled Bratwurst
Green Leafy Salad
Multi-grain Salad
Slow Cooked Vegetarian Baked Beans
Baked Mac N Fine Cheeses
Caramelized Onions
Sauerkraut
While the lines looked long, they actually moved at a steady pace. There were two separate buffets set up and each had 2 sides for serving.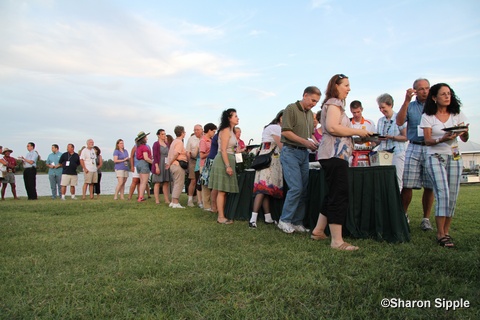 Dessert included a chocolate delight, Mickey Shaped vanilla cake with a strawberry topping.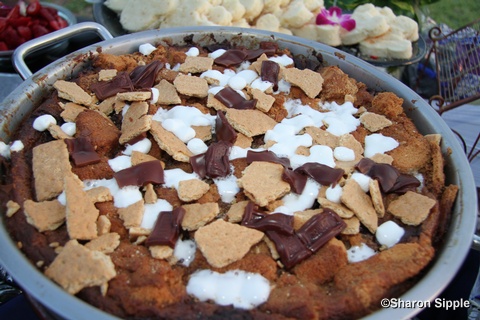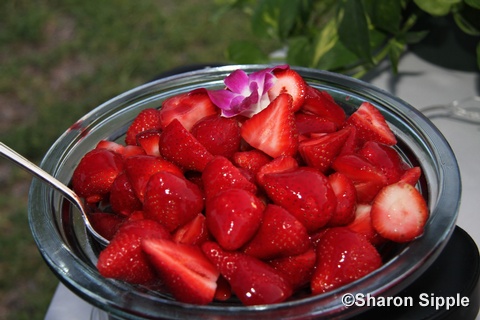 After dinner, Mickey and Minnie appeared again. Here is Barry enjoying the photo op.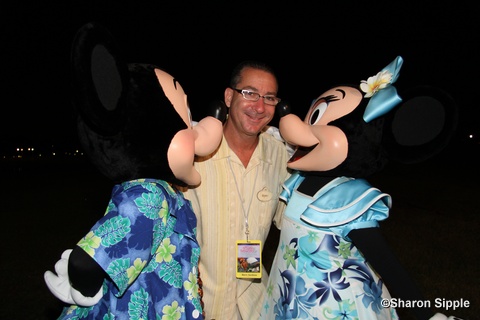 Several special treats were in store for us once the sun went down.
First, we had our own private showing of the Electric Water Pageant.
The pageant consists of two strings of seven barges, each carrying a 25-foot-tall screen of lights. The pageant features King Triton and creatures from under the sea — turtles, whales, seahorses, even a sea monster; all set to Disney music. The pageant concludes with Flags and Stars set to a patriotic musical medley of God Bless America, Yankee Doodle, and You're a Grand Old Flag. It debuted October 21, 1971 and has been basically the same show ever since.
>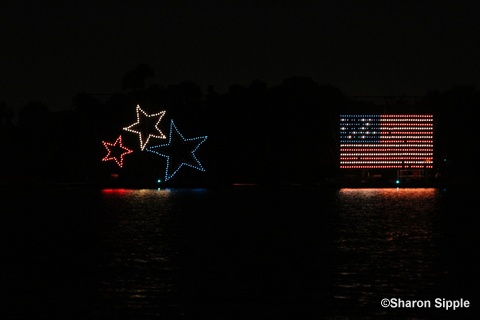 Next up were Chris Oyen and Brad Ciccotti, fireworks magicians extraordinaire! Both have been involved with Walt Disney World fireworks shows for a very long time!
Chris spoke first about his experiences with Disney and fireworks shows. Brad then joined him to present us with a very special version of "Fireworks 101, Disney Style", complete with examples of the types fireworks they were explaining. At the end of the presentation, we had our own private fireworks display (brief) which combined the effects we had just learned about. Chris and Brad were great presenters! This entire segment was AWESOME!
Afterward, folks moved further down the beach and enjoyed WISHES.
Our special evening gift was a light bulb from the Electric Water Pageant. A nice souvenir, unfortunately it was simply a bulb wrapped in tissue paper, no card or otherwise identifying notation as to it's origin.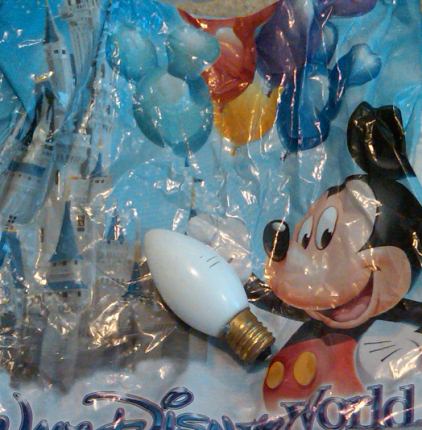 Soon, it was time to head home and rest up for Sunday's early morning at the Yacht Club Convention Center.
Check back for Part 2.