Friday, May 21 – Day at Sea
Day at sea! Day to rest and relax! Oh joy! We slept in until 8:00, it was
wonderful!
We were never moving very fast throughout the night, but at about 9:00
the ship stopped moving, and has been floating the rest of the day. The
seas are very calm, and we had blue sky and sunshine all day, with a high
around 75. I don't think it gets any better than that!
Short blog entry today because there's just not much to tell! I got up and
ran a little over 4 miles this morning, then had breakfast at Topsider. Lee
had breakfast there earlier, and he went running this evening instead.
We went to the guest lecturer's presentation on Corsica, which was actually
more of a history of who was in power in the Mediterranean at various times,
since whoever rose to power seemed to conquer Corsica fairly early on. 🙂
It was pretty interesting.
I had a hot stone massage this afternoon…ahhhh. I fell asleep for a little
while, even.
Unfortunately Lee had to do work on a presentation for work, but at least today
gave hime some time to do that – he also had time to relax and nap, too, though.
Not many pictures today, either – poor Dino was drooping this morning when
we woke up – or maybe he was still sleeping. Geronimo perked him up when he
did the morning service, though.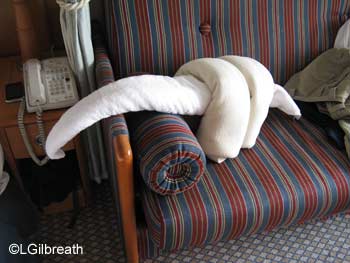 Tonight is semi-formal night, with the Villains theme. So we have a new show
in the Walt Disney Theatre called Villains Tonight, and then a
Villains-themed dinner in the dining room. And villains doing character
greetings in the lobby tonight. Should be fun.
The show was great – we both really enjoyed it. I think they should make it
a permanent show instead of just for the special longer cruises. I loved
seeing so many of the villains – Hades, Pain, Panic, Yzma, Kronk, Scar, Cruella,
Hook, Dr. Facilier, Ursula, Iago, Jafar, the Evil Queen, and Maleficent.
Dinner also had a Villains theme, and some of the menu items were named after
the villains, like Cruella De Vil's Sangria Bisque, Hades Oven-roasted Tom
Turkey Breast, and Ursulas Grilled Ginger-Lime Swordfish Steak. For dessert
I had (big surprise) The Villains Chocolate Ending – Ignatius knew what
I was going to order before I even told him. 🙂 It was pretty good.
We had a fun dinner – Nathan kept us entertained with some games – he would
make some kind of a pattern with crayons, and tell us what new pattern we
had to make, but with only moving some number of crayons. We enjoyed that –
he said he has more of them.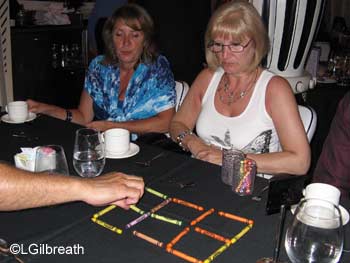 Dinner went long again, though, and we ended up missing the Villains Ball
in the lobby. Late seating strikes again.
Tonight's towel animal is a really great-looking elephant – which means I'm not
sure what it was we had on day 3, but it wasn't an elephant!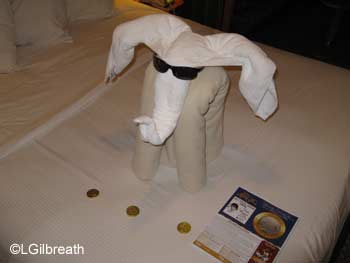 We dock at La Spezie tomorrow morning, for our day in Florence and Pisa.
We have an early meeting for our port excursion, though – 7:15!!!