Sunday – Magic Kingdom Day for RADP/Mousefest.
It was a very late night for me, so I wasn't up very early – 8:30. Left the room about 9:30 and waited less than 5 minutes for the bus to the Magic Kingdom. It went straight to the MK without stopping at the Swan and Dolphin, which was nice, and there were only about a dozen passengers.
I hadn't been to the MK yet on this trip – it is (as usual) very festively decorated for the holidays – I took a few photos on Main Street. As I was going down Main Street I ran into Charlotte, John, and the other Laura who were also going back to Frontierland for the first RADP meet of the day (the first in the park – a number of them had already had a breakfast meet at Trails End at Ft. Wilderness). It was the start of the RADP Mountain Meets – we got Fastpasses for Big Thunder Mountain Railroad (BTMR) and then took a trip to the Laughing Place at Splash Mountain. There were 24 of us – three logs full. There was no wait – we walked through the queue and onto the logs. Jack was my ride partner.
The temperature was a lot warmer today than it had been – in the low 70s. But fortunately they still hadn't turned on the water cannons on Splash Mountain so we didn't get too wet.
For the BTMR portion of the meet we picked up some more participants – 37, I think? Enough to fill a train and then some. The line was short enough that we really didn't need our Fastpasses. I rode with Steve, who is in the Disfriends community.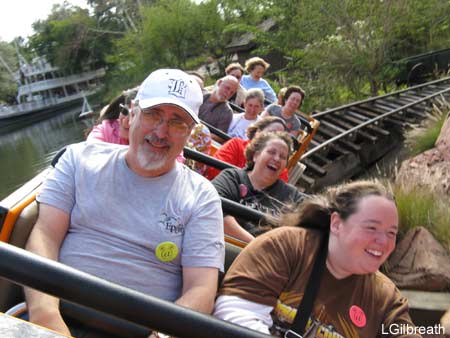 Then it was on to the Haunted Mansion where we filled up much of the stretching room. I don't think we got a count for that meet. Again there was almost no line even though it was after noon by then. Kevin and Leonard the Leopardasaurus (who has been dutifully attending all of the meets!) were my ride buddies. I have to say that it was strange seeing the Haunted Mansion not decorated for Christmas – I'm so used to seeing it that way at Disneyland at this time of year!
I don't think we left anyone behind to become the 1000th Happy Haunt…
I had to leave the RADP group to go meet some of my AllEars team mates for a photo scavenger hunt sponsored by Tagrel.
There were 6 on our team – DebW, Linda Lou, Andrea, Glo, Lisa, and me. Each team had a designated photographer (which, not surprisingly, was Lisa for our team). We all received the same list of photos that we were supposed to take around the park of our team (and occasional other innocent bystanders – but no models were harmed in the taking of the photographs). Most were specific to a "land" but there were some general ones, too, like taking a picture with a Dream Team member, or taking pictures of all team members wearing some kind of Mickey ears. Some of the other assignments were taking a picture with a character in Fantasyland, getting CMs and/or guests to do a chorus line in front of Country Bear Jamboree or getting a Fastpass for Space Mountain. We also had to find a CM who had the same name as one of our team members – fortunately early on we found a Laura!
Linda Lou was our score keeper (for lack of a better word) and she did a great job keeping us organized and focused.
Our team had its own paparazzi since Mike and Michelle were following us around and taking even more pictures than Lisa did. 🙂
It was really a lot of fun to be silly and run around all over the park. We didn't win (we didn't have time to get to Toontown) but we had a very good time. Thanks very much to the people who organized it!
Afterwards we had a late team lunch at the Plaza Restaurant (not the Plaza Inn as Lisa and I kept calling it, since we're more familiar with the Disneyland restaurant that is similarly named). I had the vegetable sandwich – mozzarella, pesto, lettuce, tomatoes, red peppers and cucumber on foccacia. It was good but not exceptional. But it was very good in that it was the first meal on this entire trip that I have eaten at a table service restaurant – it was nice to have someone bring it to me! Deb and Linda treated us – thanks, ladies. 🙂
After lunch Andrea and I went to find the RADP group – via cell phone we learned they had split into two groups so Andrea went one way and I went to Toontown to find the ones that were in line to get their photo taken with Mickey. They are doing that in each park this year. Jack and I missed the one at Epcot yesterday since we were at the MMM. I wasn't quite sure where they were but I called Jack (how did we do RADP meets before there were cell phones?) and he directed me into where they were waiting in line.
There were 15 of us and probably 6-7 cameras, in addition to PhotoPass cards. We lucked out and found that both Mickey AND Minnie were posing for photos – and in fact Mickey and Minnie were helping the two photographers to pose our group. They all did a great job in handling our party, and we all got hugs and kisses from Mickey and Minnie (ok, the men didn't get kisses from Mickey!)
The group dispersed in various directions after that. Steve and I were both planning to stay in the park to see the Castle Lighting ceremony (which wasn't until 6:30), so we wandered around the park together until I decided to go on Pirates of the Caribbean, which he'd visited with the group earlier in the day, so we said goodbye. It was nice to meet him – I hope he comes to RADP events in the future!
I wandered around rather aimlessly – ran into Chad, Kerry, Kevin, and Andrea in Adventureland, and was able to give goodbye hugs to Chad and Kerry, who were going back home tonight. Took some holiday photos and hung around until the Castle Lighting Ceremony, which I watched from the hub.
I wasn't at WDW last year, so I hadn't seen the lights on Cinderella Castle except in a couple of youtube videos. Wow….it's so pretty. I could do without the rather silly show that precedes it (where the characters try to decide how to decorate the castle, and the Fairy Godmother tells them they should ask Cinderella, and she wants it to sparkle like her glass slippers), but the lighting itself is awesome.
Took awhile to make it out of the park since there was a Christmas party tonight, and a lot of people were also coming *into* the park. My bus to the Boardwalk was just about to pull away when I got about 30 feet from it, but I waved my arms and started running and the bus driver kindly waited for me. I was really happy to make that bus, especially since it came straight back to the Boardwalk, and that gave me a little more time back here in my room before tonight's events.
Tonight's events which I have now returned from. I was invited to attend the AllEars Illuminations Dessert Party event in Epcot – which had another extra-special surprise event tacked onto the end of it.
I was happy to see a number of people that I knew there – several of my AllEars team mates, some of my RADP friends, my friend Masayo from Japan, and Jeanine from California who has written blogs and helped me with other Disneyland info.
There was a nice selection of yummy-but-not-too-messy desserts set out on tables for us. I wish they would sell those chocolate drizzled chocolate chip cookies in the parks – those were incredibly good. (Maybe it's a good thing they don't – I would eat waay too many!)
We were down in the waterside area right behind the fish and chips shop in the UK – I think that's got to be just about the best location to watch Illuminations. Towards the end of the show I heard a lot of giggling behind me, and turned to find this unruly crew passing around a pair of the 3-D glasses from the Osborne Lights which they were watching the fireworks through. 🙂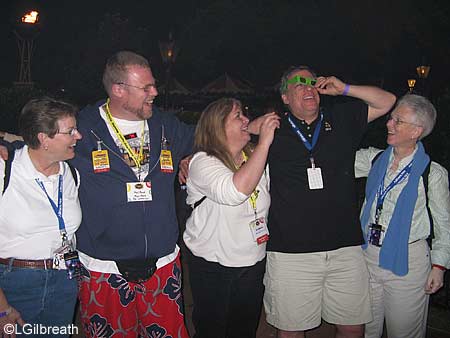 Not long after Illuminations ended came our special surprise – once they started walking us towards the World Showplace I was pretty sure I knew where we were going, since I'd read Deb's blog about this event last year…and as it turned out the event lanyard, which I hadn't really looked at because it was dark, was a dead giveaway. 🙂
They walked us backstage for a while (I'd been on that road before during the marathon and half marathon – when it was also dark!!!), and then took us through a rather non-descript door – which brought us right into the loading area for Soarin'! So we got our own private ride on that attraction. I'm not sure how they managed to make that happen for us – but thank you to whoever was responsible!!!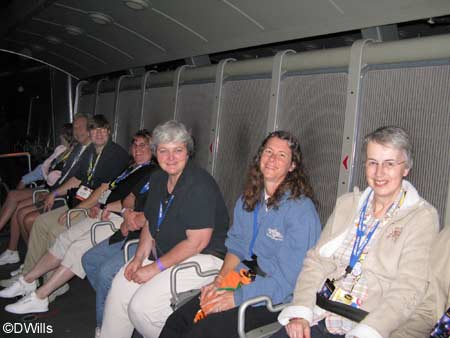 Since I'm from California, I have to say that it's a little strange for me to be flying over California (especially the San Diego and Disneyland scenes) when I'm in Florida. 🙂
They had CMs to walk us out of the park to either the main entrance or the International Gateway. I said goodbye to Deb and Linda at the IG, since they will be leaving tomorrow and I won't see them again for a while. It was really nice to have not just one but two fun events with them today!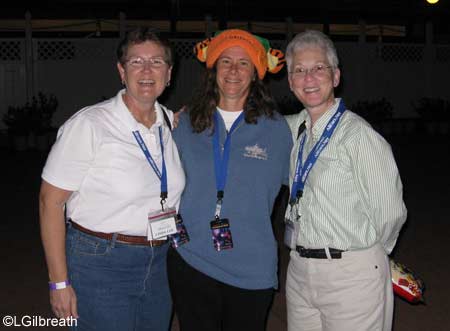 I think Mousefest is pretty much over at this point, but RADP still has one more day tomorrow in the Studios.