Monday – Studios Day for the RADP group – most of my AllEars team mates have left or are going home today. Jack's still around though, since he's very involved in the RADP community, too.
I actually got a full night's sleep (which I really needed!) last night and got up around 8:00. Had a quick breakfast in the room (granola bar, tangerine, and tea that I brought with me from home), and then walked the half mile or so to the Studios. There's some advantage at least to being on this end of the Boardwalk Villas. 🙂
There was quite a long line to get into the Studios, but the streets didn't seem as crowded as when I was here at park opening in October. I went back to Toy Story Mania to get a Fastpass to use later – the return time was 10:25 when I got in line and 10:50 when I got my Fastpass! I found Kevin (and Leonard) there and we walked over to Rock'N'Roller Coaster for the first RADP meet of the day.
It took a while to get all of us assembled – the 9:30 start time became more like 10:00. Our new friend Steve came back to join us again today…when he saw the events on today's schedule he decided he really wasn't feeling well enough to go to work. 🙂 When it came time for the group photos there was a wonderful Photopass photographer there who arranged us all and took pictures with her camera, and then with about 7 of ours.
There were 28 of us that went on RnRC – the "limo" holds 24 so 4 went in a separate car. It was a fun ride, though we had a premature stop before the end, and then we got held for several minutes before we finally pulled into the unloading area. During the wait you could hear shouts of "Are we there yet?", "I have to go…", "Well, you should've done that before we left!" and other such things. 🙂 The delay meant that our photos were no longer up on the monitor, but we could go to the counter and view them. Jack was my ride partner again. (Judy, I kept much better tabs on him today than I did yesterday! 🙂 )
It was a good thing we rode that when we did because the line was 50 minutes by the time we got done.
From there we went over to the Tower of Terror where we had about as short a wait as possible – pretty much walked right in the Library (Leonard Loves Libraries), and then right onto the elevator! There were 21 of us riding, so we had a whole elevator to ourselves. I'd forgotten how much fun it is to ride ToT with an elevator full of RADPers…it's a blast. Kevin and I were both sitting on the aisle in the front row, and we each held one of Leonard's arms during the ride – Leonard did a lot of levitating. 🙂 After the ride ended, but just before the doors opened someone said "scream!", and so we all screamed at the CM as the doors opened. She didn't seem too perturbed by it, though.
Next on the agenda was a picture of the group with Mickey Mouse. Unfortunately this hadn't been on the meet schedule so a lot of people who would have participated had gone elsewhere. There were 9 of us who went to meet Sorcerer Mickey in the Animation Building, though.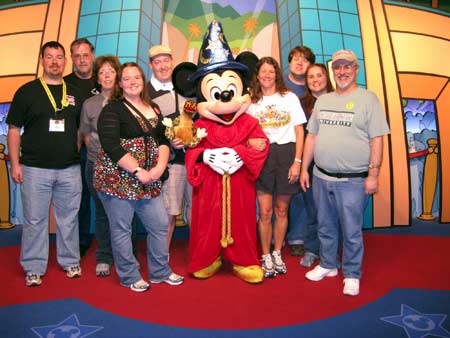 It was lunch time by then. I went to the 50s Prime Time Cafe with Sean, Pamela, our new friend Steve, Jack, Bruce, Marta, Catherine, Carol, and a friend of Carol's. I'd never eaten there before, believe it or not. We had a pretty good server – she quickly realized that Catherine (who couldn't seem to keep her elbows off the table) was going to be a troublemaker.
I had one of the famous chocolate milk shakes – it was huge and I couldn't finish it. Since I had started with that, I opted for a salad and a side of mashed potatoes for lunch, though the pot pies and fried chicken and grilled chicken sandwiches that my tablemates were having looked good, too. We were doing good on time until it was time to pay the bill…which we wanted to split in multiple ways. And even though a Tables in Wonderland card is good for 10 people, it's not good across multiple bills. It took a long time to get that straightened out, but I must say I felt rather sorry for the server in having to deal with that – I wish everyone had come prepared to pay cash!
Jack was very nice and bought my lunch for me – he can be very sweet – at times. 🙂 It was very funny listening to the banter between him and Catherine – they seem to bring out the worst in each other. 🙂
Next up was the Great Movie Ride meet at 2:00. The half of our group who went to Mama Melrose ended up being 15-20 minutes late – shame on them! While we were waiting we looked around at the various foot and hand prints – and Leonard had to pose with the one of Leonard Nimoy. 🙂
We shanghaied one of the "doormen" to take our group photo – I think we might have set a camera record for this one. And then we went on the ride. There were hmm…30 of us for this one, I think? We had a short wait – I had a very nice chat with Lindsey while we were in line. This was her first Mousefest and her first experience with RADP – she enjoyed our group, too. (And who wouldn't? We're a lot of fun!)
For the Great Movie Ride we got the cowboy side – yay!!!! In all the times I've ridden this, I think it's only the third time I've gotten the cowboy side. Our narrator was Kayla, and we had her laughing so hard that she forgot her lines. 🙂 When we went into the mummy room, where she is the robed figure standing there we started chanting: "Kayla, Kayla, Kayla" and she started shaking with laughter. The short break from us had helped were regain her composure, though, and she was fine for the rest of the ride. It was a lot of fun.
Next up was the "Betty White Bash". I don't know what inspired Kevin to come up with this one. I think the main idea was to watch the Block Party Bash from the Hall of Fame area (where the busts of various actors are), but it took on a life of its own. Catherine had made a mask with Betty White's face on both sides and put it on a stick, and Kevin wanted pictures of each of us posing with the bust of Betty White and the mask. Which of course some people hammed up a lot more than others. As the parade passed by a lot of the Cast Members saw the mask that Catherine was holding up and a number of them made fun comments about it. It was probably one of those "you had to be there" things, but it was really a lot of fun.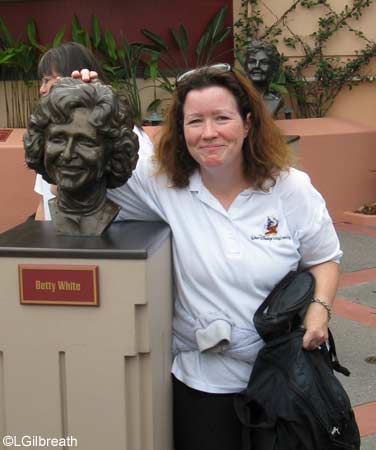 After the parade passed we got a CM to take a group photo of us around Betty's statue.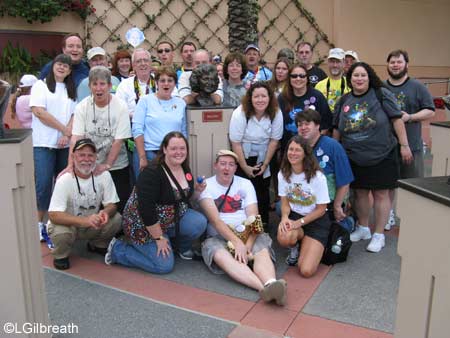 And then we did *another* photo under the arch that says "Disney's Hollywood Studios". This one was like herding cats, though – people kept disappearing and then coming back, but in the meantime one or two others had disappeared. We had a really fun Fastpass photographer named Gary who helped us with this one – he was a riot.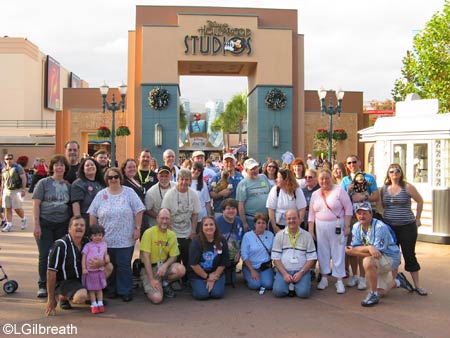 It was time for the Toy Story Mania Meet – all those of us who had gotten Fastpasses earlier in the day were ready to use them. I think there were 27 of us this time. Jack and I rode together and I beat him (he told me that I was going to put that in the blog) but not by that much. I really like that ride, but my arm is so tired by the end!!!
I headed to Epcot after that since I wanted to see a few of the holiday storytellers plus sit and enjoy the Lights of Winter.
First was the Tres Reyes Magos in Mexico – their story hasn't changed much since the last time I saw them.
Next was one of my favorites – Norway. It was a little different this year, though – instead of just Julenissen, it was called Sigrid and Julenissen. A girl in a lovely Norwegian costume came out and started to tell us about holiday customs in Norway, but she was soon joined by a mischievous gnome – a gnome that she couldn't see since she didn't believe in gnomes. But he had the power to freeze her in place and perform small acts of mischief like placing a bell in her hand or getting us to do something when she "woke" up. And of course by the end she had become a believer and could see him, too. It was cute, though I thought Julenissen by himself has put on a fine show in the past.
Next was Helga in Germany – this one also seemed updated to me. She talked about the Christmas Market and spiced wine and the history of the Christmas tree and the nutcracker – and then she was joined on stage by a giant nutcracker.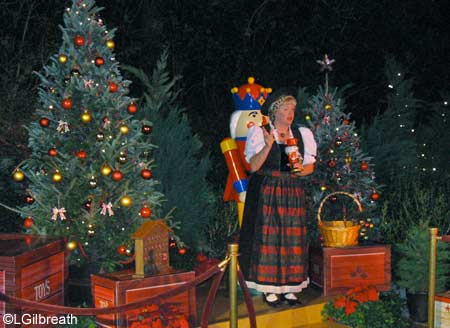 I went towards the front of the park to sit and watch the Lights of Winter for awhile – it's one of my very favorite things at WDW during the holidays, and this is the first chance I've had to do that. In addition to the lights dancing to music, the fountain was dancing constantly as well, instead of every 15 minutes like it usually does. The music repeats after about 20 minutes – I heard pretty close to a full set, I think.
Walked back to the Boardwalk with a stop at the Bakery to pick up a sandwich for dinner, and then work on this blog entry for a while before I went to the final RADP Meet – the Winter/Summerland Mini Golf event.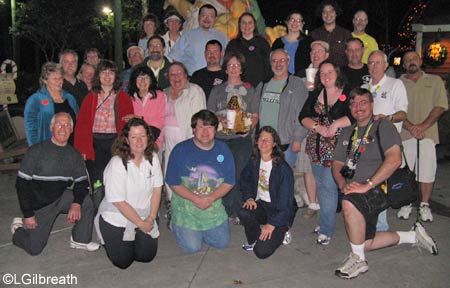 There were 25 of us playing – quite a good turnout! Normally they send out foursomes, but we went in groups of 5. We all played the Snow course. Kenny, Jack, Catherine, Marta and I were one group, and we had a very good time. Jack kicked our butts – he scored 39 on the par 56 course. Everyone seemed to enjoy themselves – but Tiger Woods has nothing to worry about. 🙂
There were a lot of places to take some fun photos on the course.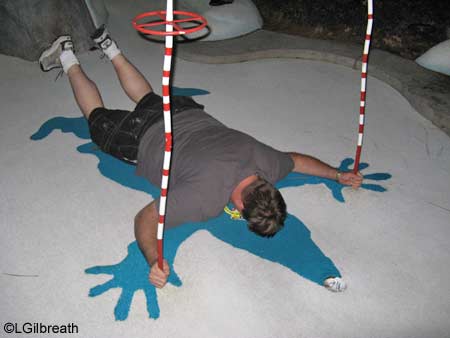 It was hard saying goodbye to everyone – I had so much fun playing with them these last few days! And I probably won't see some of them for a couple of years – though I keep trying to convince them that we need to have a meet at DisneyLAND. 🙂
I'll have a little bit of park time tomorrow before I have to go to the airport.