Tuesday – departure day for me. No Mousefest or RADP events on the schedule, either.
I packed and did a little email and got my boarding passes at Lobby Concierge on my way out to the car. I left for Animal Kingdom around 10:00.
I was still able to park in the last row of Unicorn – and the park didn't seem very crowded at all. Back at Everest my friend Kenny was working the Fastpass distribution area – it was very interesting to see the kinds of things that he deals with. And I learned some things I didn't know about Fastpasses – though not the kinds of things that will let me circumvent the system. 🙂
I took an expedition on Everest after that – the backwards-in-the-dark didn't disorient me as much this time, so maybe I'm getting more used to it. Is the animatronic Yeti ever working these days? I think in my three trips this year I've seen it in the strobe effect every time.
It was another beautiful day – sunny and in the low 70s. Pretty much perfect weather in my book! I wandered around the park and I noticed a lot of holiday decorations in Dinoland that I hadn't seen before.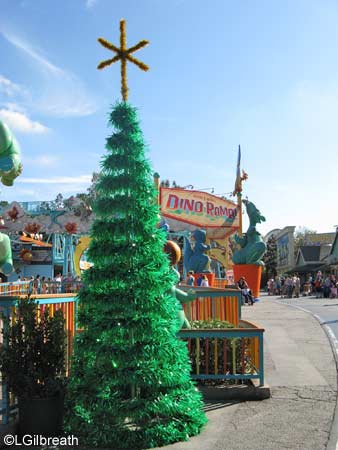 Caught a little bit of the Village Beatniks doing their holiday set. They are very entertaining, and they performed Carol of the Bells, which is one of my favorites.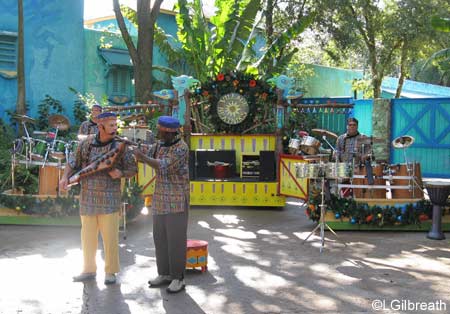 I went to visit the otters – they had found a nice grassy sunny spot and they were napping and doing a little grooming. Otters are just way too cute!
Back to the Boardwalk where I parked the car and went to Epcot to start my World Showcase Holiday Marathon. Don't try this at home. 🙂
I saw the 11:55 Pere Noel storyteller in France. Looked to be the same actor I saw two years ago – though with the beard it's hard to tell!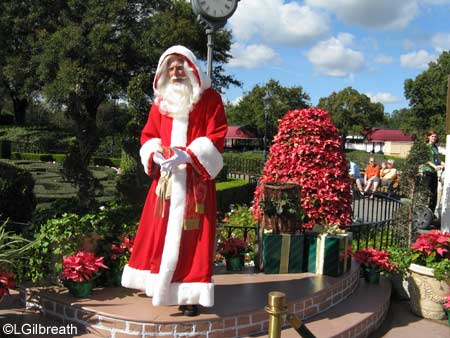 Then I hot-footed it over to China to see the Monkey King at 12:10. He has a new stage in front of the rock (which he uses).
At 12:30 it was time for the first performance of the Voices of Liberty, which is always one of my favorites. This was the first chance I'd had to see them this trip, since I haven't been in Epcot very much during the day.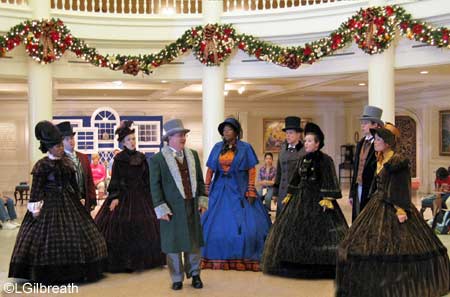 After that it was over to Japan (though at least that's the next pavilion!) for the 12:50 Daruma seller. This is the first time I have ever seen a man performing the role – every other time I've seen it it has been a woman.
I was starving by then so I had lunch at the Tangierine Cafe – a chicken wrap. I ate the whole thing plus the lentil salad and couscous, too – though it seems like those side servings have gotten a lot smaller.
At 1:30 I saw Papa Noel in Canada – he came out dressed more as a lumberjack and introduced himself as "Noel", and then he started putting on this Santa garb – the fur-lined boots, gloves, and long red coat. I felt sorry him having to wear all that on a warm day!
There was a break in the storyteller action while I went to the front of the park to see the decorations at the entrance. I very rarely get to the front entrance of Epcot these days since we stay at the Boardwalk – in fact I never got to the front at all when we were here in October!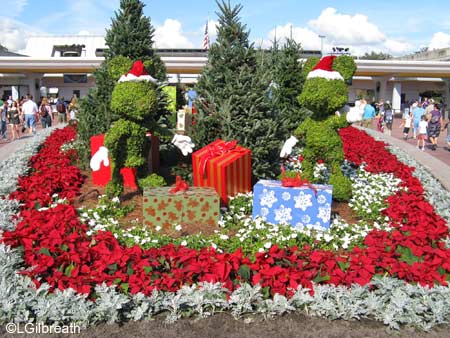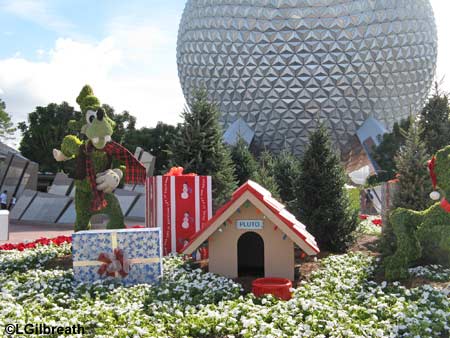 I wanted to send some Internet postcards to people from the IBM kiosk in Innoventions but that area is closed for refurbishment!
It was about 8 minutes before 2:00 by then and I wanted to see the Italian storyteller, La Befana, at 2:00. Ok, so not even *I* can get from Innoventions to Italy in 8 minutes (by my GPS watch it was almost 3/4 of a mile). 🙂 But I only missed a couple minutes of her show. It hasn't really changed.
Last on my agenda for the day were the almost back-to-back performances of the Voices of Liberty at 2:40 and 3:10.
I made the mistake of sitting down on one of the benches in the rotunda at 2:15 and suddenly everything caught up with me and I got really tired. That's what happens when you stop moving!
I actually wrote some of this blog on my Palm Pilot while I was waiting for the Hanukkah storyteller at 2:25. She was pretty young, and seemed like she had some World Showcase Player experience from some of the things she said. (I never managed to see them at all on this trip!)
The Voices of Liberty were great and I heard a lot of songs over the three sets. Though they all started with Christmas in the Air and ended with We Wish You a Merry Christmas and included the same old Hanukkah medley (can't they find any other Hanukkah songs???)
After that it was time to say goodbye to Epcot and walk back to the Boardwalk parking lot. Sigh.
At the Orlando airport they were really scrutinizing the x-rays for liquids – or at least the lane I was in did that, because it was moving very slowly. I'd dutifully separated all my stuff and they still ran my daypack and my ziplock bag through twice.
When I arrived in Atlanta for my connecting flight I discovered we were playing musical gates – they initially told us our flight was departing from B21, then B29, then B27, and then back to B21 again. When they finally started boarding the plane they only got to Zone 2 before announcing there was a maintenance issue, and then offloading everyone. The pilot came out and made an announcement that there was an issue with the pressurization system, and he wouldn't sign off on the plane. Hey, if the pilot doesn't want to fly it, I certainly don't want to be on board!!! So then they had to find us a new plane. We waited another hour and the pilot came back on to say the mechanics had fixed the problem and we were good to go. We ended up leaving over 90 minutes late, so of course it was almost midnight (11:55 to be exact) when we landed in San Diego. Where it was rainy and cold! I think this is the first time I've ever returned from Orlando when the weather has been way better there than in San Diego. Normally returning to San Diego isn't much of a hardship. 🙂
I had a wonderful, wonderful trip, though 5 days was not enough time. As you can tell if you've been reading these blogs, I had a great time with all of my RADP friends (old and new!), and on the scavenger hunt with my AllEars team, and spending quality time with my friend Deb, and a nice but all-too-brief visit with Ilene and Paul.
Our next trip will be the end of January – Lee and I will spend a couple of nights at WDW before we go on our Disney Magic cruise to the western Caribbean.
Happy Holidays, everyone!