Saturday – the day of the Mega Mouse Meet, and lots of other meets too. It was a long and very busy day, but fun, too!
The Mousefest Mega Mouse Meet (MMM) was held in the Yacht and Beach Convention Center this year. This is the first time I've been to Mousefest, so it was also my first MMM. Deb had asked that any AllEars team members who were available come over early to help set up our tables – I was fortunate enough to not arrive TOO early, because things were almost all set up by the time I got there. 🙂
Once everything was set up, but before the doors opened, we took an AllEars Team Photo. There will be better versions of this which were taken with much better cameras than mine, but here's a first look at it. Don't we all look neat and pretty? 🙂
As I said, I've never been to a MMM before, so I was not quite prepared for what happened when the doors opened and everyone started pouring into the room. Over the course of the next 3 hours there must have been well over 1000 people who came through the room to chat and visit with all of the various web site and travel agency representatives, authors, Disney fan communities, etc.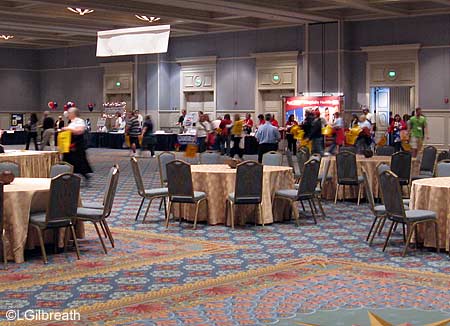 At the AllEars table we had a very nice selection of giveaways, if I do say so myself (and I don't know why I shouldn't, having had nothing to do with the procurement of said items. 🙂 ) There were lanyards, pens, sewing kits, zippered pouches, buttons, postcards, etc. My favorite, though, was the "Emergency First Aid Kit" in the small plastic box. It actually does have a number of useful items in it (like Tylenol and band-aids) but the reason it was my favorite was because of our wonderful AllEars teammate Erin, who was explaining to people what was in the box. (It was sealed inside a plastic wrapper.) It was like watching an infomercial, only more entertaining. "But wait, you also get…" That girl could sell ice to Eskimos. 🙂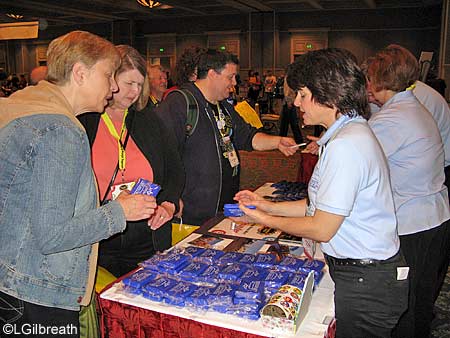 MEI Travel and Mousefan Travel sponsored a "scavenger" hunt where they gave out a list of things people had done (like going on an Adventure by Disney, staying in all of the monorail resorts, etc.), and they were supposed to get a signature from someone who had done each of those things – but you could only have a person sign for one thing. Some of them were not too uncommon in a room full of Disney fans, but a few of them were harder to find, so we had fun pointing people in the right direction when they needed help with various things. I think Deb and Linda Lou had done *everything* on the list – I think they signed an awful lot of the "Panama Canal cruise" and "5 or more Disney cruises" boxes. 🙂
Thank you to all of you who stopped by to tell us how much you enjoy AllEars, and who thanked us for our contributions to the site. We do this because we love it, but it's always wonderful to hear that our work is appreciated.
MMM was over at 1:00, and JackM and I left soon after to go to our first RADP event of the day, which was the RADP Big Meet and Greet. This is the 13th year for that – it started as a small meet near the Epcot Fountain back in 1996. We met outside the International Gateway at Epcot. It wasn't as big as it has been in the past, but it was good to see everyone. I think we all thought about our RADP friend Randy Berbaum, who passed away suddenly earlier this year. Randy always took the meet photo by taking pictures of small groups, and then compositing them into one large photo – sometimes putting us in a place we hadn't been, like in front of the Main Street Train Station. 🙂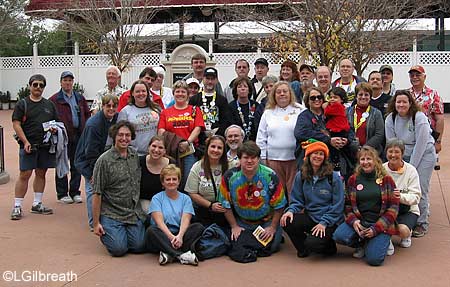 A larger version of the photo is here.
For those of you reading this who are familiar with the RADP newsgroup, Keane was able to attend the big meet – he's on the left in this next photo.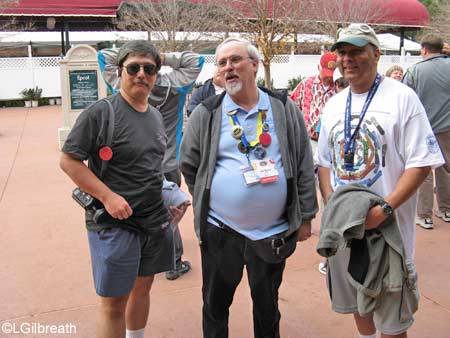 And pretty much all of the usual suspects were there, too.
I guess I haven't mentioned it, but it was another brisk and chilly day – only 40 at 8:30 in the morning, and it didn't get much above 60 the rest of the day. The sun was out in the morning but disappeared by early afternoon. Gee, I'm so glad I brought that selection of my Disney holiday t-shirts that no one has actually been able to see yet…I *have* gotten way more use out of my Tigger holiday hat than I ever have in the past, though – normally it's just too hot to wear it!
DebK arrived in time to be in the group photo, and eventually the two of us went off to Japan to have a very late lunch before going to the next RADP meet – "What's Your Problem" in Innoventions west.
This is a comedy/game show about the wonders of Velcro. Our group comprised about 80% of the audience, so it wasn't too surprising when Chad and Kerry were chosen for the "packing" game. Kerry had to put items in bags and then stick them onto Chad who was wearing a Velcro cape. They did very well! Jack was selected to play the "Bringing up Babies" game because the host thought he looked like Colonel Sanders, and had come up with all sorts of chicken jokes to tell, but he refused to play (c'mon Jack, you had to know that was going to end up in the blog!), so instead they chose a guy who looked like Santa Claus but without the beard. I hadn't seen the show before but it was fun.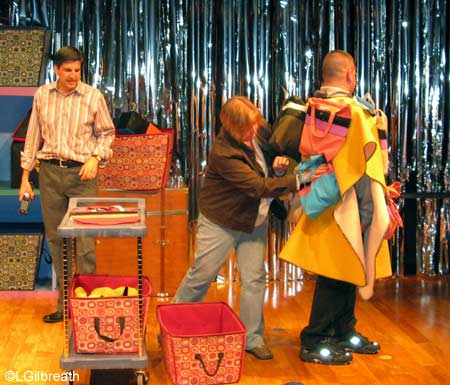 Deb and I walked over to the Studios after that because we wanted to see the Osborne Lights. Deb hadn't seen them since they started doing the dancing lights, and I hadn't been there in two years. It was pretty crowded, and we were doing the usual "Osborne Shuffle" in getting through there. They are using a lot more LED lights than they were the last time I saw this – they are much brighter and more vibrant. We heard 4 different songs – two by Trans-Siberian Orchestra that I had heard two years ago, and also March of the Toys and Feliz Navidad, which is not one of my favorites.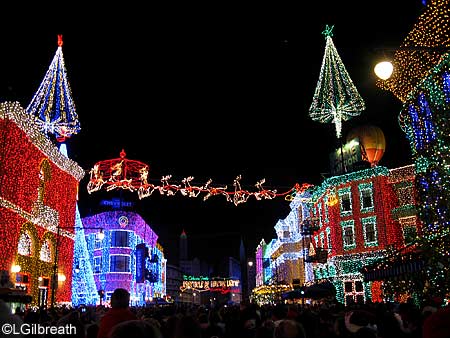 We ran into Mike Scopa and Michelle Scribner-MacLean several times, as they were enjoying the lights, too. I *finally* saw Mike wearing a jacket there – we'd seen him earlier and he was still in short sleeves while I was bundled up in my fleece sweatshirt and Tigger hat. Ahhh, the difference between the hardy New Hampshire native and the thin-blooded Californian! 🙂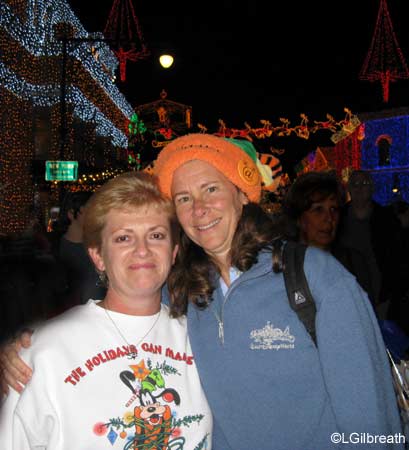 Deb and I went back over to Epcot (I must admit by that time we both thought that taking the boat back looked pretty good, but the line was too long) and had dinner at Tangierine Cafe. That's always one of my favorites. Though we were sitting "inside" the doors were open and it felt like a wind tunnel, so we were kind of chilled after we finished. Deb suggested going some place warm and we went into the Tin Toy exhibit in Japan. I love those old tin toys!
Our friend Kenny was in the Cast Choir of the 8:15 Candelight Processional performance, so we went to watch him. The theater was packed, but we were able to stand at the back. It took awhile, but we finally spotted him in the choir. Monique Coleman (who I'd never heard of, but Deb told me she was in High School Musical) was the guest narrator – she did a nice job with it. The music was wonderful and even standing at the back we could hear it just fine. It seemed like there were an awful lot of choir members that had to be escorted off-stage during the show, though. 🙁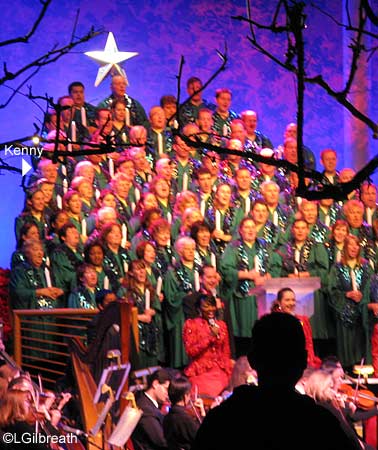 We went inside the American Adventure to sit and rest our feet after standing for almost an hour – it was nice and quiet (and warm!) in there.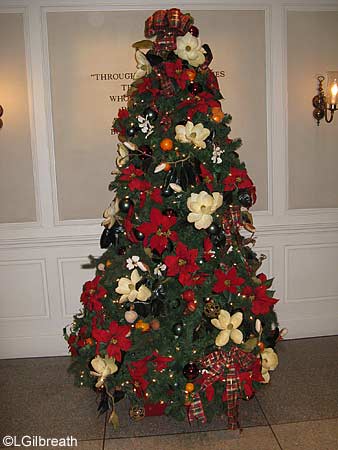 We'd talked about seeing Illuminations and the Lights of Winter, but it had been a very long day and we both decided we were just too tired. As we were walking back by Morocco we noticed Kenny walking in front of us, so we caught up to him and told him we'd been able to see his performance (he was also in the 6:45 show). We saw enough of Illuminations to determine that yes, the globe WAS working tonight, and then said goodbye to Kenny when we went out the International Gateway. We watched the finale of Illuminations AND the special Holiday finale from the bridge, and then Deb and I had to say goodbye since we won't have a chance to see each other before she leaves tomorrow. She's my oldest and dearest RADP/AllEars friend (sorry Jack! 😉 ), and I was so glad that we were able to spend so much time together this weekend – she has a lot of AllEars commitments to work around.
This has been quite a commando pace for me the last few days, and I have to admit that I am looking forward to sleeping in tomorrow, since the first RADP meet I'm attending doesn't start at the Magic Kingdom until 10:30.