Mickey and Minnie Planning to Show Off New Costume-Party Look at Mickey's Not-So-Scary Halloween Party Dates, Beginning Sept. 5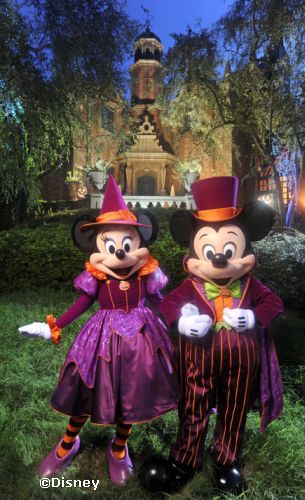 LAKE BUENA VISTA, Fla. – When the Disney characters dress up for Mickey's Not-So-Scary Halloween Party this September and October, Mickey Mouse and Minnie Mouse will be debuting a whole new look. Mickey has traded his scarecrow costume for stunning purple and orange eveningwear fit for a Halloween ball. Not to be outdone, Mickey's best girl, Minnie Mouse, exchanged her witch costume for a party dress to complement Mickey's attire.
For Mickey, it's a top hat and purple tails. For Minnie, it's a party dress with a purple hat with an orange ribbon – bright and colorful, befitting the fun on 26 evenings between Sept. 5 and Oct. 31 when Magic Kingdom hosts the popular after-hours party.
Guests are invited to dress up as well for the 7 p.m.-midnight party which features two scheduled entertainment extravaganzas guests can see at no other time: the "Boo-to-You" Halloween parade and the bewitching "Happy HalloWishes" fireworks spectacular. There's trick-or-treating galore and also a chance to experience popular attractions throughout the evening.
Parties are slated for Sept. 5, 9, 12, 16, 19, 23, 26, 28, 30 and Oct. 2, 3, 4, 5, 7, 9, 10, 13, 16, 19, 21, 23, 24, 26, 28, 30, 31. To purchase advance tickets, guests can call 407/W-DISNEY or visit disneyworld.com/halloween.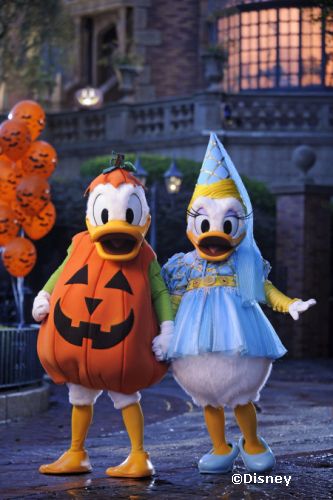 DUCK-O-LANTERN: Donald and Daisy Duck are decked out in their newest Halloween party-wear in front of the Haunted Mansion at the Magic Kingdom in Lake Buena Vista, Fla. It's all part of the fun that takes place when the Magic Kingdom hosts "Mickey's Not-So-Scary Halloween Party." Activities include trick-or-treating, a Halloween parade and Disney's "Happy HalloWishes" fireworks show. A separate ticket is required to attend.
Disney's Official Mickey's Not So Scary Halloween Party Website