'Happiest Celebration on Earth' In-'spires' Magical Makeover of Cinderella Castle at Magic Kingdom
Back to Page 1 of the Castle Decorations and New Hub Photos
The Partners Statue is back on display as some of the construction walls have been removed. Special thanks to Patricia and Craig Heil for the photos!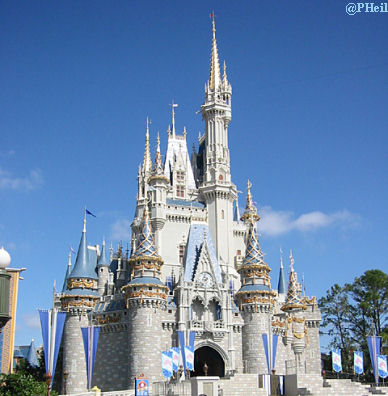 LAKE BUENA VISTA, Fla.(WDW Press Release) — With preparations under way for the largest bash in Disney theme park history, Walt Disney Imagineers are hard at work on an elegant makeover that will add a glittering, golden touch to Cinderella Castle at Walt Disney World Resort, just in time for the "Happiest Celebration on Earth."
Scheduled to debut officially in ceremonies at the Magic Kingdom theme park on May 5, 2005, the stylish transformation is inspired by the works of Renaissance artisans of the 15th and 16th centuries, while also paying tribute to the rich legacy of Disney animated films.
"This treasured Walt Disney World icon will be playfully dressed up with elegance and style to match this unforgettable celebration," said Eric Jacobson, senior vice president of creative development, Walt Disney Imagineering. "Magic Kingdom guests will be amazed by the castle's new look."
As part of the 18-month salute to 50 years of Disney theme parks, Cinderella Castle at Walt Disney World Resort will be decorated with graceful touches of golden trim, rose swags, bunting and swirling bands of "pixie dust" encircling its blue spires.
In a nod to Disney's unique history, golden sculptures of animated characters from several classic feature films will shine from the 189-foot-tall castle's turrets, towers and balconies, including:
Cheshire Cat and White Rabbit (from 1951's "Alice in Wonderland")
Peter Pan, Wendy and Tinker Bell (from 1953's "Peter Pan")
King Louie and Kaa (from 1967's "The Jungle Book")
Flounder and Sebastian (from 1989's "The Little Mermaid")
Simba, Timon and Pumbaa (from 1994's "The Lion King")
Victor, Hugo and Laverne (from 1996's "The Hunchback of Notre Dame")
Above the castle's front arch will hang an enormous golden frame that holds a magical stained glass-style window. In it, colorful images of the five iconic castles from Disney theme parks around the world will appear at regular intervals throughout the day.
Beginning in February 2005, Magic Kingdom guests will have a unique opportunity to observe Cinderella Castle undergo the elegant transformation day by day as Imagineers prepare the icon for its grand unveiling in May.
The special decor will be on display through 2006 during the "Happiest Celebration on Earth." For more information, visit disneyworld.com.
Cinderella Castle was designed as a fanciful composite of French courts such as Fontainebleau, Versailles, and several chateaux of the Loire Valley. Its base evokes the Romanesque architecture of medieval fortresses from the 11th through 13th centuries, while its upper portion is reminiscent of the Gothic styles of Renaissance-era castles.
Last Update: February 28, 2005