Disney World hotels have been getting some major upgrades lately.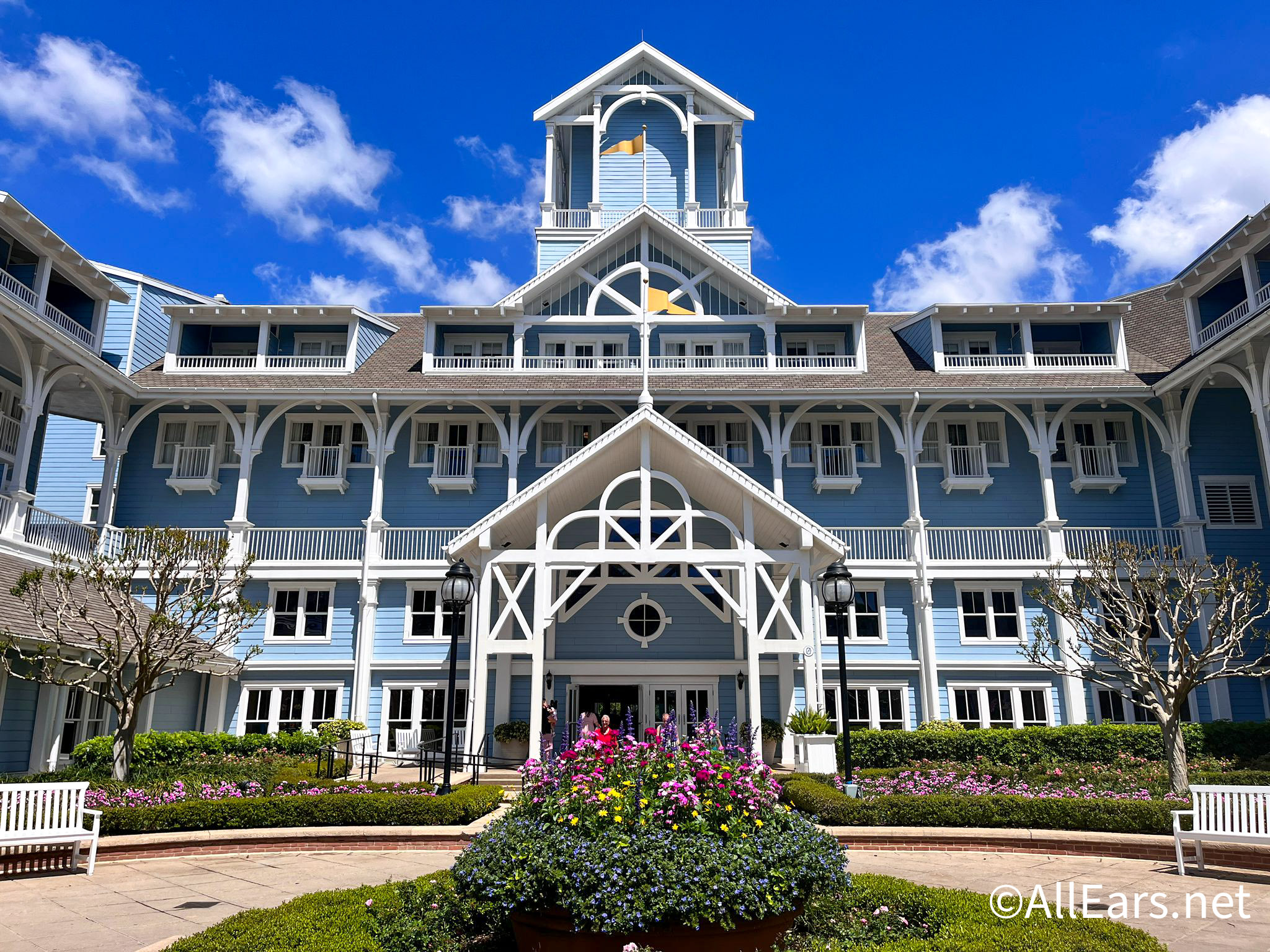 From newly refurbished rooms at the Grand Floridian to a brand new tower under construction at the Polynesian, Disney has been busy. Back in January, we learned that Disney's Beach Club Resort would be getting some TLC and now we've got a peek at some of those changes.
Disney announced that the villas at Disney's Beach Club Resort will be undergoing refurbishments back in January, and we've been keeping an eye on the progress ever since. Originally, the villas were scheduled to be undergoing refurbishments from January 7th through April 2023, but Disney later changed the end date to later this fall.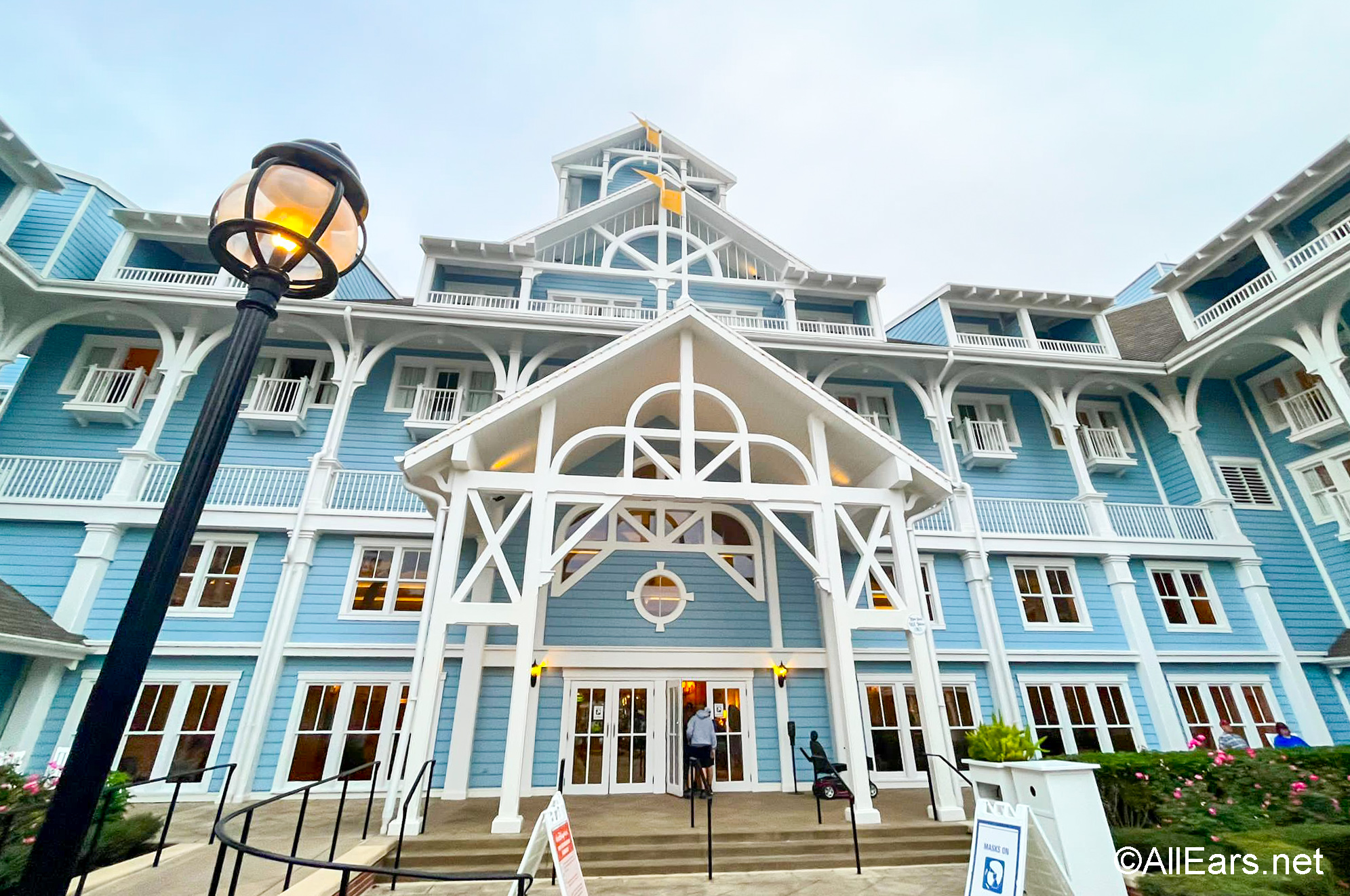 Some of the Club Level rooms have already been refurbished, though — we recently stayed in one and wanted to share a look at those changes with you.
The updates start before you even make it to your room, with this carpet that is giving all the tropical vibes. It features beautiful corals and other underwater imagery, and we think we spy some familiar footprints too.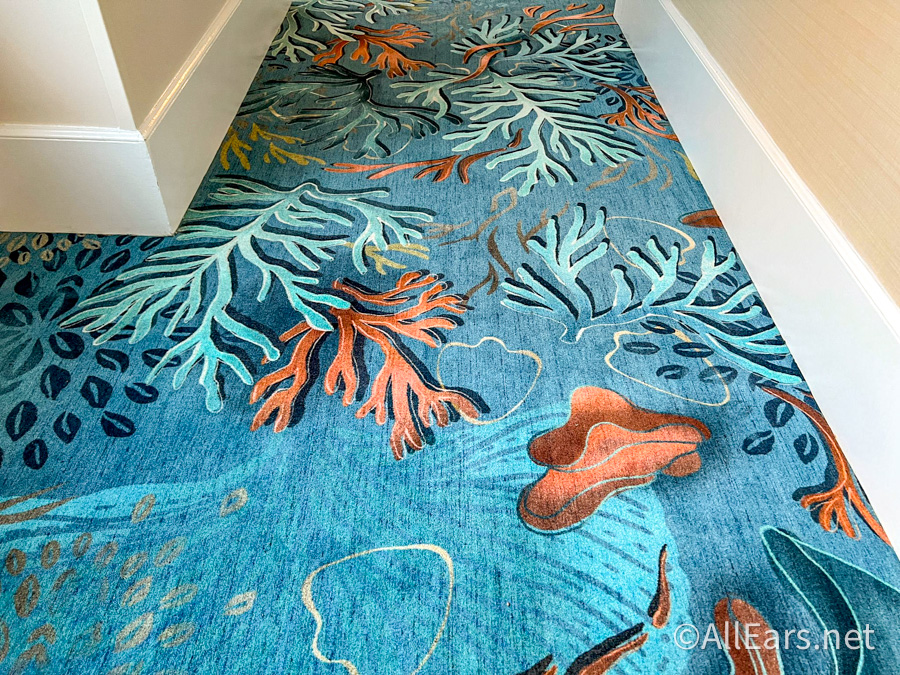 Not much has changed about the exterior doorway, but here's what you'll see before you head into the room. Disney is only updating the "soft goods" in these rooms — meaning the curtains, couches, chairs, and things like that have been replaced.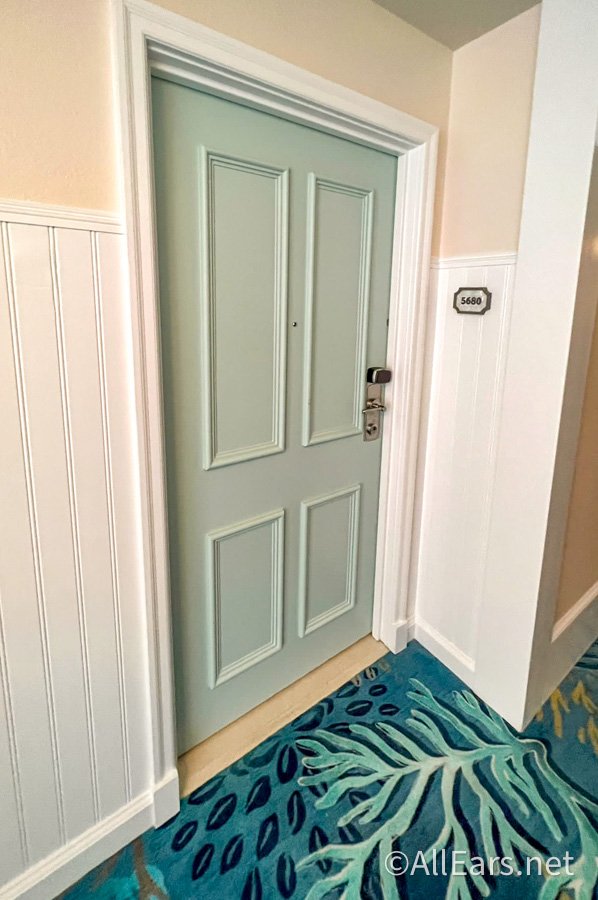 You'll find the bathroom vanity is the same, but the shower curtains have been replaced with glass doors instead.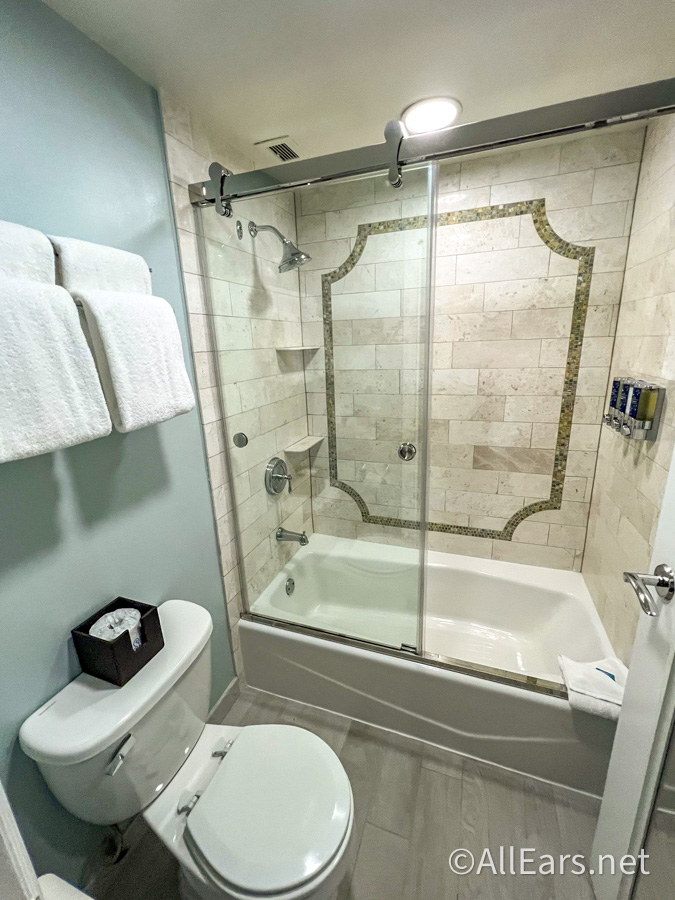 The living space features a large king bed, two nightstands, and a pull-down couch. You'll find that the rooms have a subtle Donald Duck theme, as evidenced by the carpet in the hallway and some of the art!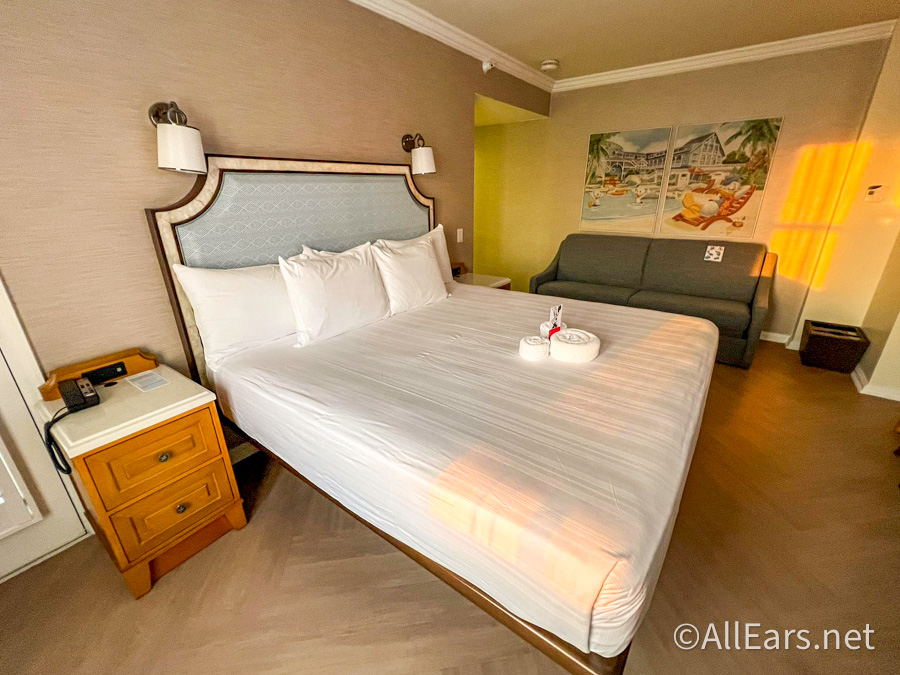 See what we mean? Donald is just chillin' poolside as Huey, Dewey, and Louie splash it up in Stormalong Bay with the Beach Club in the background. This little sofa doubles as seating and a pull-down bed for extra room.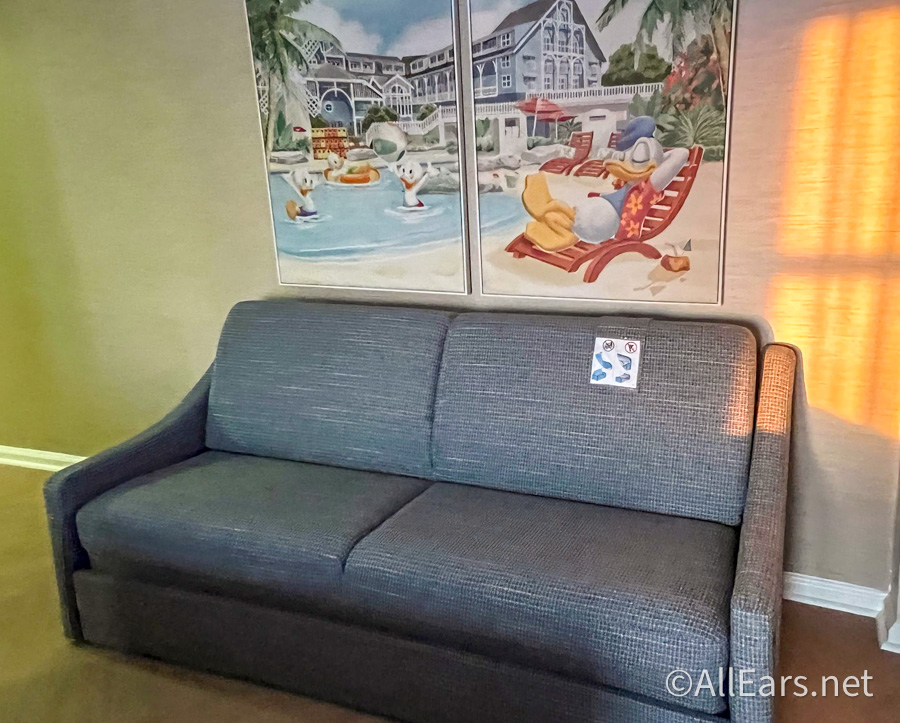 These curtains are giving quaint beachside grandma cottage vibes, but we're kind of into it. There's also a bench in front of the window so you can look out and daydream about your perfect Disney day.
Next to the bench and window, you'll find a dresser with an ice bucket and a Keurig Coffee Maker on top. What we will say about this room is that there aren't a lot of surfaces to put things down if you need to. Again, these rooms only received updates on the "soft items" so this area remains largely unchanged.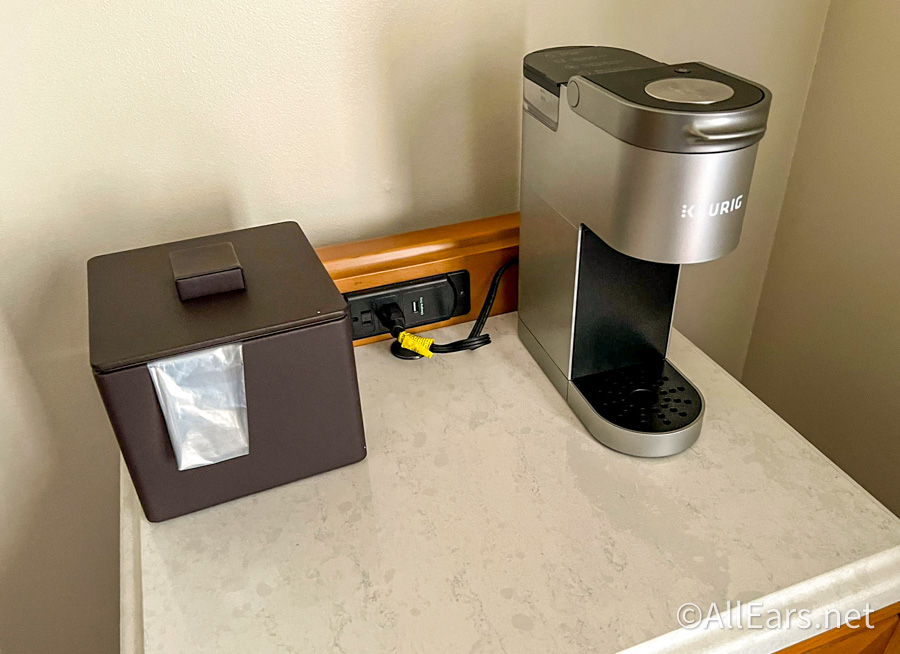 Just because we think they're fun, you can see a better look at the newly replaced blue and pink fish-themed curtains here.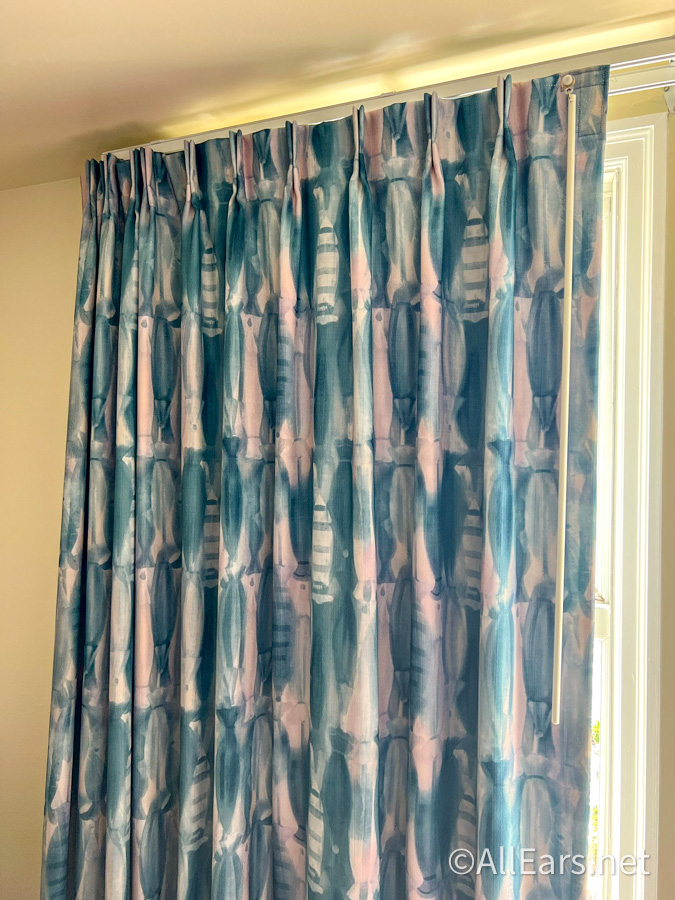 Disney also replaced the chairs at the desks in these rooms, so if you've been waiting for that chair upgrade — here it finally is.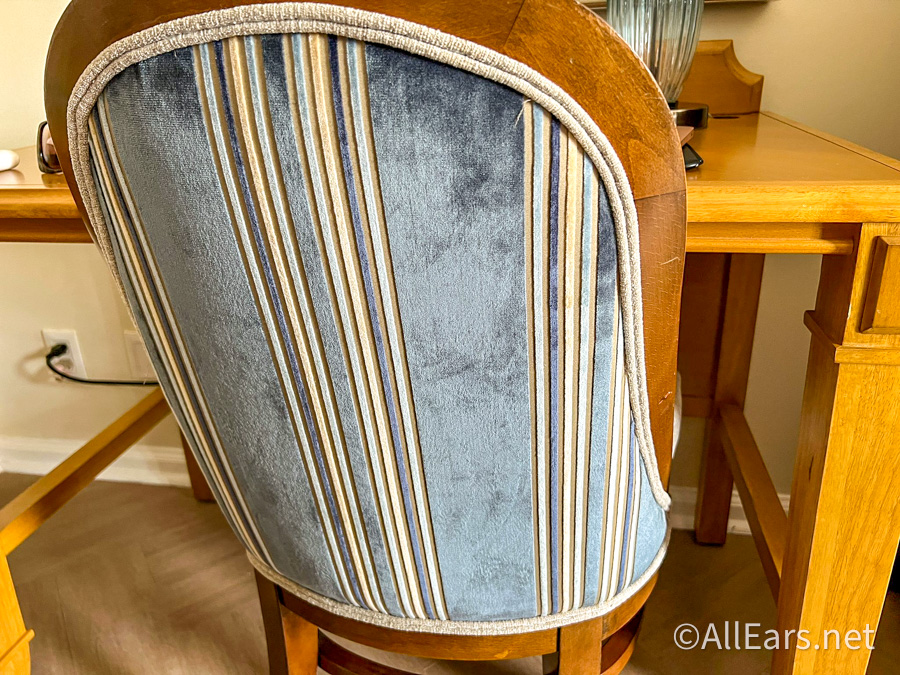 These changes aren't anything too drastic, but it's nice to see a bit of an upgrade to some of the outdated rooms at Disney World hotels. What do you think of these changes? Will you be booking a room at the Beach Club sometime soon?
Be sure to stay tuned to AllEars for the latest Disney World hotel news and more!
What do you think of these changes? Tell us in the comments!