We're taking you with us as we set sail aboard the Disney Wish!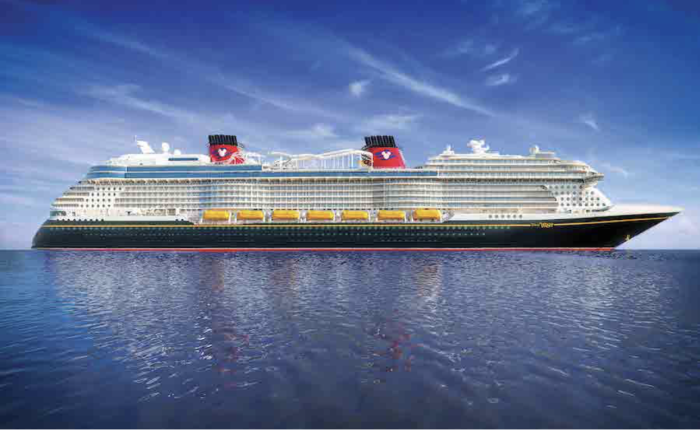 The Disney Cruise Line's newest ship has so much to offer — shopping, spas, Disney's first-ever attraction at sea, and immersive dining experiences! And speaking of dining, we tried out one of the most highly-anticipated dining experiences on board. Here's how it went!
We're talking about the Worlds of Marvel restaurant! This is the first ever Marvel-themed dinner show and promises an action-packed adventure all while dining on foods inspired by Marvel lands and more. We made our way over to the restaurant to partake in this experience — let's check it out!
This is a dining experience unlike any other, where guests are shown a presentation from Ant-Man and The Wasp in their first public speaking engagement. Since this is a technology showcase, it's no wonder that the setting would look futuristic.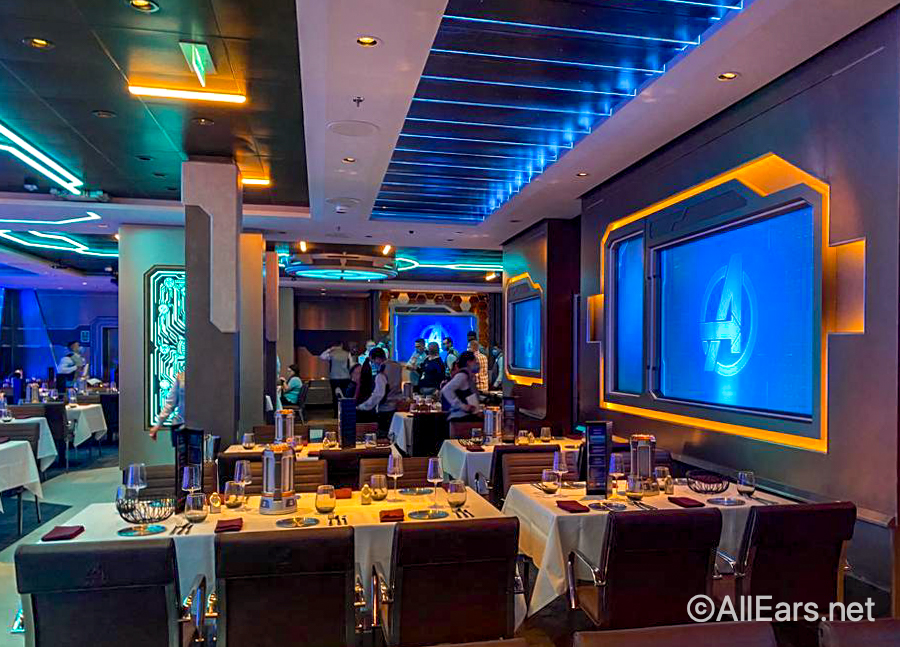 At each table, you'll find a Quantum Core — a new device that can cause objects to shrink and grow remotely.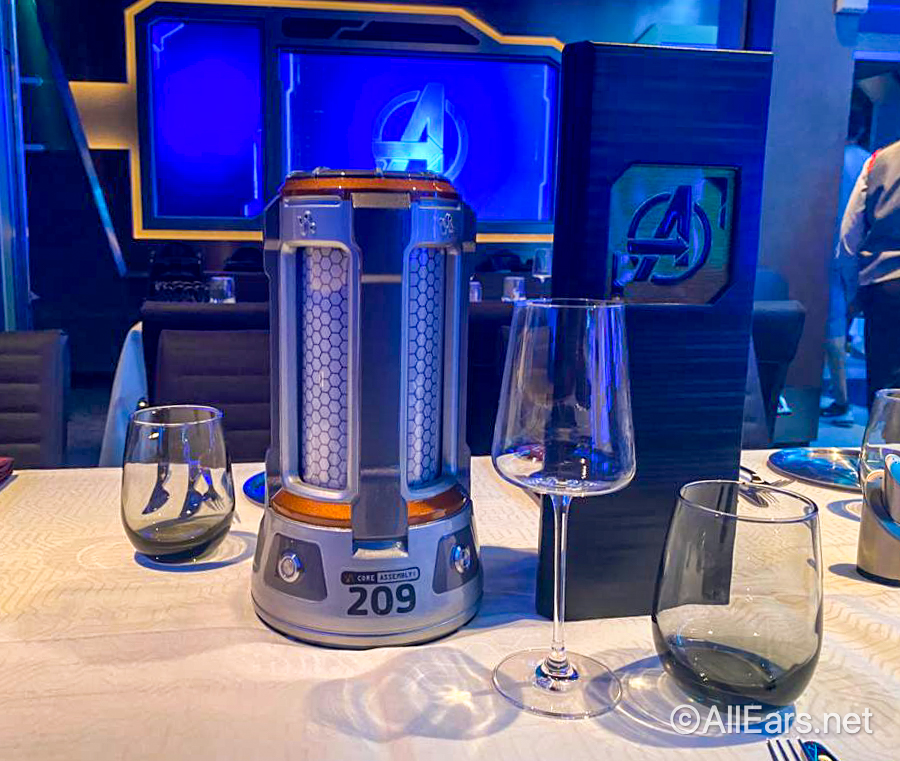 You'll also find typical table setting items, like glassware and silverware.
Don't worry, we'll get to the entertainment at this dining location in a bit, but first — the food!
Menu
The menu had interesting Marvel-themed items, inspired by Wakanda, Sokovia, and New York! There's quite a bit to choose from, starting with appetizers…
…soups and salads inspired by Wakanda and Sokovia…
…and some delicious sounding entrées as well.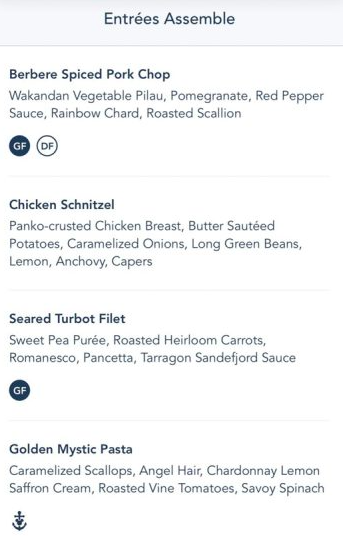 They've got some vegetarian options…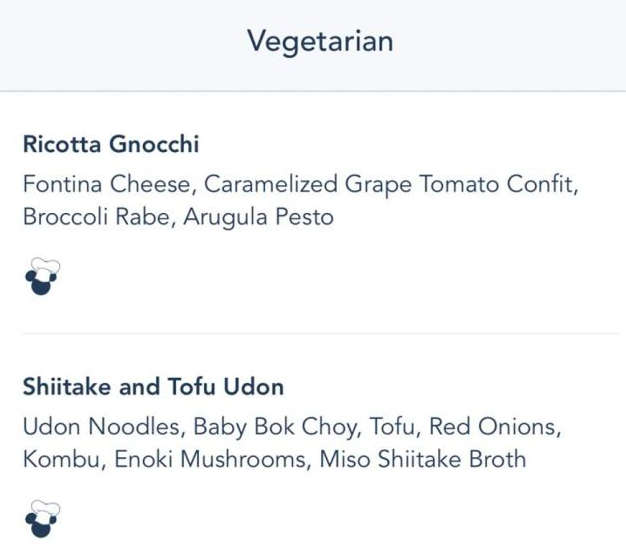 …and some lighter entrées if those float your boat!
Of course, there are plenty of desserts.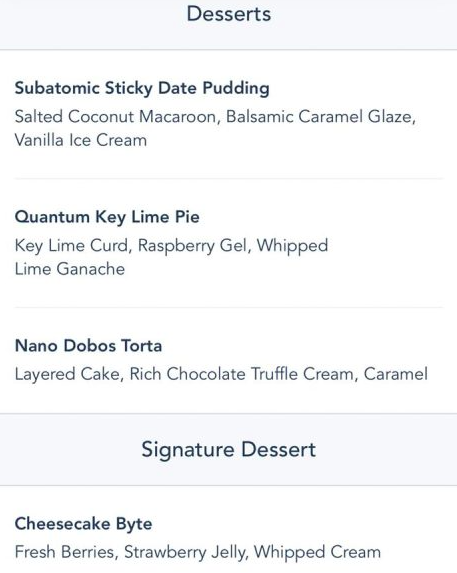 Seriously, there are even more desserts to choose from!
We've got options for kiddos as well, like a Creamed Potato Soup and Garden Salad…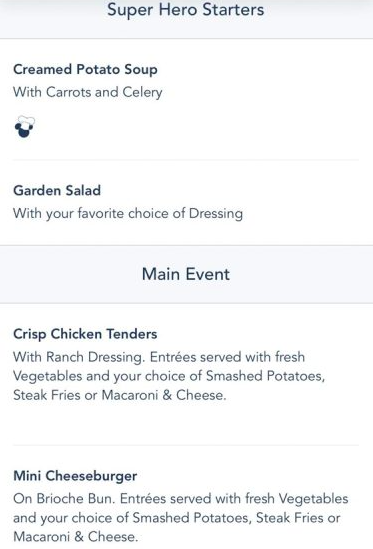 …and kid-friendly-sounding entrées so your little ones have plenty of energy for cruise activities!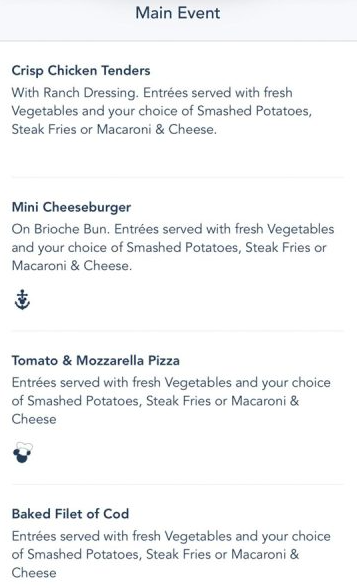 There are also a couple of Disney Check Meals for kids…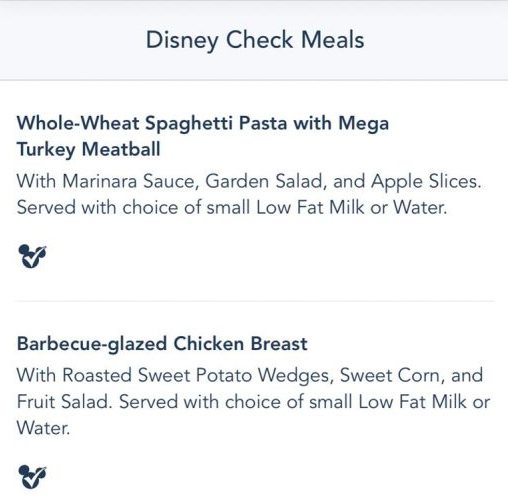 …and desserts for the kiddos too!
And now, the main event!
Food
We couldn't wait to see if these items tasted as good as they sounded on the menu, so we got started with the Marble Bread with Red Bell Pepper Dipping Sauce.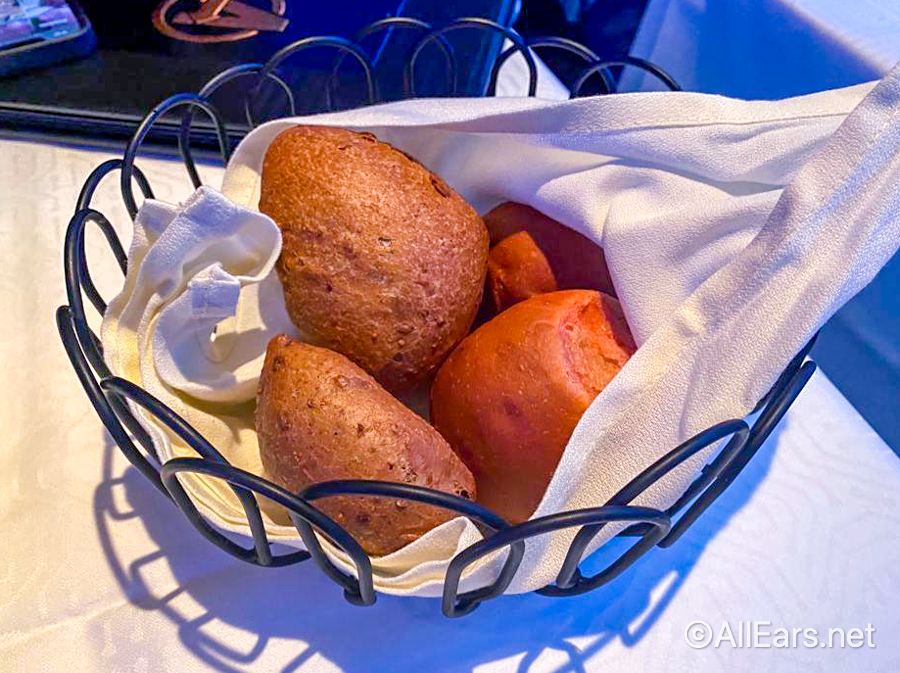 We really enjoyed the Red Pepper Dipping Sauce!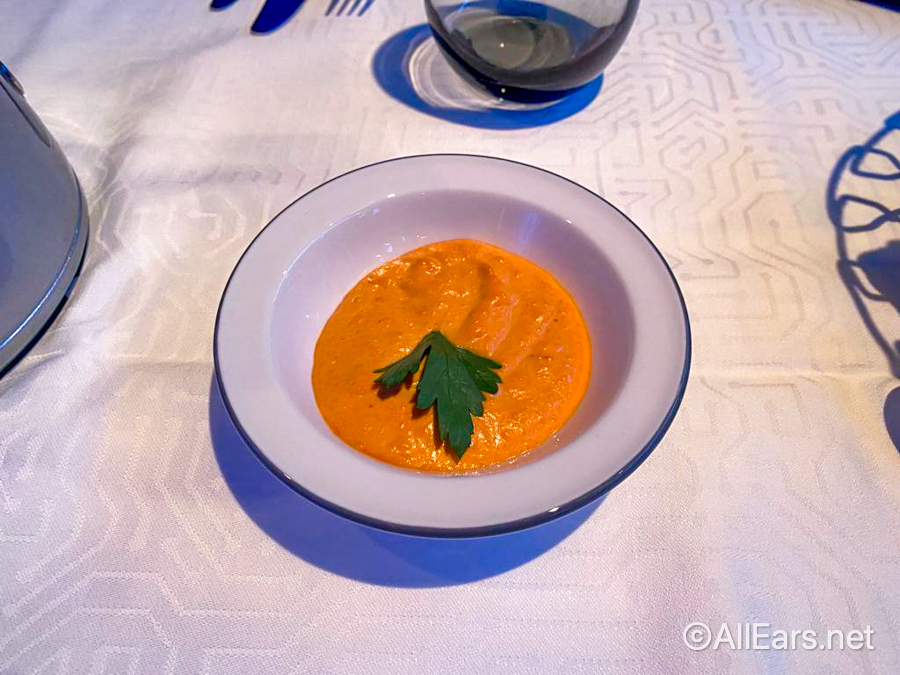 After we had our fill of bread (the limit does not exist), we dove into the Steamed Bao Buns appetizer. These are made with a seared ginger orange pork belly, toasted sesame seeds, pickled daikon, spring onions, and Mirin soy honey glaze.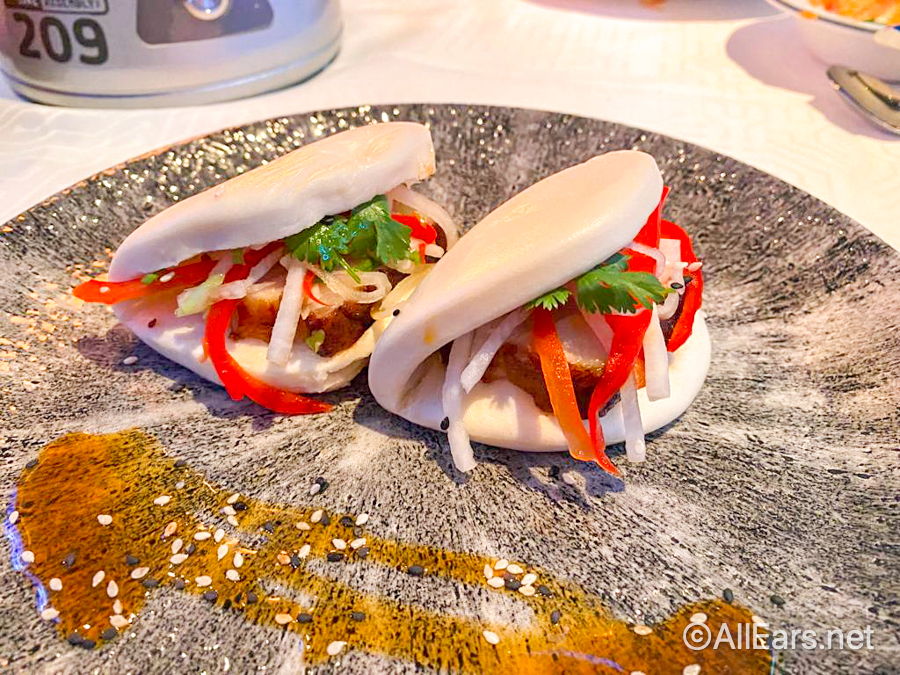 We also ordered the Crispy Breaded Fried Shrimp, served with white cheddar and corn grits, bell peppers, collard greens, and smokehouse barbecue sauce. The shrimp was lightly fried and tasted fresher than your typical fried shrimp.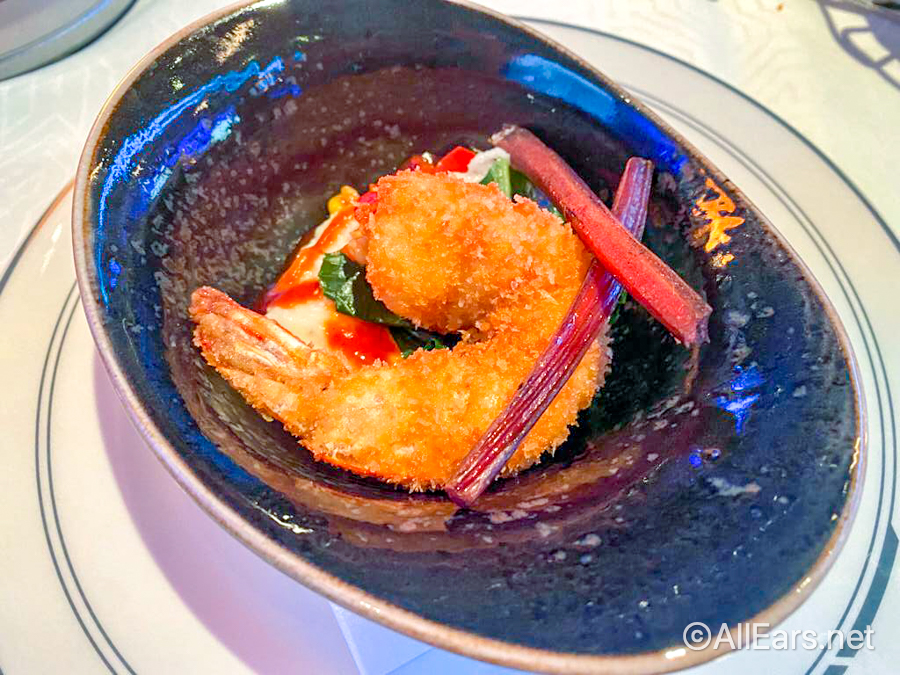 After we had our fill of appetizers, it was finally time to dig into our entrées! We decided to go with the Delmonico Ribeye Steak with Black Truffle Butter, served with whipped Yukon gold potatoes, green asparagus, and a cabernet reduction.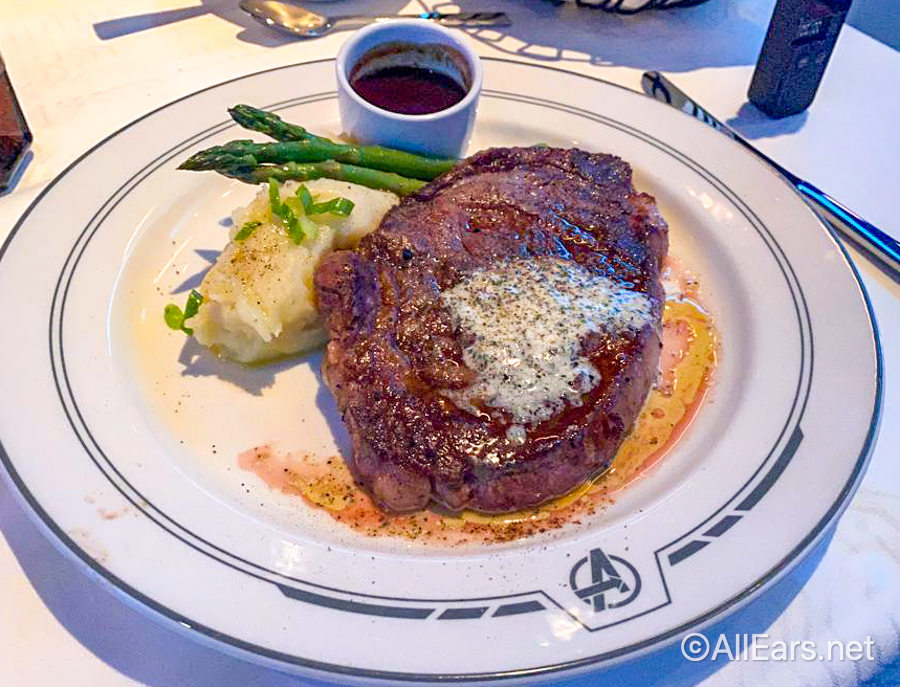 We also decided to try another entrée, so we ordered the Chicken Schnitzel! It's a Panko-crusted chicken breast served with butter sautéed potatoes, caramelized onions, long green beans, lemon, anchovy, and capers.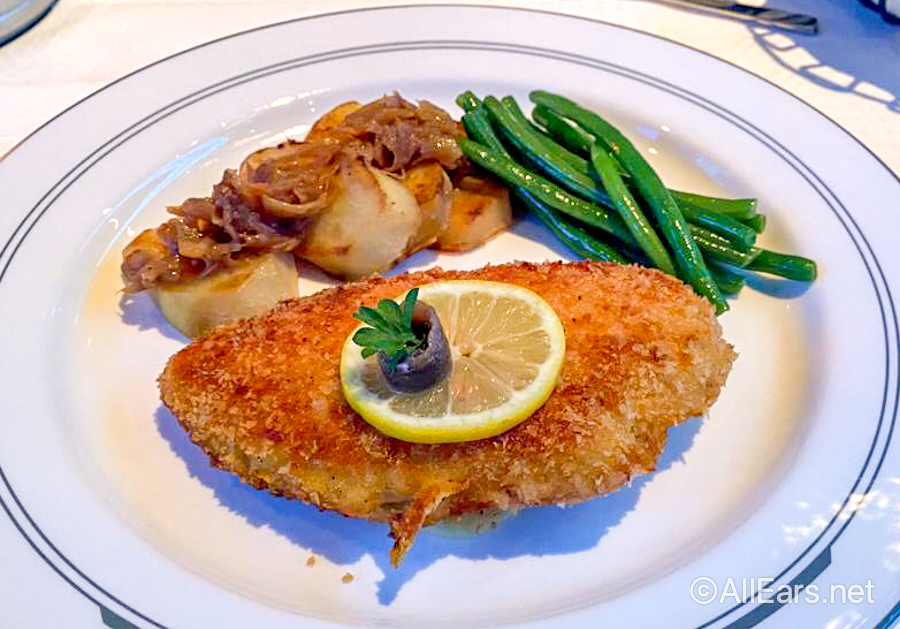 It was officially time to move onto desserts, and we started with the Quantum Key Lime Pie. It's made with key lime curd, raspberry gel, and whipped lime ganache.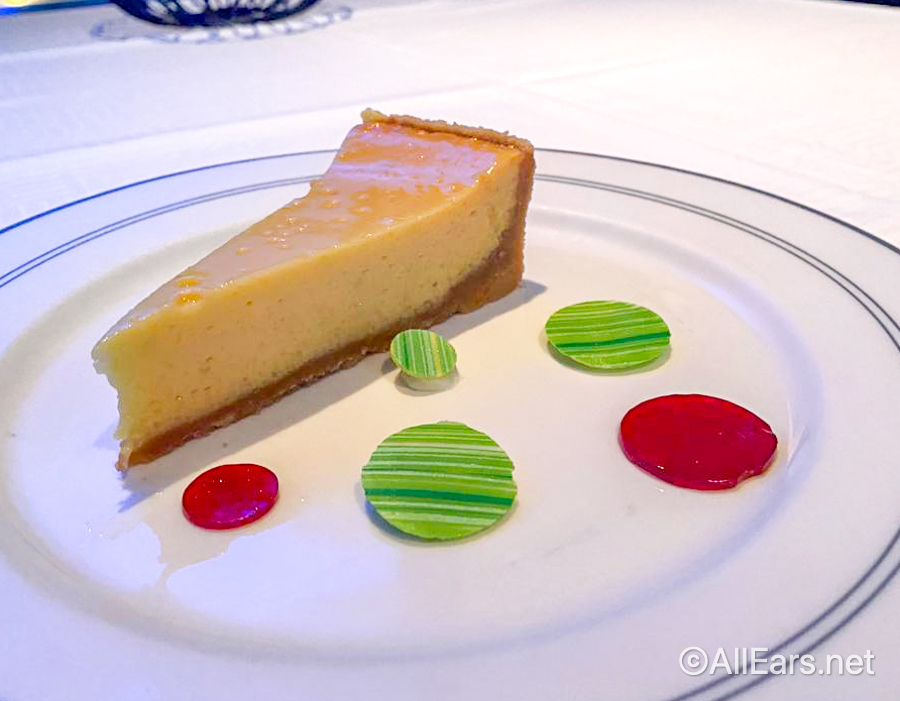 We also tried the Pym Doughnut Sundae, made with dulce de leche ice cream, pecan brownie, caramel fudge sauce, chocolate mini-glazed doughnut, and whipped cream.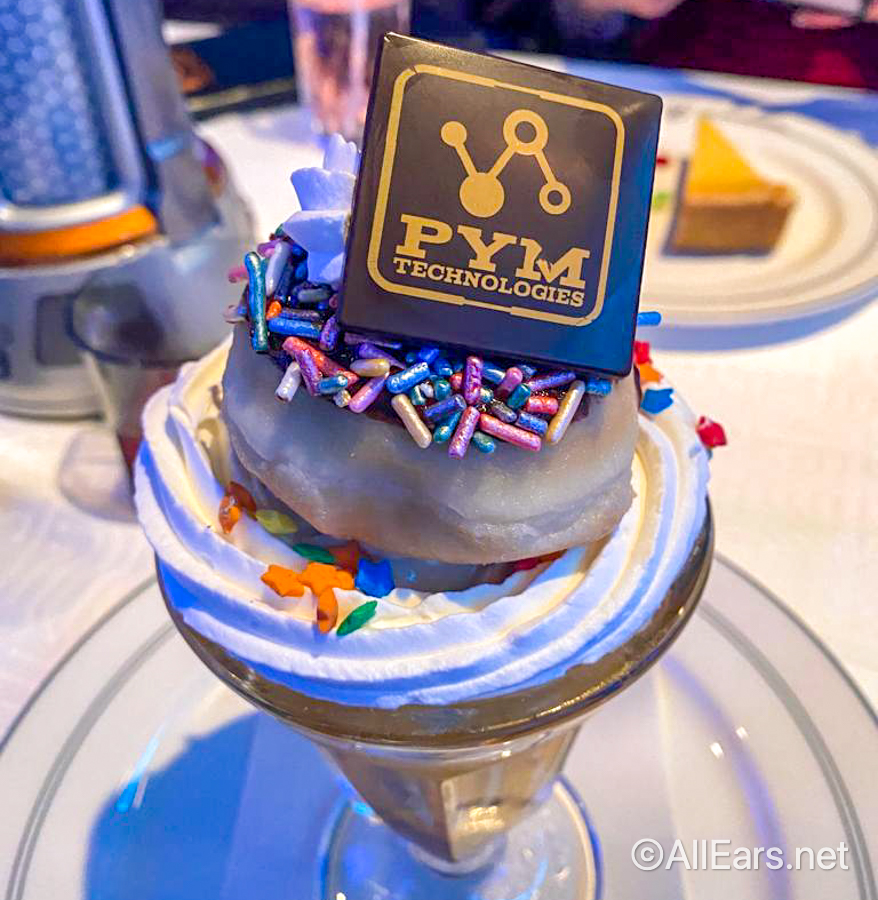 Of course, we had to try some of the drinks as well. First up was the Widow's Bite — it's made with Scapegrace Gin and Fever Tree Indian Tonic — essentially a fancy Gin & Tonic.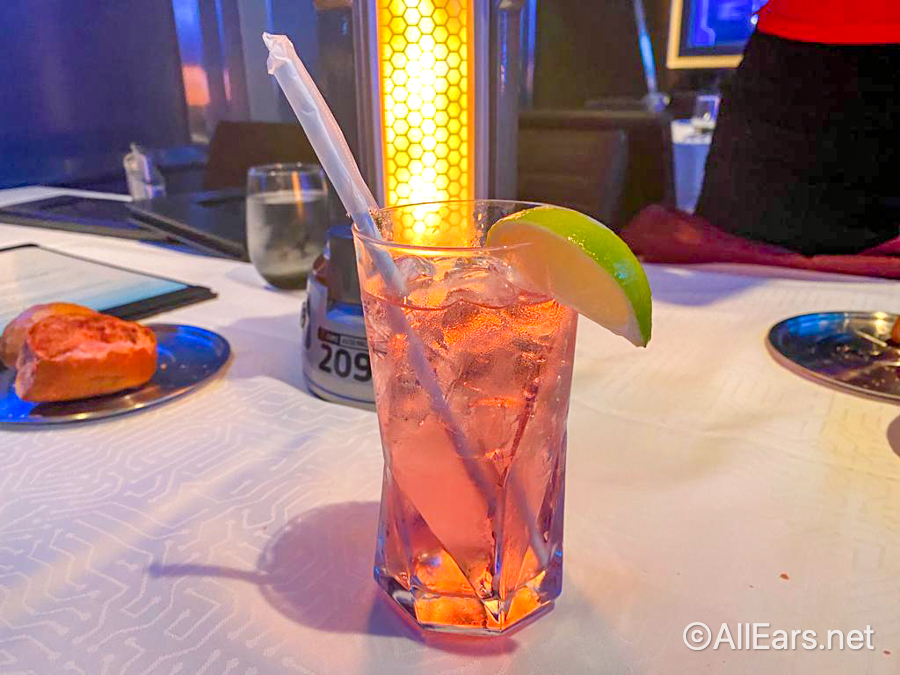 We also tried The Stinger! This was made with Zignum Mezcal Reposado, blueberry, and grapefruit. 
Avengers Quantum Encounter
While we were interested in the food, there was another part of the experience that we were even more excited for — our Avengers Quantum Encounter! We got a message from Ant-Man and The Wasp…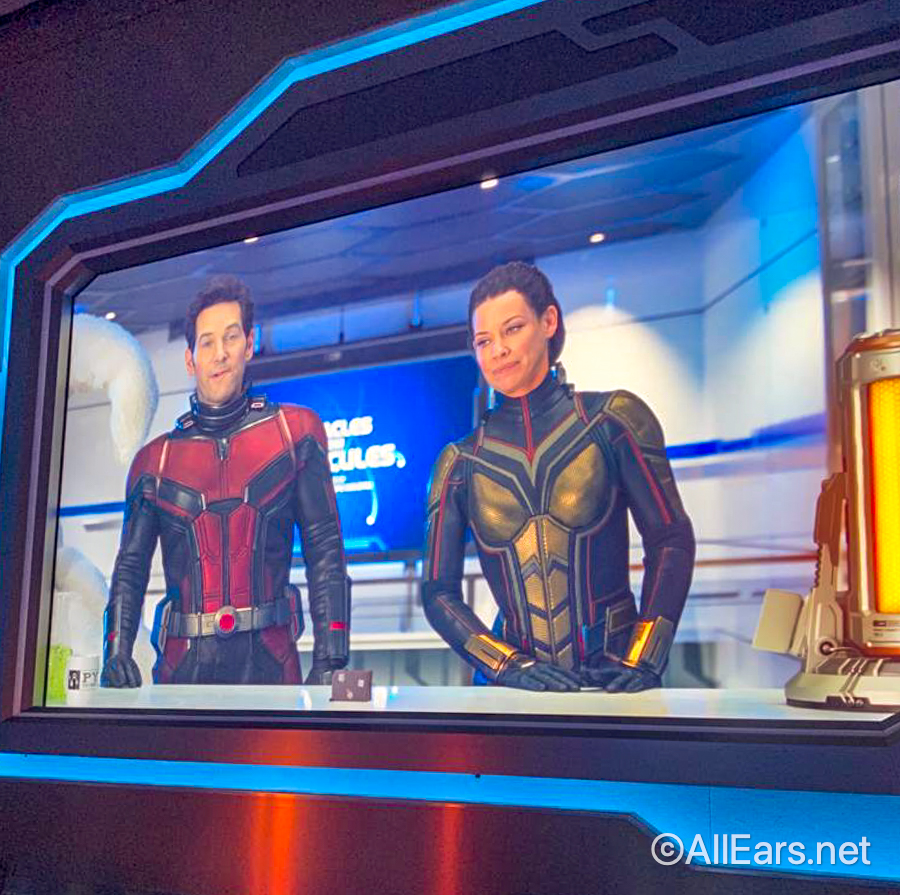 …and then we heard from Sam's Captain America…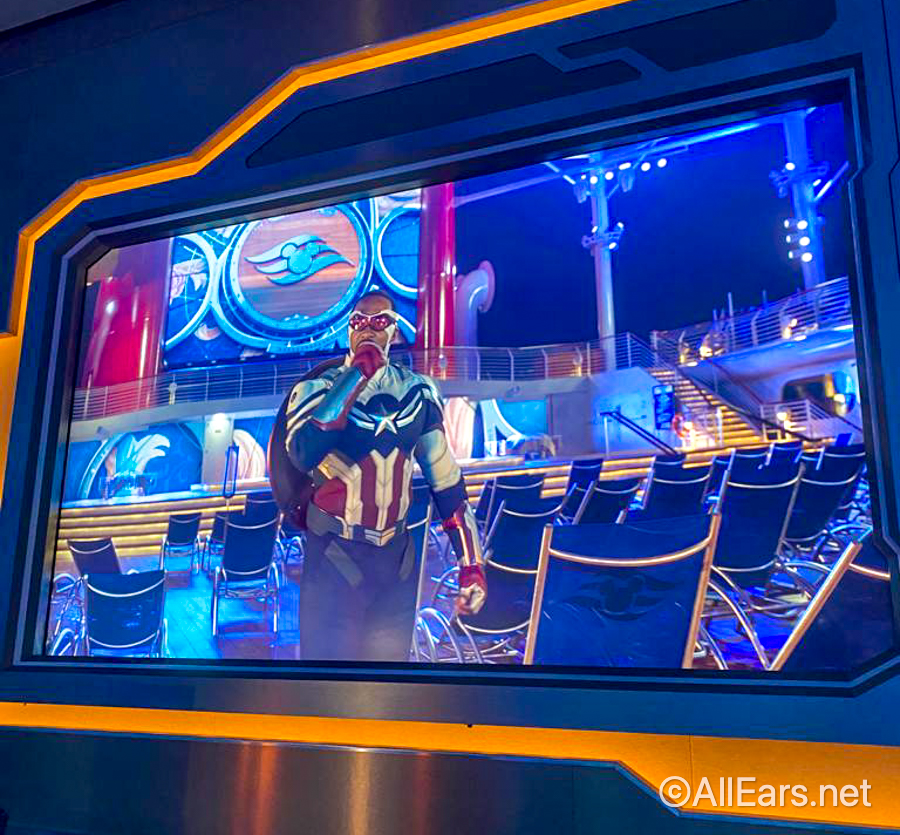 …Captain Marvel…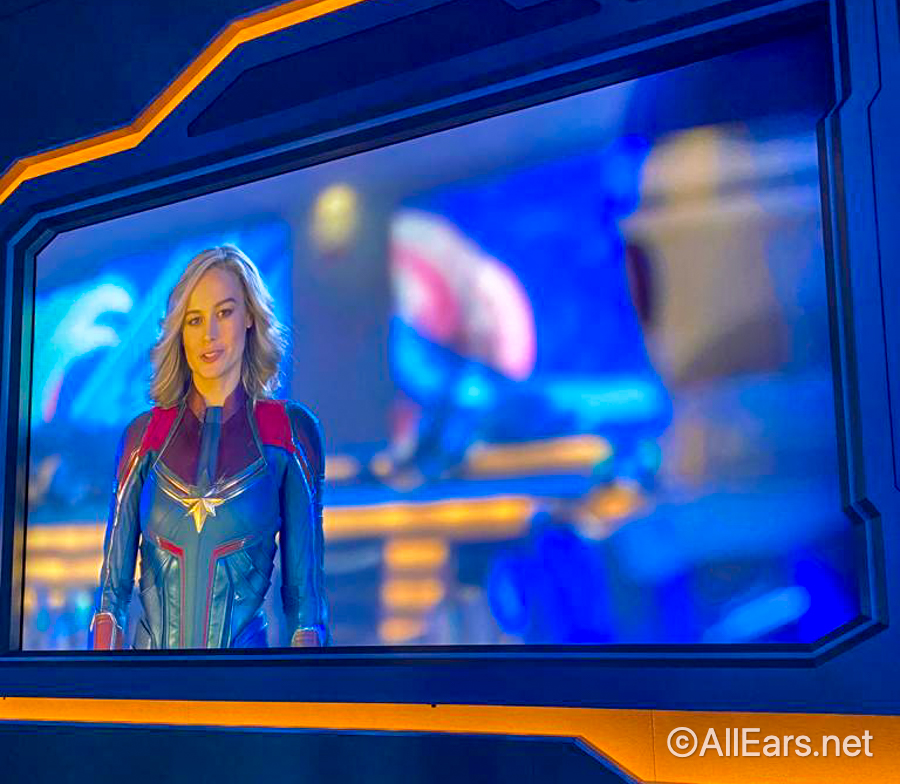 …and Ms. Marvel, too!
We followed Ant-Man and The Wasp on an adventure, where we had to help them, using our table's Quantum Core.
Overall, this was a fun dining experience! Kids will probably love this one, although, we probably enjoyed it just as much as they would.
For more information on dining experiences aboard the Disney Wish, check out this post! Or, check out how the Disney Wish compares to other popular cruise ships!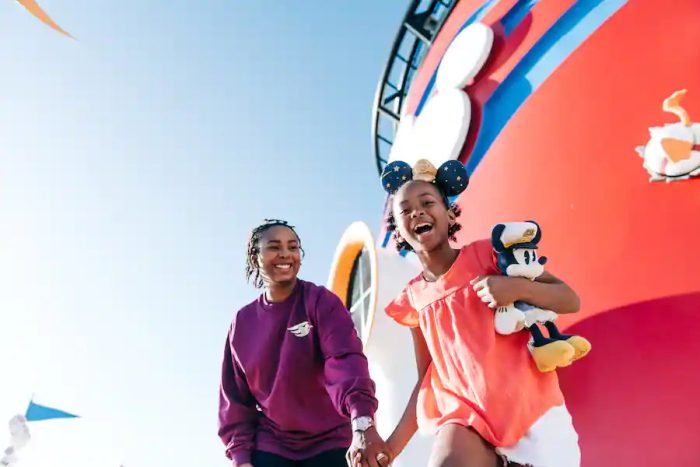 And, as always, stay tuned to AllEars for the latest Disney news!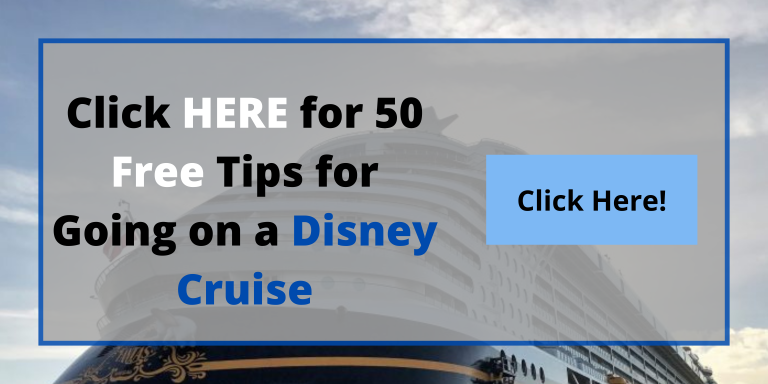 What do you think of this dining experience? Let us know in the comments!
Disclosure: We were invited by Disney Cruise Line to attend a media event for the Disney Wish. This did not affect our reporting of the event — our opinions are our own.