Disney Wish
UPDATE: The Disney Wish's maiden voyage has been delayed until July 14th, 2022.
Disney Cruise Line's newest ship, the Disney Wish, is set to sail starting in summer 2022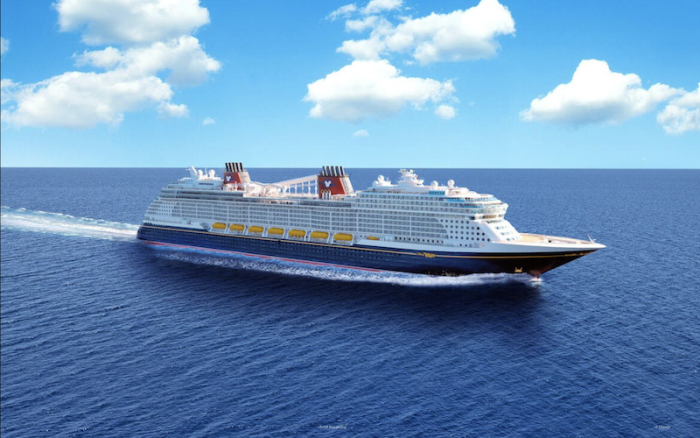 Ship Exterior
The outside of the ship is a classic white with Disney accent colors of red, yellow, and black. Everything is sleek, modern, and very up-to-date.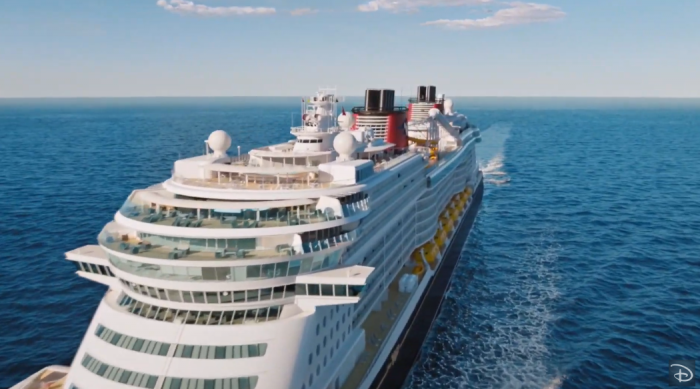 We got to see some clips of construction in action, and things seem to be coming along nicely!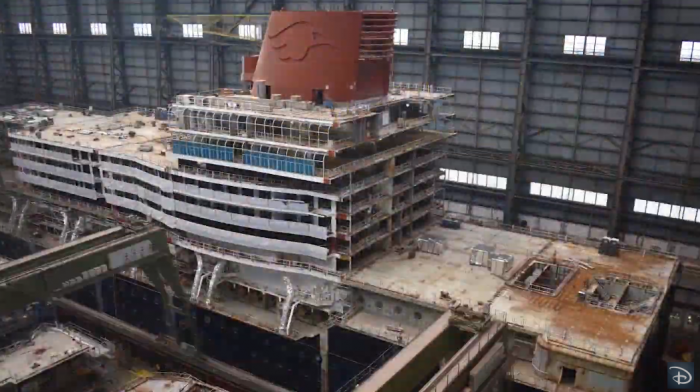 We even got a glimpse of the model of the ship, providing us with a little more detail into some of the decks. This thing is going to be huge!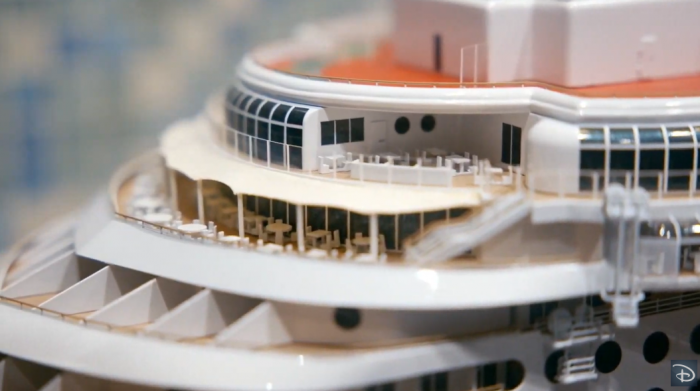 We hope to see more photos of the ship itself as more parts get put into place.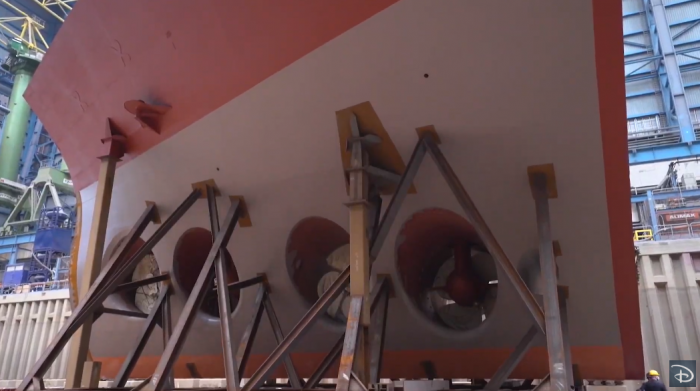 It's difficult to grasp just how much work goes into creating a boat this size — no wonder they take a few years to complete!
Atrium
The atrium of the ship is perhaps the most stunning part, with silver, gold, and champagne-colored accents. There's a grand staircase (of course!) with a golden statue of Cinderella at the bottom. The center of the room is home to a massive (and beautiful) chandelier.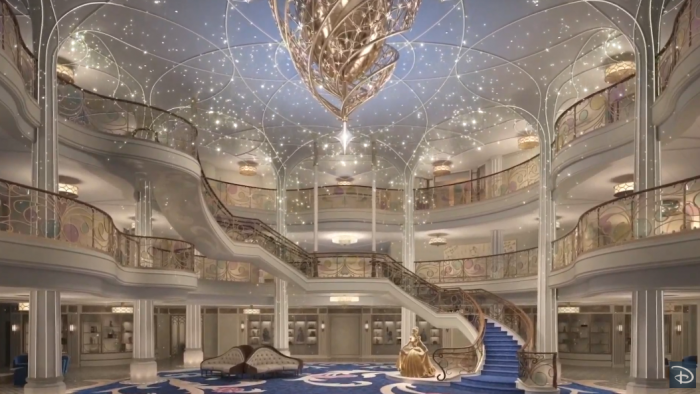 This is also the first Disney Cruise Line atrium to feature its own stage. At the Grand Hall Stage, guests will gather for theatrical performances throughout the day — you never know what you're going to find!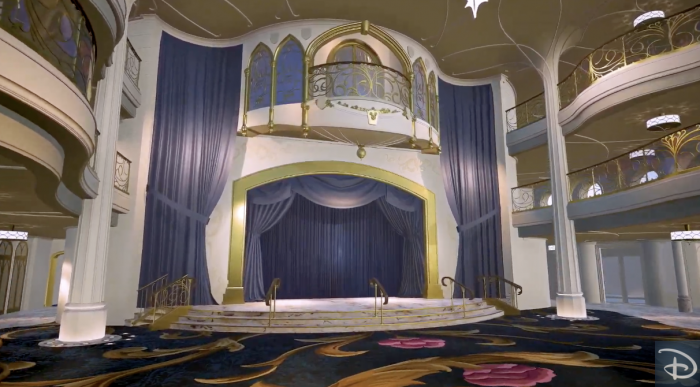 The stage will even be transformed with special effects from day to night. Doesn't that sound cool?!
Activities
There are TONS (and we mean tons!) of things to experience on this ship. For starters, it will be home to Disney's first-ever attraction at sea, AquaMouse!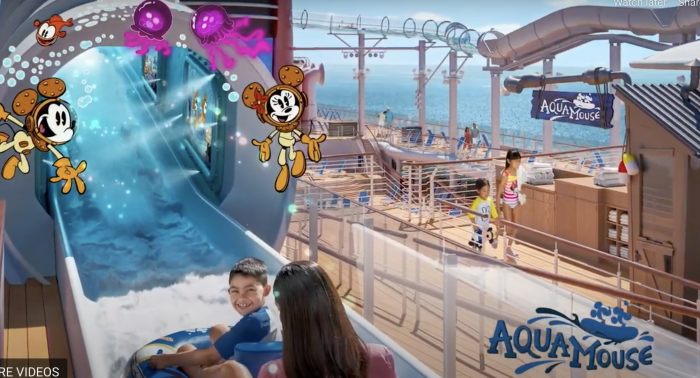 AquaMouse will take you into the world of Mickey Mouse shorts, complete with show scenes, lighting, and special effects. The ride will follow a new story called "Scuba Scramble." And it's not short on thrills either — this wild water ride will take you 760 feet around the upper deck!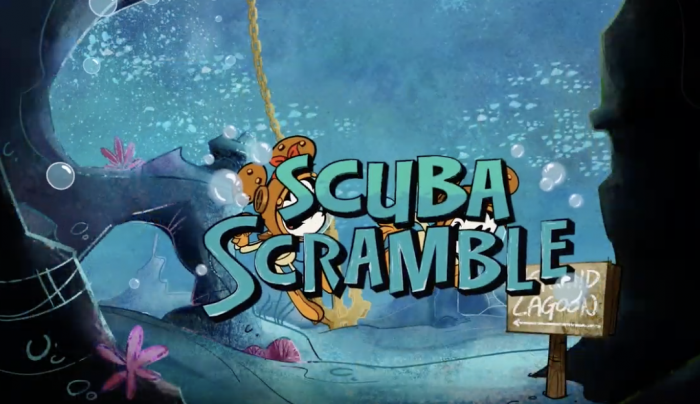 The Disney Wish will also be home to a Toy Story splash zone — the place for your kids to play and cool off at the same time!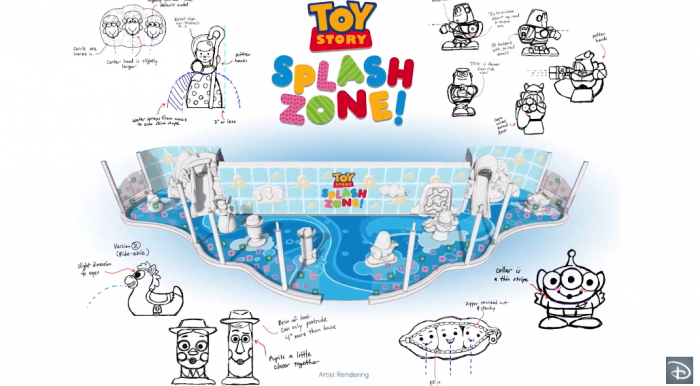 Kiddos will be able to enjoy the reimagined Disney's Oceaneers Club, with three different themed areas to play in. The first is the Marvel Superhero Academy, where kids can choose their own superhero suit and put it to the test, hanging out with favorite heroes along the way.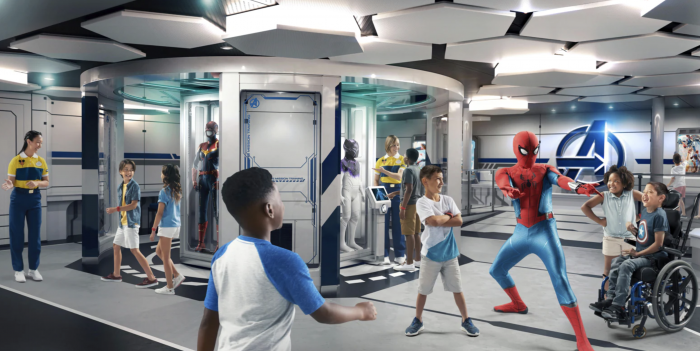 There's also the Fairytale Hall section of the club, where you can visit Rapunzel's art studio, Belle's library, and Elsa and Anna's summer house. Here, you can read, paint, or play with beloved princesses.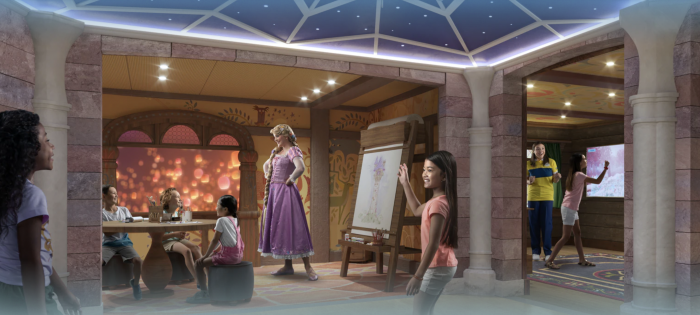 Finally, there's the Walt Disney Imagineer Lab, where kids can learn all about the technology that makes Disney experiences happen. Here, you can design your own rollercoaster and even take a ride on it virtually!
And for activities that the whole family can enjoy, make sure to head to the pool on the upper deck. There, you'll find a poolside stage with a jumbo screen that will play movies and sporting events. Throughout the day and night, Disney characters and performers will take to the stage for brand new deck parties.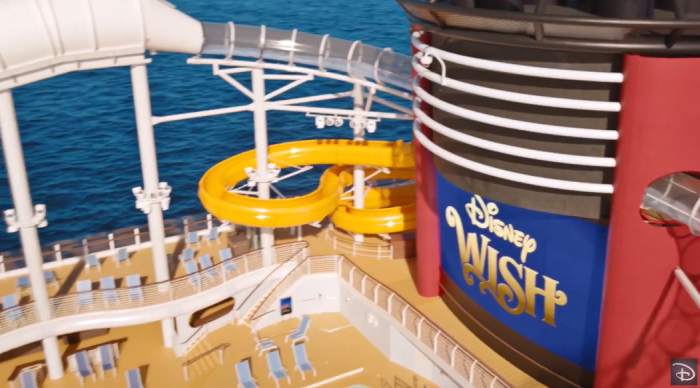 There's also going to be a family game show-style competition area called Hero Zone. What do you do in the sports arena-themed area? Well, you go on "action-packed physical challenges themed to some of Disney's most incredible heroes."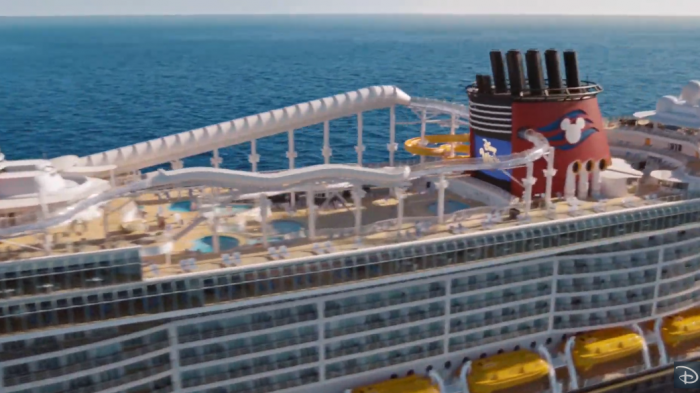 And in the evening, the Disney Wish will have its own specially-created fireworks show. That sounds like the perfect way to end the night!
Entertainment
If the fireworks caught your attention, then you need to hear about the other entertainment options around the ship! Several new theater shows will be offered, starting in the Walt Disney Theater, designed to look like a magical forest.
At this stage, you'll find two new original shows that are currently in development for the Wish, as well as one that's being reimagined. We can't wait to watch the new Disney's Aladdin — A Musical Spectacular.
The ship will also be home to TWO cinemas named Wonderland and Neverland. Here, you'll find Disney Premieres at Sea, where guests can watch Disney movie premieres on the day that they are released. (And sometimes even earlier!)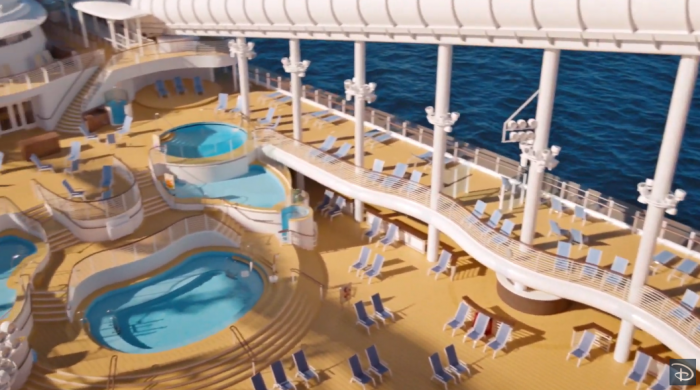 In addition to these spaces, there's a new "entertainment hub" called Luna, themed to match the Pixar short La Luna. During the day, this will be a place where families can hang out, but at night it will be an adults-only space.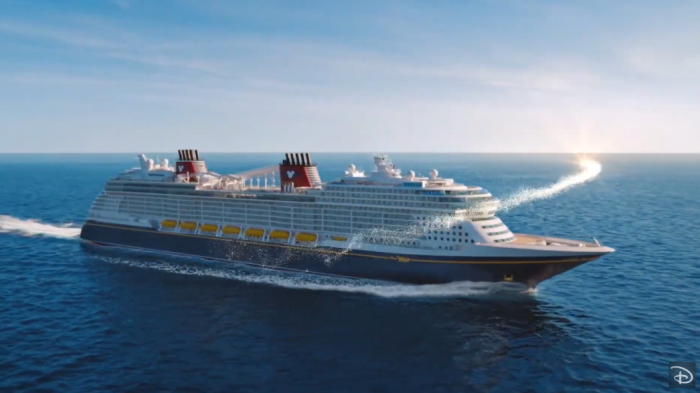 Luna will be home to a two-story screen wall and will feature a stage, bar, and seating. At night, it'll host live shows and interactive events.
Dining
But, your trip won't just be filled with fun activities, it's going to be filled with delicious food too! First up, there's a brand-new Star Wars Hyperspace Lounge, a truly out-of-this-world experience. Thanks to virtual surroundings, you'll be transported around the galaxy to Batuu, Mustafar, Tatooine, and more.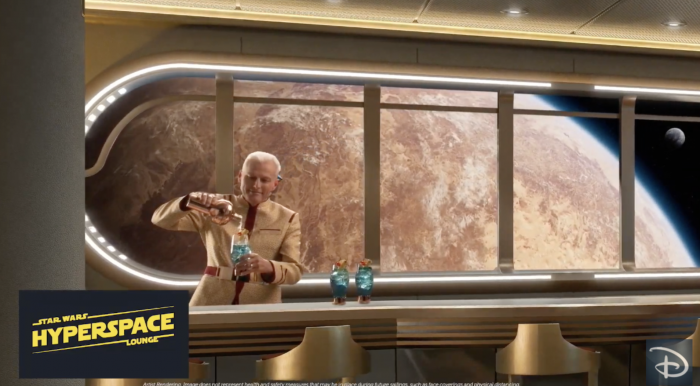 And for the first time in forever (well, actually EVER) there's going to be a Frozen-themed dining experience called Arendelle: A Frozen Dining Adventure. In this dinner show, your favorite characters will greet you AND perform for you while you dine!
The story picks up right after the end of Frozen 2, so you'll get the chance to see what happens next while you enjoy Nordic-influenced dishes.
And speaking of first-ever dining experiences, there's going to be a Marvel one as well! Those who eat at Worlds of Marvel will be playing an active role in an Avengers mission. The restaurant's food will be inspired by various locations from the MCU like Wakanda, Sokovia, and New York City.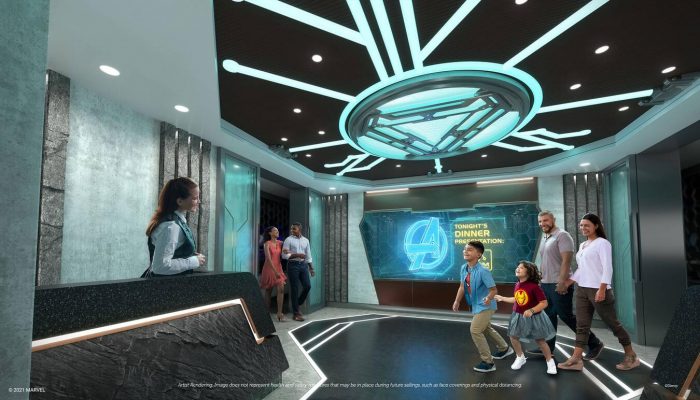 For a more traditional dinner, head on over to the new Disney-themed restaurant, 1923. This spot celebrates Walt Disney Animation through the years in the Walt Disney and Roy Disney dining rooms. The menu is filled with California-inspired dishes, considering that's where the Walt Disney Company was founded nearly 100 years ago.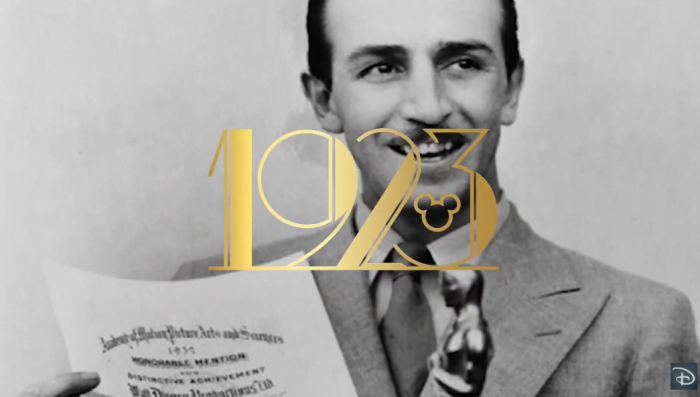 Besides these experiences, you'll also be able to have a gourmet meal or an adult beverage at Palo Steakhouse, Enchanté by Chef Arnaud Lallement, and The Rose (inspired by Beauty and the Beast). 
Staterooms and Suites
And last but not least, let's take a look at where you'll be staying! The ship offers 3 major categories of accommodations, the first being regular staterooms.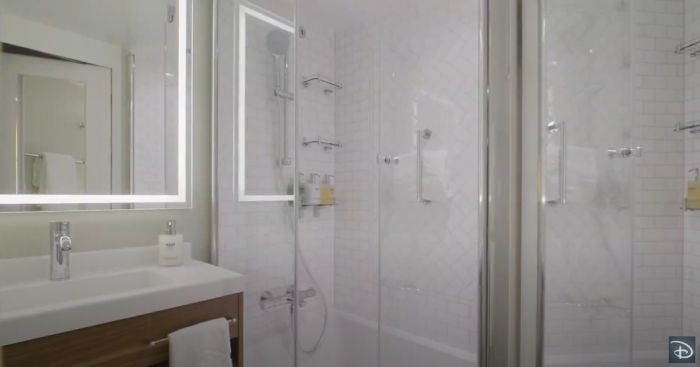 The ship is home to 1254 staterooms, 90% of which are outside staterooms. 948 of those outside rooms are verandah rooms, while the other 185 are a regular oceanview.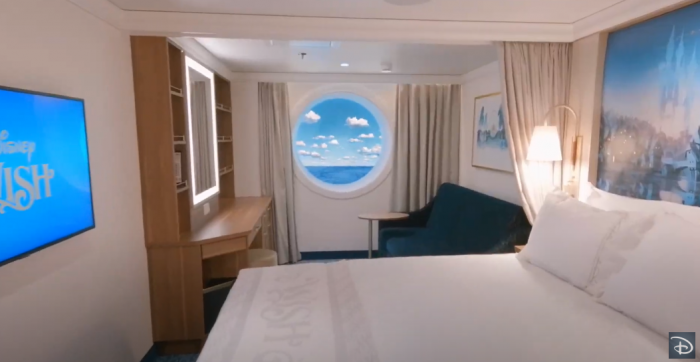 There are elegant Disney touches all-around to discover, and the themes vary from room to room.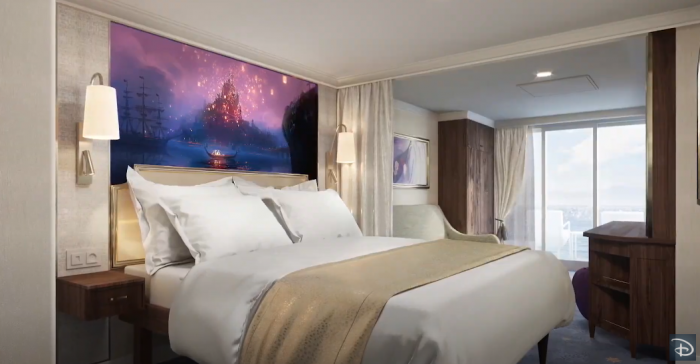 For those who want something a tad fancier, go for concierge or premium accommodations. The Disney Wish is home to the first-ever staterooms above the bridge!
Those who stay here have access to an exclusive lounge with a sun deck, but each room also has floor-to-ceiling windows with spectacular views of the ocean — you may not even want to leave!
Last but not least, there are also four royal suites that you could choose from. They're especially elegant!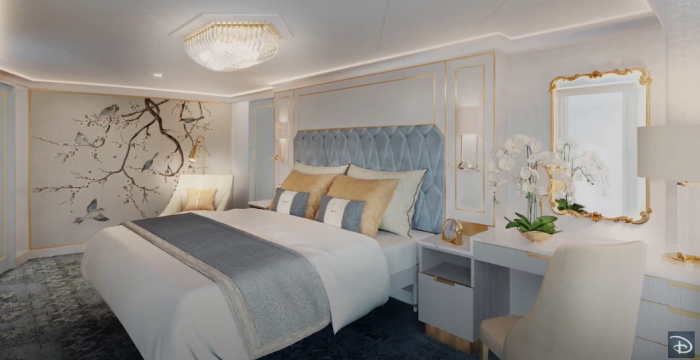 These can house up to six guests and have amenities like you wouldn't BELIEVE. Just look at the view from that bathroom!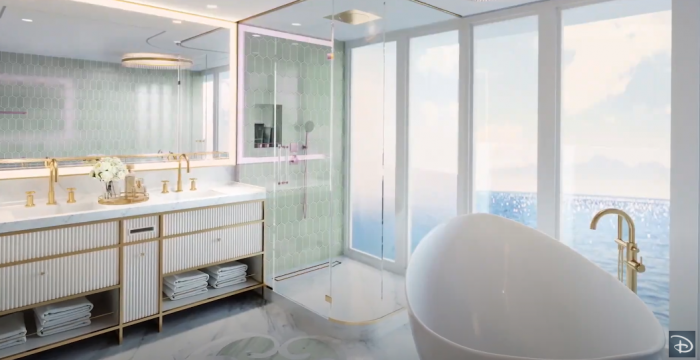 This group includes a pair of two-story suites, the first of their kind on a Disney ship. They're especially stunning, and they "will feature stunning statement pieces like an elegant spiral staircase and a spectacular two-deck-high stained-glass frieze."