🚨 WARNING 🚨 Reading this post may cause you to book a cruise on Disney's brand new Disney Wish cruise ship A.S.A.P. We cannot be held responsible for your booking actions following this post, so read on at your own risk! 😂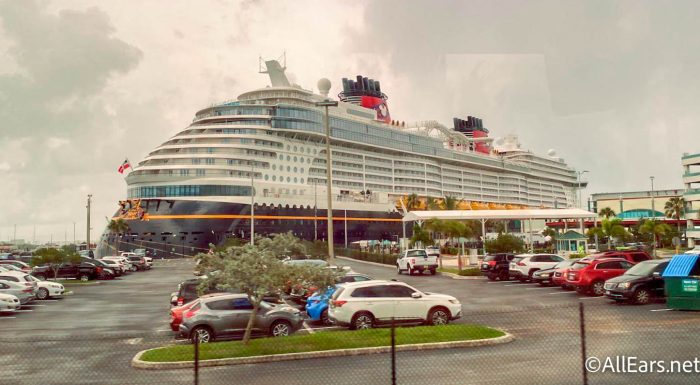 We've been covering the Disney Wish for a loooong time now, and its debut day is nearly here. From a Star Wars lounge to a Marvel-themed dining experience, the Wish will be unlike any Disney cruise you've taken in the past. Recently, we were given the special chance to hop on the ship before it opens to the general public, and we're taking you with us! So grab those daiquiris and bathing suits and let's go!
As we mentioned, we were able to hop on the Disney Wish recently as part of a special media-only sailing. The Wish will open to the general public on July 14th, 2022, when it takes its maiden voyage, but today was the christening and debut of the ship!
As we mentioned above, the Wish is Disney's newest cruise ship and it has been in development for years. We've seen it grow from just an idea, to a ship under construction, to a finished product!
And now that we've finally gotten the chance to step aboard, we're taking you with us to explore the ENTIRE ship! Let's dive in!
Boarding
To board the ship, we had to send certain information to Disney prior to the cruise's departure, meet certain COVID-19 requirements, and go through the check-in process. COVID-19 rules and regulations and pre-embarkation rules can change at any time. Be sure to check Disney Cruise Line's "Know Before You Go" website to get the latest updates ahead of your cruise.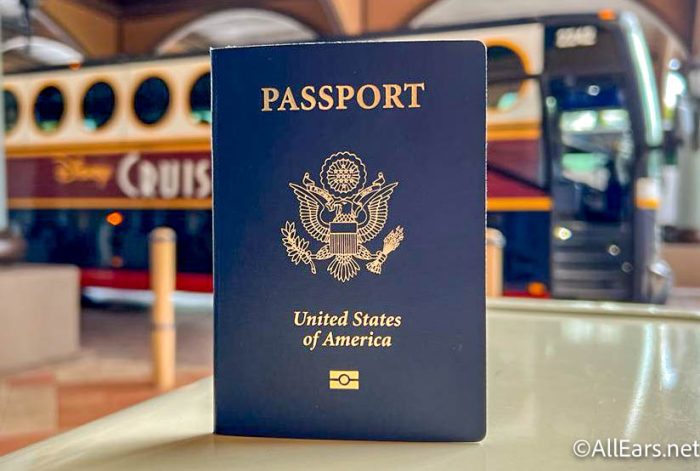 The design of the Disney Wish, much like Disney's other ships, features white, red, yellow, and black colors, mimicking Mickey's outfit!
We had to stop by Guest Check-In before boarding the ship.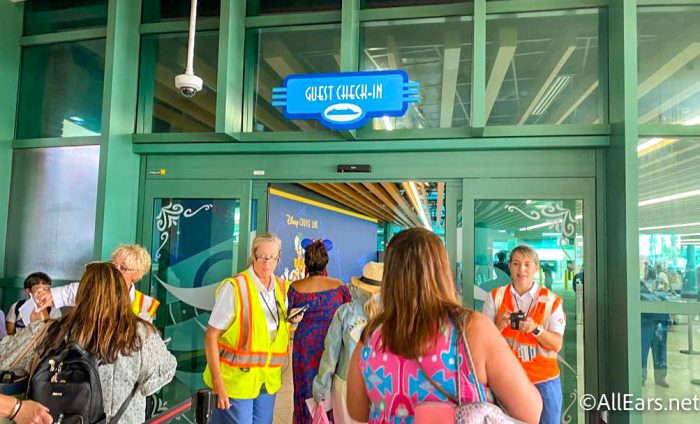 The check-in area was nicely organized, with Cast Members around to assist guests and make sure everyone was aligned with the current Disney Cruise Line rules and regulations.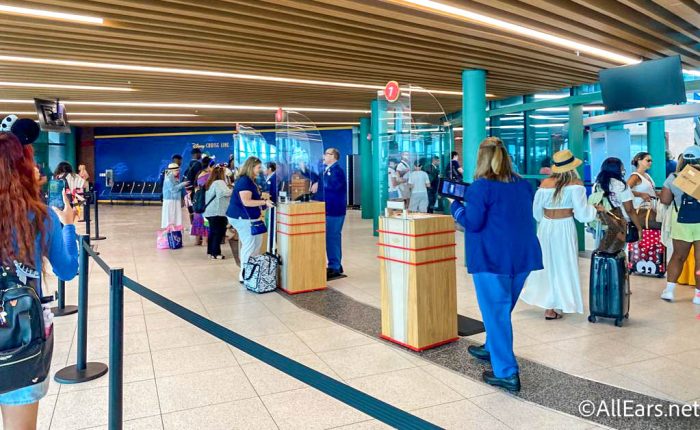 But enough about the outside, let's head INSIDE the ship for the first time!
The Grand Hall
Once you board the ship, you'll enter right into The Grand Hall, which is what this ship's atrium is called. The Grand Hall features a gorgeous staircase with a golden statue of Cinderella at the bottom (each Disney Cruise ship has a golden character statue in the atrium — which ones have you seen?).
The Grand Hall features so many details and hidden secrets, you'll have to spend quite a lot of time here to find them all! In the rug, you'll find vines meant to look like a pumpkin patch, glass slippers, and character designs that you'll recognize from the Cinderella film.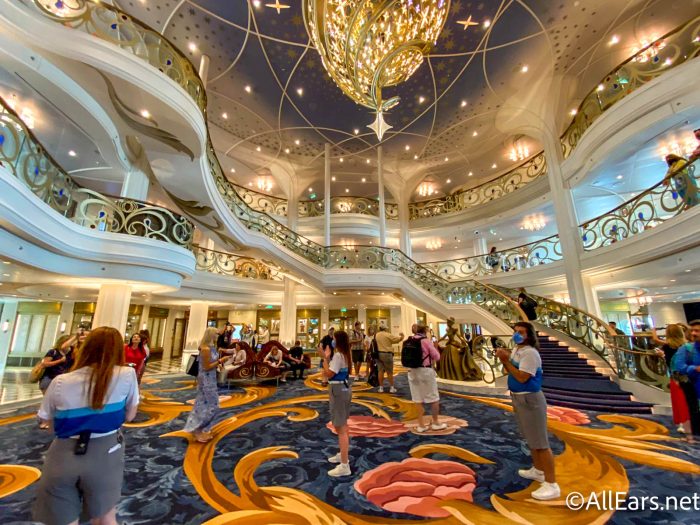 The railing is meant to look like a tiara, complete with colored glass fit into it! And, of course, you can't help but look up at that GIANT chandelier when you're in this space! The chandelier is meant to be based on the moment that Cinderella transforms from her rags into her gorgeous ballgown and the pixie dust that surrounds her in that scene.
Cinderella's gold statue is located at the bottom of the staircase.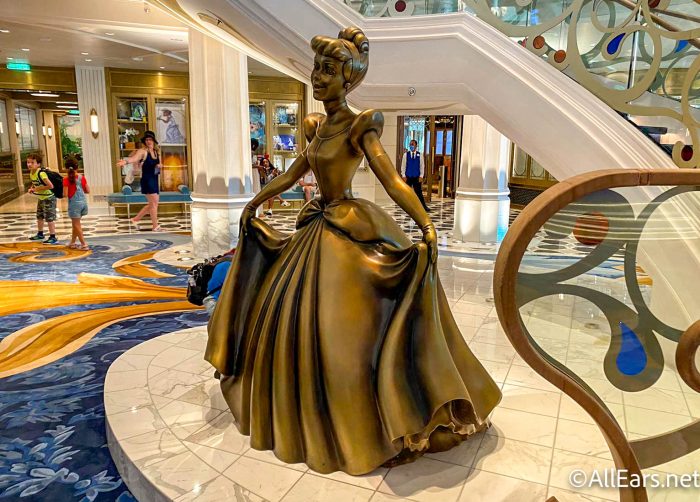 If you look behind her, you may spot Lucifer the cat. He's got a teacup ready to trap some of Cinderella's mice (and if you look closely, you can see them hiding under her dress)!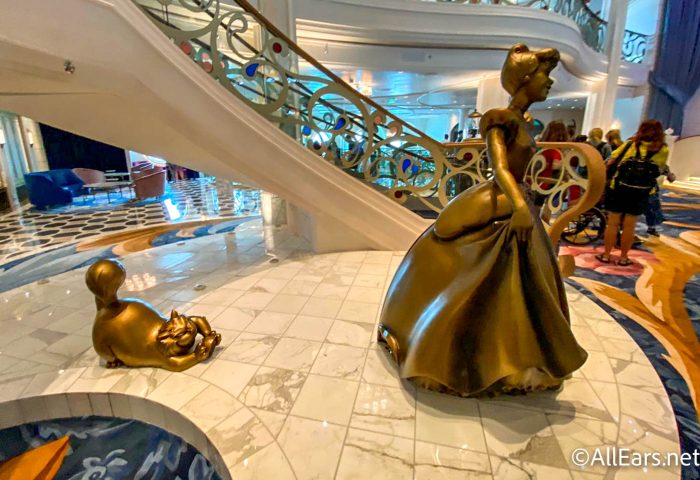 Cinderella's glass slipper was also in the Grand Hall, safely placed within glass on a cushion so that no evil stepmother can break it.
Cinderella's glass slipper in the Grand Hall on the #DisneyWish ✨ #mediaevent #hosted pic.twitter.com/x8geTklcvx

— AllEars.Net (@AllEarsNet) June 29, 2022
Also within the Grand Hall is a Grand Hall Stage, which will feature performances during the day and all kinds of surprises!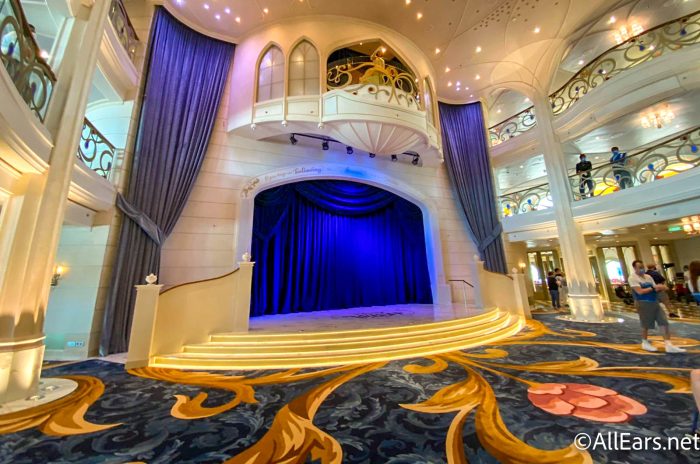 In fact, during our visit, we spotted Belle waving from the balcony!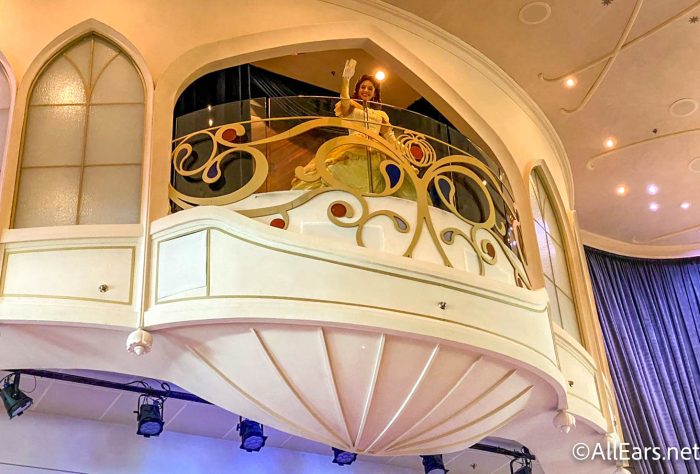 Staterooms
There are a variety of different stateroom types on the Wish. There are standard inside rooms, deluxe oceanview rooms, and more, all designed to capture the ship's theme of "enchantment." We made our way to our room!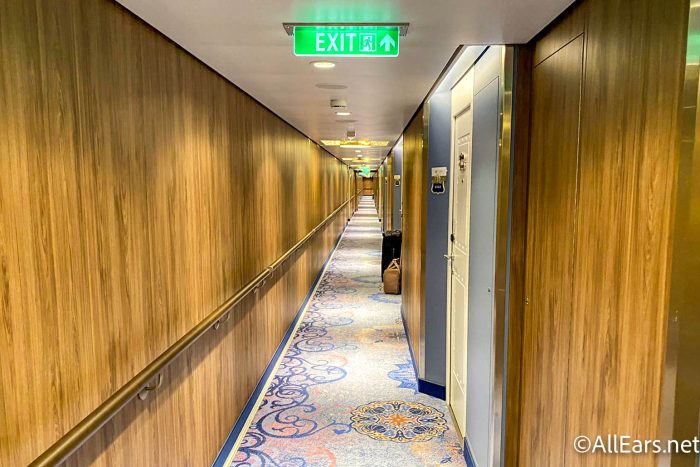 In the hallway on the way to our room, we noticed a Cinderella-inspired light fixture, featuring Cinderella's carriage.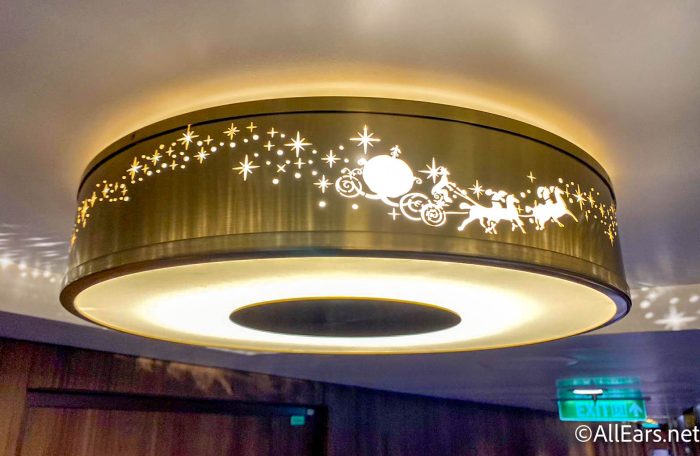 The carpeting has lots of swirly, vine-like details, just like in the Grand Hall.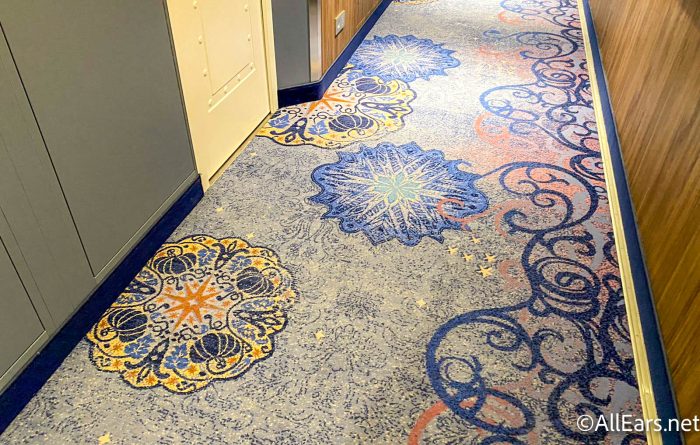 The room numbers are easily displayed (with our room number erased for privacy reasons).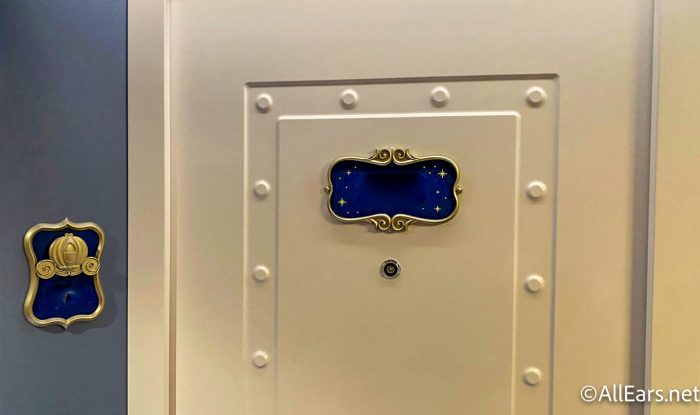 For our stay, we're in the Category 4C Deluxe Family Oceanview Stateroom with Verandah, and these types of rooms are located on decks 6 and 7. These rooms can sleep between four to five people, with a queen bed, a single convertible sofa, an upper-berth single pull-down bed, and a single wall pull-down bed in rooms that sleep five people.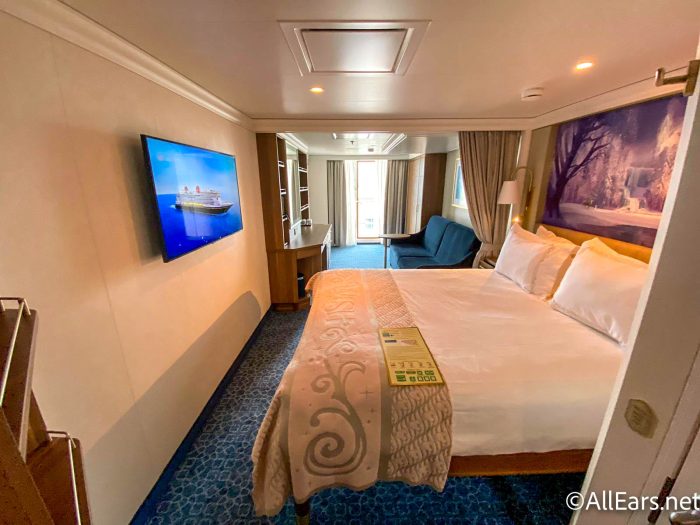 Come along with us to check out the room!
Time for a ROOM TOUR ✨ We're staying in a Category 4C Deluxe Family Oceanview stateroom with a verandah. Tell us what you think 👀 pic.twitter.com/wrcwIWAaS2

— AllEars.Net (@AllEarsNet) June 29, 2022
You can click below for a FULL tour of our stateroom!
You'll also find some pretty elaborate suites on the ship, including the VERY fancy Concierge Wish Tower Suite.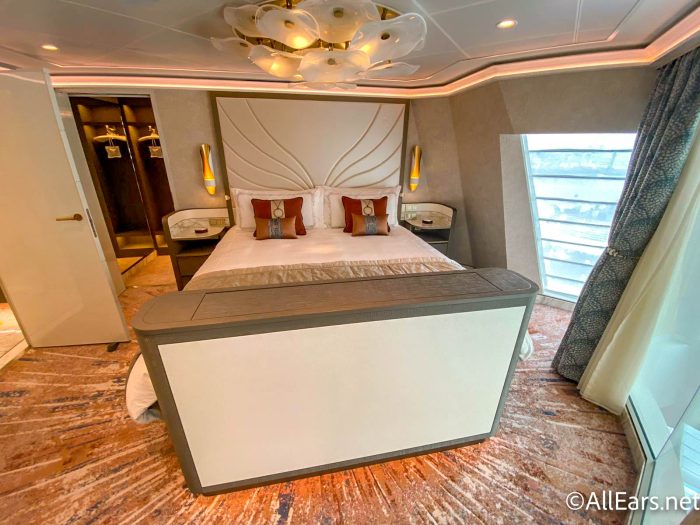 This suite can accommodate up to 8 guests, with 2 bedrooms, a kid's room, and even a LIBRARY — and that's not all!
Dining
In terms of dining, there are SO many spots on the Disney Wish. We'll start with Marceline Market (which features 10 different stations during breakfast/lunch and is table service for dinner).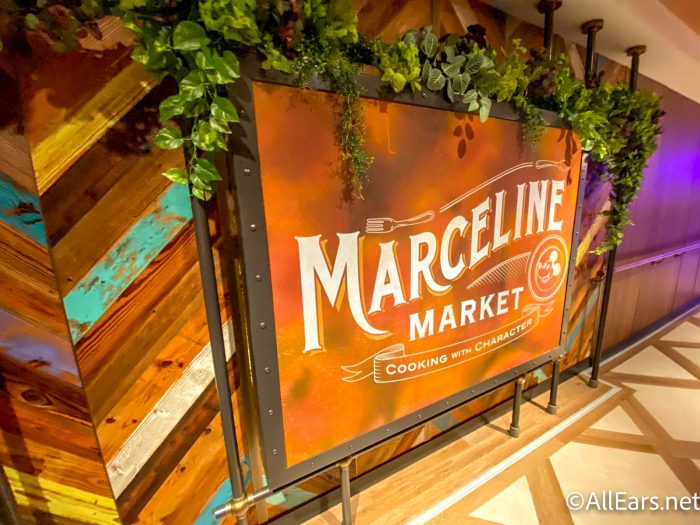 If you're up on the pool deck looking for a smoothy, try Wheezy's Freezies!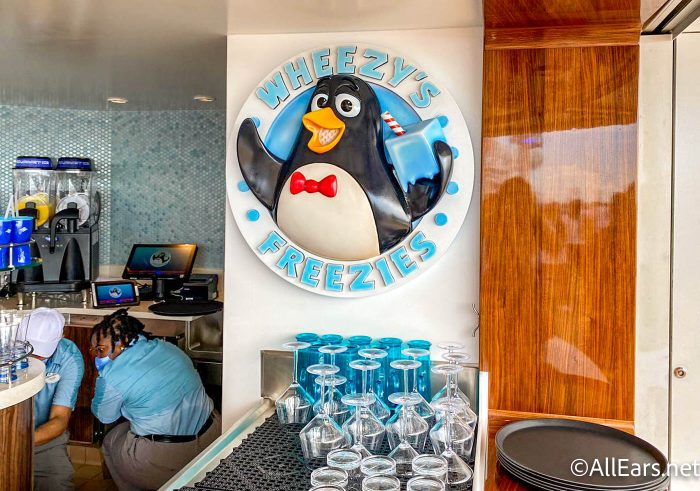 You can also visit the Mickey & Friends Festival of Foods (which is a general name for a bunch of different spots where you can grab ice cream or a quick bite to eat!).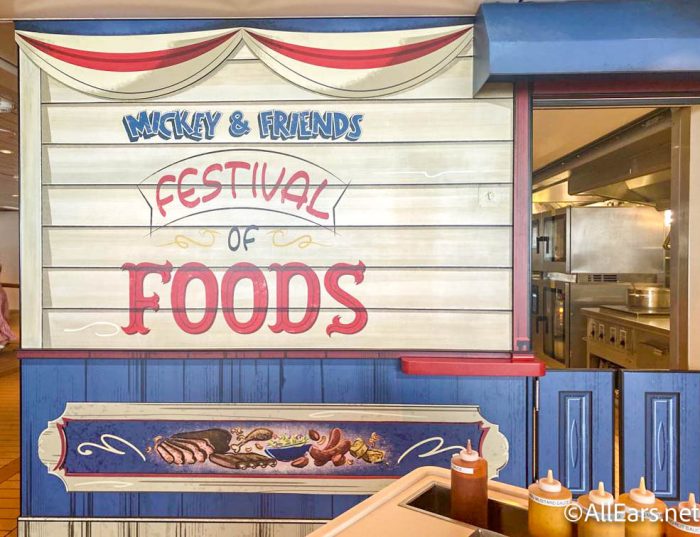 In the mood for some sweet treats? Try Joyful Sweets (the sweets shop themed to Inside Out).
Joyful Sweets had a LOT to choose from!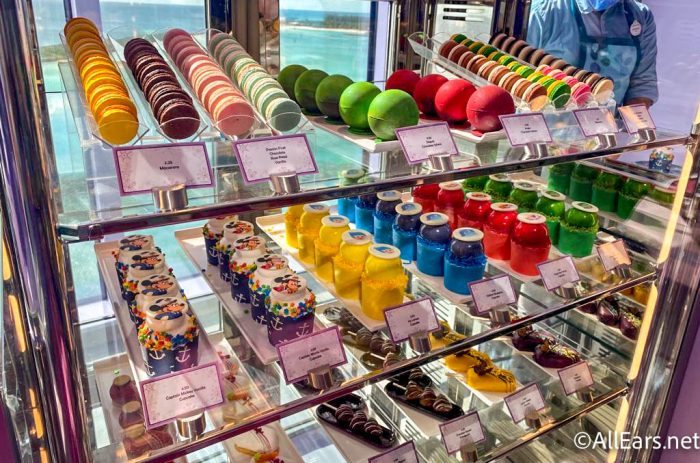 For those looking for a more upscale experience, you can head to Palo Steakhouse for a gourmet meal…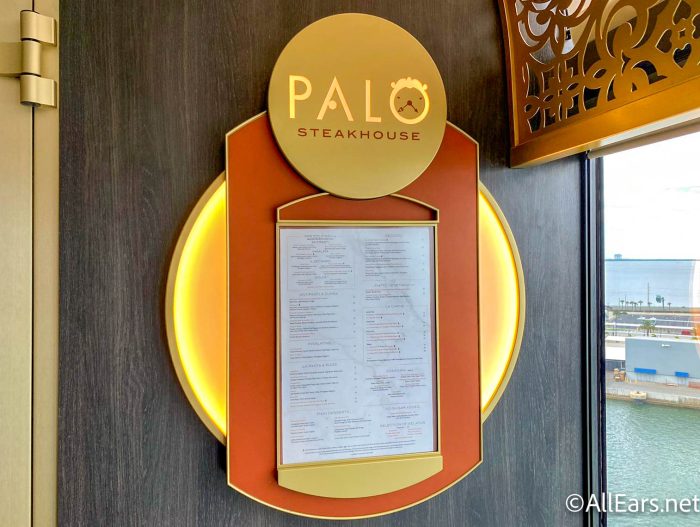 …visit 1923 for upscale California cuisine…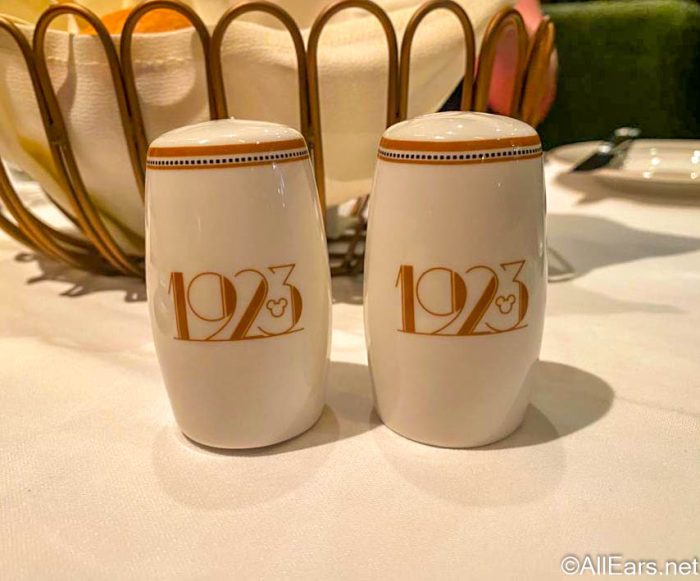 …stop by Enchanté by Chef Arnaud Lallement…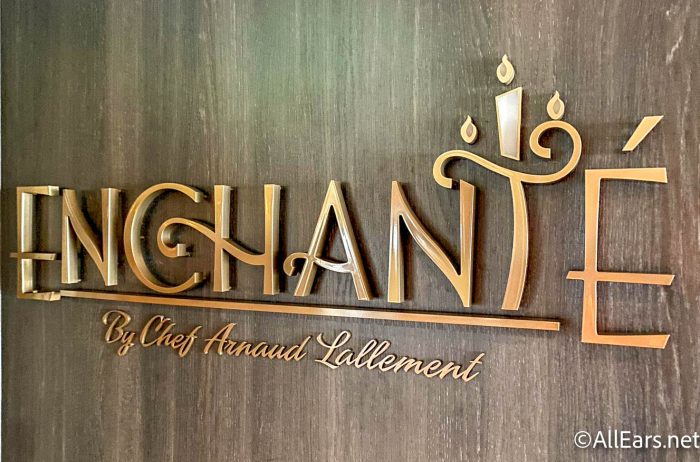 …or hop over to The Rose for a before or after-dinner cocktail.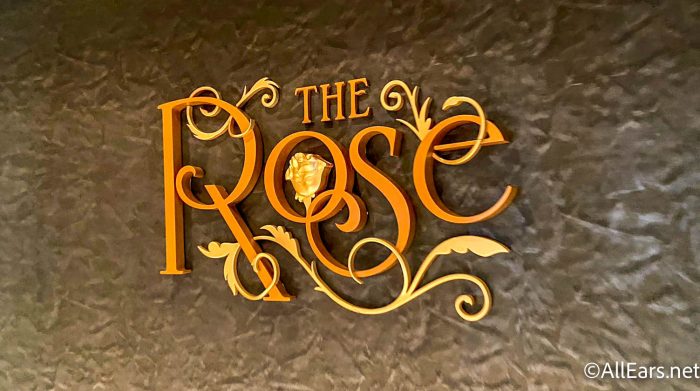 Check out Nightingale's for an adults-only piano bar…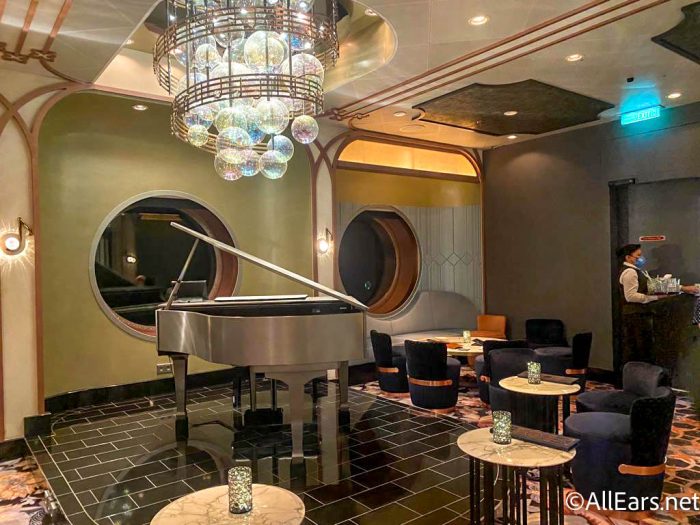 …Triton Lounge for a modern, classic experience…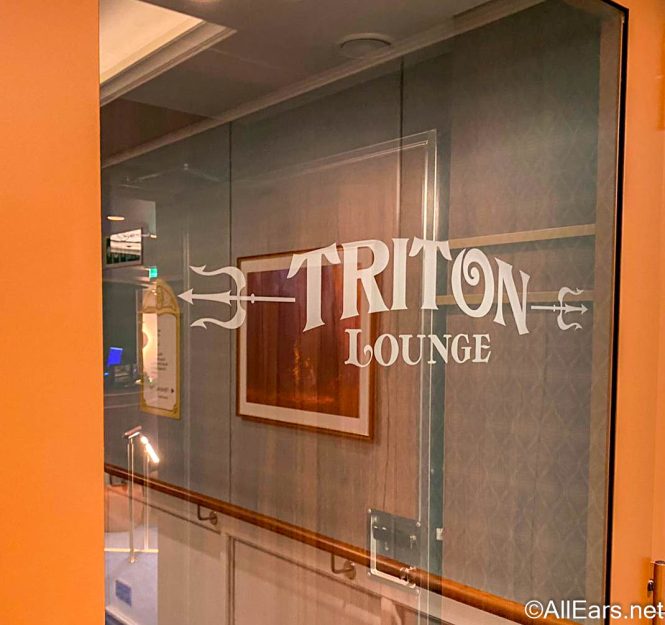 …or visit The Bayou lounge for cocktails, specialty coffees, and even beignets!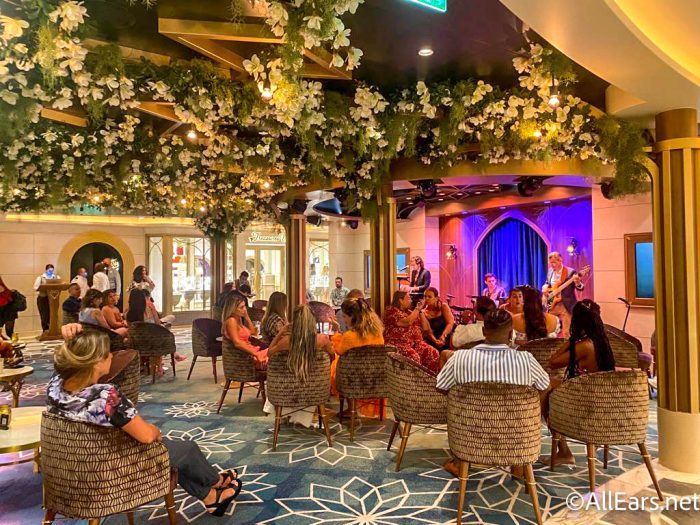 And check out Star: Wars Hyperspace Lounge! How cool is that?!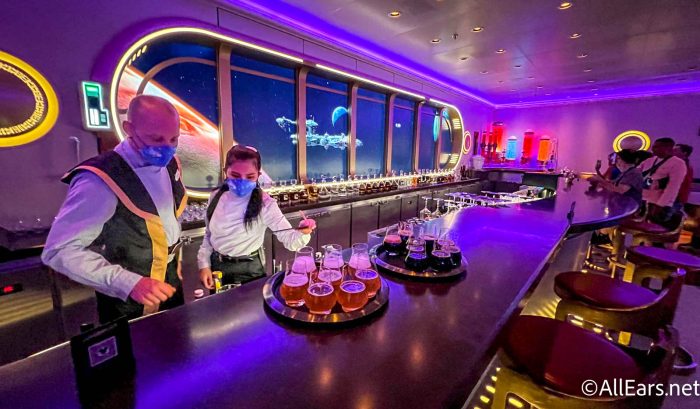 When it comes to rotational dining, you'll find a few different options. One of those is the Worlds of Marvel, which is a dining experience that comes with a side of an exciting Marvel mission!
Another one is Arendelle: A Frozen Dining Adventure. This is a dinner show that will feature Anna, Elsa, and much more!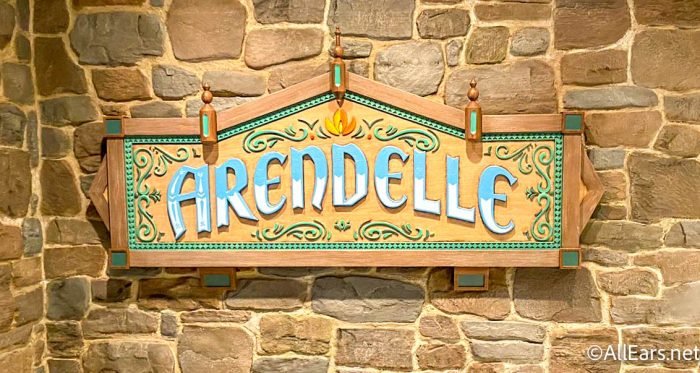 Once you're done with your regular and fancy dining experiences, it's time to go OUT of this world and over to a galaxy far, far away!
Kids Areas
There are lots of kids' areas on the ship, including Disney's Oceaneer Club (which has the Marvel Super Hero Academy, Star Wars: Cargo Bay, the Walt Disney Imagineering Lab, and other fun experiences).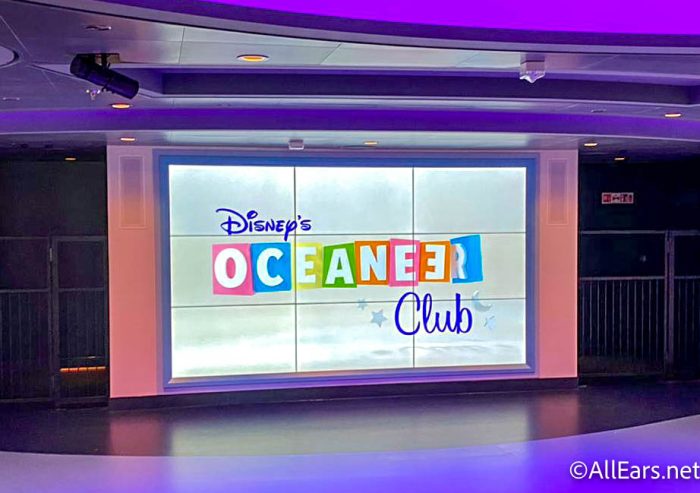 We took a peek inside a few of these spaces, including the Star Wars: Cargo Bay…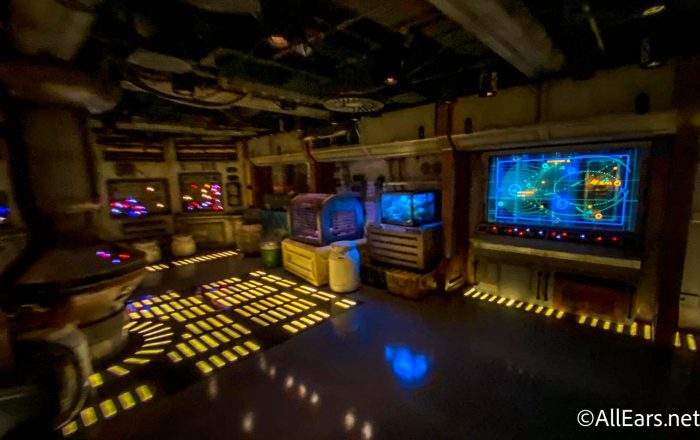 …the Walt Disney Imagineering Lab…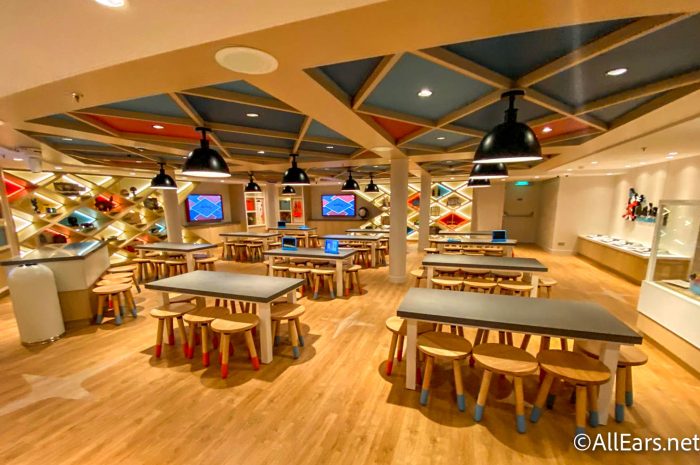 …and the It's a Small World Nursery, which is too cute.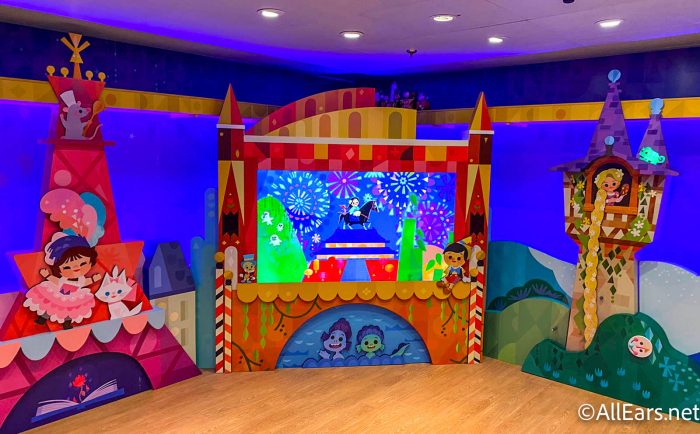 There are additional spaces available for a range of kid interests!
Pool Areas and Other Recreation and Entertainment
There are plenty of other things to do on the Wish! You can enjoy the pools and splash pads.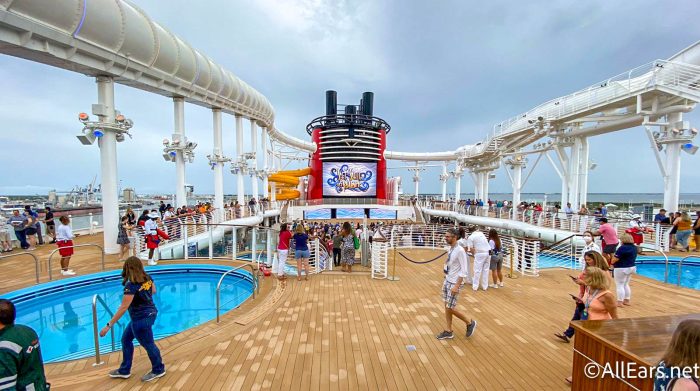 Anyone in need of some quiet can visit areas like the Quiet Cove Whirlpool Spa…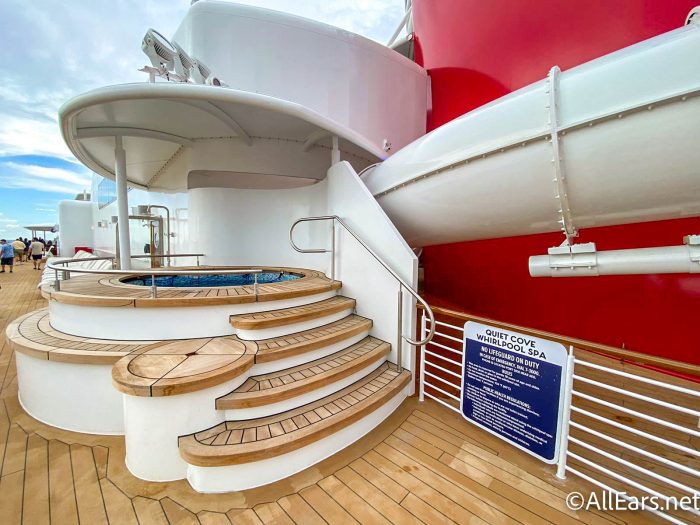 …and the Quiet Cove Pool Bar!
A look into the adults-only Quiet Cove Pool bar aboard the #DisneyWish 🌊🍹#mediaevent #hosted pic.twitter.com/OzBZELHp0a

— AllEars.Net (@AllEarsNet) June 30, 2022
You can hop on Disney's first attraction at sea (the AquaMouse)…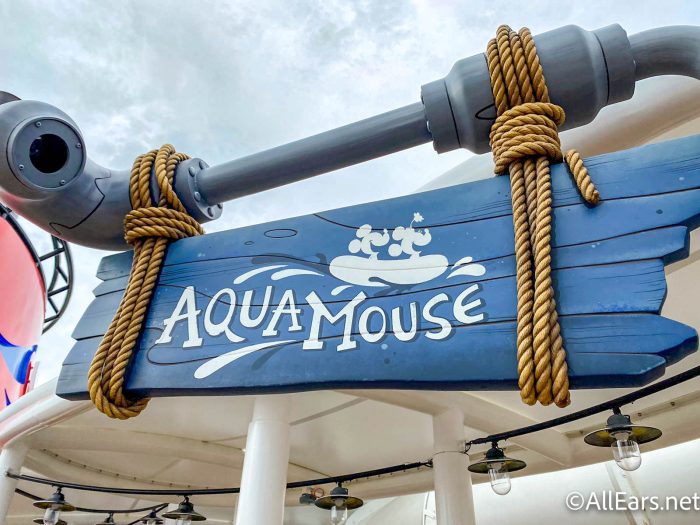 …enjoy entertainment like "Disney Song Book Starring You!"…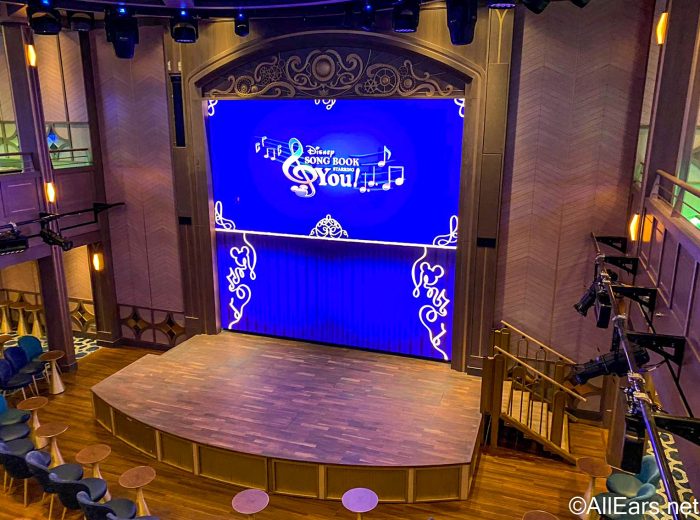 …challenge your family in an Incredibles-themed obstacle course…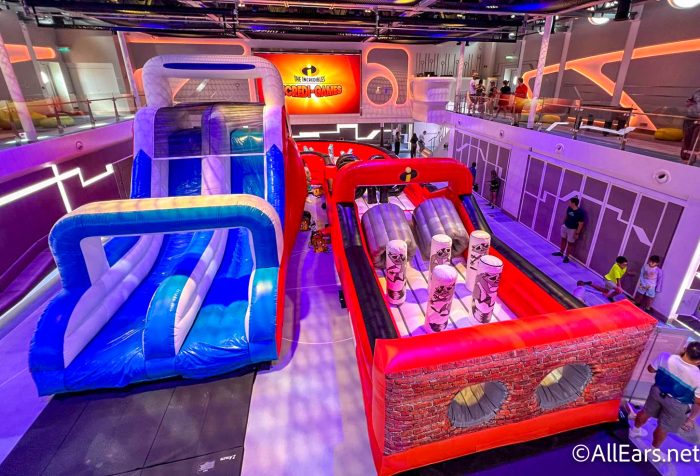 …and even check out the Hero Zone, a family-friendly futuristic sports arena!
Welcome to the Hero Zone 💪🏀 #DisneyWish #mediaevent #hosted pic.twitter.com/293A5zZVNn

— AllEars.Net (@AllEarsNet) June 29, 2022
And for a bit of relaxation, adults can head over to Senses Spa.
What if you're in the mood for some shopping??
Shopping
If shopping is the name of your game, you'll find a whole bunch of things to pick from on the Disney Wish. There is an exclusive collection featuring Cinderella, new Minnie ears, and much more! We spotted Adjustable Mickey Ears…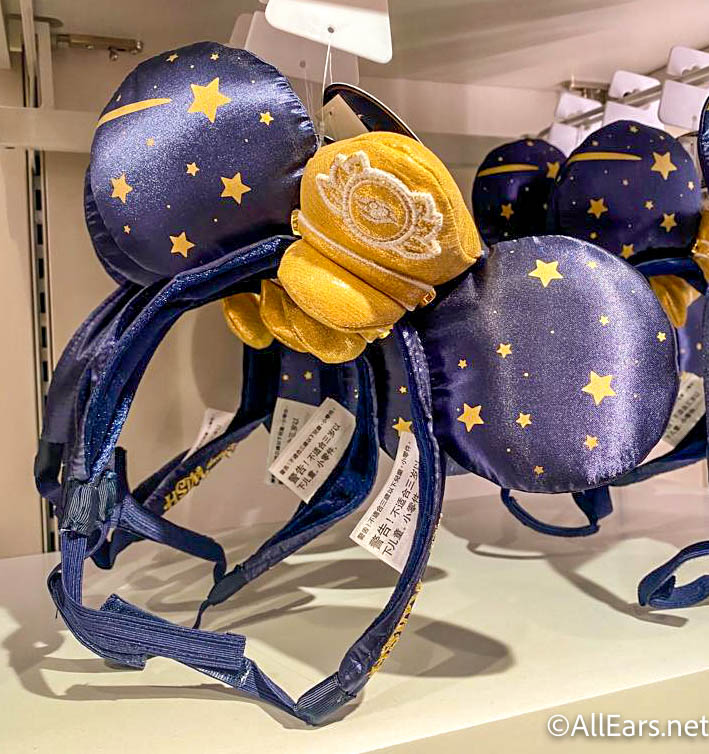 …several different Disney Wish Pins…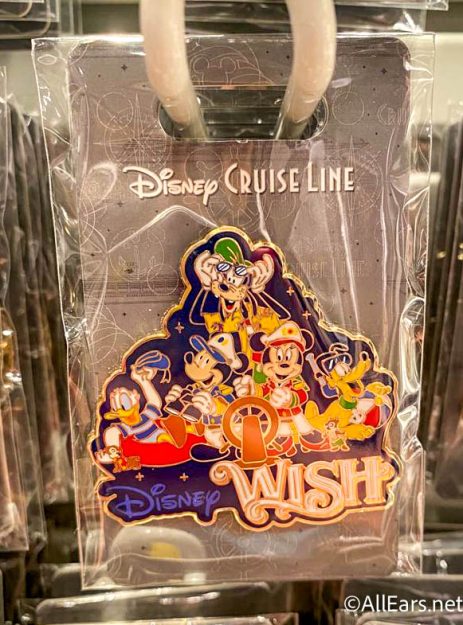 …and some Wine Tumblers too!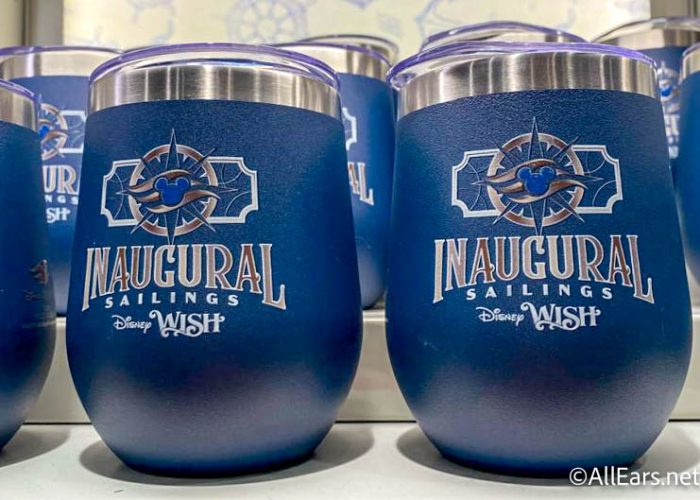 And here are the official Disney Wish Minnie Ears!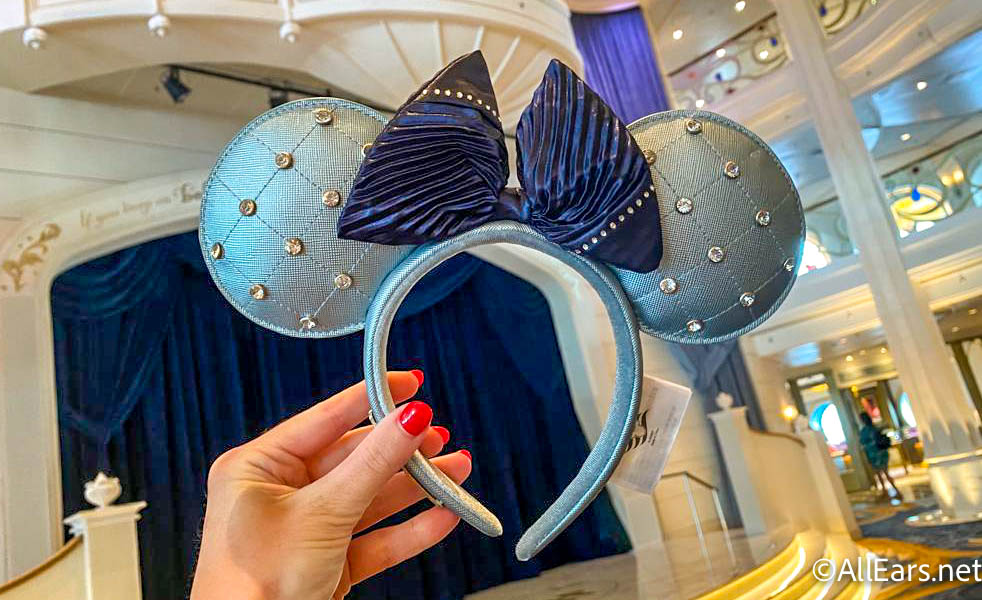 You'll find these in the various stores aboard the ship.
Debarkation
For those departing and going to the Orlando International Airport (MCO), transfers were available beginning at 7:30AM, with motor coaches available until 10AM. (You should have a "PA" on your Stateroom key.) For guests with flights leaving before 10:30AM, private transfers were reserved for them.
For those departing and going to a Walt Disney World Resort, the ship encouraged these guests to debark by 8:15AM to get their luggage and clear customs. The Resort's motor coach departed at 9AM. (You should have a "PR" on your Stateroom key.)
And that's how debarkation worked on our sailing on the Disney Wish!
And that's our first look ON the Disney Wish so far! We'll be sure to update this post with more videos, photos, and details about our time on the Wish! 
Want more Disney Wish news? Click here to see where the Disney Wish compares to the most popular cruise ships. And check back with us for more details!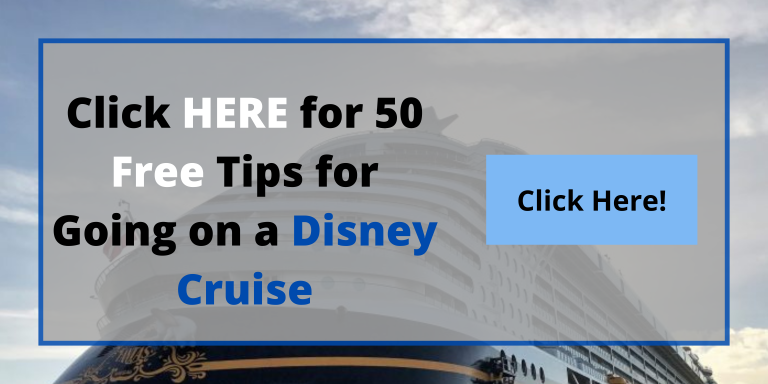 Disclosure: We were invited by Disney to attend a media event of the Disney Wish. This did not affect our reporting of the event — our opinions are our own.
Will you be going on the Wish? Tell us in the comments!