The Galactic Starcruiser (also known as the Star Wars hotel) is Disney World's newest hotel. But, the experience really isn't anything like your traditional Disney hotel.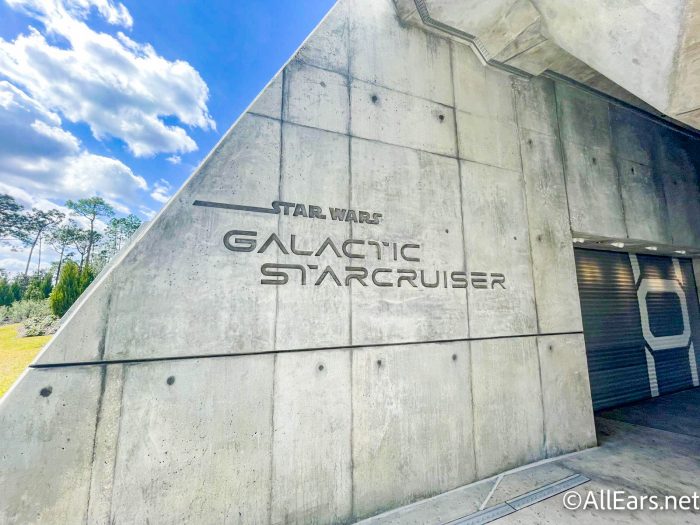 Star Wars: Galactic Starcruiser is a one-of-a-kind experience that is more closely compared to a Disney cruise rather than a Disney Resort. And, if you've ever been on a Disney cruise, you probably know that there's not much ability to "escape" the ship. But, is the Starcruiser the same? Will you feel trapped inside during your 2-night stay as a galactic battle between the Resistance and the First Order unfolds around you? Let's take a look!
Atmosphere
Unlike other Disney World hotels, the Galactic Starcruiser has a very unique and immersive storyline behind it. When you first arrive for your stay, you'll pull up to the "Galactic Starcruiser Terminal," which is where you'll pick up your Launch Pod into space.
The atmosphere here is pretty different than your usual Disney lobby though — you'll find lots of concrete…
…and travel down narrow concrete hallways to get to your Launch Pod.
After making your way down the hallway, you'll board a Launch Pod with other guests and it's off to the Halcyon (aka the Starcruiser) you go!
There's not too much space to spread out inside, but you're only in here for a short period of time.
Speaking of narrow hallways, they can also be found on the decks that are home to all the passenger cabins. There's actually a bit more space in the hallways compared to a Disney cruise ship, but because of the industrial Star Wars look to the cabins, it certainly can feel a bit more like a prison.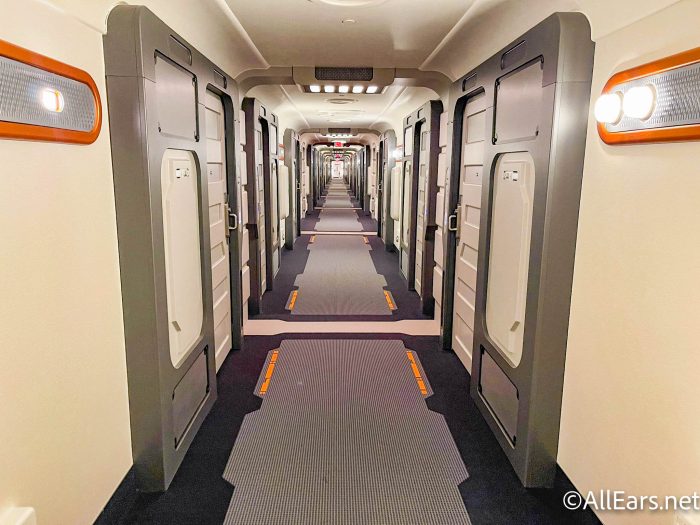 That being said, the cabins transport you directly into the space setting offering queen-sized beds, bunk beds, and even living areas in select rooms. Just keep in mind that you're still immersed in the story, so your (digital) window offers views of space rather than the outdoors.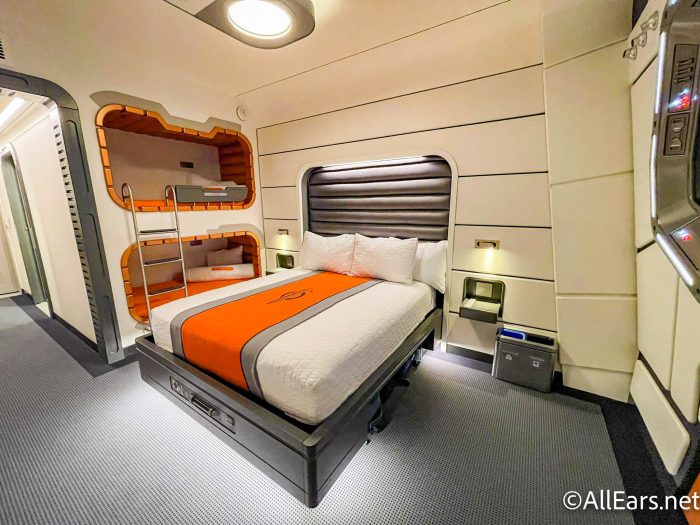 The rest of the ship is Chandrila Star Line's (the "company" that owns the Halcyon) best! You'll find a spacious atrium on Deck 6…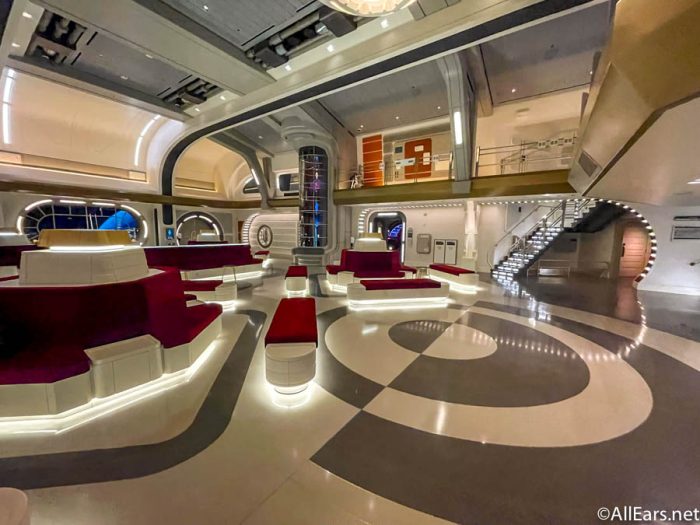 …along with the Sublight Lounge, where you can play a game of Sabaac while you sip on tasty space cocktails…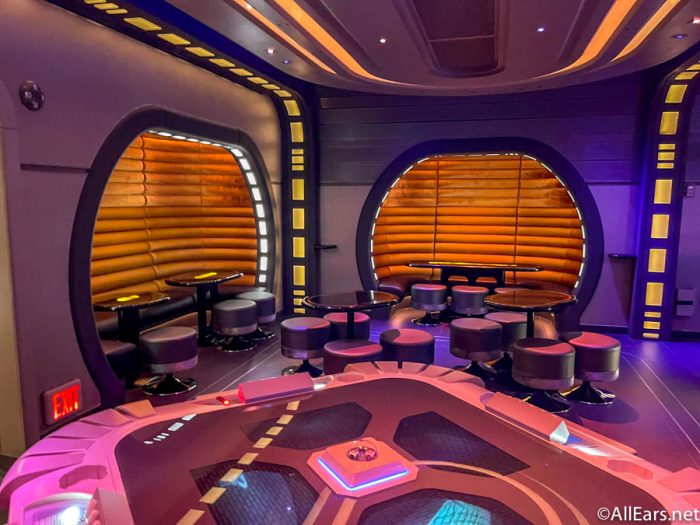 …and even the Crown of Corellia Dining Room on Deck 4 has a lot of room to spread out.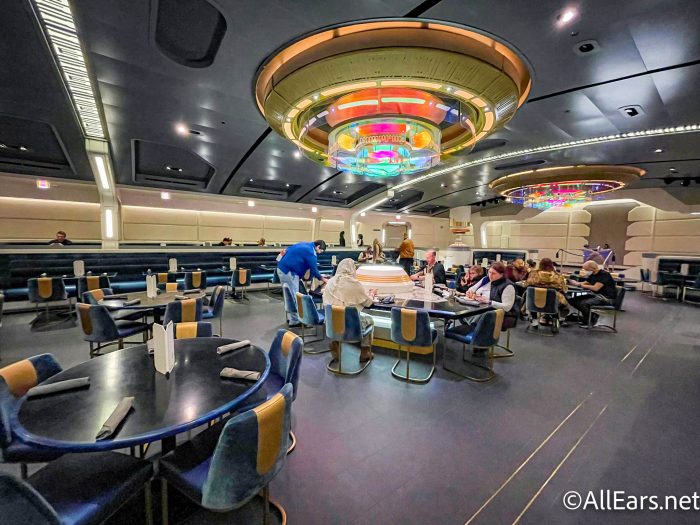 So, while there are some parts of the Starcruiser experience that you might find yourself wishing you had more space, it's very comparable to the feeling onboard a Disney cruise.
Food
When it comes to the food onboard the Starcruiser, it's a far cry from reheated beans and rice! The menu is expansive for breakfast, lunch, and dinner with delicious eats like Spiral Dumplings, Tip Yip Chicken, Bantha Beef Tenderloin, and more.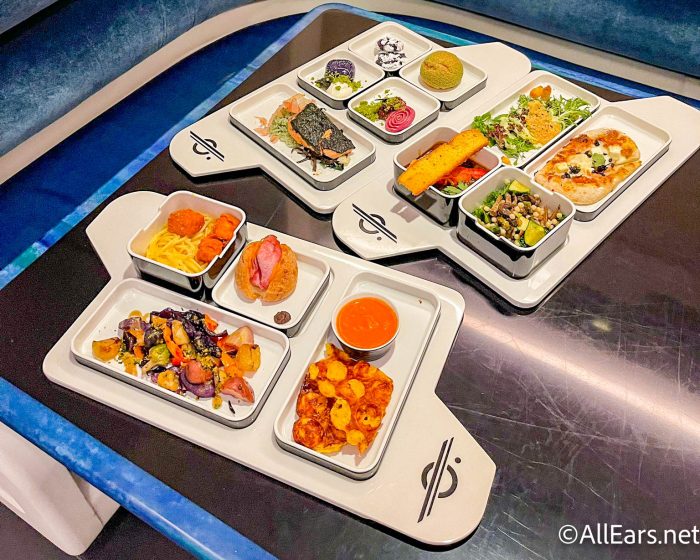 Though, the Blue Shrimp appetizer for dinner on Day 2 may be a bit more controversial… .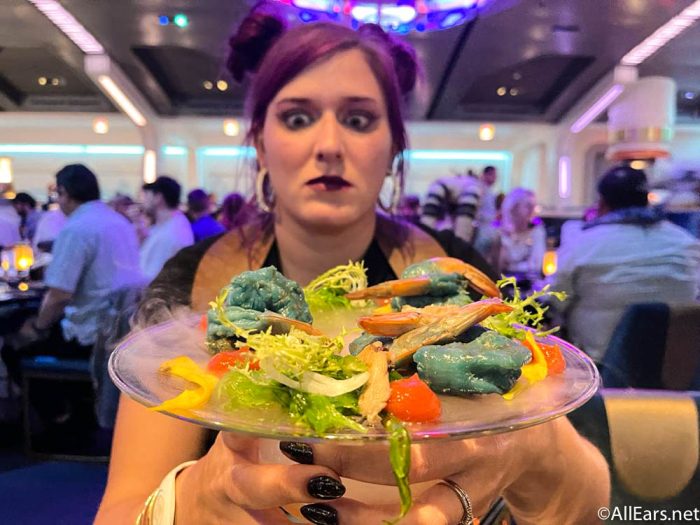 The First Order
During the Muster Drill (which is the first big activity for all passengers on Day 1), you find out that the First Order has boarded the Halcyon because they received intel that there is Resistance activity onboard. And, from then on you might find that you're being "watched" by the First Order.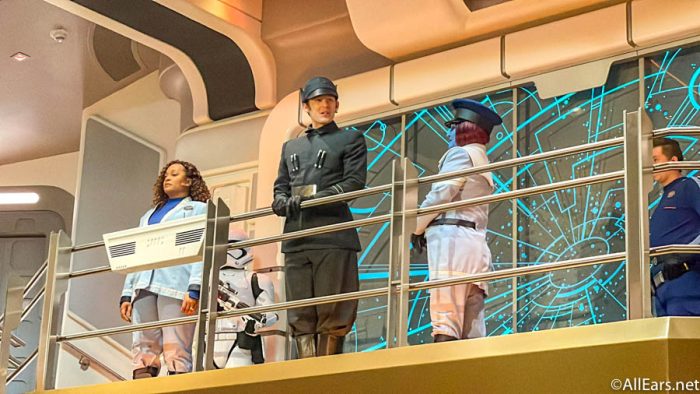 As you go throughout your day, you'll likely find some Stormtroopers lurking around…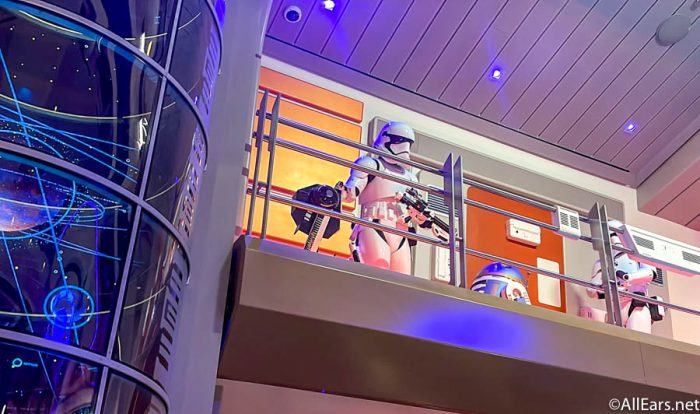 …or even the First Order lieutenant.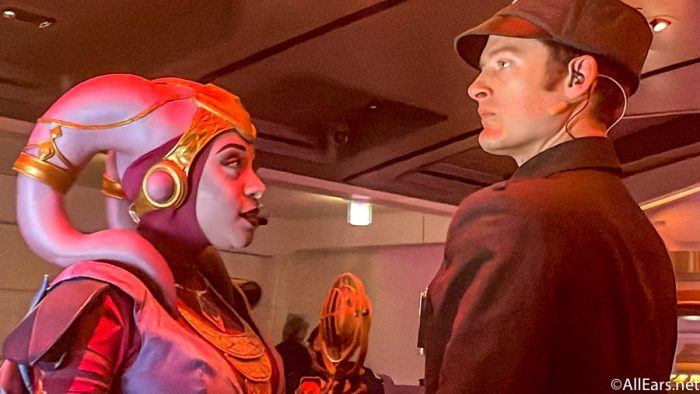 So, in a sense, there are "guards" around the ship, but it's all part of the story! Interact with them and you might find yourself pledging allegiance to the First Order, or you can work against them as part of the Resistance — just be sure not to get caught!
But, Are You Really Trapped Inside?
All in all, should you avoid the Galactic Starcruiser if you're concerned about feeling claustrophobic? Not necessarily — you're NOT trapped inside!
Need a breath of fresh air? Onboard the Halcyon, you'll find a "Climate Simulator" that is designed to "exactly simulate the climate of the planet we're visiting on your shore excursion." This is Disney's way of making an outdoor courtyard fit into the Star Wars storyline!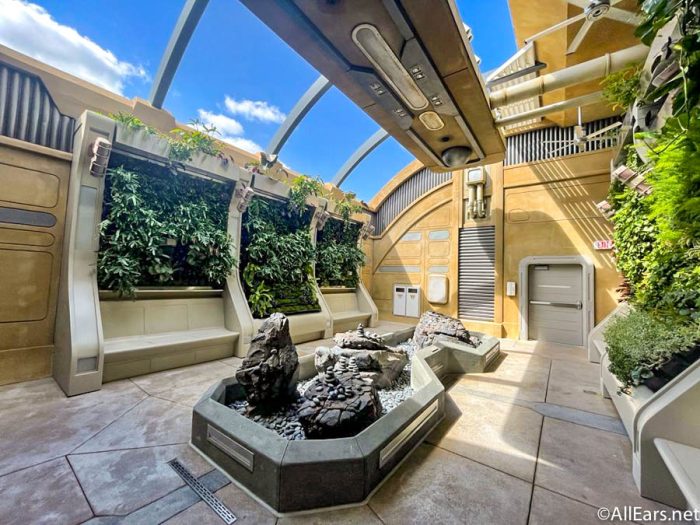 You can head to this outdoor courtyard at any point during your stay.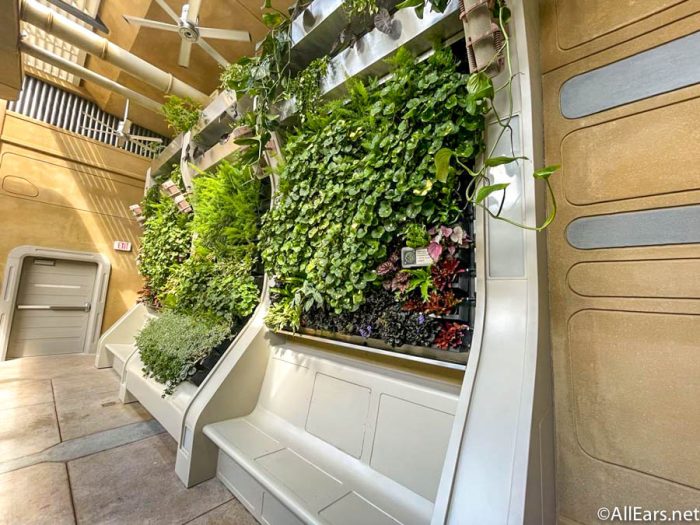 Plus, you have the chance to get off the Starcruiser entirely during the excursion to Batuu (aka Star Wars: Galaxy's Edge in Disney's Hollywood Studios) on Day 2.
You can visit the park from 8:10AM to 4PM — so almost the entire day!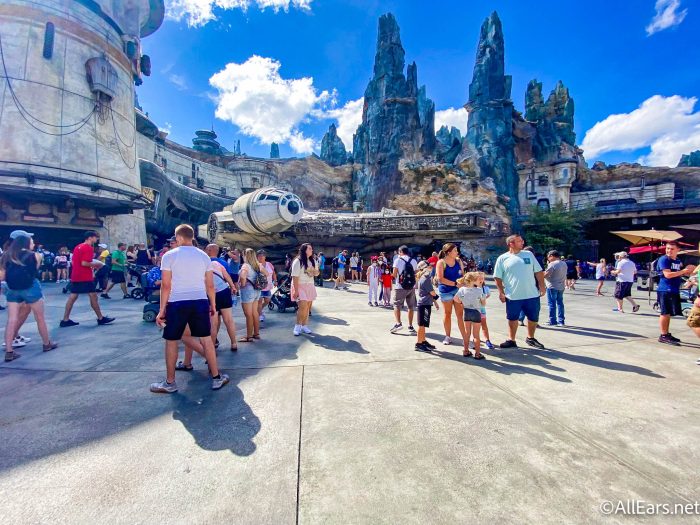 And, of course, if you want to leave the Starcruiser at any point, you absolutely can! Just talk to a Cast Member and they'll help you get off the "ship."
So, while the experience onboard the Galactic Starcruiser is meant to take place inside for a majority of the time, don't rule out a stay if you're worried about feeling trapped inside! We'll continue to bring you a look at everything there is to do at Disney's new Star Wars hotel, so be sure to stay tuned to AllEars for more!
Join the AllEars.net Newsletter to stay on top of ALL the breaking Disney News! You'll also get access to AllEars tips, reviews, trivia, and MORE! Click here to Subscribe!

Disclosure: We were invited by Disney to attend a media event for Star Wars: Galactic Starcruiser, and later attended on opening day where we paid full price for travel, stay, and expenses. This did not affect our reporting of the event — our opinions are our own.
Do you think you'd feel trapped inside the Star Wars hotel? Let us know in the comments!