There are hundreds of restaurants in Disney World, and ever since the closures, they've been slowly reopening.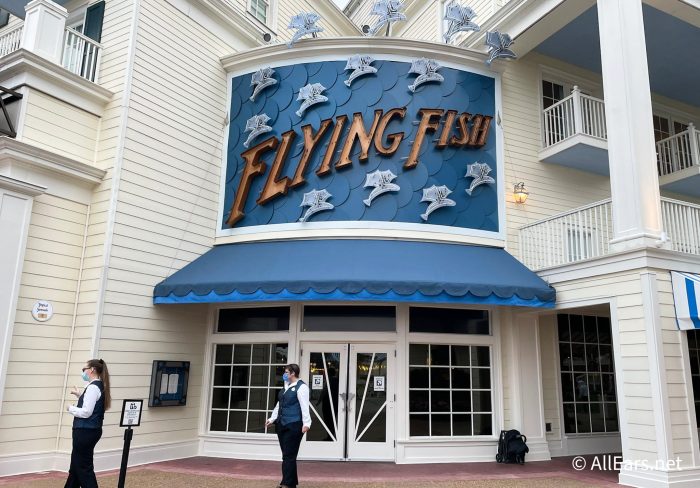 We've had signature dining options, character meals, buffets, and more come back in the past year and a half. Now it's time to add another spot to that list — the Flying Fish!
We found out a few weeks ago that this restaurant would be coming back, and now we're here on reopening day to see what it's like! Let's take a trip down Disney's Boardwalk to start our visit.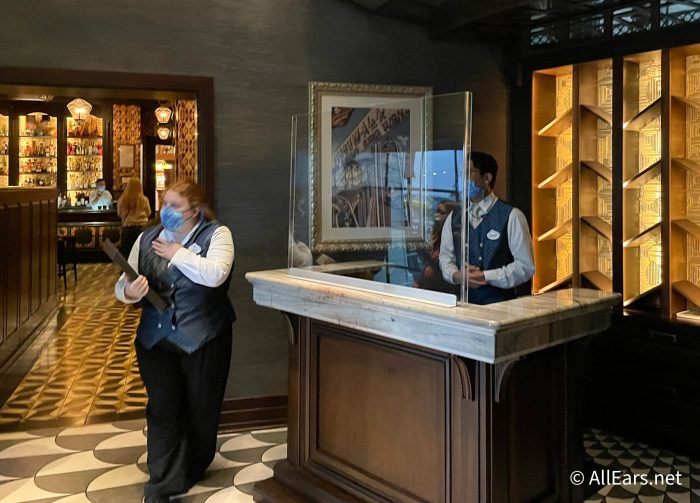 Atmosphere
It has been a long time since we've been here, and we're glad to be back! When we arrived, we used Mobile Check-In on the My Disney Experience app, and we just had to wait a few minutes before our table was ready.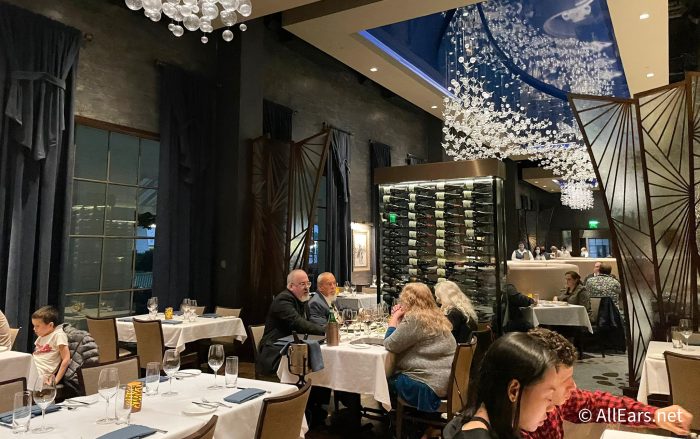 We noticed a few new health and safety measures here, though not as many as we saw when restaurants first started reopening. At our table, we were given a traditional menu along with a separate cocktail menu.
Menu
On the menu, there are a variety of items to choose from, including seafood dishes like the Seafood Pearl Pasta or the Plancha-seared Scallops that Disney mentioned when they announced the reopening of the restaurant.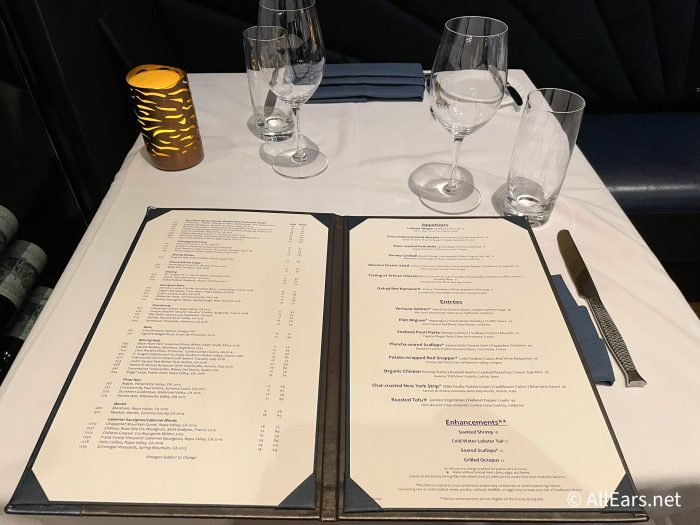 As far as appetizers go, they've got everything from Lobster Bisque to Shrimp Cocktails to a Tasting of Artisan Cheeses. This list of selections is definitely setting up that upscale vibe!
Entrees include a variety of seafood dishes, as well as some steak options and even a tofu meal for those who don't eat meat. They range in price from $38-$59, so note that this isn't one of the most budget-friendly spots you'll find in Disney World.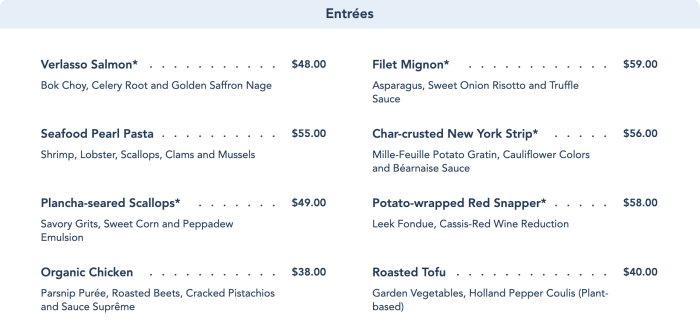 You can also order a selection of "enhancements" like sauteed shrimp, seared scallops, or cold water lobster tail. Those will really take your meal up a notch!

And what's our favorite part of the meal? Dessert, of course! That list includes a Creamy Goat Cheesecake, a Key Lime Cake, and a 50th Celebration Midnight Lemon, to name a few.

But don't worry — they didn't forget about the kids! There are several options for them as well, with two different appetizers and an assortment of crowd-pleasing entrees.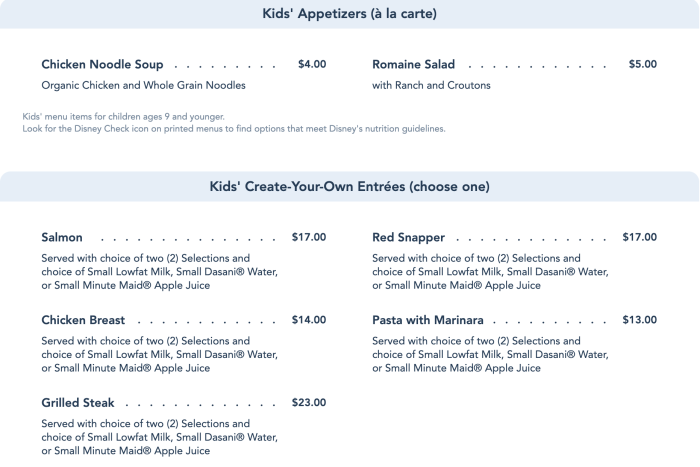 Flying Fish also serves a few specialty cocktails and coffee choices. They have a Chocolate Martini, an Espresso Martini, a Peanut Butter Freeze, a BoardWalk Cafe, and their Hand-pressed Viennese-style Flying Fish Signature Coffee Blend.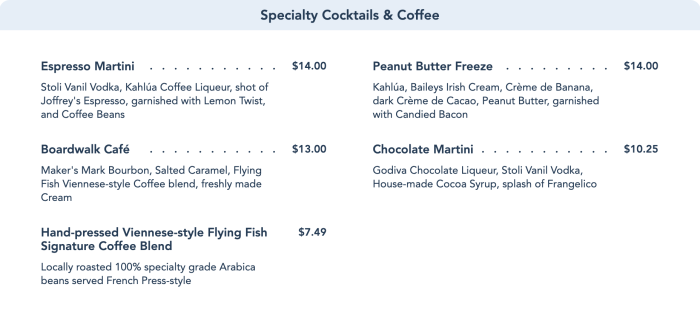 Food
We started off our evening with the Slow-roasted Pork Belly for $16.
We followed that up with our entree: the Seafood Pearl Pasta for $55 (filled with every kind of shellfish you could imagine):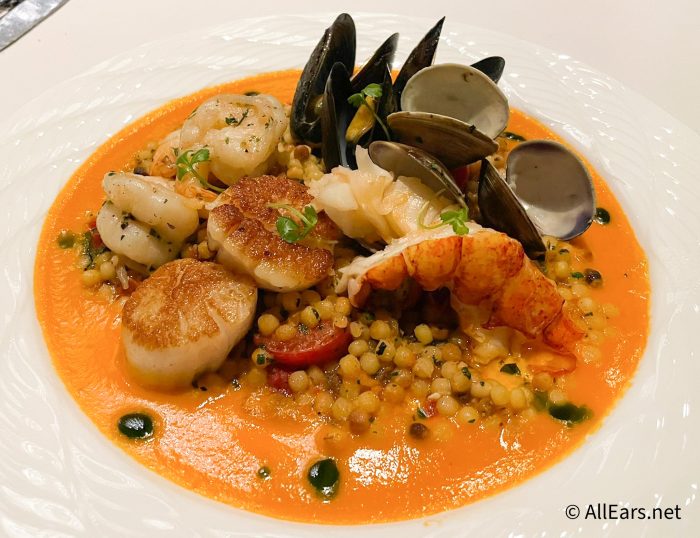 We added on Seared Scallops to our entree for an additional $21:
Then it was time for dessert! We sipped on a yummy Peanut Butter Freeze for $14…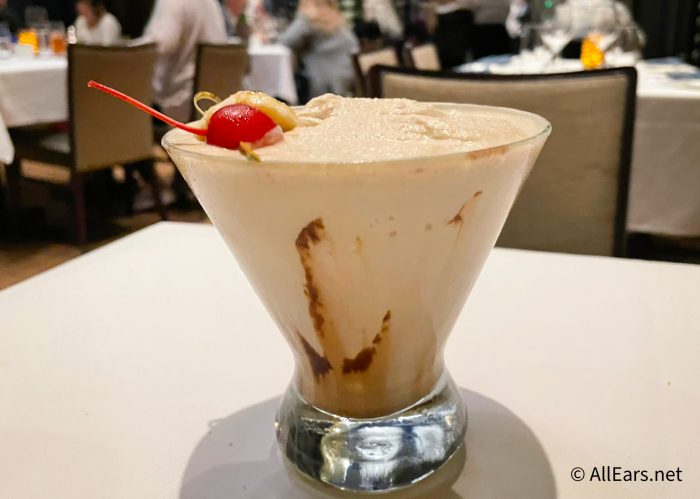 …and closed out our evening with the Creamy Goat Cheesecake for $13.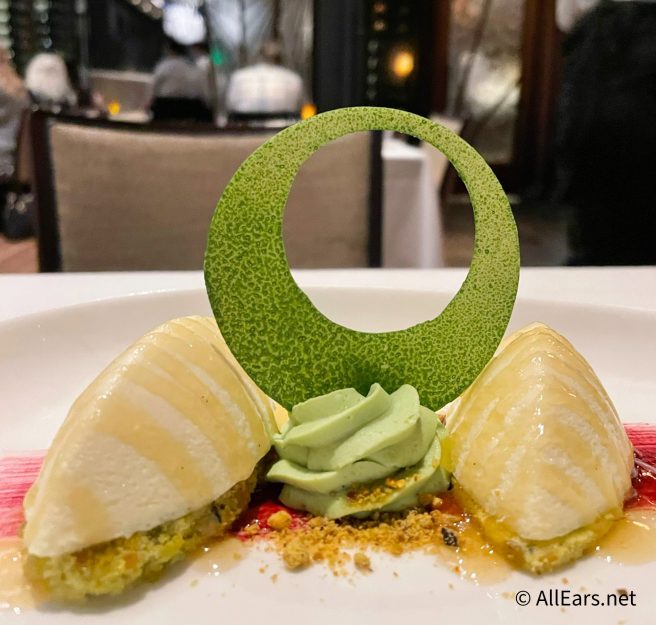 So that's it for our return visit to Flying Fish at Disney's BoardWalk! We'll keep you updated with any more restaurant reopenings, so stay tuned to AllEars.
Have you ever been to Flying Fish? Would you like to go? Tell us in the comments!