Disney World has a LOT of options for hotels and resorts to stay at during your vacation.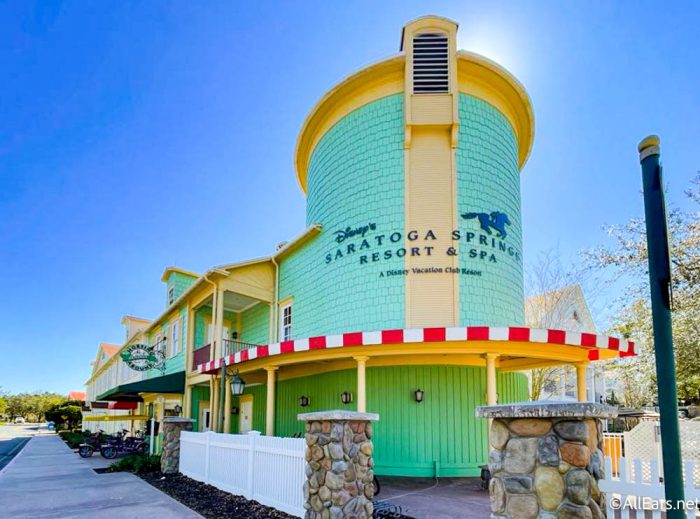 You can choose from the more affordable value resorts, the mid-range moderate resorts, or the luxurious deluxe resorts. Before you drop the major cash required for the deluxe resorts, you might want to get a look inside at both the hotel in general and the guest rooms available there. Let's peek inside one of these fancy hotels with a full room tour now!
We're heading to Disney's Saratoga Springs Resort & Spa today for a full tour of this hotel, including its lobby, amenities, and guest rooms.
Resort Atmosphere
Saratoga Springs is inspired by its namesake, which is "a late-1800's New York retreat famous for its spas and horse racing." The architecture is Victorian-style and there are plenty of nods to the luxurious pastimes of the late nineteenth century.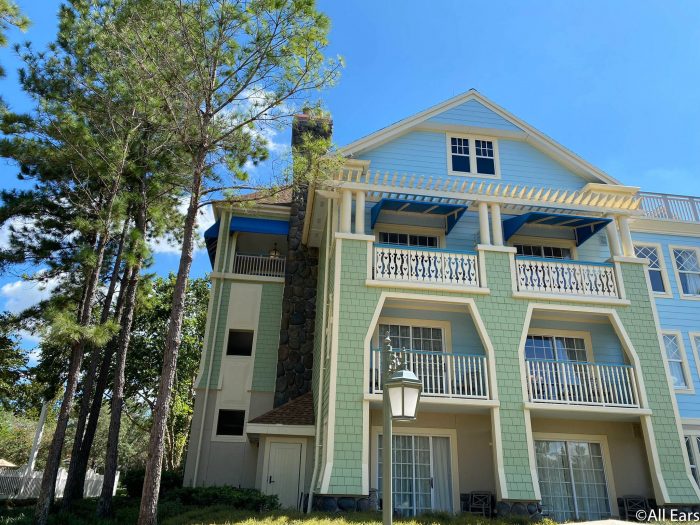 This hotel is a Disney Vacation Club (DVC) resort, but you don't have to be a member of DVC to stay here. As long as there are available rooms, anyone can book the Deluxe Studio Rooms, Treehouse Villas, or 1-, 2-, and 3- Bedroom Villas.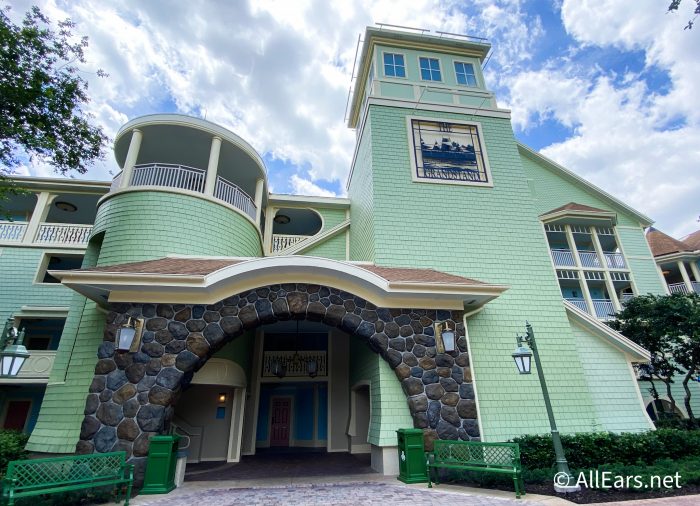 When you arrive, head through the entrance…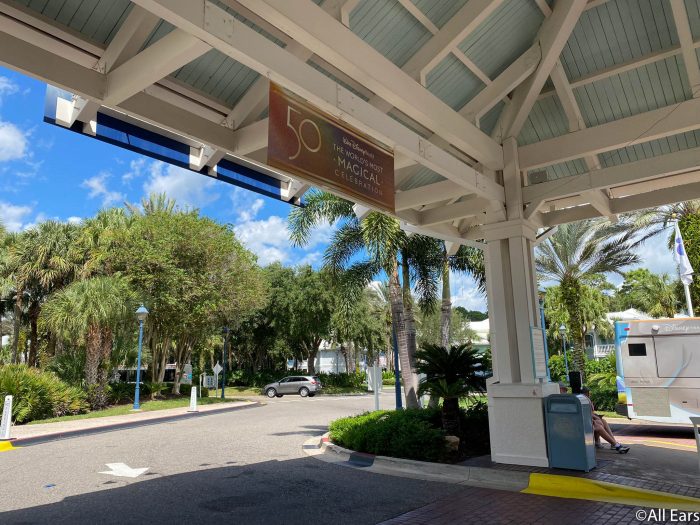 …and into the hotel's lobby. The lobby was updated not long ago, so you can now check in like normal at the front desk.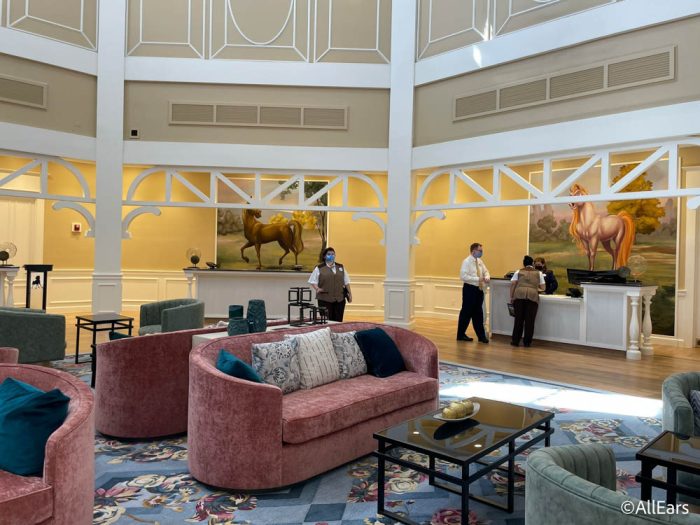 You can also choose to check in online or on the My Disney Experience app and then head straight to your hotel room when you arrive.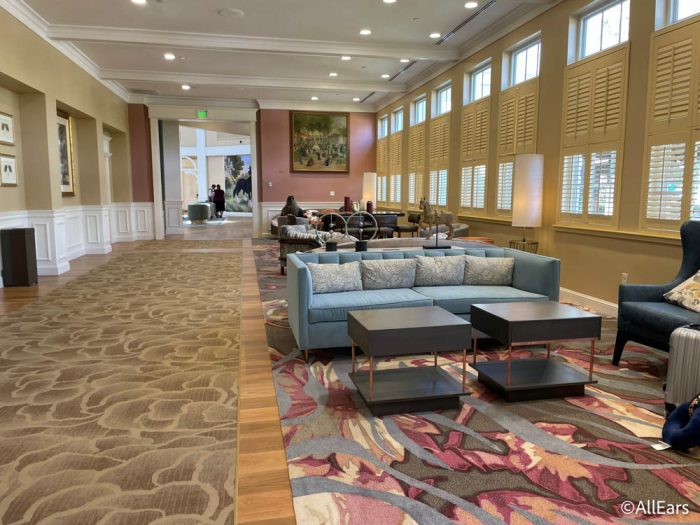 Either way, remember that your MagicBand will serve as your keycard for your hotel room. In the lobby, check out some of the details that nod to horse racing, like the elegant pictures of horses that might look very familiar to you.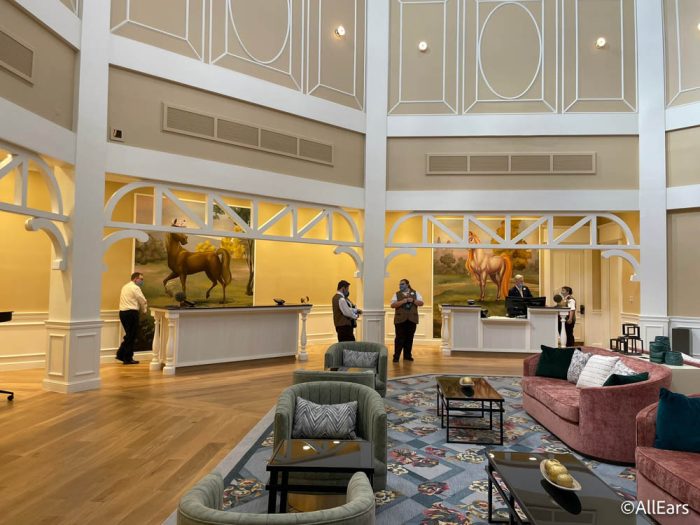 There are portraits of Disney horses behind the check-in desks! You can spot Maximus from Tangled…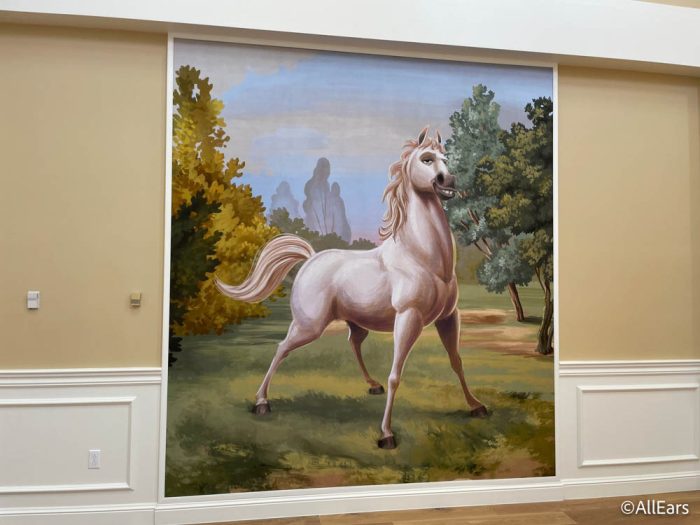 …Angus from Brave…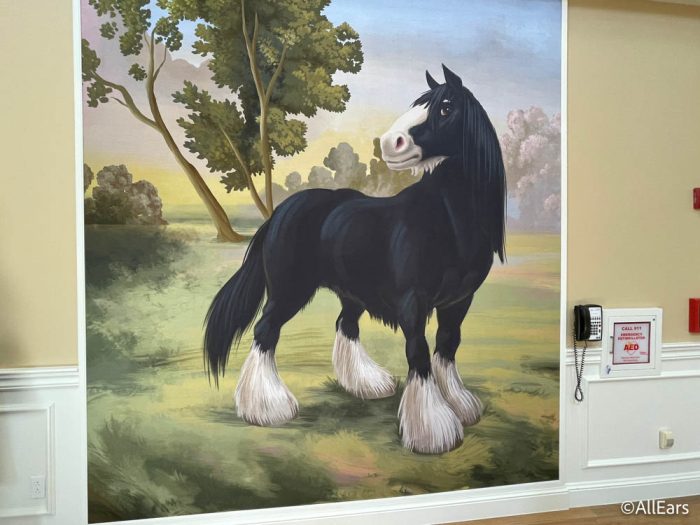 …Phillipe from Beauty and the Beast…
…and more!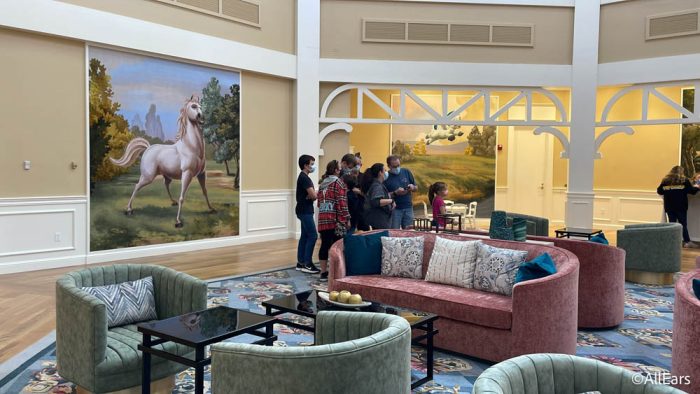 Pools and Other Amenities
Saratoga Springs has a Senses Spa location that offers massages, facials, whirlpools, and more. The spa is currently unavailable, like most spa locations in Disney World. We're not sure when it might return.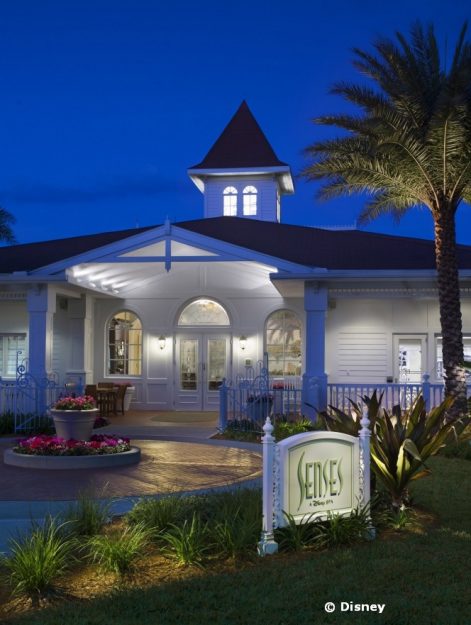 There are also a few pools at this resort, including the High Rock Spring Pool and the Paddock Pool. Both pools have water slides, whirlpool areas, and splash areas for littler ones (including one splash pad with a Donald Duck theme).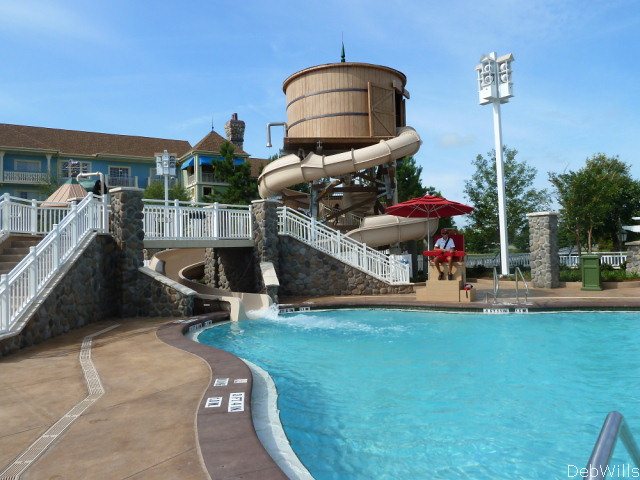 You can grab a refreshing drink or snack at the On the Rocks Pool Bar at the High Rock Spring Pool.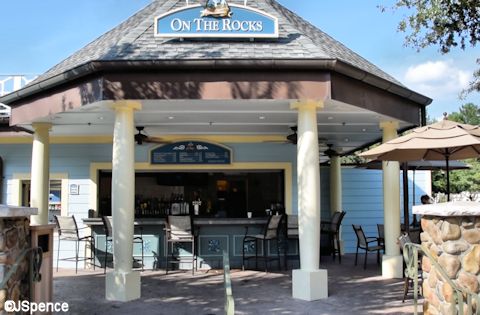 Over at the Paddock Pool, check out the Paddock Grill for some snack and drink options.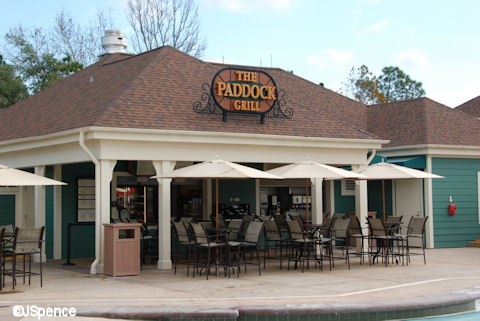 Saratoga Springs is located right next to the Lake Buena Vista Golf Course, so if you're hoping to get a couple of golf games in during your vacation, this hotel is a good option.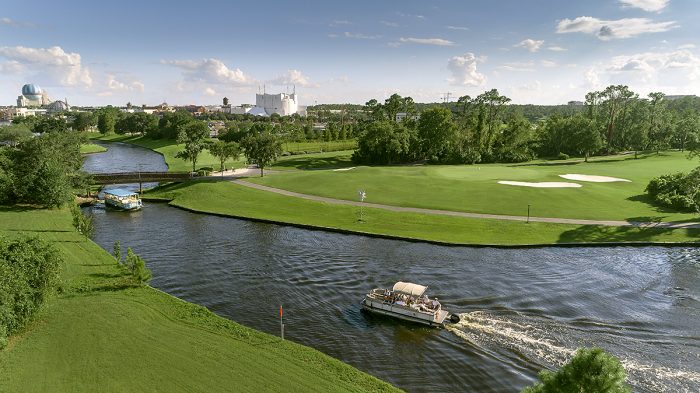 Transportation
Saratoga Springs has access to the Disney World buses, with several stops inside the resort. There's also an internal bus route that travels from the High Rock Spring Pool to the Treehouse Villas and back.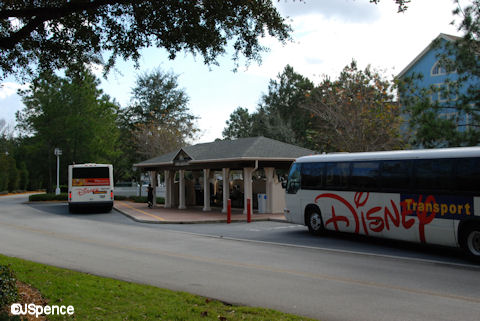 If you're heading to Disney Springs, you can also take a boat there from this hotel.
Dining
The Artist's Palette is a Quick Service location here that serves breakfast, lunch, and dinner.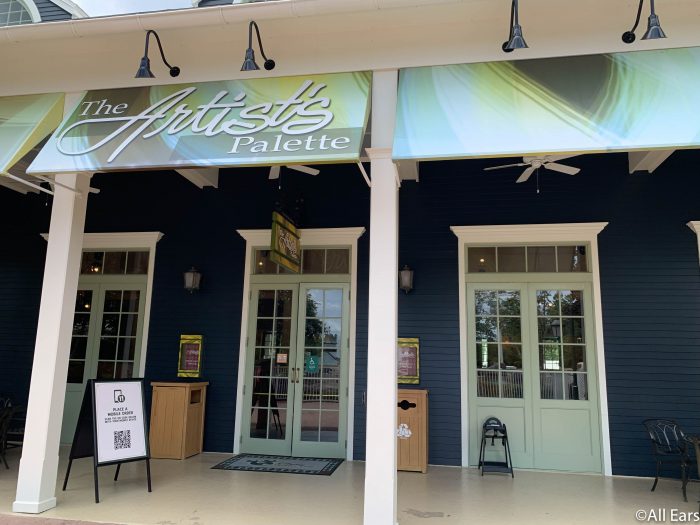 You can grab a hot breakfast, snag some groceries or a snack, and choose from a pizza, gourmet sandwich, salad, and more options for lunch and dinner.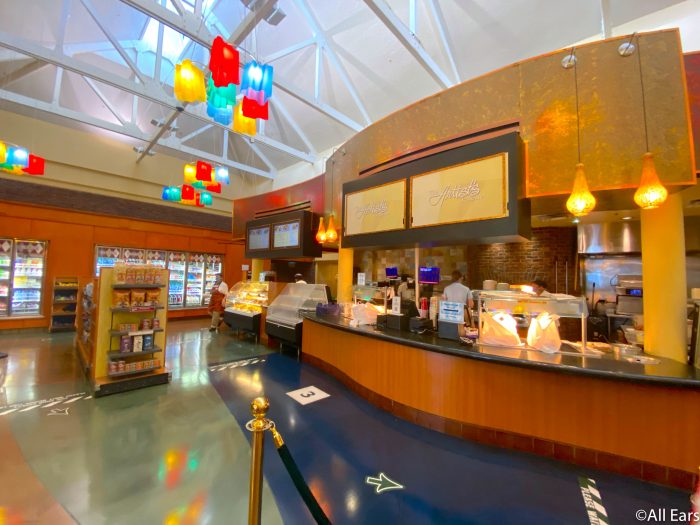 The Turf Club Bar and Grill offers luxurious dinners with a focus on classic American cuisine in a racetrack clubhouse-designed setting.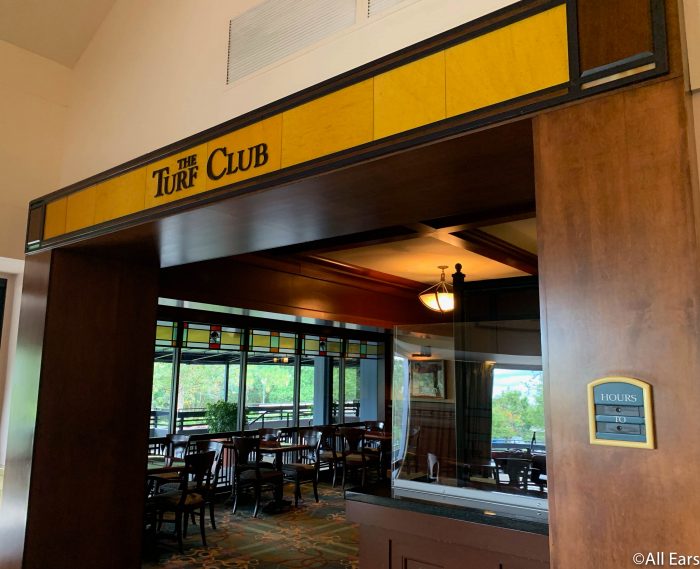 You can order ribs, steak, fish, and more for entrees; appetizers like french onion soup and crab cakes; and desserts like lemon meringue pie and chocolate fruit tarts.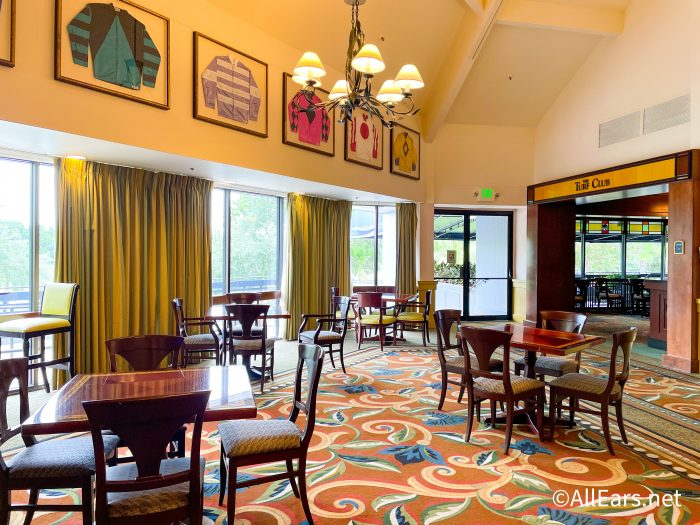 We stopped by not long ago to try the Grilled Pork Chop…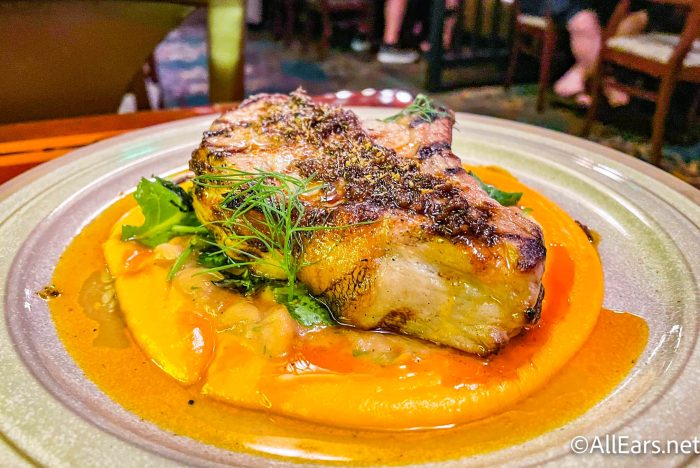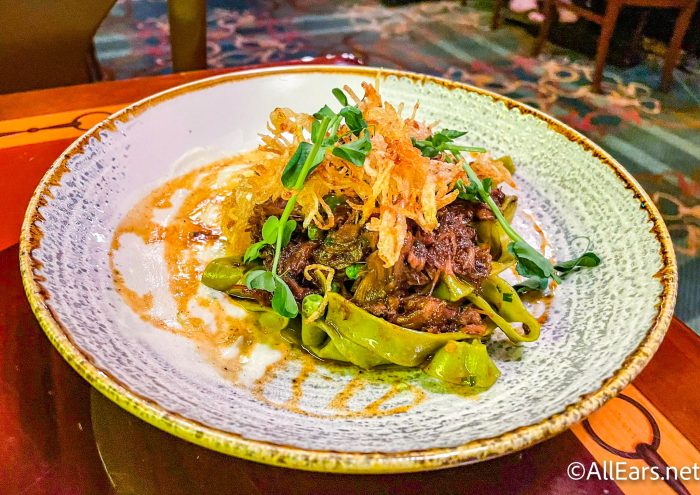 …and classic New York Cheesecake for dessert.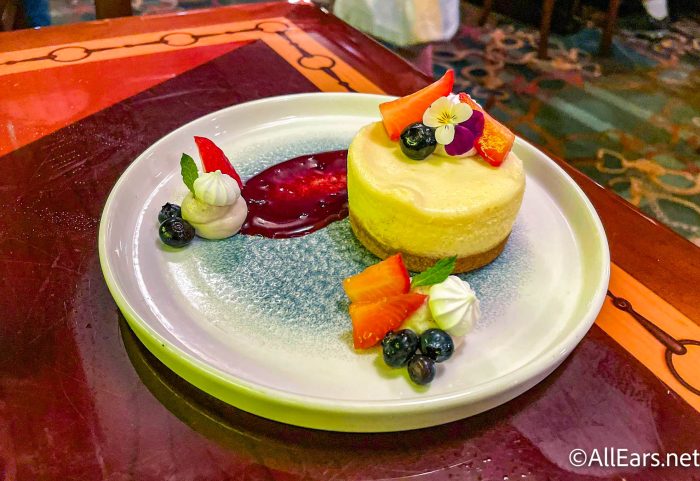 For a quicker stop, you can also head into the Turf Club Lounge.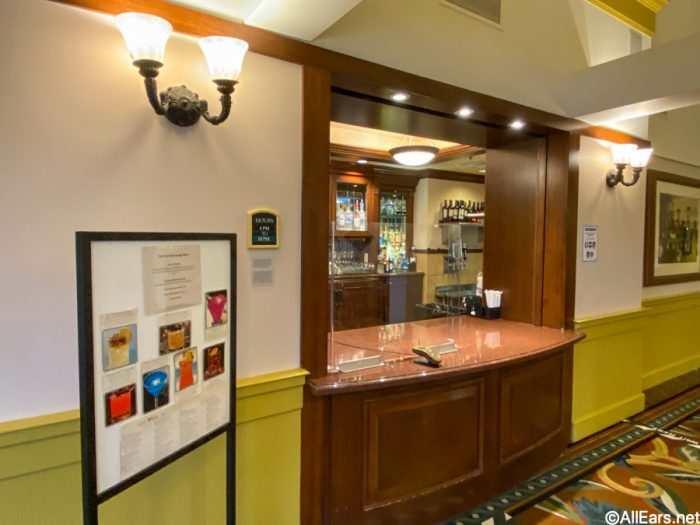 There, you'll find a few small plates as well as a lot of options for cocktails, beers, and wines. Be sure to check out their selection of mocktails for younger kids or adults who don't want alcohol.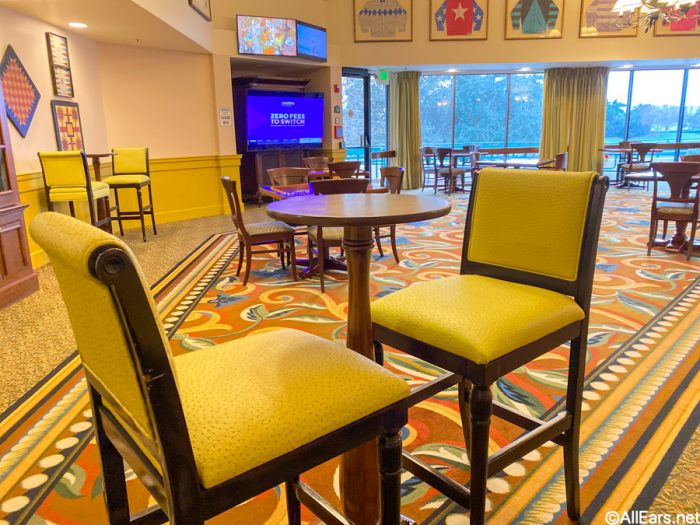 We stopped in the Lounge on our trip to try out the Millionaire Margarita…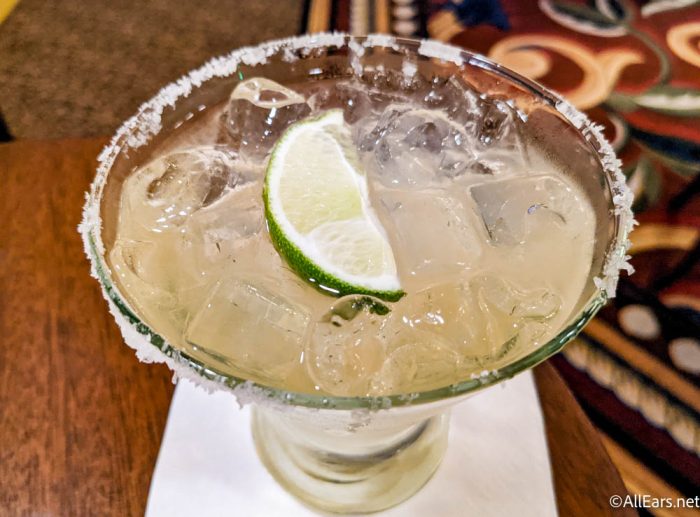 …and the Creamy Buffalo Chicken Dip.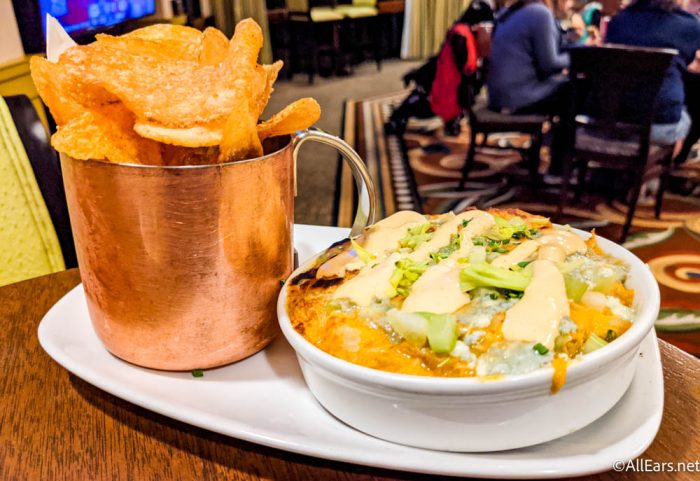 The dip came with a cup full of Saratoga chips
Room Tour
Now let's visit our room! We headed up to our standard room, which is a 1-bedroom, 1-bathroom hotel room that sleeps up to four adults. If you're hoping to have more people in your hotel room, check out the variety of villas available here as well. The room had a bedroom area, a kitchenette, and a bathroom with separate areas for the toilet, shower, and the sink.
When you enter the room, you'll see a hallway and a mirror…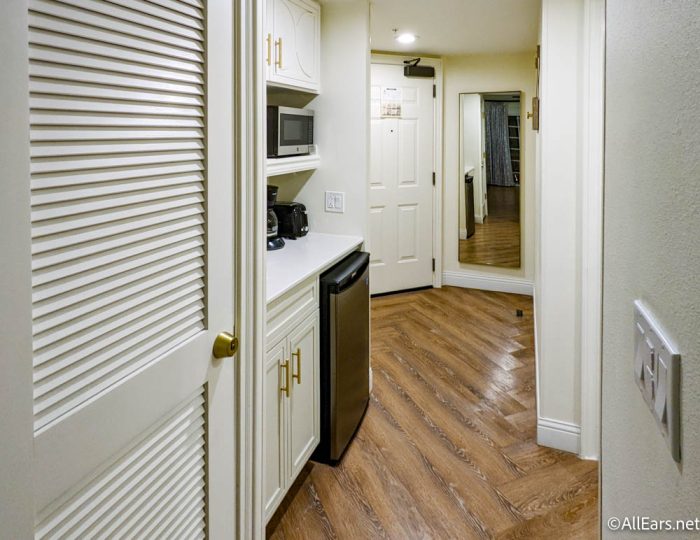 …along with a space to hang your bags and coats.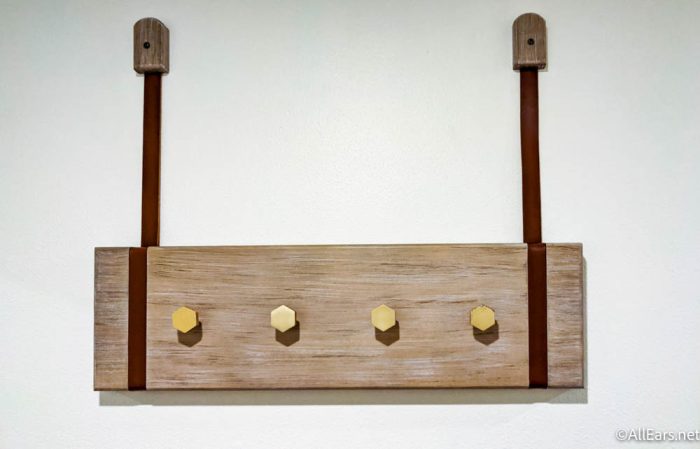 The door has both a deadbolt and an extra metal piece that swings out to secure the door.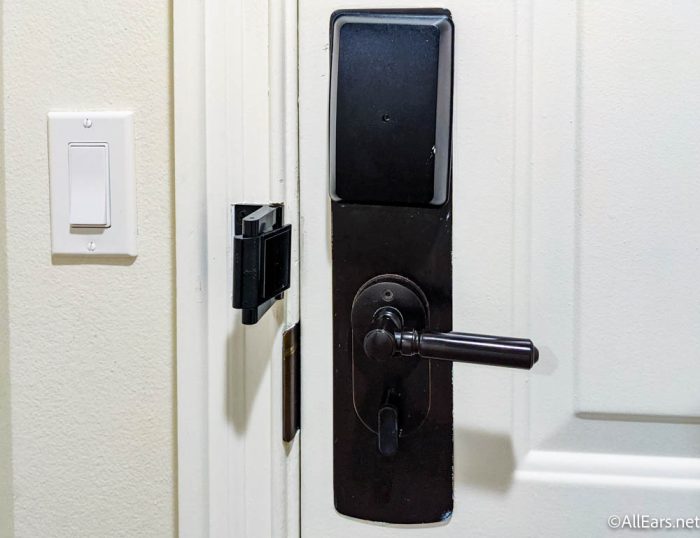 Heading in, you'll pass the kitchenette on your right.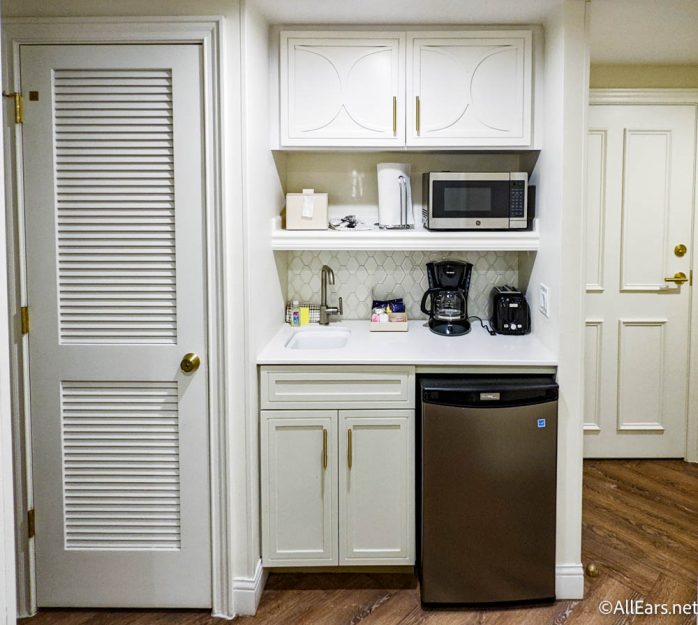 This area is stocked with a mini-fridge (great for storing all the leftovers from some delicious Disney snacks)…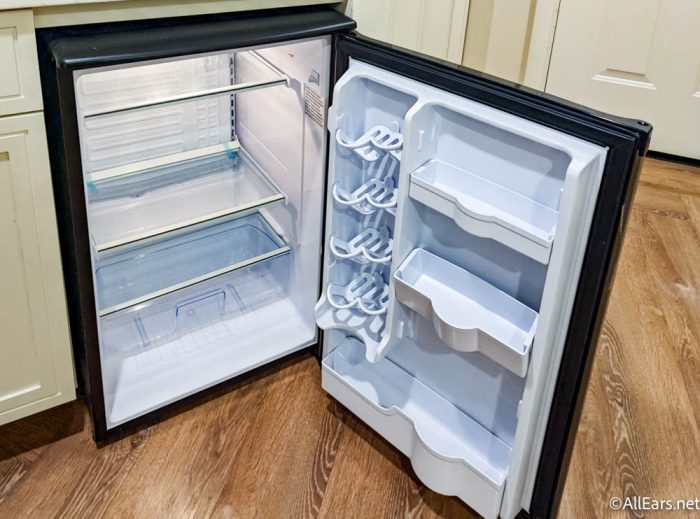 …a toaster…
…a microwave…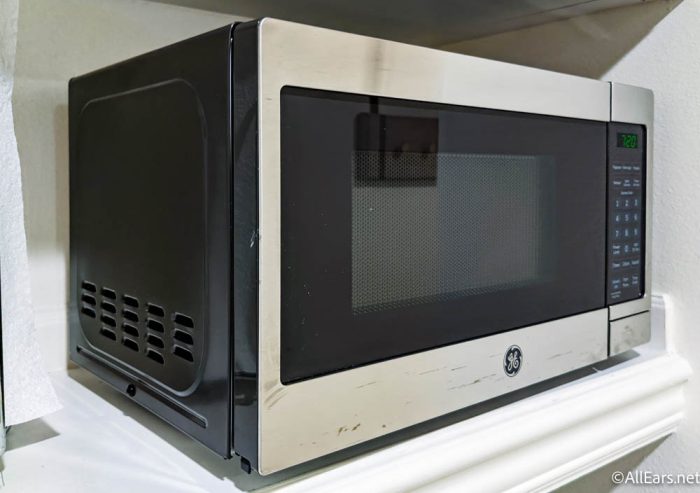 …and a coffee maker.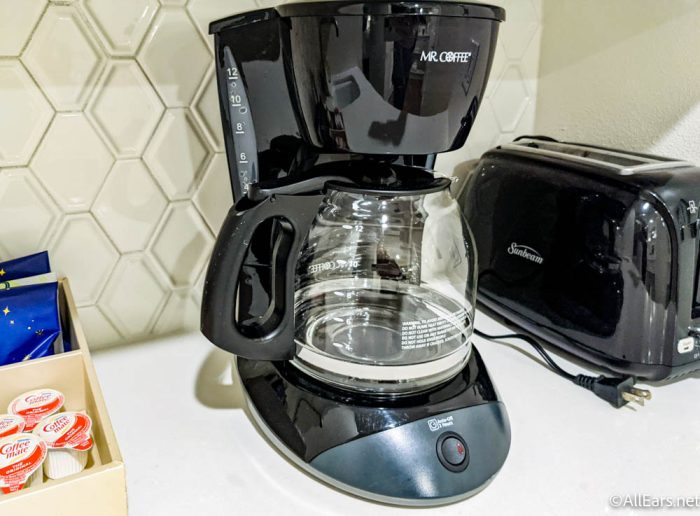 There are all the fixings you need to make coffee as well, including the 50th Anniversary blend.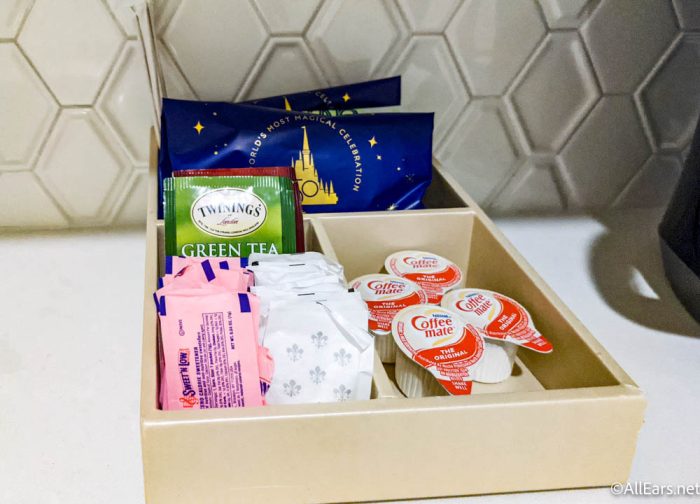 Under the sink, there's a storage area in case you bring any snacks of your own.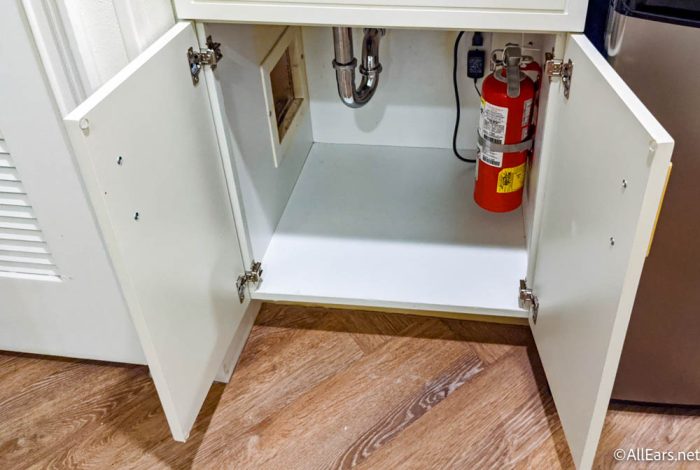 And above the sink, there's even more cabinet space as well as disposable utensils, plates, bowls, and cups.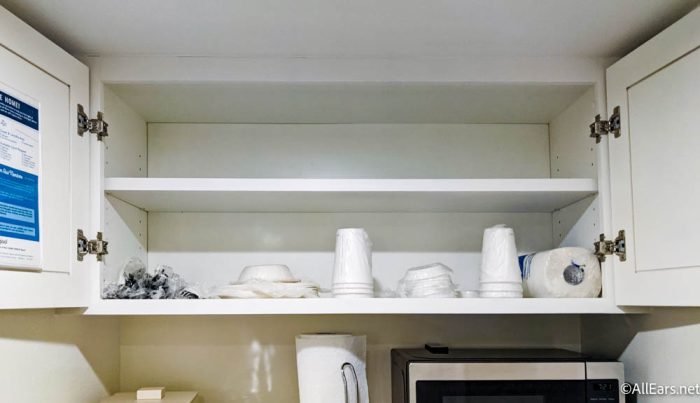 The kitchen has a couple of handy tools as well, including a can opener and a corkscrew.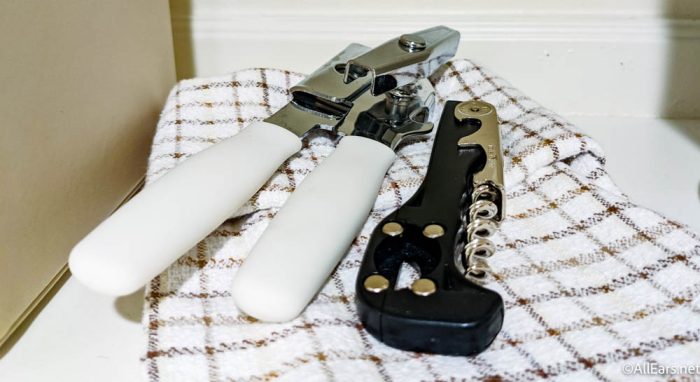 You'll also find some essentials for cleaning any dishes you bring along, like a sponge, rag, and soap.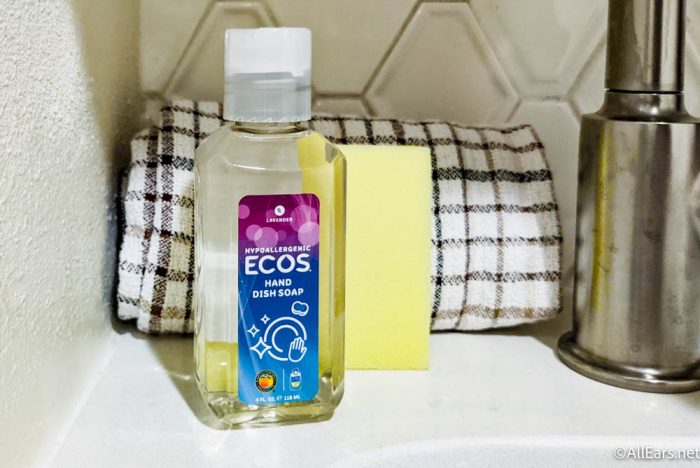 If you turn right, you'll find the bedroom.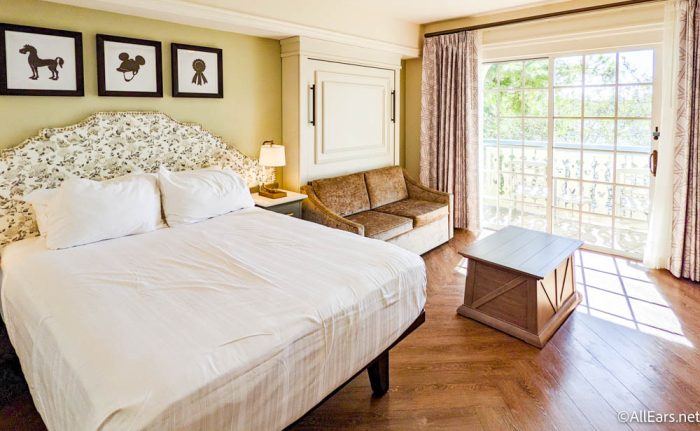 There's a queen-sized bed with a nightstand on either side and lights above the nightstand.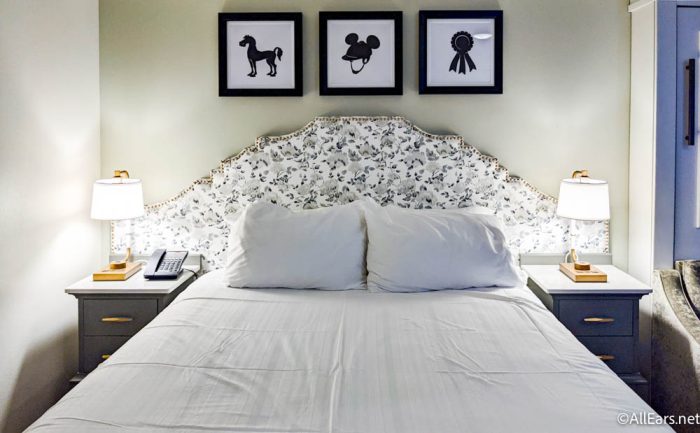 The headboard is covered in a gorgeous fabric design…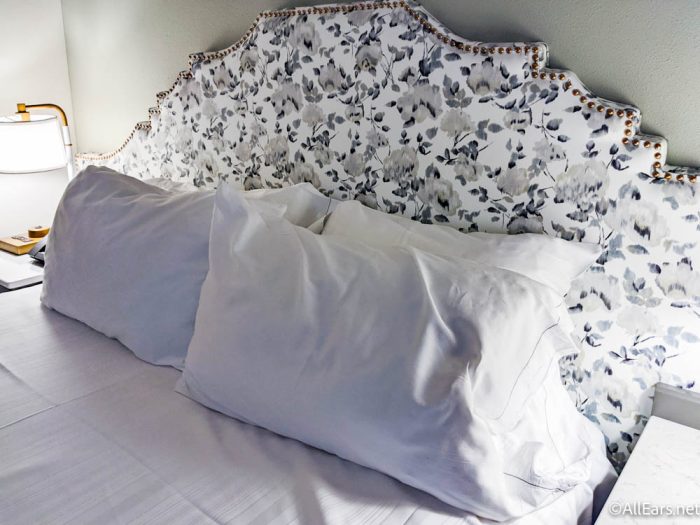 …and there's horse racing-inspired art above the bed.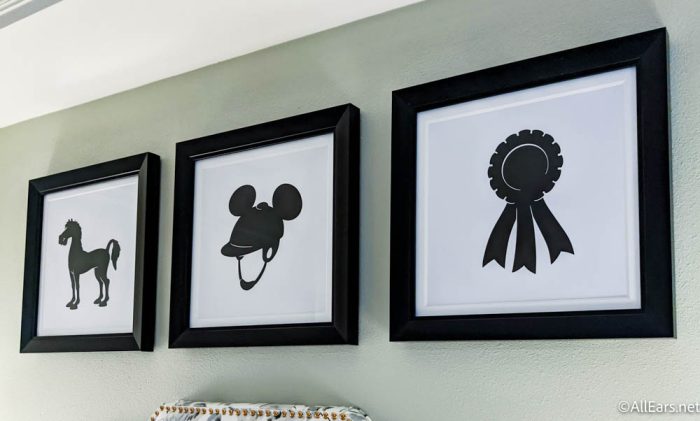 You'll see a horse, a jockey's helmet (complete with Mickey ears!), and a winner's ribbon.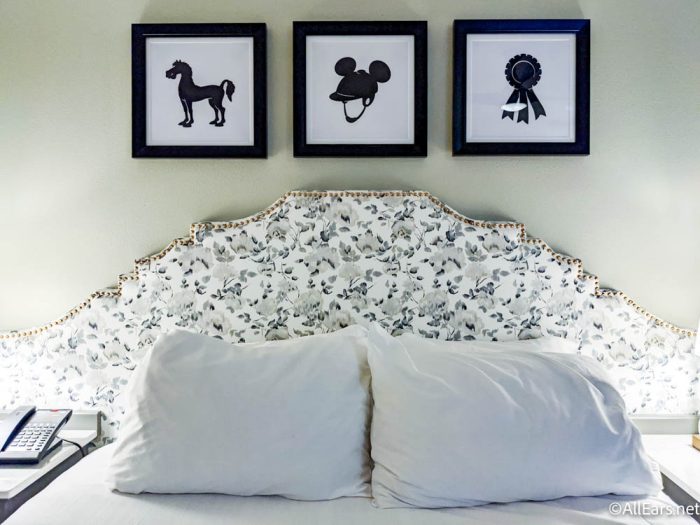 Each side has a nightstand with its own light and outlets.
The nightstands have outlets and light switches for the bedside lights.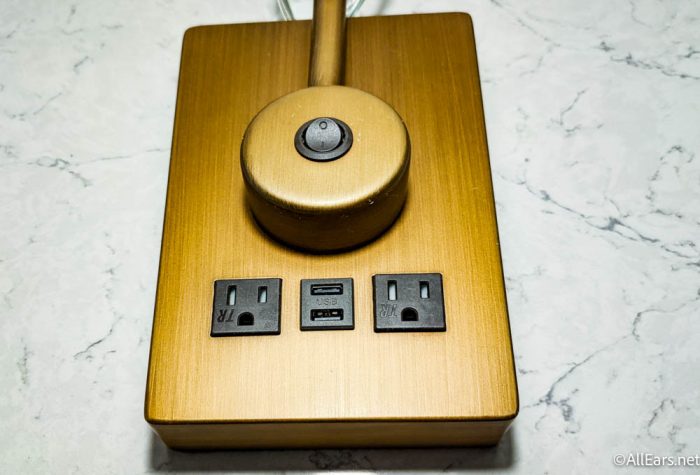 There are also drawers in each nightstand for some extra storage.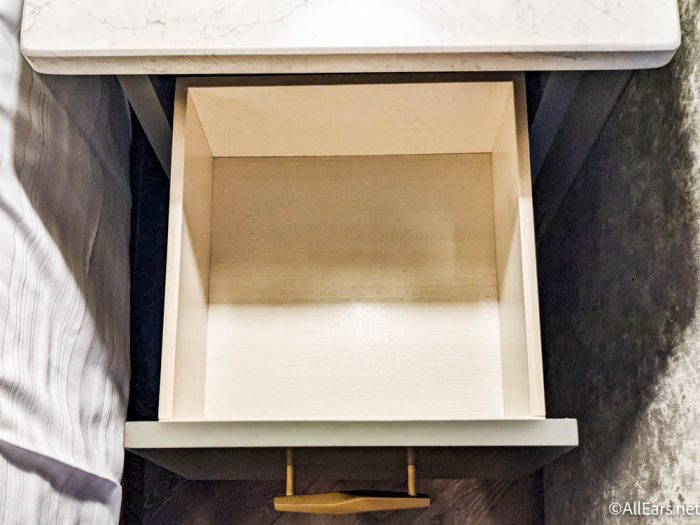 To the right of the bed, there's a couch and coffee table, which are situated in front of the television.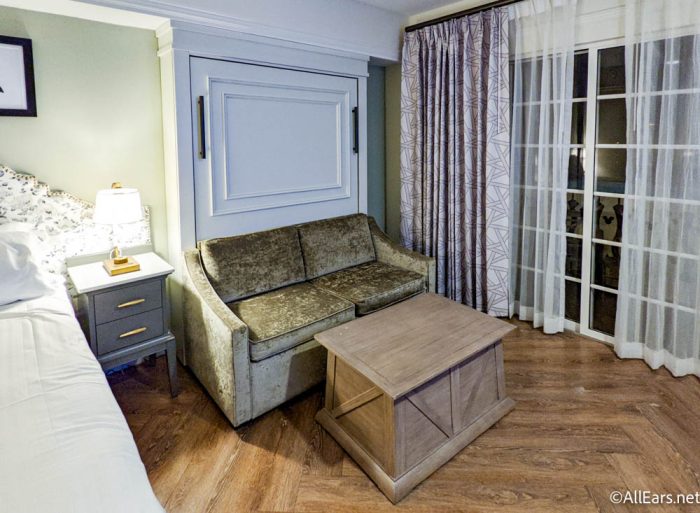 Above the couch is a double-size pull-out bed, which can easily be pulled down at night and pushed back up in the morning to provide more room.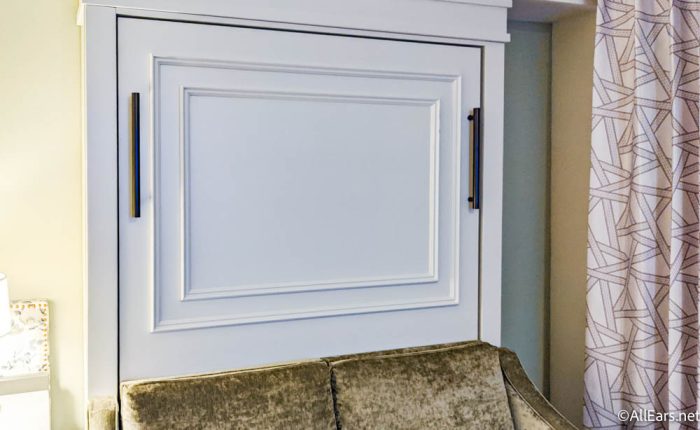 The coffee table opens up so you can enjoy a snack while you watch some TV, and there's even more storage space inside.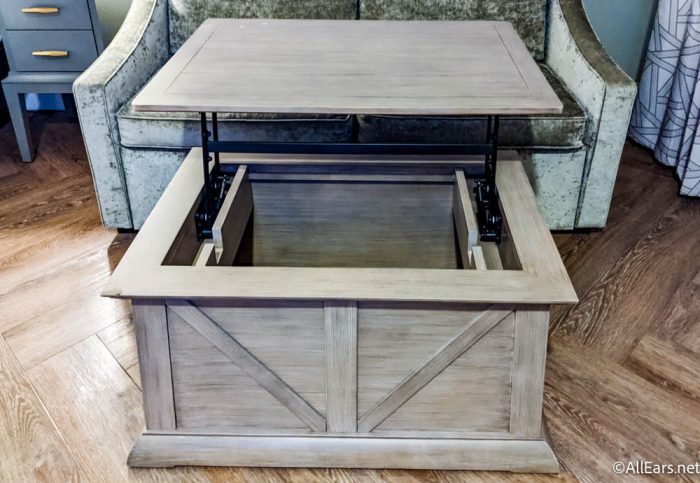 Across from the couch is the television of course…
…and the dresser is underneath that.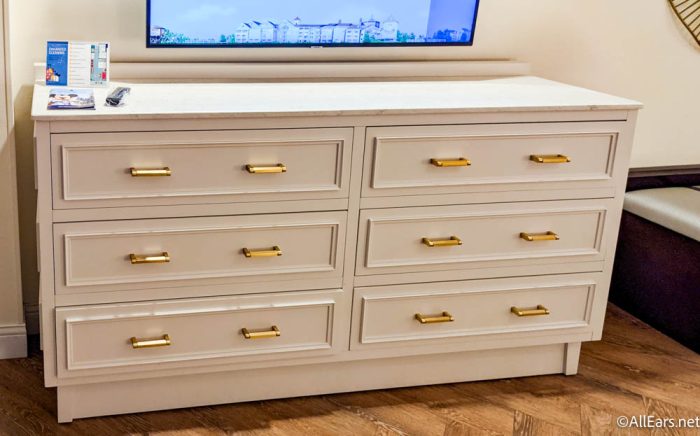 On top of the dresser is the sanitized TV remote in a plastic bag, a map to show you how the room is cleaned before your stay, and a 50th anniversary parks guide.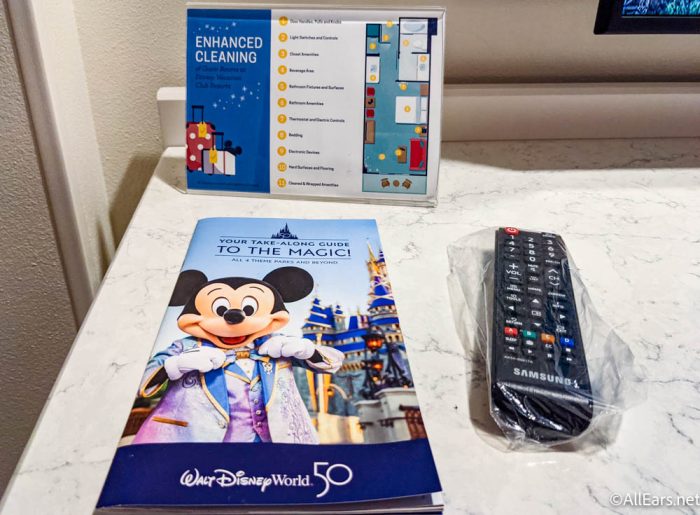 There are plenty of drawers for those of us who love to unpack completely on our Disney World trips!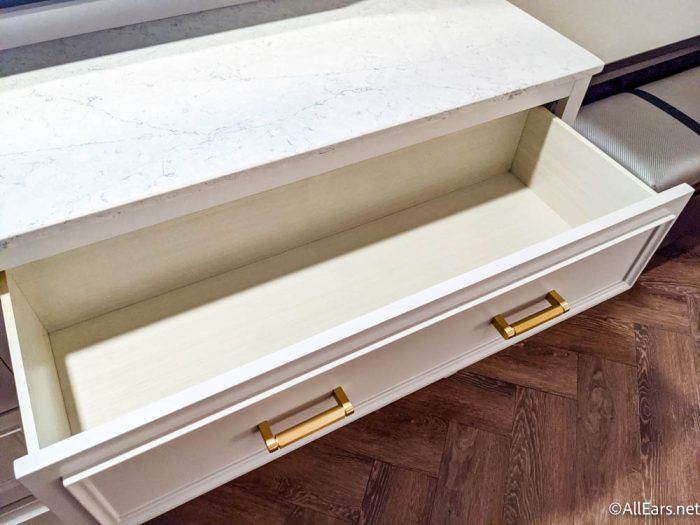 There's a cushioned bench next to the dresser…
…which has even more storage space for all your essentials.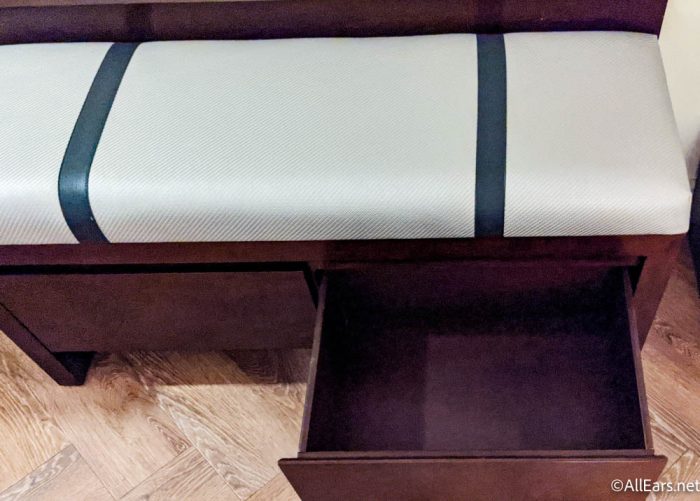 This room has plenty of storage, even if four adults are sharing.
Connected to the bedroom is the sliding door that leads out onto the balcony (or patio, depending on which floor you're on).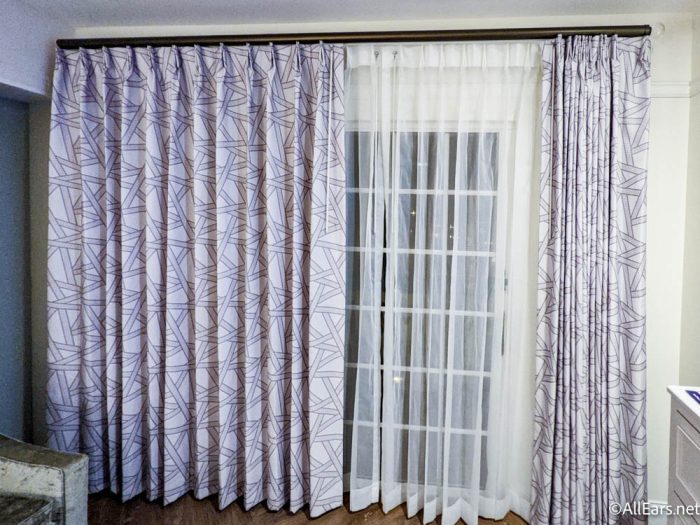 Ours had two chairs and a little table so we could sit outside and enjoy some gorgeous Lake Buena Vista views.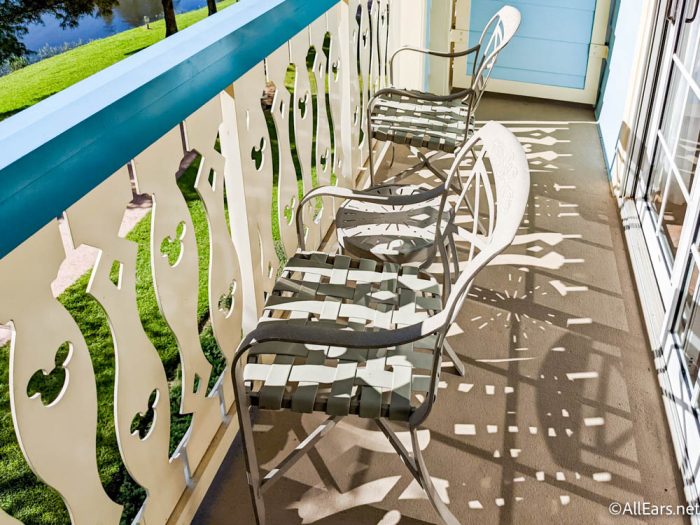 The sliding doors have a lock…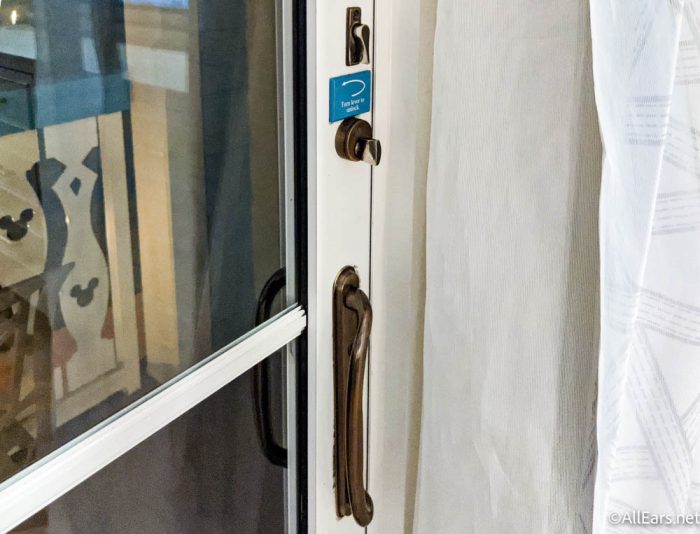 …and curtains you can draw when you're not using the balcony.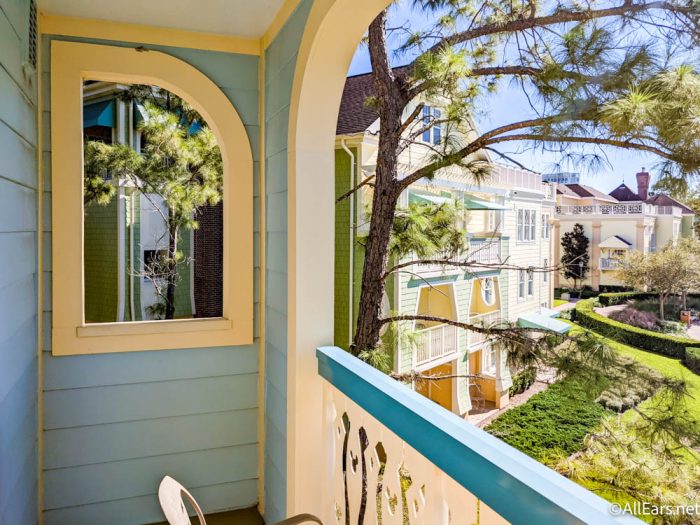 Over in the bathroom, the vanity and sink are in one area…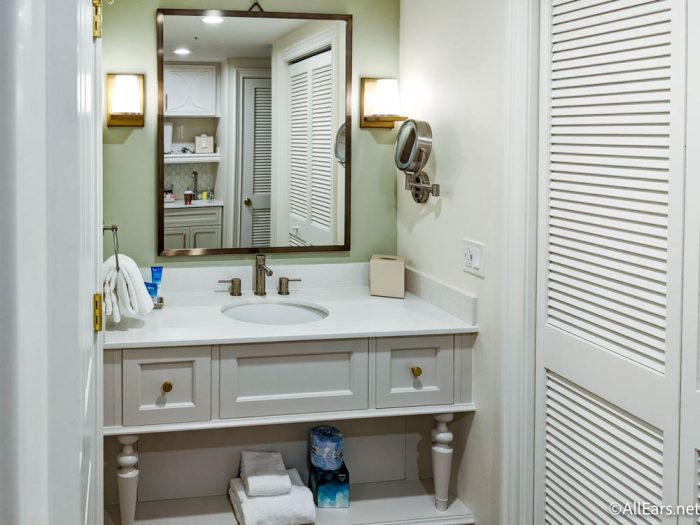 …with the toilet and shower/tub in another room.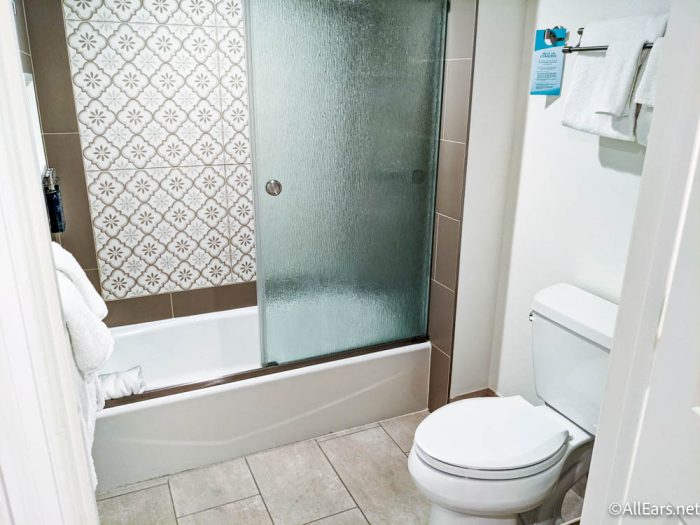 The vanity had one sink with plenty of counter space and some storage drawers.
Inside one of the drawers, there's a hair dryer as well.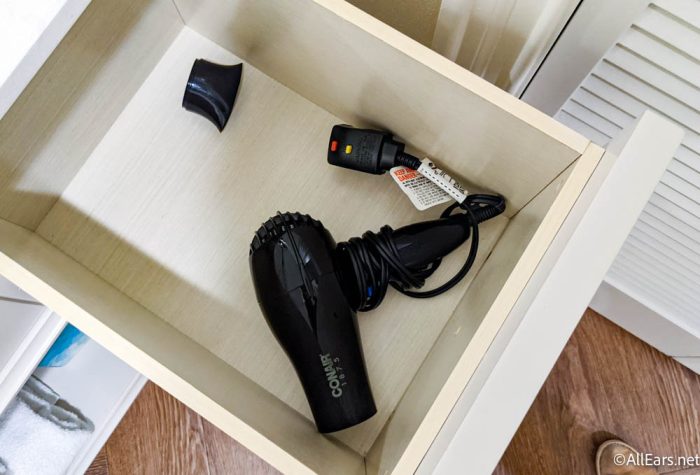 There were a few toiletries here, like facial soap and lotion…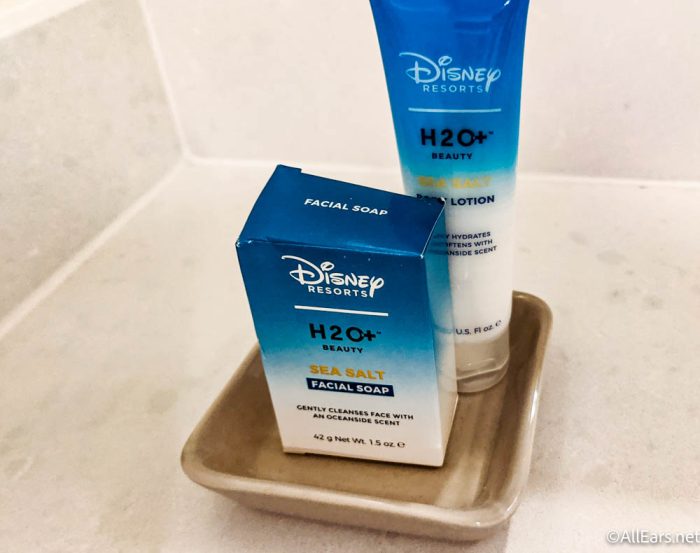 …as well as more toilet paper, tissues, and hand towels.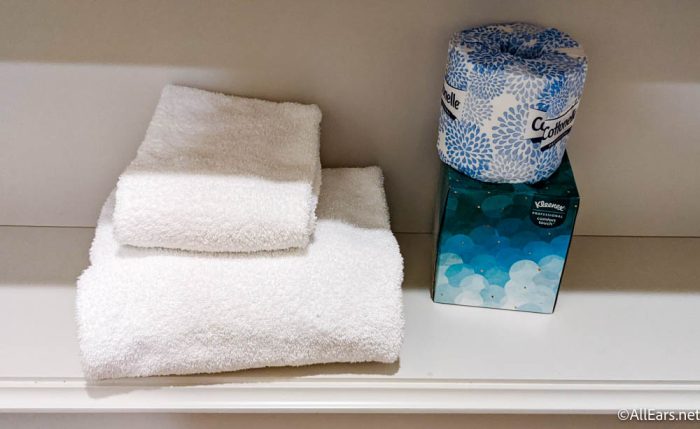 Besides the large mirror, another mirror was on the wall next to the sink. It could be pulled out from the wall and had a light as well.
There were also a few outlets here for hair dryers, chargers, etc.
Besides the vanity was a closet, which housed the iron, ironing board, and some hangers for any clothes you need to hang up. There were also extra pillows and blankets here for the pull-down bed.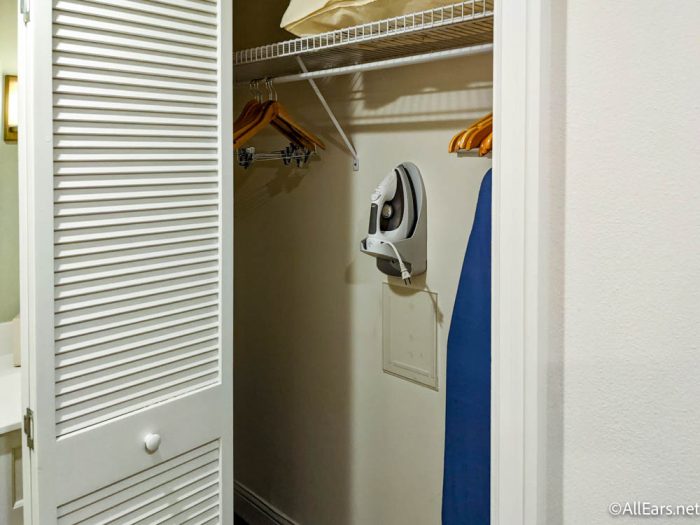 The toilet…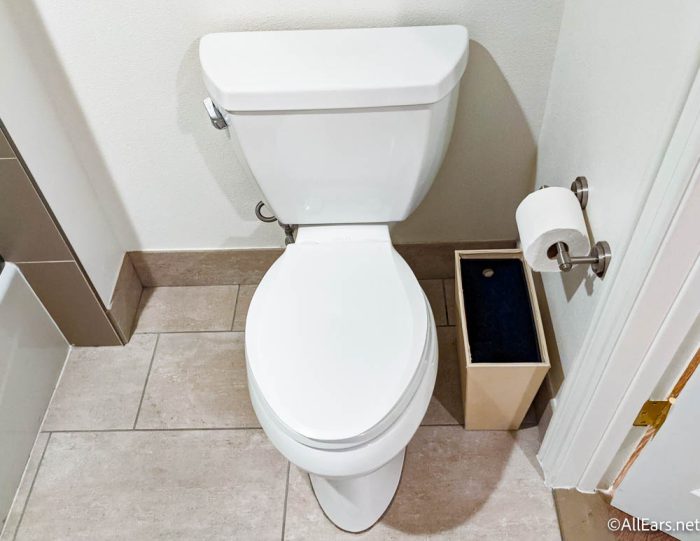 …and shower/tub combo is in the next room.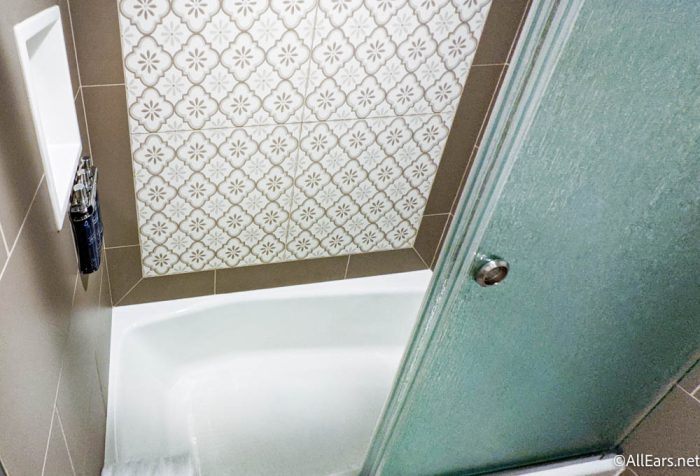 The shower has a sliding glass door.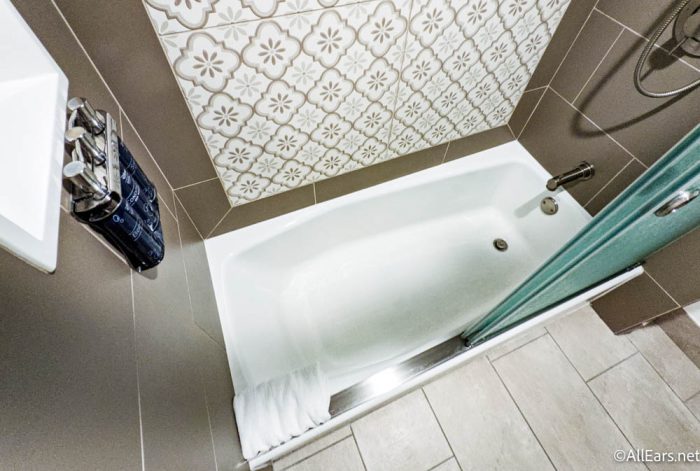 Inside, you'll find body wash, shampoo, and conditioner…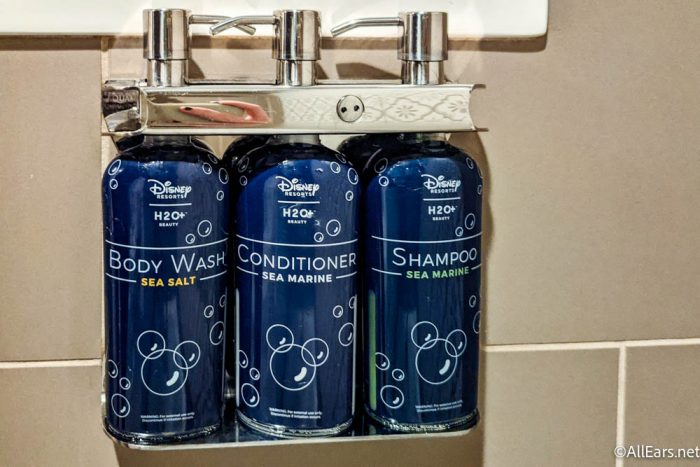 …as well as an extra shelf for any toiletries you bring yourself.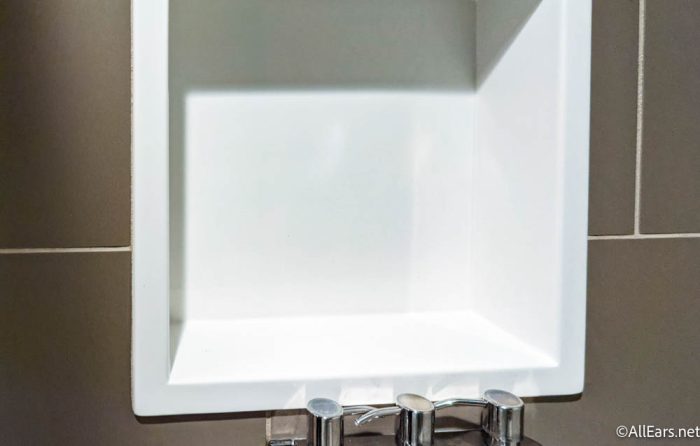 There were four towels on racks inside the bathroom (with two on one rack and two on another) as well as four washcloths.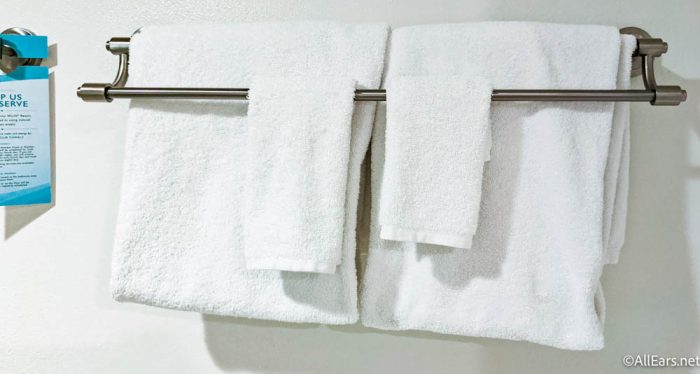 Overall Impression
Saratoga Springs is a luxurious-feeling hotel that has a few cute nods to Disney movies but is mostly an upscale resort. If you're bringing little kids who want the full Disney experience, you might be better off at Disney's highly-themed Art of Animation Resort or maybe the Moana-themed rooms at Disney's Polynesian Resort.
The price of rooms at Saratoga Springs varies depending on the room and time of year that you're visiting. We took a look at prices for a week in February 2023 to see the average cost per night for each room. The standard deluxe rooms generally cost between $508 and $589 per night.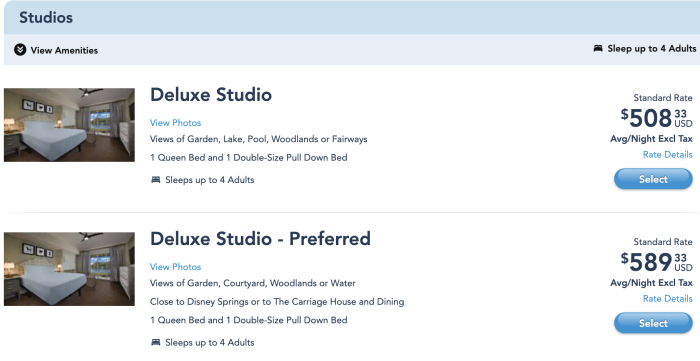 A 1-bedroom villa with a preferred view is about $793 per night, while a 2-bedroom villa ranges from $1,088 to $1,313 depending on the view. We weren't able to find any available times for the 1-bedroom (standard) or 3-bedroom villas, which might mean that they're all booked up for the near future.
The most expensive experience is the Treehouse Villas, which have all the amenities as the other villas (with a full kitchen as well), but they're elevated off the ground with woodland views. Treehouse Villas cost about $1,366.

That wraps up our Saratoga Springs tour! Keep following AllEars for more updates and tips as you plan your upcoming vacation.
Join the AllEars.net Newsletter to stay on top of ALL the breaking Disney News! You'll also get access to AllEars tips, reviews, trivia, and MORE! Click here to Subscribe!

Have you stayed at Saratoga Springs in Disney World before? Let us know in the comments.