Let's be honest: Disney World is an exciting place with lots to do, but even in the Most Magical Place on Earth, sometimes you just need a sec.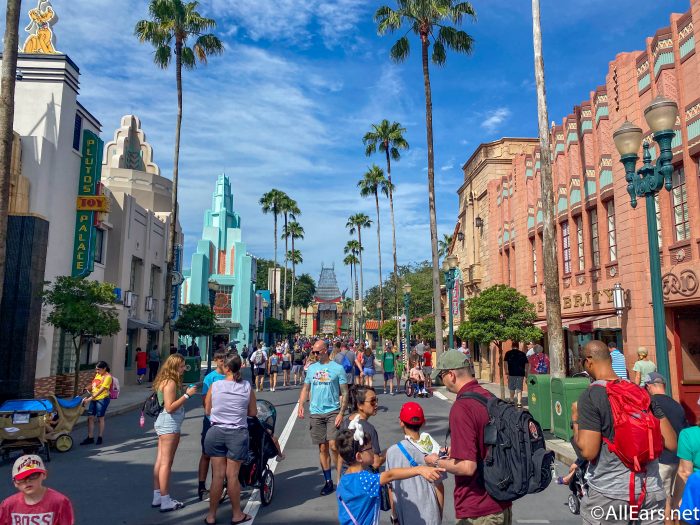 After hours spent hustling around the parks, waiting in lines, and dodging wild weather, even the biggest Parks fan could use a break.
These are some of the best spots at Disney World to take a break from it all!
Magic Kingdom
Aunt Polly's on Tom Sawyer Island
Just the mere fact that it's a literal island surrounded by water and accessed only by periodically arriving rafts makes Tom Sawyer Island a great place for a bit of solitude. It's by far the quietest section of Magic Kingdom. For the ultimate dose of R&R, head to Aunt Polly's. 
Sure, you could just camp out at Fort Langhorn for a few minutes, but Aunt Polly's is perfect for its shaded seating area and prime views of the Rivers of America. Aunt Polly's is a Quick Service restaurant with a window ordering/pick-up format, but it only opens very rarely. To call it seasonal would be technically accurate (you'll really only see it during the busiest of seasons) but still a bit generous. Even when the restaurant is not operational, however, Disney has mercifully kept the shaded seating section available for those of us who just need a minute. 
Seating Area by Tangled Restrooms
Usually, sitting next to a bathroom wouldn't be our go-to destination for a bit of respite, but we can't deny the comforts of the Tangled restrooms area.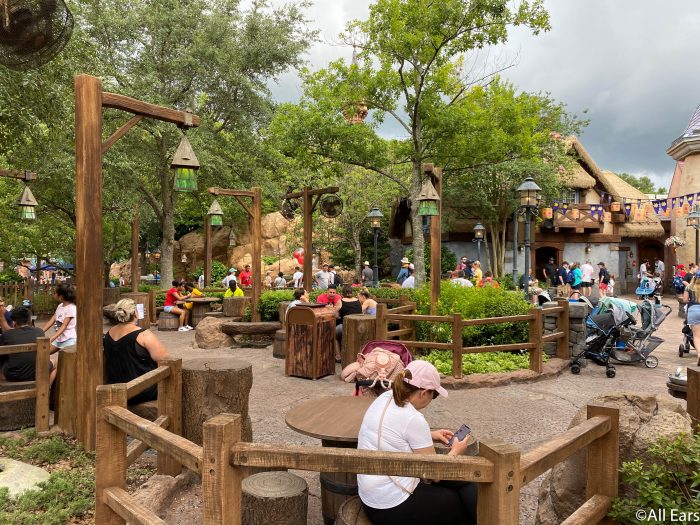 Not only is the whole area fantastically Rapunzel-themed, complete with her tower soaring over you, but this is one of the rare seating areas equipped with outlets to charge your phone. Because we all know a little rest for your phone is just as important as a little rest for yourself. 
Hall of Presidents
No offense to the Hall of Presidents, but this is one attraction that's made for napping!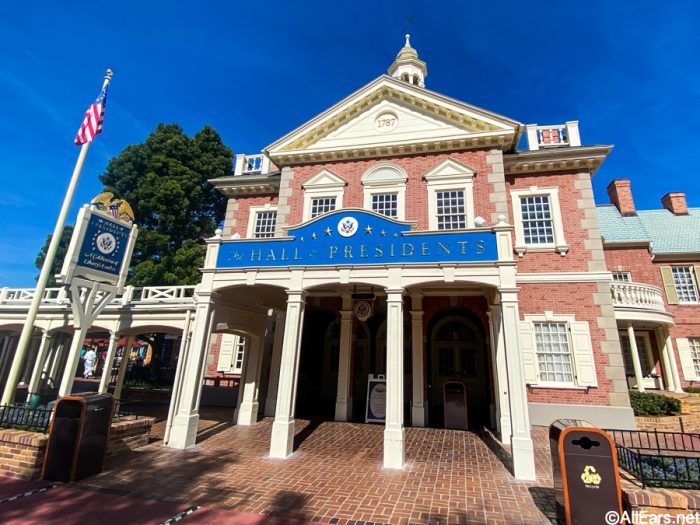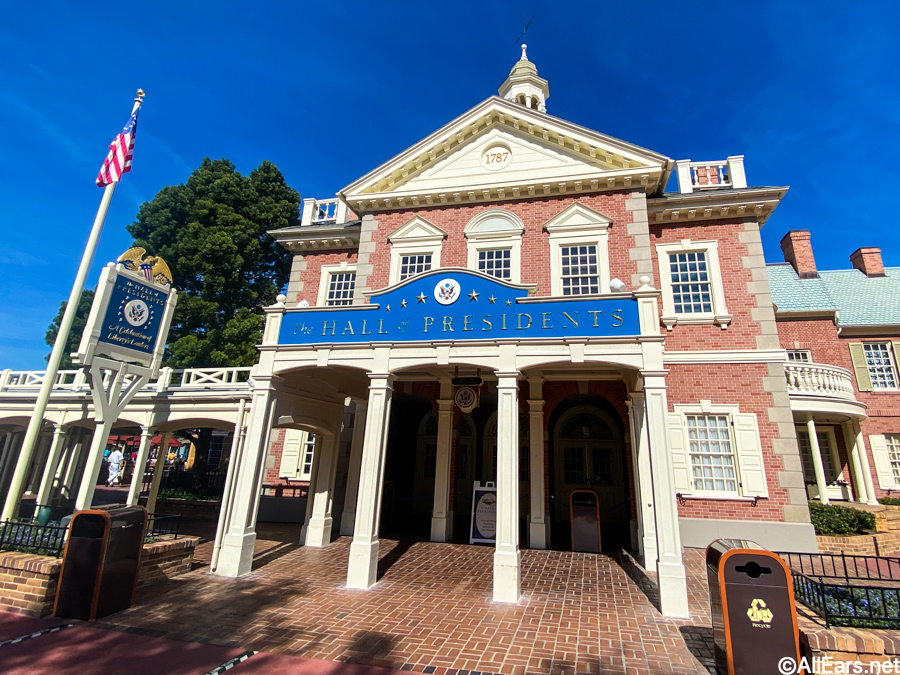 The Liberty Square show, which runs a substantial 25 minutes, is plenty of time for some relaxation in a comfy air conditioned space, while animatronic Presidents chit chat quietly about American history, like a soothing, patriotic sound machine. 
EPCOT
Odyssey Events Pavilion
Considering it's an impossible-to-miss stopover in between Future World and World Showcase's Mexico pavilion, the Odyssey Events Pavilion is wildly overlooked — which makes it the perfect spot to take a break in EPCOT!
The un-trafficked space has plenty of elbow room, seating, snacks, and drinks — with none of the lines from World Showcase. It's also got The EPCOT Experience which is a visual display of the (seemingly never-ending) EPCOT transformation taking place!
World ShowPlace
Sandwiched discreetly between the Canada and U.K. pavilions in World Showcase, World ShowPlace is tucked just far enough off the main route that most people skip it entirely!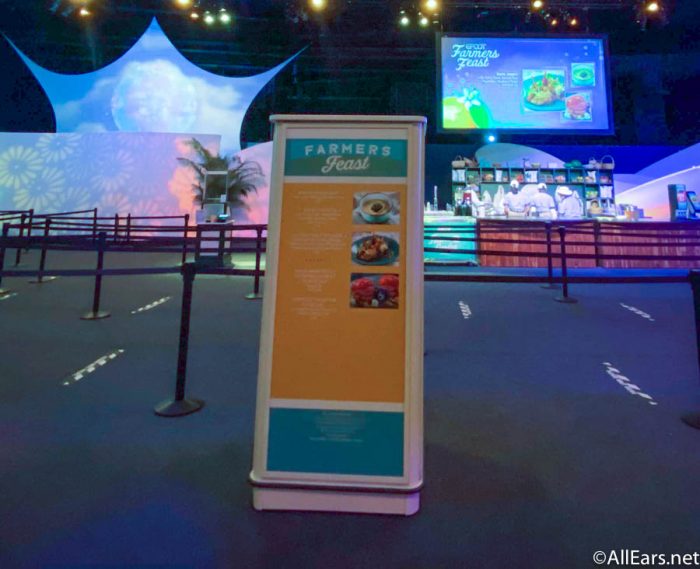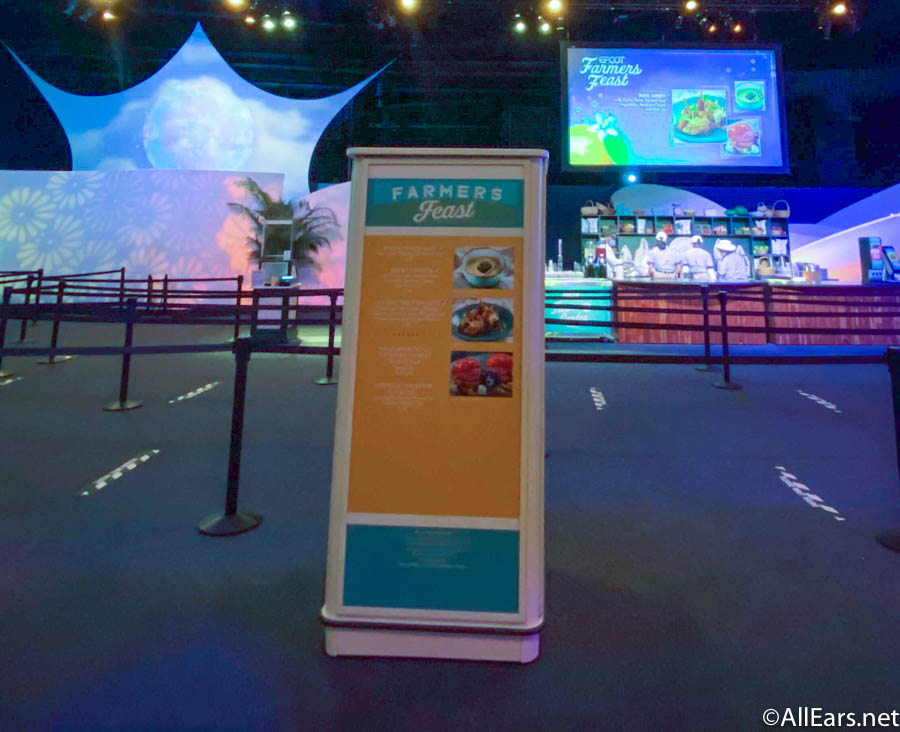 While not open all the time, the sprawling indoor pavilion has been a fixture during festivals since EPCOT's reopening last July. While it is not currently in use for the Food and Wine Festival, we love hanging out in here for a few minutes to savor some interesting snacks while basking in the AC when it's available.
The American Adventure
Like the Hall of Presidents, this is another Americana history show that fully puts us to sleep — in a good way!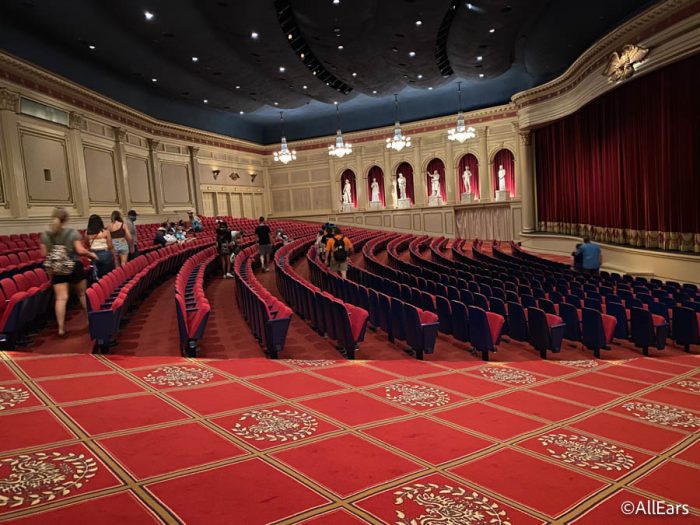 For more than 20 blissful minutes, you get to hunker down in comfy seats in a huge, beautiful theater, where Ben Franklin and Mark Twain wax poetic at soft lullaby-level volumes. The show itself is lovely and inspiring, but it's just one big breath of fresh air and a terrific place to take a break. 
Disney's Hollywood Studios
BaseLine Tap House
Not only does this Hollywood-looking bar have some of the best craft beer in Disney World, but BaseLine Tap House is one of the coolest places to cool off for a hot second. 
Sit inside if you can snag one of the few precious tables, but there's also a large terrace lined with shade-providing trees. No matter what, though, you'll be happy as a clam with a unique beer flight and a huge Bavarian pretzel, which is sure to refuel you for the rest of the day in Disney's Hollywood Studios. 
Muppet*Vision 3D
Like the other indoor theater shows with long run times, Muppet*Vision 3D is an excellent spot to sit down and relax for a few.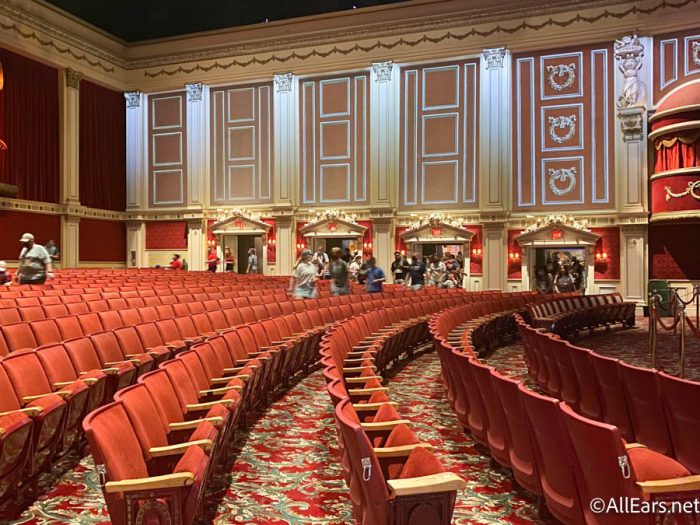 Once inside the dark theater, where the plush seats are so comfy they're almost daring us to sleep, you can just plop your 3-D glasses on and doze off for a solid 15 minutes. For all their shenanigans, the Muppets really aren't all that loud, so you shouldn't have any problem taking a little snooze break. 
Echo Lake
For as central as it is, the Echo Lake area in Disney's Hollywood Studios is mostly glossed over by visitors crisscrossing the park to more popular areas like Galaxy's Edge and Toy Story Land.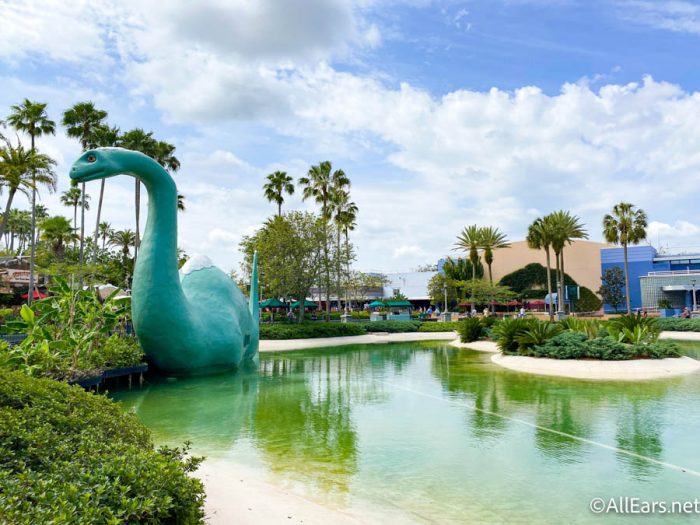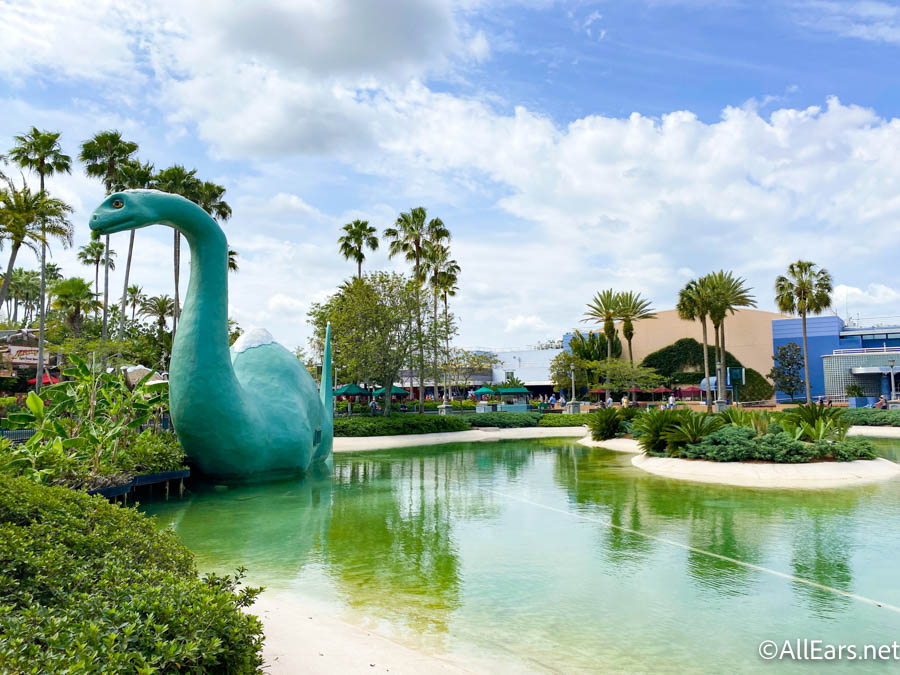 That's great news for us, though, cause that frees up plenty of seats for us to sit back and relax! The "lake" itself is shimmering and pretty, and we love how many wide-open benches there are.
Animal Kingdom
Nomad Lounge
For many reasons, Nomad Lounge ranks high on our list of must-visit destinations in Animal Kingdom. Not only are the cocktails some of the best in Disney World, but the cozy, quiet lounge is the best little nook to take a break.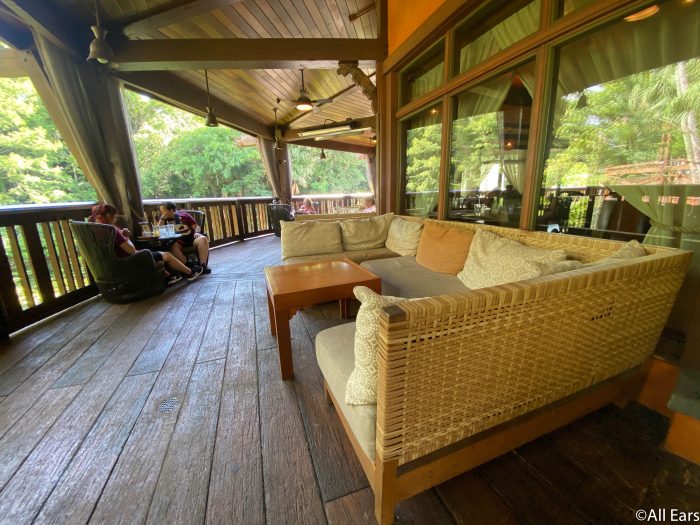 Whether inside the cozy space or outside on the beautiful shaded terrace, Nomad Lounge has lots of creature comforts and plenty of interesting drinks and snacks to keep us perfectly content for far too long. 
Gorilla Falls Exploration Trail
Admittedly, a trail may not seem like the most obvious place to take a break, but Gorilla Falls Exploration Trail isn't an arduous hike by any stretch.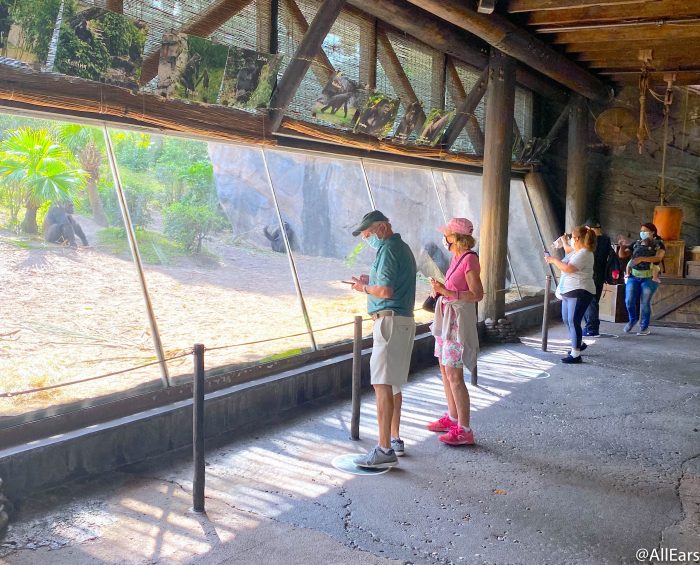 Rather, this peaceful and easy romp through the jungle is a great place to escape the crowds and move at your own pace, as slowly and leisurely as you'd like! Take a seat along the way, and marvel at some of the mighty animals you can see, like hippos and, of course, gorillas. 
Seating Pavilions in Animal Kingdom
The other parks can take a cue from Animal Kingdom with its abundant seating pavilions conveniently scattered around. 
These covered and shaded alcoves are outfitted with tables and chairs, and they're all conveniently close to "watering holes" like Drinkwallah, where you can get an energy boost from a boozy frozen Coke while watching characters float by on boats. 
Disney Springs
Benches Behind House of Blues
With its hordes of hungry visitors and shoppers, Disney Springs isn't the most relaxing place. It's actually one of the harder places in Disney World to find a place to take a break, but one reliable hideaway includes weirdly underused benches behind House of Blues.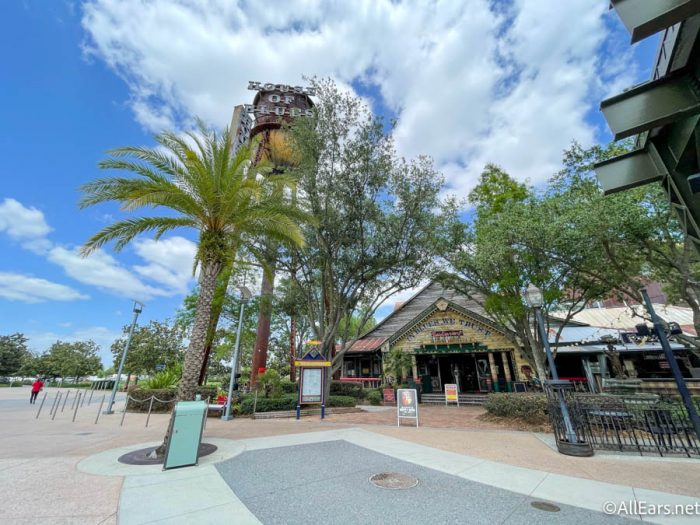 Located at the West Side of Disney Springs, there's a series of benches, most of which are shaded, that are almost never occupied, and they're far enough from the hubbub that it's usually quiet and restful.
Visiting Disney World is whirlwind of fun, and it's totally understandable to want to pack every minute full of activities. Sometimes, though, you just need a break. So the next time you hit a wall, look no further than these reliable spots! 
Do you have any secret spots where you like to take a break in Disney World? Let us know in the comments!
Join the AllEars.net Newsletter to stay on top of ALL the breaking Disney News! You'll also get access to AllEars tips, reviews, trivia, and MORE! Click here to Subscribe!