Although many of us Disney World fans are pretty envious of Disneyland getting Avengers Campus, we still understand why we can't see most of our favorite Marvel characters at Disney World.
In case you didn't know, Universal Studios has the licensing rights to use Marvel characters in its parks, and it's had those rights since before Disney owned Marvel. That keeps Disney from being able to use any Marvel characters currently represented at Universal Orlando east of the Mississippi River.
That deal worked out for Disneyland, but not so much for Disney World. However, there is STILL some Marvel in Disney World — and it's not just where you might think. We're not talking about Guardians of the Galaxy: Cosmic Rewind attraction coming to EPCOT.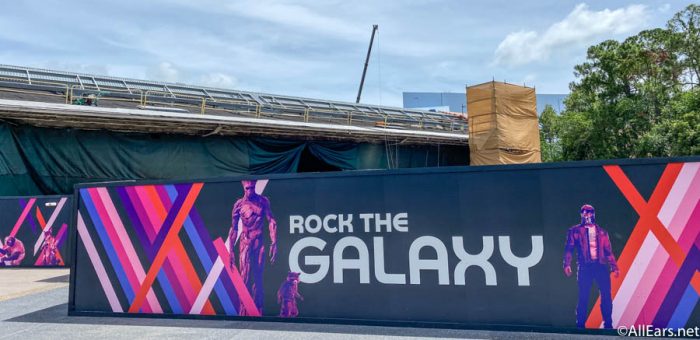 But you can see Marvel elsewhere in EPCOT right now…at least sort of. All you have to do is go to the Norway Pavilion and visit the Stave Church Gallery. Because that's where you'll see and hear some familiar names, like Thor, Loki, Odin, and Freya.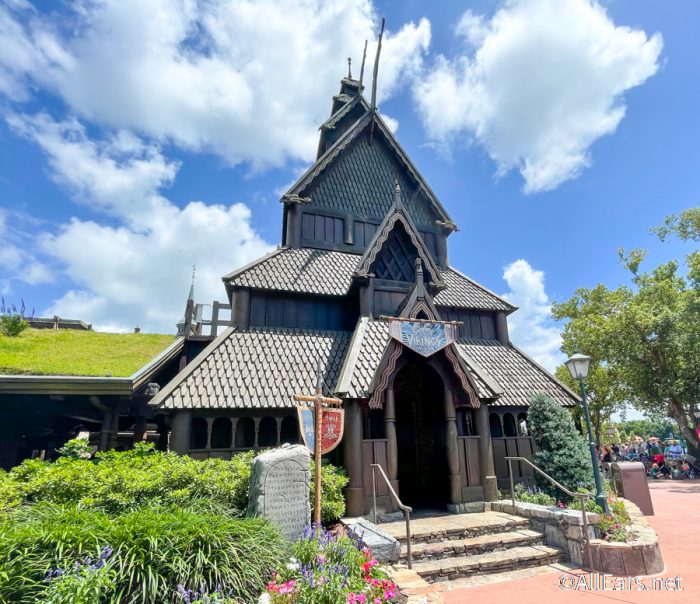 The church is a replica of the Gol Stave church in the Norwegian Folk Museum in Oslo, Norway. And in case you didn't know, you can actually go inside! Not only is it air-conditioned (and you know how important that is in Florida), but there's also an exhibit there called "Gods of the Vikings."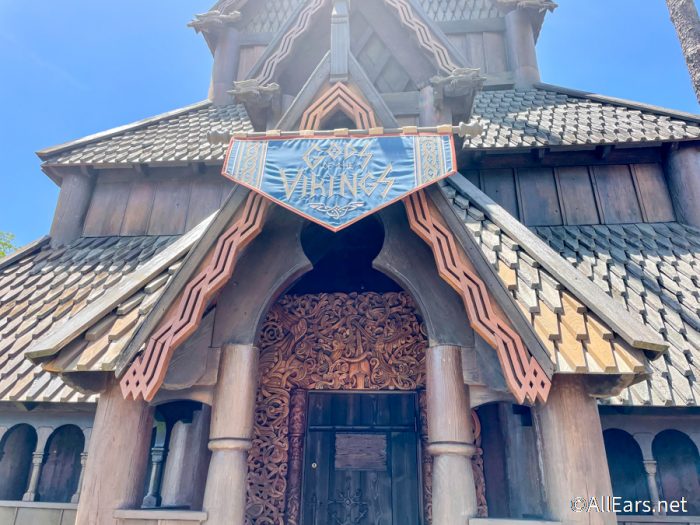 This exhibit celebrates the Norse gods and goddesses that inspired many of the characters we know and love from Marvel Comics. Guests can stop in and learn about the "real" gods and goddesses who served as inspiration for some of their favorite Marvel characters.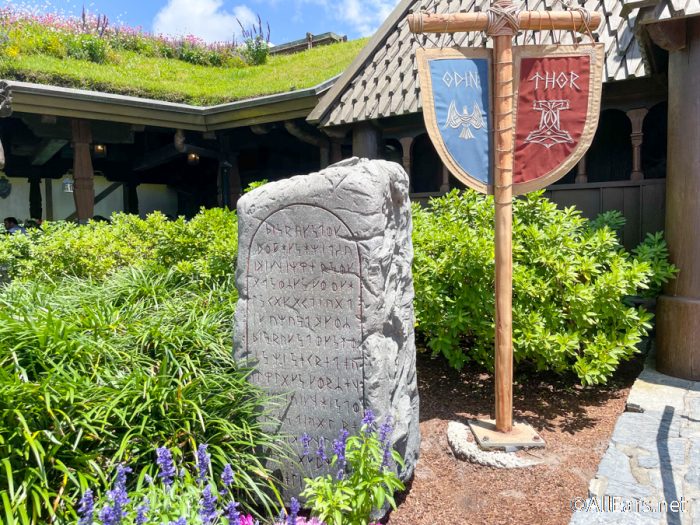 And even better? The exhibit features displays of authentic Viking artifacts. Shall we go inside?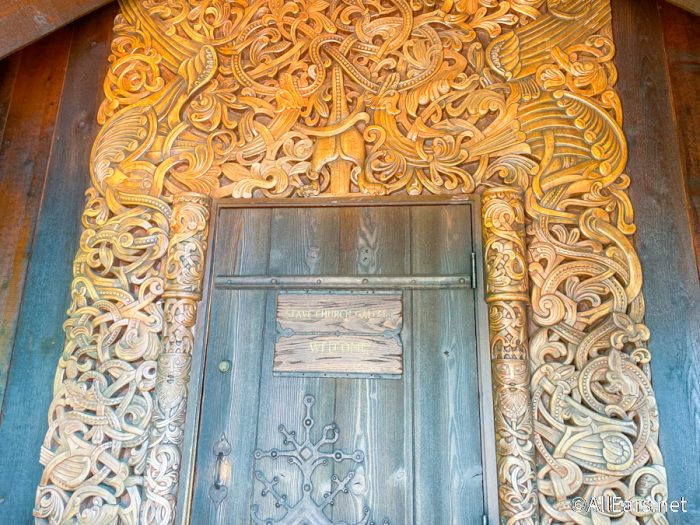 Once you pass through the ornate doorway, you'll find yourself face to face with the Viking gods. There's Odin, the father of the gods, and yes, this carving does resemble Anthony Hopkins, who portrayed the Marvel version of the character in the movie. It's almost uncanny!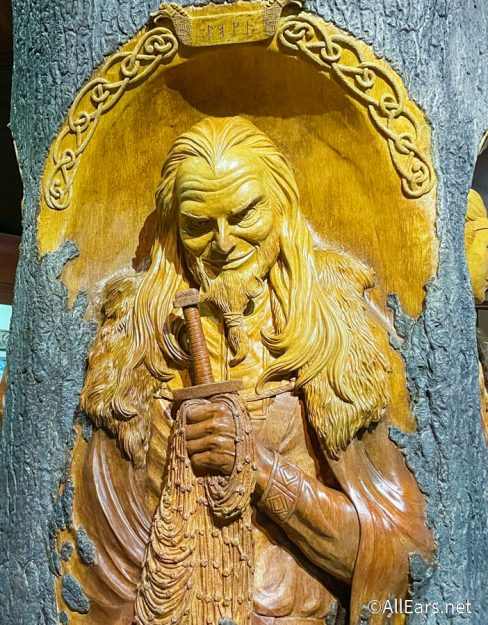 Odin's display tells us all about the All-Father (aka Odin), who was not just Thor and Loki's father, but also the King of the Viking gods who ruled over all of Asgard.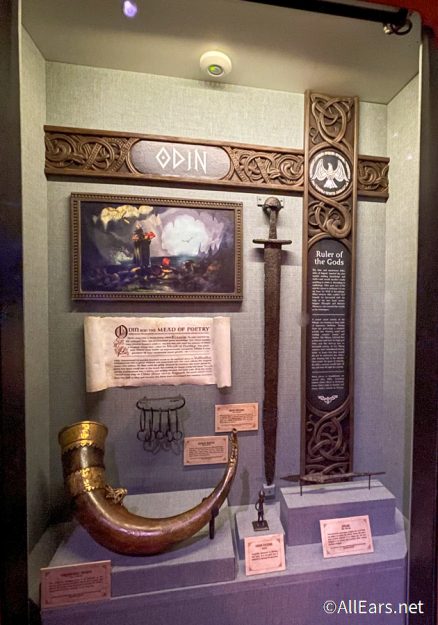 One of the artifacts on display here is a drinking horn, because the Vikings loved a good sip (or two, or three, or ten) of mead. Why drink out of a cup when you can drink out of something this elaborate? Odin was reportedly very fond of his drinking horn.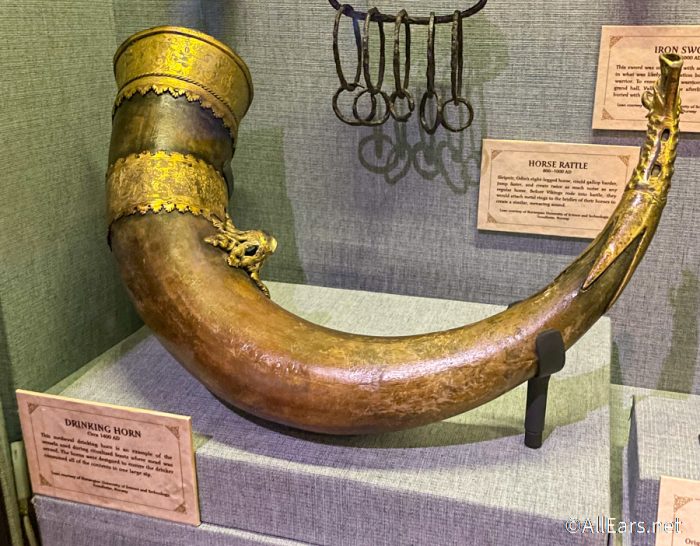 There's even a painting of the god.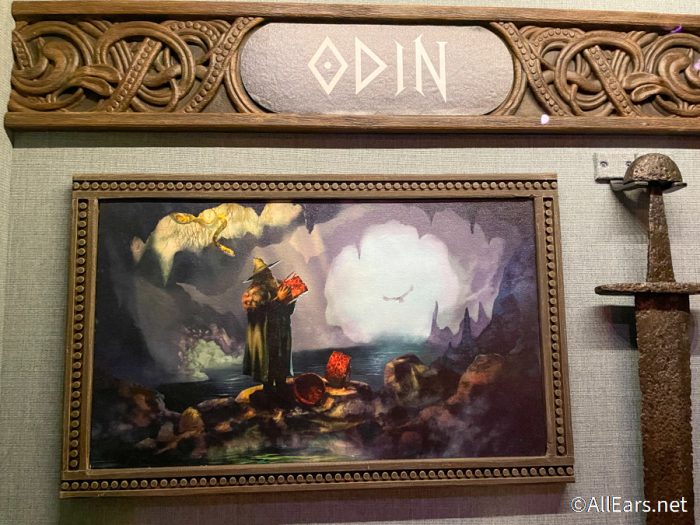 And a replica of the sword he might have carried.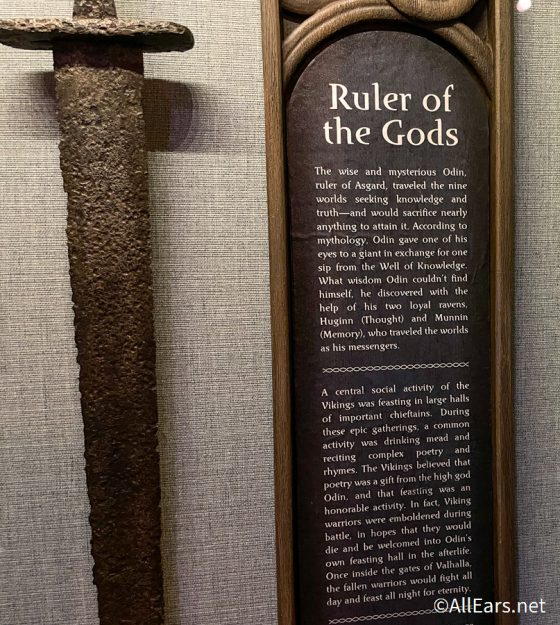 But maybe you're not here for Odin, but would rather see the God of Thunder instead. So let's move on to Thor. Much of the story of Marvel's Thor is ripped directly from Norse mythology. Like Thor in the Marvel Cinematic Universe, the Viking god also wielded a great ax called Mjolnir. And only he was worthy of wielding it. And we can almost envision this as an aged Chris Hemsworth.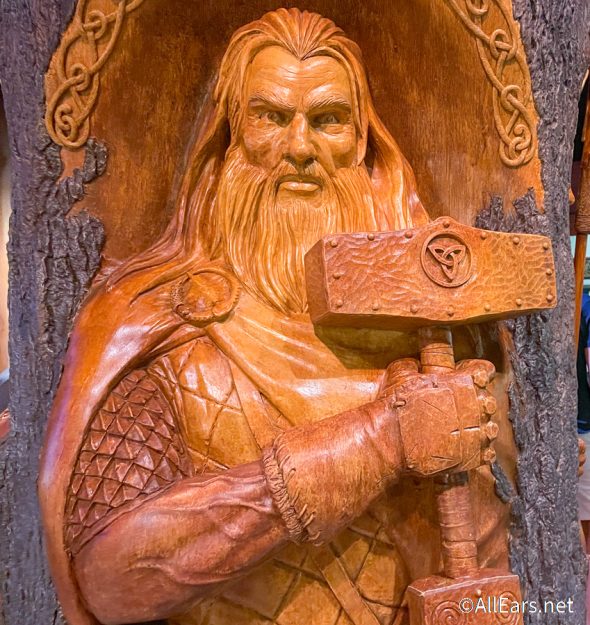 Thor was known as the Protector God, which again, is right in line with what we know about the Marvel version of the character.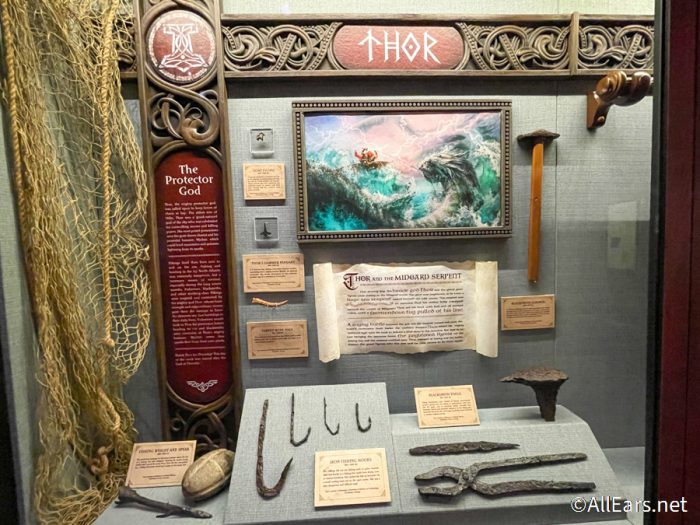 Odin's wife and Thor's mother, Freya (often referred to as Frigga), is also represented in the exhibit. And like Odin, she looks a lot like her Marvel counterpart, who was played by Rene Russo.
Freya was the "Greatest Goddess" and helped Odin rule over Asgard. She was WAY more than just Thor's mom. Interestingly enough, she was kind of a partier, although we don't see that side of her in the Marvel films.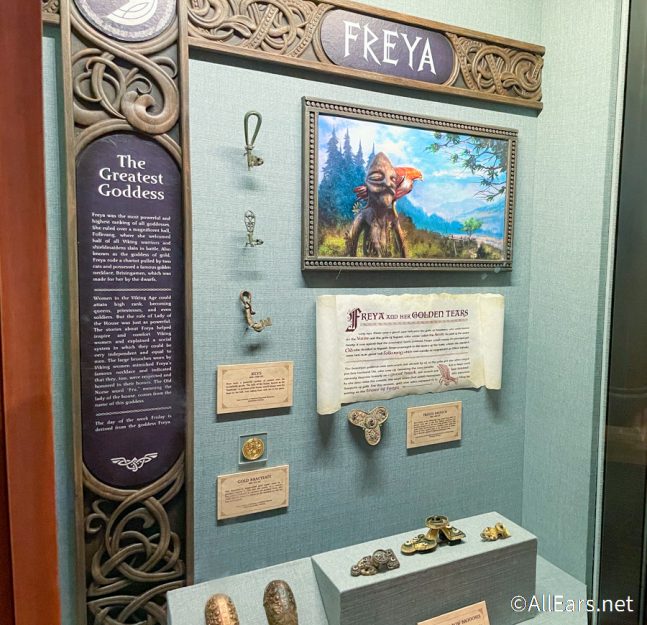 And then there's Loki, the adopted son of Odin and Freya, the one we know as the Trickster God. Much like his Marvel counterpart, he loved getting into mischief every chance he could get. And he was ALWAYS getting under Thor's skin.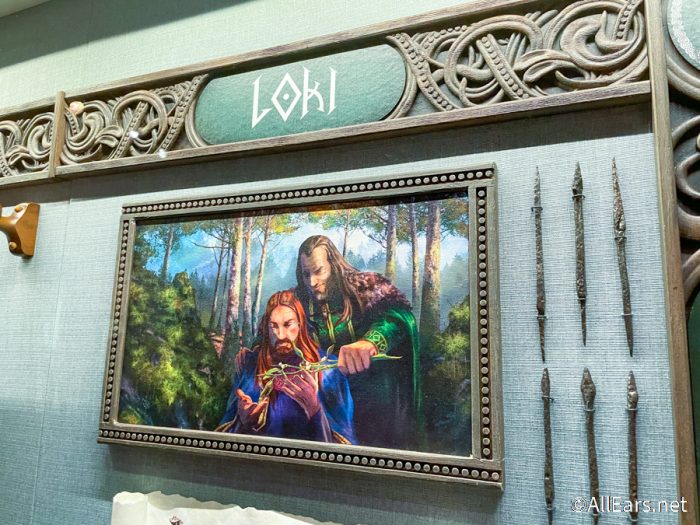 The exhibit even features stories about some of the "mischief" that Loki got into in Viking lore. This tale involves poisonous mistletoe and a prank that resulted in the death of Baldur, another child of Odin and Freya. We kind of understand why the MCU left that part out — we might not like Loki as much if he were that horrible. And for the record, the god Loki received a very grisly non-Disney kind of punishment for his trick.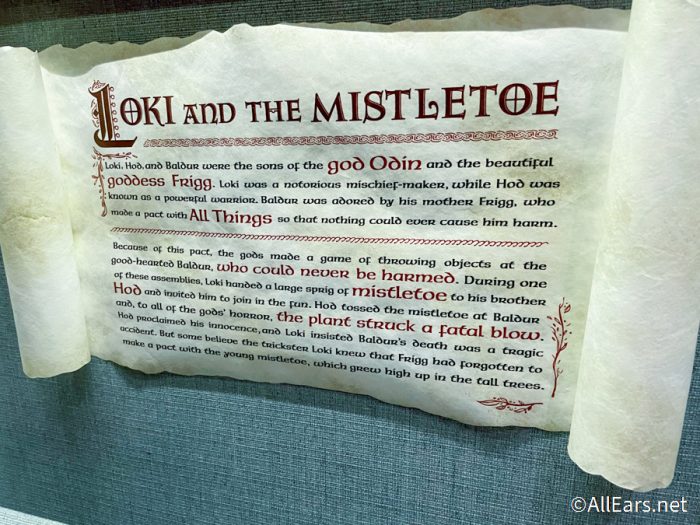 We also don't hear much about the World Tree, Yggdrasil, in the MCU, but in Norse mythology, it's a sacred tree that gave birth to the universe, including the Nine Realms, or Worlds. And all these worlds are connected through the tree.
However, only one of these worlds plays a part in the MCU, but it's one we know well — Asgard. Granted, in the MCU, Asgard was an actual planet and not just a realm of existence.
We highly recommend a trip to the Stave Church Gallery if you would like to learn more about the gods, goddesses, and stories that inspired many of Marvel's own stories.
Have you been to the Stave Church Gallery? Let us know what you thought in the comments!
Join the AllEars.net Newsletter to stay on top of ALL the breaking Disney News! You'll also get access to AllEars tips, reviews, trivia, and MORE! Click here to Subscribe!