Walt Disney World character meals give you the opportunity to meet friendly characters and let you skip the wait at a meet-and-greet location.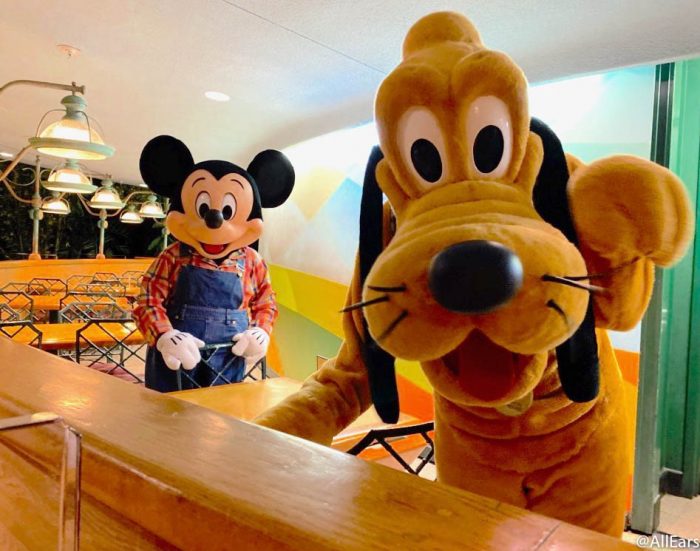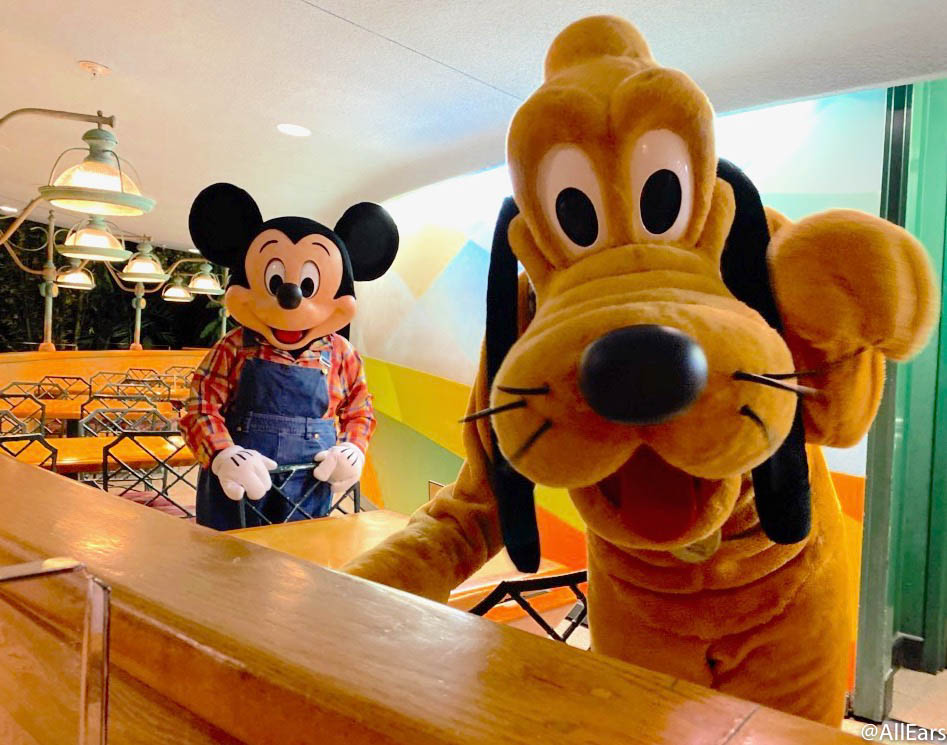 But there are (usually) a lot of character meals to choose from at Disney World. Some are in the parks, and some are in the resorts, but they all can cost you a pretty penny. Which ones are actually worth the price? We're turning to our readers' experiences to help you decide which one to book for your next vacation!
These are the best character meals in Disney World according to you!
Topolino's Terrace — Flavors of the Riviera

— 10/10

Coming in at the top of our list with the highest rating from our readers is the character breakfast at Topolino's Terrace in Disney's Riviera Resort. This hotel is newer to Walt Disney World, and you'll find the dining spot on the top level of the hotel. Here, you can meet Mickey, Minnie, Daisy, and Donald all in their stylish, artsy outfits.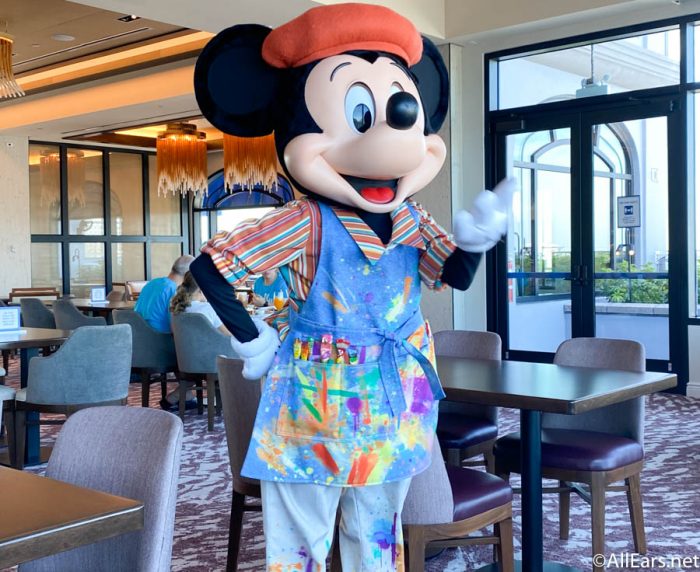 Our readers who rated this breakfast as the top choice said that the breakfast has a more elegant feel to it. This certainly isn't your average breakfast. Even the meals are served with an artsy flair, including the pastry basket that looks like a cup of paint.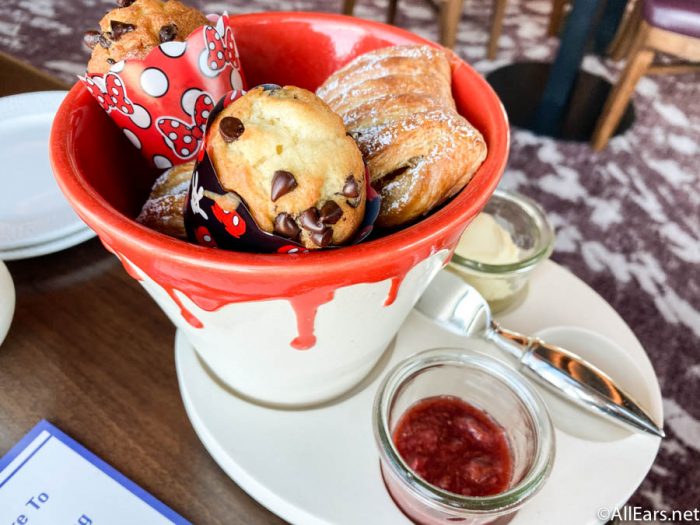 Reviewers also commented that the restaurant tends to not be too crowded, which gives you plenty of time to interact with the characters are they pass from table to table. Combine that with the great views and the convenient location on the Disney Skyliner, and that makes this spot well worth the cost according to our readers.
Garden Grill —
8.43/10
Garden Grill is located in The Land at EPCOT and hosts a character lunch and dinner. If you're choosing which meal to make a reservation for, our readers rate both lunch/dinner at 8.43/10. But what makes this spot so great according to our readers?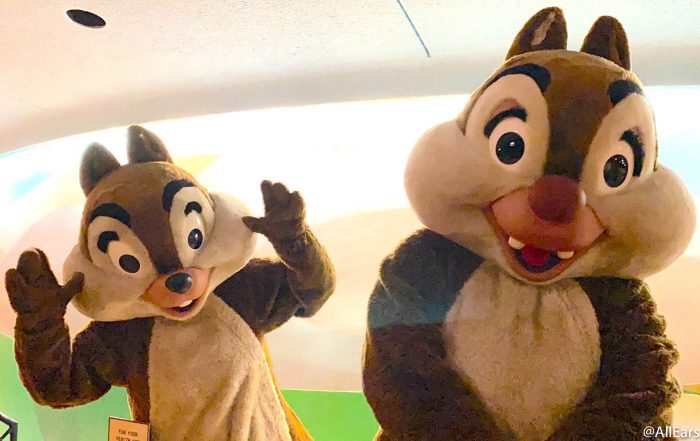 Well, the restaurant itself is smaller than many Disney World dining locations, so you'll typically get to see the characters several times during your meal, with most of our reviewers seeing them at least twice. Plus, you're seated on a rotating platform, so you'll be rotating through your meal with unique views of Living With The Land. On top of all that, reviewers comment that the family-style meal is actually one of the better meals they've had at Disney.
Tusker House
— 8.66/10
Over in Disney's Animal Kingdom, Tusker House is another popular spot to dine with characters. Here you'll meet Mickey, Donald, Daisy, and Goofy, with dining options for breakfast (rated 8.84/10) and lunch/dinner (rated 8.47/10).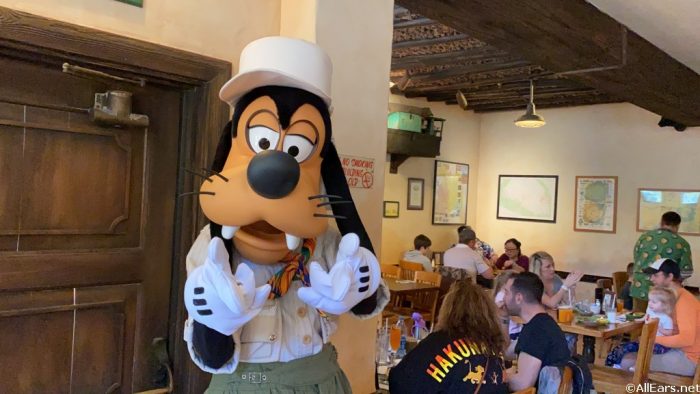 In reviewing this character dining option, reviewers really enjoy that all of the characters are dressed up in safari gear, making the meet and greet unique and fun. And when it comes to the meal, they share that, though the restaurant's family-style buffet fare features many unique African style dishes, there is a wide variety of meal options, so you'll also find some classics like waffles for breakfast or mac & cheese for lunch/dinner.
Bon Voyage Adventure Breakfast

— 8.5/10 (currently unavailable)

Though this experience has yet to return, a lesser-known character breakfast is located at Trattoria al Forno at Disney's BoardWalk. During the Bon Voyage Adventure Breakfast, you can meet some harder-to-find characters, including Ariel, Prince Eric, Rapunzel, and Flynn Ryder.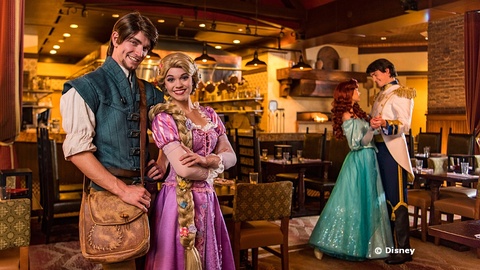 Most reviewers found that this character dining experience was hard to get a reservation for and found the price tag to be hefty. But they say that the price may be justified because it is not your basic breakfast. The restaurant serves up a variety of meal options including a Breakfast Calzone; Egg white omelet with smoked salmon, goat cheese, spinach, mushrooms, and tomato; and fluffy buttermilk pancakes.
'Ohana

— 8.30/10 (currently does not have characters)

Another spot to meet rare Disney characters is at 'Ohana in Disney's Polynesian Village Resort. The restaurant offers a chance to meet Lilo & Stitch during breakfast, and many of our readers enjoy this spot because of the unique meet and greet.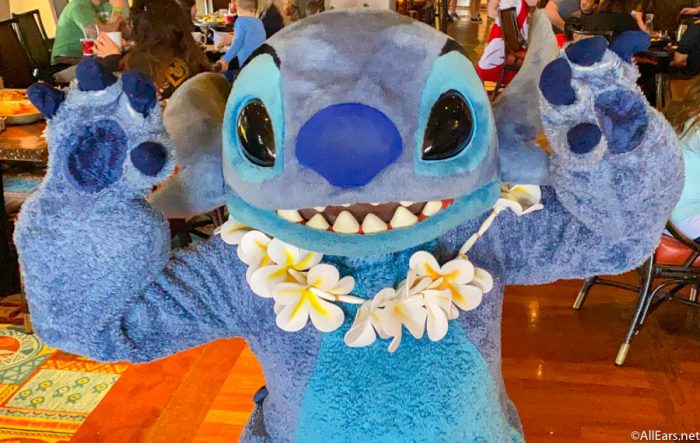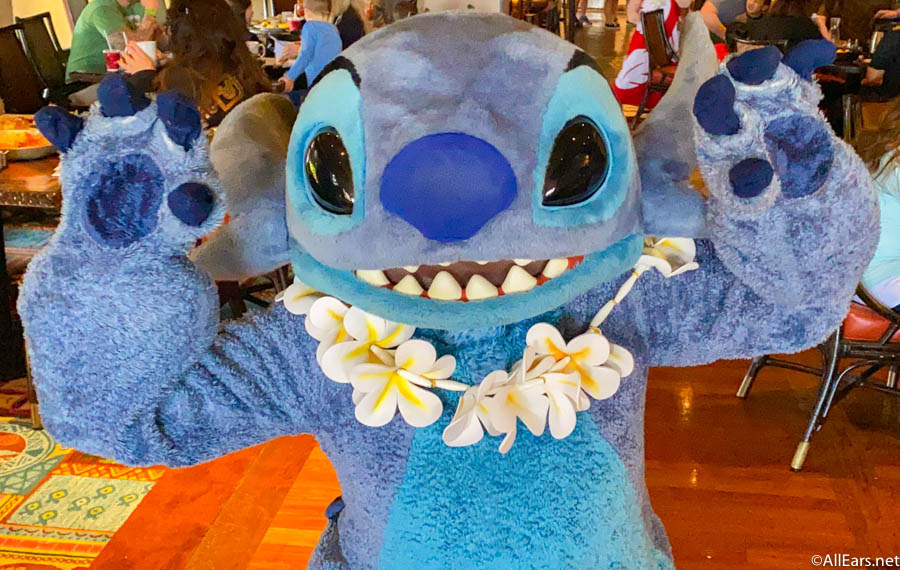 When it comes to the meal at the restaurant, reviewers shared that they enjoyed the buffet-style meal, and many raved about the sweet bread. But the food tends to be hit or miss.
Story Book Dining at Artist Point with Snow White

— 8.25/10

This next spot for character dining is one that many Disney fans may completely miss if they don't know where it is. Story Book Dining at Artist Point is a character dinner at Disney's Wilderness Lodge. Here you can meet Snow White, the Evil Queen, Grumpy, and Dopey in the middle of a rustic forest-themed restaurant.
Many of our readers rate this spot as one of the best character dining experiences because of the enchanted forest theming that makes you feel like you're in the middle of the woods rather than Disney World. And because this is a lesser-known spot, readers say that they did not feel rushed during their meal. That being said, some did feel that the dining experience was overpriced.
Cinderella's Royal Table

— 8.04/10

One of the most desirable character dining experiences at Disney World is in the middle of Magic Kingdom on the second floor of Cinderella Castle at Cinderella's Royal Table. Guests can typically expect to meet Cinderella, Ariel,  Princess Aurora, and Snow White at breakfast and Cinderella, Princess Jasmine, and Snow White at lunch and dinner.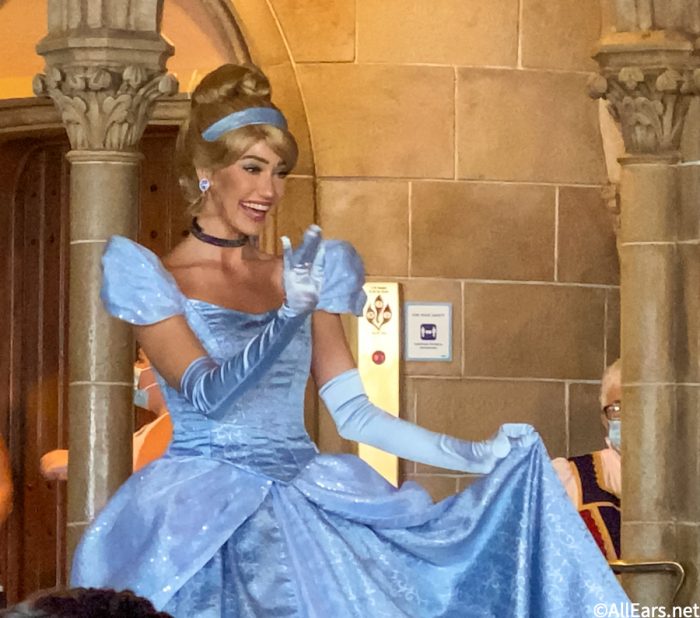 If you're trying to determine which mealtime you should make your reservation for, our readers seem to prefer grabbing breakfast here (rating it at 8.38/10) versus lunch and dinner (which they rate 7.71/10). And while our readers enjoy being able to eat inside of Cinderella Castle and meet the princesses, many felt that their meal was rushed and pricey.
Akershus Royal Banquet Hall

— 8.03/10 (currently unavailable)

Another spot where you can meet Disney princesses during your meal is Akershus Royal Banquet Hall in the Norway Pavilion at EPCOT. During the princess storybook dining experience, you'll be dining on classic Norwegian dishes and have the chance to meet characters that may include Belle, Jasmine, Snow White, Ariel, Sleeping Beauty, and Mary Poppins.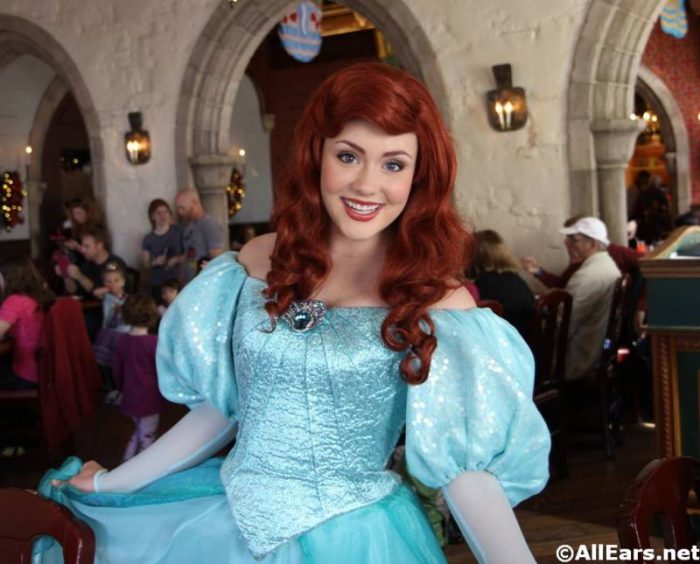 This is another spot that our readers prefer grabbing breakfast at (8.53) over lunch and dinner (7.53/10). But the food seems to be the draw for many, with the princesses being just a bonus! Many of our readers commented that the potato casserole is a must-have dish, though the whole meal may not satisfy picky eaters. And like other restaurants where you can meet Disney princesses, reviewers find that this spot can be very crowded with long waits for dining.
Hollywood & Vine

— 7.47/10

Over in Disney's Hollywood Studios, Hollywood & Vine is home to Disney Junior Play n' Dine Breakfast, which our readers rate at an 8.09/10. During the meal, you'll get to meet characters from Disney Junior including Fancy Nancy, Vampirina, Doc McStuffins, and Roadster Goofy all while snacking on classic breakfast options.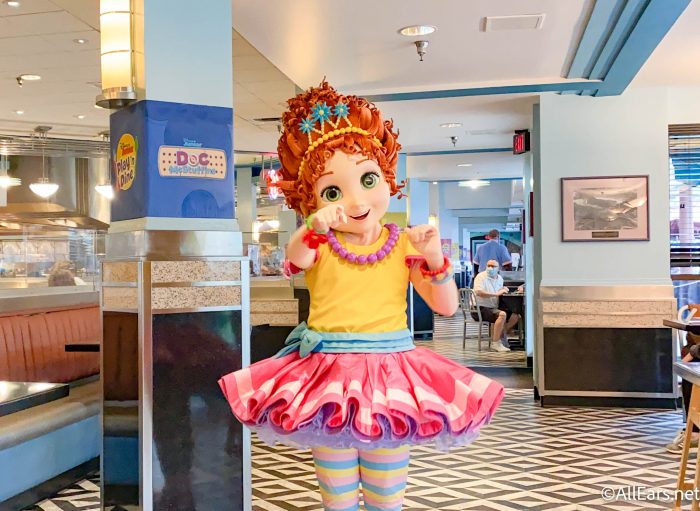 And what do our readers like so much about this spot? They share that the characters are unique and fun to meet and that they come around multiple times during the meal so you get to see them more than once. But many say that the food isn't stellar, so the real draw is the chance to meet the Disney Junior characters.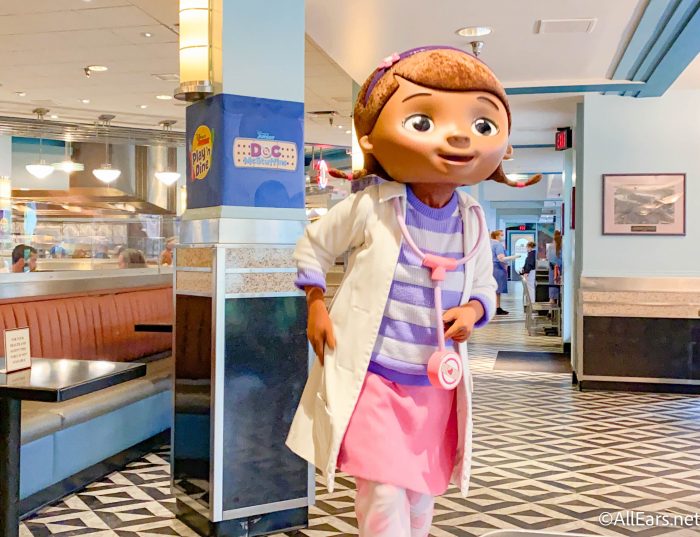 This spot also occasionally serves up lunch and dinner for Minnie's Seasonal Dining where you get the chance to meet Minnie and her friends during holiday seasons like Halloween and Christmas. And while our readers comment that the menu is a bit more suited towards adults for lunch and dinner, they still rate the later meal periods lower at 6.58/10.
1900 Park Fare

— 7.62/10 (currently unavailable)

Next up is 1900 Park Fare at Disney's Grand Floridian Resort & Spa. This restaurant serves breakfast, where you can meet Mary Poppins, Alice in Wonderland, The Mad Hatter, Tigger, and Winnie the Pooh, and dinner, where you can meet Cinderella, Prince Charming, and other characters from Disney's Cinderella.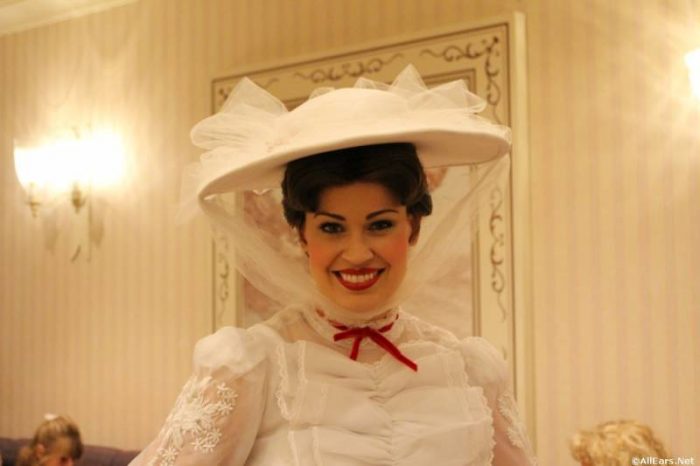 Much like other character dining locations, our readers prefer having breakfast (rated at 8.13/10) here over the dinner (rated at 7.12/10). The buffet-style meal is average according to our readers and many find that it takes a while to be seated, though the Strawberry Soup is a highlight for many who have dined at the restaurant for breakfast.
Chef Mickey's –

– 7.61/10

Located in Disney's Contemporary Resort, Chef Mickey's is another specialty character dining spot where you can meet Mickey, Minnie, Donald, Goofy, and Pluto in their finest chef outfits. The restaurant serves up breakfast (rated 8.31/10), brunch (rated 7.71/10), and lunch and dinner (rated 6.80/10), so you may want to book your reservations for an earlier time according to our reader ratings.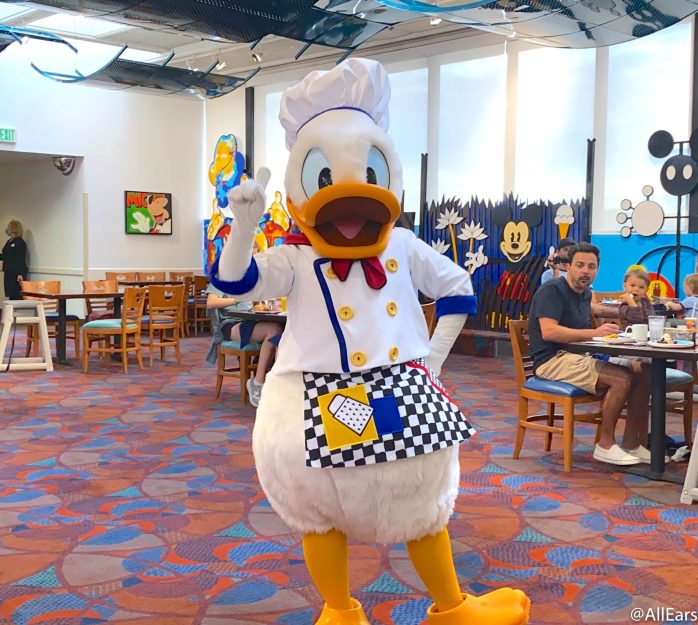 Our readers have some mixed feelings on this character dining spot. Many comment that the meal was not as good as they were expecting, though the character interactions were well worth the cost, in their opinions. Some also felt that the experience varied based on where you were seated in the restaurant, with tables in the corners of the restaurant seeing characters less over the course of their meal.
Crystal Palace

— 7.55/10 (currently not character dining)

Another spot in Magic Kingdom that hosts a character meal is Crystal Palace. Located between Main Street, U.S.A., and Adventureland, this restaurant offers guests the chance to meet Winnie the Pooh, Tigger, Piglet, and Eeyore.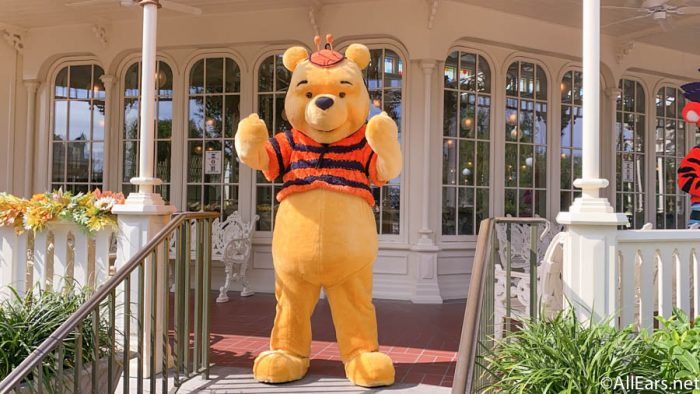 Our readers prefer the dining experience during breakfast (rated at 8.05/10) versus lunch and dinner (rated at 7.05/10) but feel that overall the food is fairly average for the price that you pay. That being said, reviewers found that the character interactions were fun, though they noticed that some characters miss tables from time to time.
Cape May Cafe

— 7.30/10

Coming in as the lowest-rated character dining experience at Disney World, according to our readers, is Cape May Cafe at Disney's Beach Club Resort. Here Disney characters, including Minnie, Goofy, Donald, and Daisy, join guests during breakfast only.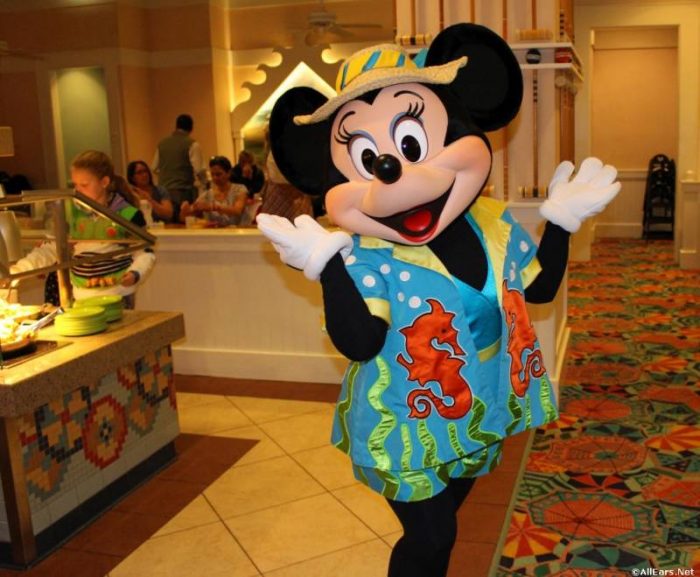 Our readers felt that the food options for breakfast were basic and didn't have much to say about their character interactions. But this could be a great place to book a reservation if you or someone you're traveling with has a food allergy. Many commented that the chef and Cast Members are very accommodating and courteous to those who have food allergies.
Between the meal options, characters, and locations, there is a lot to consider before booking your character dining reservation. Sometimes turning to other Disney fans can help you find the one the suits your family best! And the next time you eat at a character dining experience, be sure to share your thoughts and review the restaurant here on AllEars! You never know who you'll be helping!
Join the AllEars.net Newsletter to stay on top of ALL the breaking Disney News! You'll also get access to AllEars tips, reviews, trivia, and MORE! Click here to Subscribe!

What is your favorite character dining location at Disney World? Let us know in the comments!