Walt Disney World Character Meals
Character meals have become an iconic experience for guests of Walt DIsney World. Where else can you dig into a plate of Mickey waffles while Mickey Mouse himself strolls by in his safari best? Or enjoy some crispy French fries as Chip 'n' Dale slide into your booth?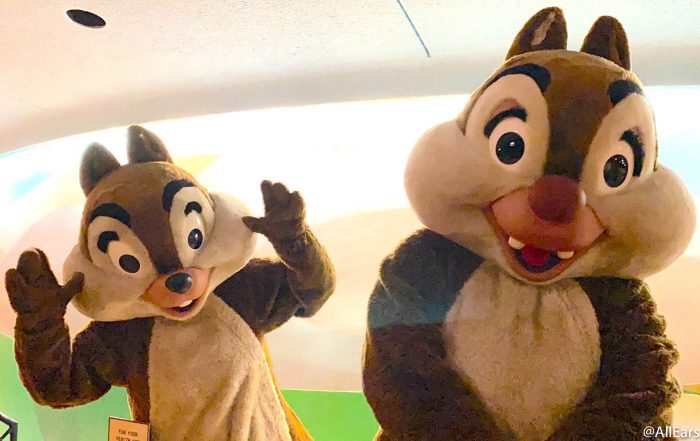 We're sharing the basics of character meal experiences at Walt Disney World right here, so get ready to plan your next meal with character!
Note: Upon reopening in June and July 2020 after its closure, Disney World has suspended or altered its character dining experiences. We will note below which ones are currently available. Otherwise, stay up-to-date on dining experiences here.
Introduction
Meal Types
Character meals at Walt Disney World are served up in several different ways.
Traditional buffet-style: Guests go up to the buffet to select items they'd like to eat, with unlimited trips to the buffet. Available at most of the participating restaurants
Family-style: A server brings large bowls/plates/skillets of food that you serve yourself and share with those at your table.
Pre-plated meals — These plated meals are served to each guest. Menu options may be limited. These meals are usually prix fixe.
Advance Dining Reservations
Typically, you'll need Advance Dining Reservations (ADRs) for character meals. They're usually quite popular and will need to be booked 60 days in advance (as of June 2020). However, during slow seasons it is sometimes possible to attend a character meal without an Advance Dining Reservation or by making one on the same day you plan to dine. Advance Reservations are available for all character meals and can be arranged by calling 407-WDW-DINE (939-3463), logging onto DisneyWorld.com, or using the My Disney Experience app on your smartphone.
Note: During the World's initial reopening beginning in summer 2020, all Table Service dining experiences — including character meals — are required to have an Advance Dining Reservation.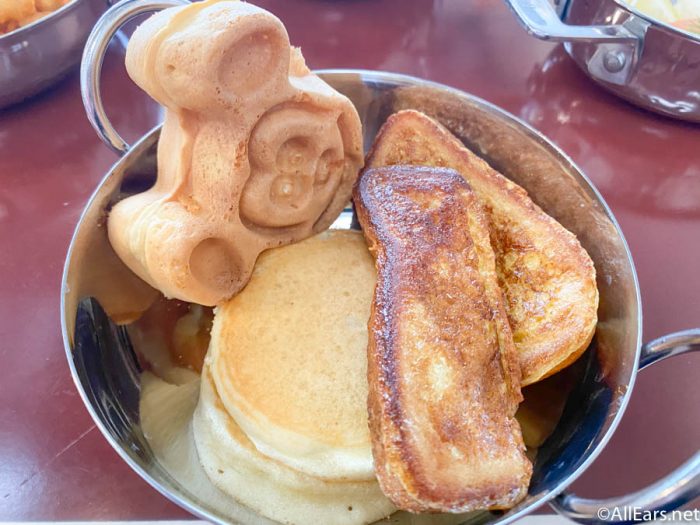 Meeting Characters
For all of the character meals,  characters make their way around the room, stopping at each table to chat, sign autographs, and pose for photos. You don't have to run after the character or wait in a special line. 
There are a couple of exceptions to this rule. At Artist Point's Storybook Dining experience, the Evil Queen waits in a designated area for guests to approach for a meet-and-greet. Snow White and two Dwarfs do circulate through the dining room, however. And at Be Our Guest Restaurant during dinner service, the Beast is typically available for photos in a set area as well.
Note: For character dining experiences during the beginning stage of the World's reopening, characters are circulating from a distance. That means photos with the characters will also be physically distanced. They are not signing autographs, though guests may receive a pre-signed card with characters' signatures.
Magic Kingdom Character Meals
Head down Main Street, USA, and make a left at Casey's Corner to enjoy breakfast, lunch, or dinner at Crystal Palace. Diners here are joined by Pooh, Tigger, Eeyore, and Piglet and dine beneath a beautiful glass dome.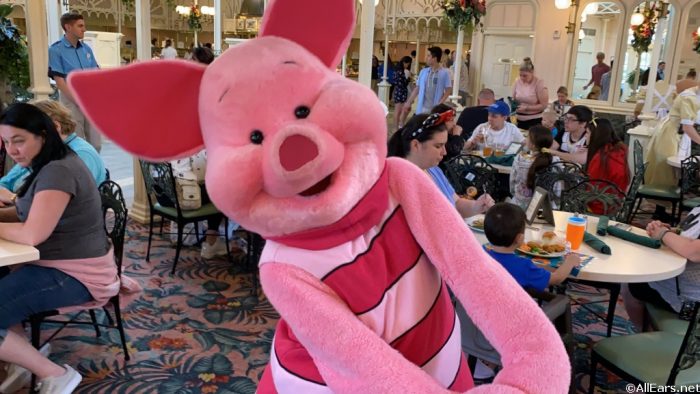 Meals are served buffet-style with a separate section for kids called "Pooh's Corner" (don't worry — grownups are welcome to fuel up here, too). Breakfast items include eggs, pancakes, breakfast meats, breads, fruit, and more. Lunch offers a variety of hot and cold entrees and sides along with a dessert bar. At dinner carved meats and peel-and-eat shrimp are added.
Advance Reservations strongly recommended!
Located on the second floor of Cinderella Castle, Cinderella's Royal Table features characters at all three meals. The characters here are princesses, of course! Cinderella greets her admirers in the entrance hall of the restaurant, while the princesses inside the restaurant vary. We most frequently see Jasmine, Aurora, Ariel, and Snow White; but your royalty may vary.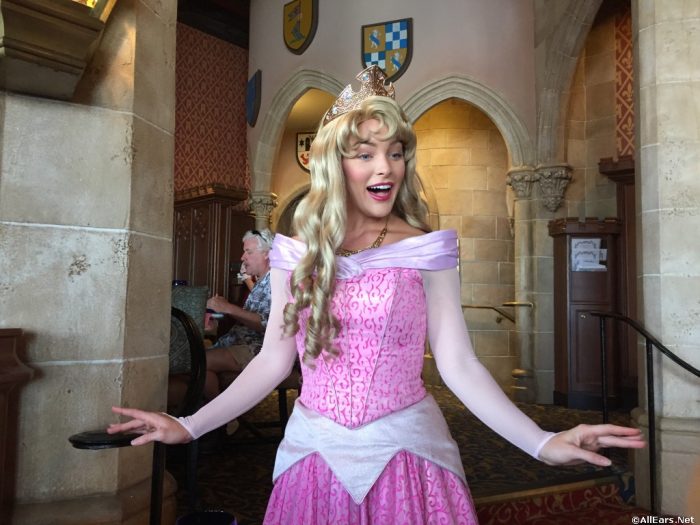 All three meals at Cinderella's Royal Table are prix fixe experiences. Breakfast includes a tray of pastries served family style and an entree of each diner's choice; lunch and dinner include an appetizer, entree, and dessert of each diner's choice. All three meals here require full payment when you make your ADR, and if you're using the Disney Dining Plan, it requires two Table Service meal credits per person.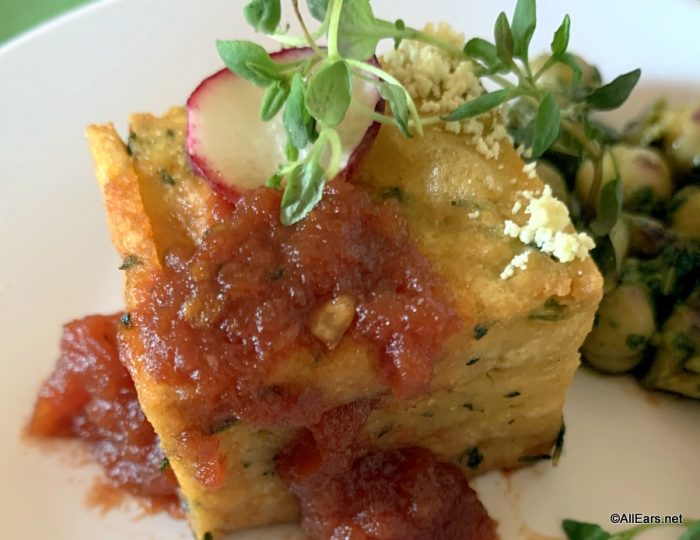 Young royal diners will receive a special gift: a wand or a sword (typically these are divvied up to girls and boys, respectively, so speak up if your little one wants the alternate gift). Diners may also receive Wishing Stars so they can make a wish when prompted during the meal.
Advance Dining Reservations are all-but required here. This is the hardest character meal for which to get an ADR. Be ready (credit card in hand) to reserve as soon as reservations are released at 60-days out from the first day of your trip.
Tip: If you want to see Cinderella and can't get in here (or want a less expensive meal), try Cinderella's Happily Ever After Dinner at 1900 Park Fare in the Grand Floridian. You'll meet Cinderella, Prince Charming, Lady Tremaine, and the Stepsisters while enjoying buffet-style dining.
EPCOT Character Meals
Note: Garden Grill is one of the character meals operating during Walt Disney World's reopening. Characters greet from a distance, and you're welcome to take photos from afar as well.
Chip and Dale's Harvest Feast is located in the Land Pavilion in EPCOT's Future World. This restaurant features breakfast, lunch, and dinner with visits from farmer Mickey, Chip 'n' Dale, and Pluto.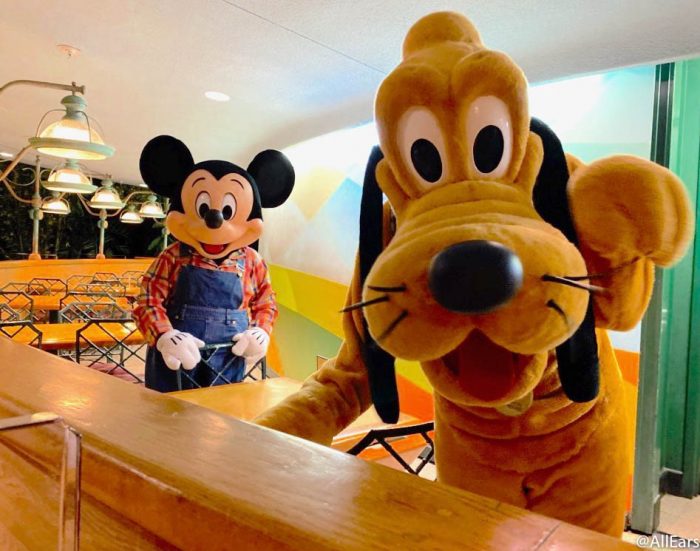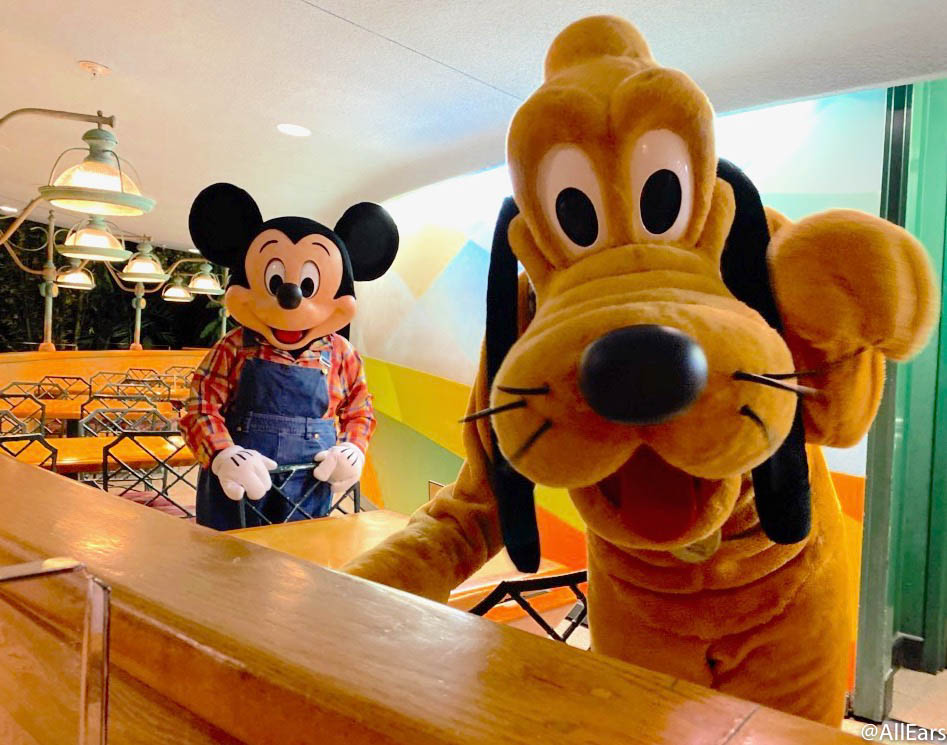 Garden Grill has a couple of distinctive details. First, part of the restaurant rotates slowly, giving diners changing views of the Living with the Land attraction and the pavilion's atrium. Garden Grill also incorporates food grown in the Land's greenhouses, making this some of the freshest food you can find in the World.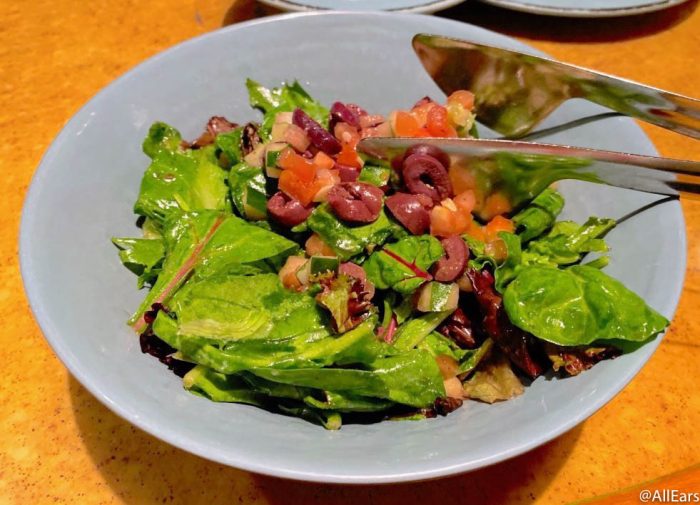 Reservations are recommended, though this one might be available same-day if you're lucky.
Akershus Royal Banquet Hall welcomes diners for breakfast, lunch, and dinner. Located in the Norway Pavilion at EPCOT, this meal typically features Disney Princesses. Usually diners are greeted by and take photos with Belle before entering the dining room. Other characters may include Jasmine, Snow White, Sleeping Beauty, Ariel, and/or Mary Poppins. (Characters subject to change, per usual.)
Breakfast buffet here features typical American breakfast fare and Norwegian specialties, while lunch and dinner are a combination of Norwegian foods on buffet (think: appetizers like sliced meats and cheeses with breads and fruit) and plated Norwegian-style entrees.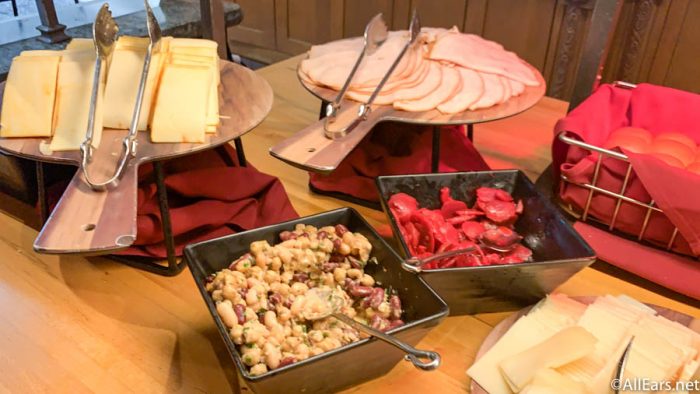 Advance Dining Reservations strongly recommended for this popular experience.
Tip: If you dine first thing in the morning for breakfast, you may finish just as Frozen Ever After opens. This could give you a jump on the crowds heading for the popular ride first thing in the morning!
Disney's Hollywood Studios Character Meals
Hollywood & Vine is home to a number of character experiences. Breakfast is always "Disney Junior Play 'n' Dine" with possible meets with Doc McStuffins, Sofia the First, Vampirina, and Fancy Nancy. But dinner is Seasonal Dining with Minnie. Experiences may include the Silver Screen Dine, the Springtime Dine, the Summertime Dine, the Halloween Dine, and the Holiday Dine. Expect to see Mickey, Donald, and Goofy at these Seasonal Dine events, too!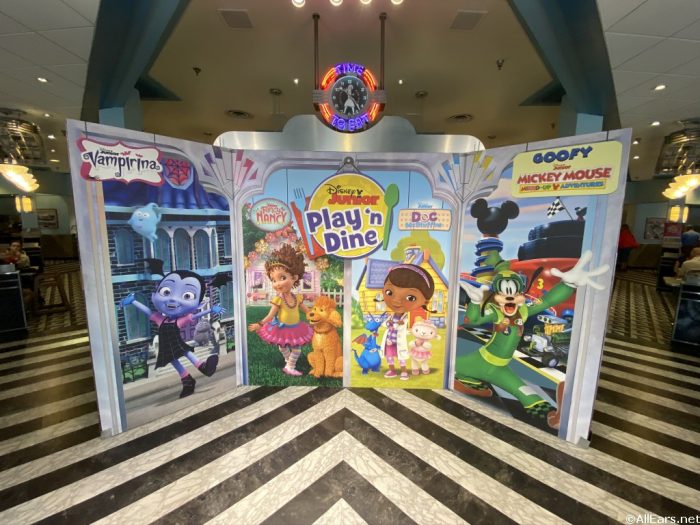 Meals here are served buffet-style, with something for everyone. Advance Dining Reservations are highly recommended.
Tip: During the Holiday Dine, you're usually able to meet Santa Goofy!
Disney's Animal Kingdom Character Meals
Animal Kingdom features a character breakfast, lunch, and dinner called Donald's Dining Safari. Characters include Donald, Daisy, Goofy, and Mickey in their safari outfits!
Tusker House is a buffet-style meal. Diners enjoy typical buffet items like Mickey waffles at breakfast and French fries for lunch and dinner, but a big draw here is the array of unique food offerings. Many buffet items include flavors of India and Africa, making this a bespoke in-Park dining experience.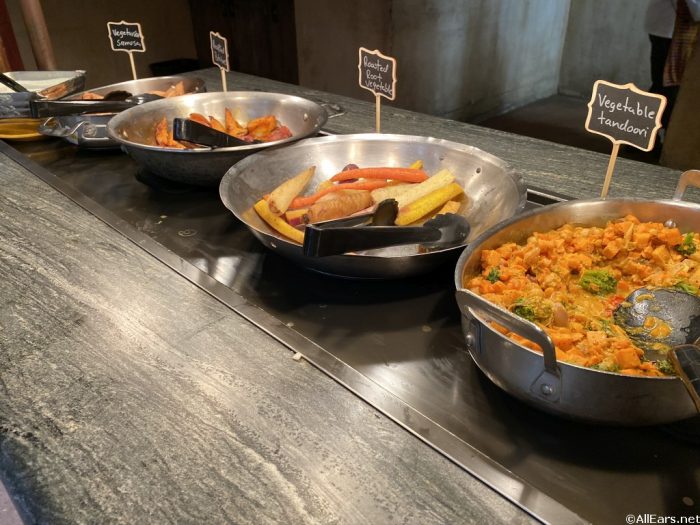 Advance Dining Reservations are recommended.
Fun Fact: Tusker House hasn't always been a buffet! When Animal Kingdom opened in 1998, this was a Quick Service restaurant!
Walt Disney World Resort Character Meals
This Beach Club Resort buffet breakfast is served up daily with seaside flare. Goofy, Minnie, Daisy, and Donald are typically on hand in their cutest coastal clothes.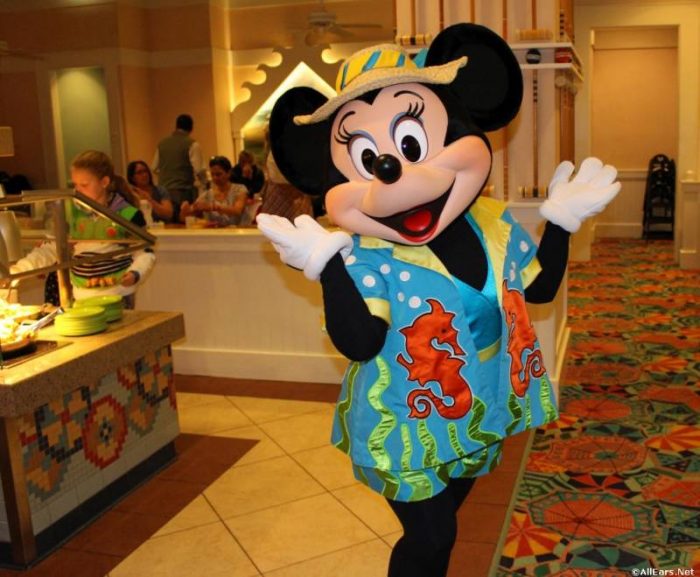 Buffet offerings include eggs, pancakes, meats, breads, fresh fruit, and more. Reservations are recommended (though this is one you might be able to grab the night before).
Chef Mickey's may be the most iconic character meal at Walt Disney World. Located in the Contemporary Resort, this restaurant is accessible from Magic Kingdom by Monorail, making it easy to get to even if you're not staying in the Resort.
Chef Mickey's serves breakfast, brunch, and dinner with the Fab Five: Chef Mickey, Minnie, Goofy, Donald, and Pluto. The breakfast buffet offers the usual items — eggs, breads, meats, fresh fruit, etc. — while at brunch and dinner there is a salad bar, peel and eat shrimp, soups, hot entrees, breads, carved meats, vegetables, desserts, and an ice cream bar with a great variety of toppings.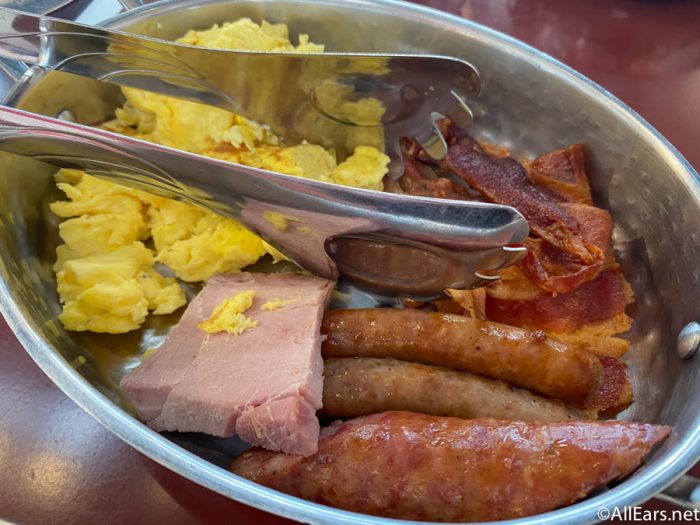 Advance Reservations strongly recommended as Chef Mickey's is one of the most popular character meal experiences.
Note: Chef Mickey's has reopened with Walt Disney World, but the meal is changed. There are currently no characters, and breakfast is the only meal being served. The buffet is closed; servers bring food to the table, and diners can request more of anything they'd like.
1900 Park Fare is a convenient Monorail ride away from Magic Kingdom and offers two dining experiences throughout the day. Breakfast is Supercalifragilistic with Mary Poppins, Alice in Wonderland, and the Mad Hatter. Breakfast items include an omelet bar, pancakes, breads, fruit, and the restaurant's signature strawberry soup.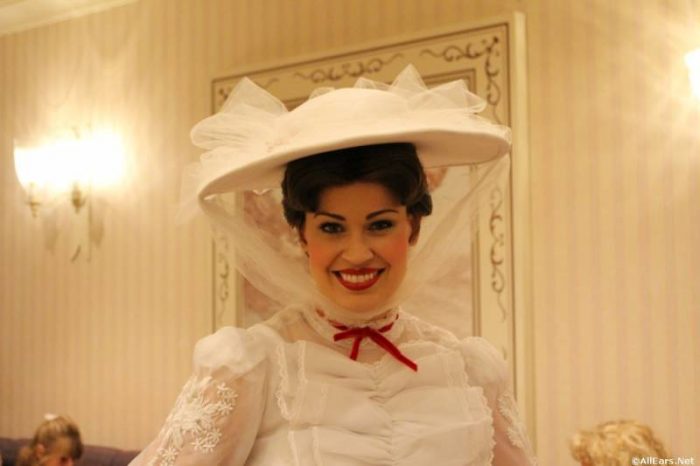 Dinner is Cinderella's Happily Ever After Dinner with Cinderella and Prince Charming. Joining them are the real stars of this show: Lady Tremaine and the Stepsisters, Anastasia and Drizella. The dinner buffet includes a carving station, pasta, salad, and lots of sides.
Reservations are recommended, but you might score a same-day or night-before ADR if you're visiting during slower seasons.
Every morning, 'Ohana delights guests with characters Lilo, Stitch, Pluto, and Mickey. Perched on the second floor of the Great Ceremonial House, 'Ohana features beautiful views and a relaxed island vibe.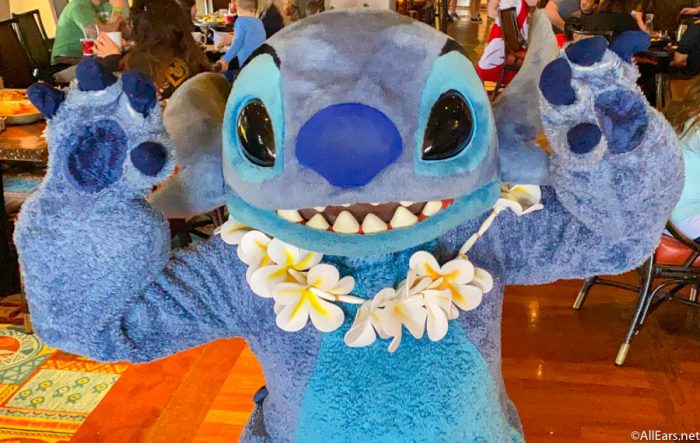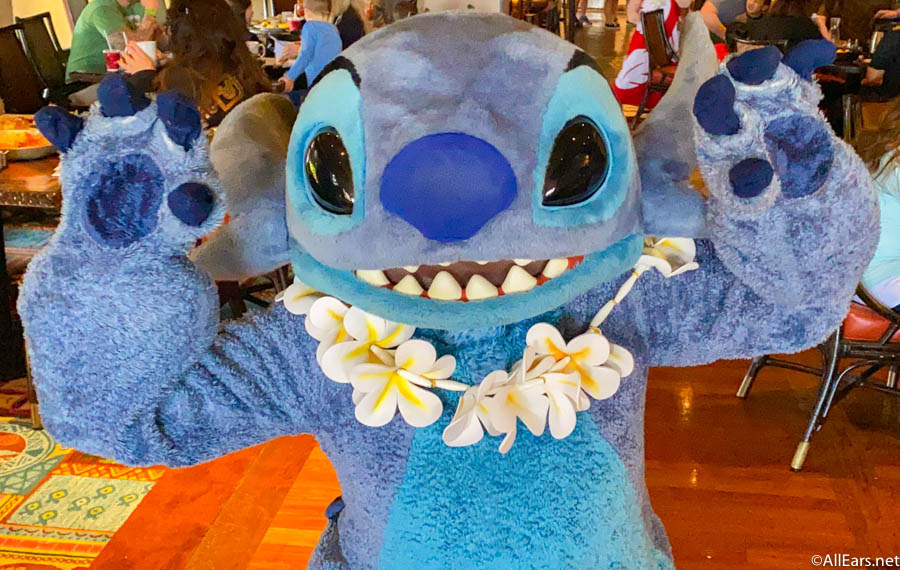 Breakfast is served family-style and features eggs, waffles, meats, breads, fruit, and more. (You may even spot a Stitch Waffle mixed in with the mini-Mickey waffles!)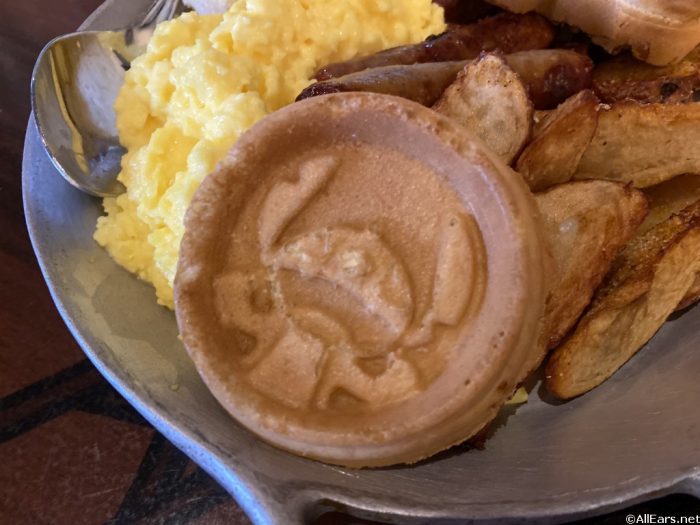 Advance Dining Reservations are strongly recommended. 'Ohana is one of the hardest reservations to make, for both breakfast and dinner.
Topolino's Terrace opened in December 2019 serving up Riviera-inspired dinner and a fanciful character breakfast. Breakfast a la Art introduces four artful characters: Painter Mickey, Poet Minnie, Sculpture Donald, and Dancer Daisy.
Breakfast includes delicious family-style pastries, plus an entree per person. Reservations are strongly recommended.
Note: Topolino's Terrace is one of two character meals that reopened when the World began reopening in June and July 2020. Characters wave and interact from a distance.
Storybook Dining is a prix fixe meal with a limited menu that began in 2019. The restaurant has been redesigned to reflect the setting of Snow White, and the princess and two of her Dwarfs make the rounds throughout dinner service.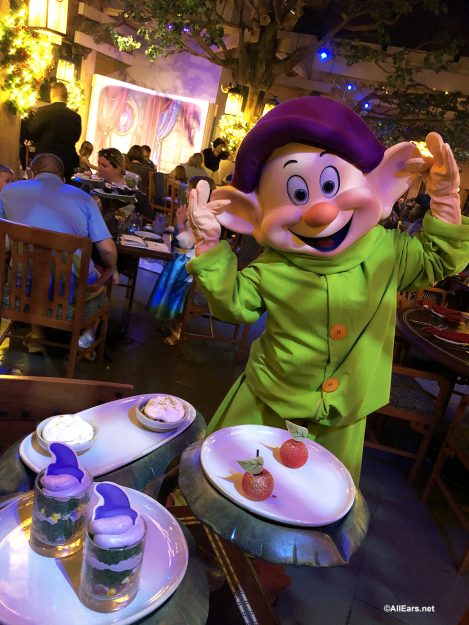 The real star here, though, is the Evil Queen. She awaits her admirers in a designated area, and she is not to be missed.
Reservations are strongly recommended for this meal.
Garden Grove — Walt Disney World Swan
The weekend-only breakfast here features Goofy and Pluto. Dinner with Goofy and Pluto occurs every night of the week, with Chip 'n' Dale being added on Fridays only. Both a la carte and buffet options are available.
Because it's a bit off the beaten path, this character experience is usually not crowded. It can be a good choice for a last-minute character meal.