When we first visited Epcot Center during the summer of 1983, about 10 months after Walt Disney World's second theme park opened, The Ball was all people talked about.
Whether you arrived by car and were walking from the parking lot toward the Main Gate, or you saw it as you were approaching from the Transportation and Ticket Center on the expanded monorail beamway, The Ball was a looming presence.
The Epcot Ball is big and round and glistens in the sun. It can be seen from miles away and still is a sight to behold all these years later.
"Woa! What is that thing?" people asked upon seeing it for the first time.
"It looks like a gigantic golf ball. I wonder what's inside?" they'd want to know.
"Is it a ride or just the centerpiece of the park, like Cinderella Castle?"
Actually, it's both. Inside the Epcot ball was – and still is – the attraction known as Spaceship Earth. It's also the park's distinctive icon.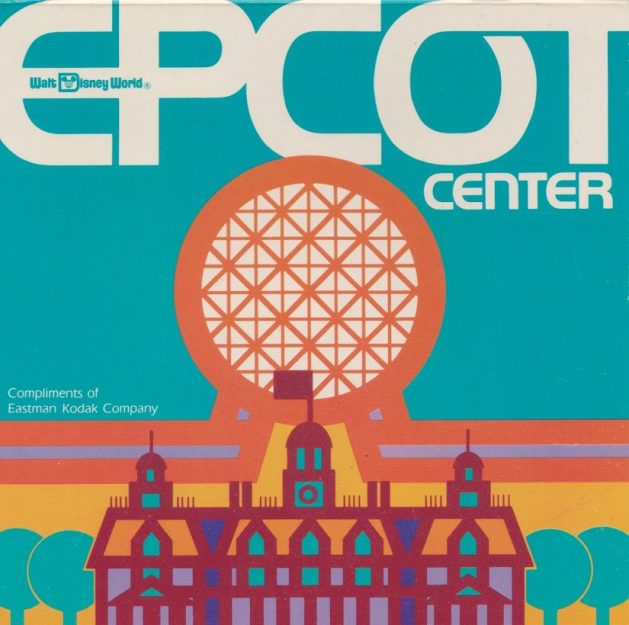 During our first visit to Epcot in August of 1983, Spaceship Earth was the very first attraction we experienced. It turned out that Spaceship Earth was a window into an exciting, innovative theme park experience, the likes of which had never been seen before.
A TECHNOLOGICAL MARVEL
At the time, Spaceship Earth was considered a technological marvel – the world's only geosphere – with its continuous string of ride vehicles traversing slowly up to the peak of the ball, some 18 stories high, then back down again.
After waiting in the switchback queue in the shade under Spaceship Earth, you walked up a long ramp. In short order, you boarded one of the continuously moving vehicles from a rotating platform.
The vehicle then began a slow, steady climb upward. Actor Vic Perrin served as the narrator as we embarked on our journey through time.
Thanks to a large cast of Audio-Animatronics figures and detailed tableaus, the history of communication played out in front of us in many elaborate life-size dioramas.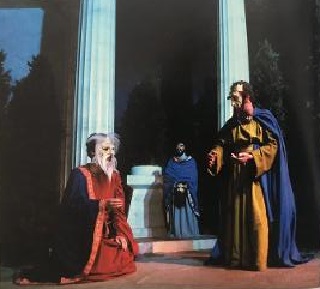 The story ranged from ancient men carving messages onto the walls of caves, to the rise and fall of the Roman empire, to the Renaissance's early writers and artists, to the advent of newspapers, radio and television, right up to the dawn of the age of computers.
It was a stirring presentation the first time we saw it and it remains a must-see to this day.
Indeed, there was nothing in the Magic Kingdom that compared the grand spectacle of Spaceship Earth.
After the main show, guests walked into Earth Station, where there were several exhibits. You could even make park restaurant reservations from here.
After exiting – and once you cleared Spaceship Earth's massive shadow – you found yourself at the entrance of CommuniCore, where an assortment of cutting-edge tech products were on display.
The area was located in the heart of Future World, which, as we'd learn, was one of two distinctively different sections of the park.
COMMUNICORE OFFERED A GLIMPSE INTO THE FUTURE
There was plenty inside the expansive pavilion to sink our teeth into.
For one thing, the world was on the brink of the modern computer era, and CommuniCore offered enticing glimpses into how computers would soon become integral parts of our lives.
The key component of CommuniCore was Epcot Computer Central, where guests could see how computers controlled nearly every aspect of the park.
There were exhibits within the giant building where guests could learn about and actually use touch-screen technology. There were new-fangled fax machines on display, as well as primitive cellular phones and a place where you could learn about electronic mail.
We got a kick out of SMRT-1, a friendly robot who employed the latest in voice recognition technology to interact with us. [Years later, SMRT-1 would be replaced by AlecTronic, a wise-cracking robotic humanoid-like figure who was as quick with a quip as it was with a spot-on celebrity impersonation.]
Also housed within CommuniCore were two restaurants – the Stargate Restaurant and the Sunrise Terrace – and the largest retail space within the park, known as Centorium.
The one aspect of Epcot that I quickly learned to appreciate during our first visit was the fact that each pavilion was quite large and they all featured several entertainment options. We could spend an hour or two inside each one, free from heat, humidity and the like-clockwork afternoon thunderstorms.
After CommuniCore, we headed to The Land pavilion, where we grabbed a snack in the Farmers Market food court before experiencing Listen to the Land, a boat ride through large greenhouse settings where we learned about forward-thinking growing methods, such as fish farming and hydroponics.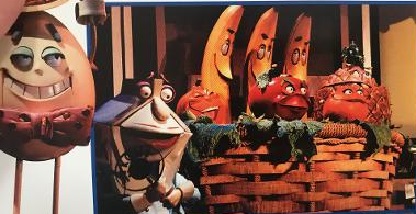 After Listen to the Land, it was off to The Land's signature attraction, Kitchen Kabaret, featuring an endearing cast of Audio-Animatronics fruits and vegetables extolling the virtues of good nutrition, encapsulated in their "Veggie, fruit, fruit. Veggie, veggie, fruit" song.
And we cracked up over Mr. Eggz corny jokes [or were they yokes?] … and found out that Mr. Hamm more than lived up to his name.
Journey Into Imagination was our next stop. The attraction, which had opened a few months prior in March, had a visually stunning exterior, consisting of two pyramids of mirrored glass.
And then there were the leaping streams of water that instantly drew our attention as they jumped over our heads from one water pod to another.
Inside, the ride-through attraction showcased the impish purple dragon-like character named Figment [as in figment of imagination], who joined an old chap named Dreamfinder on a whimsical trip through [you guessed it!] our imaginations.
Also inside the pavilion was the Magic Eye Theater, which featured the 3D film Magic Journeys.
An electronic playground called Image Works further enhanced the experience inside Journey Into Imagination.
World of Motion was up next during our tour of Future World.
THE HISTORY OF TRANSPORTATION
This attraction took us on a madcap jaunt through the history of transportation.
Perhaps the most talk-about tableau in World of Motion was the elaborate city street scene, where the old [a horse-drawn wagon filled with produce] and the new [a gasoline-powered ice truck] collide, causing chaos … and plenty of spilled fruits and vegetables.
After exiting the ride, guests were offered a glimpse into the future as General Motors, World of Motion's sponsor, displayed its newest models and a few prototypes, most of which, by today's standards, seemed quaint and outdated after the passage of nearly 40 years.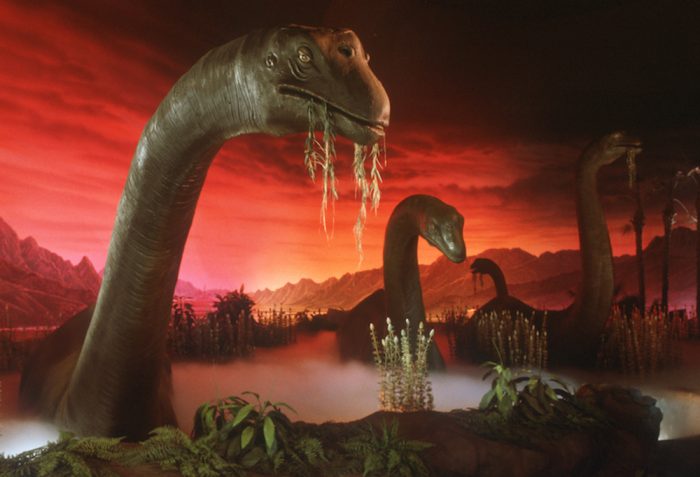 Our last stop in Future World was the Universe of Energy, which blended cutting-edge ride technology with a journey back millions of years to prehistoric times.
Guests took seats in what appeared to be a giant theater. After a preshow, the seating units separated into four smaller clusters, with each one moving slowly into the main attraction: A trip back in time to when dinosaurs ruled the Earth.
Each life-size Audio-Animatronics dino display was more stunning than the next, ranging from the docile brontosaurus, chomping on foliage, to the fearsome T-Rexs, chowing down on smaller creatures.
Although the attraction lasted about 45 minutes, I left feeling both entertained and informed … which seemed to be the goal of every pavilion within Future World.
We walked from the Universe of Energy to the other main section of Epcot: World Showcase.
Here, nine nations from around the world had pavilions which showcased each country's most intriguing attributes [Norway and Morocco were in the planning stages].
As we walked toward World Showcase, a monorail glided by overhead. Much like Disneyland, the beamway through Epcot allowed guests to get an overview of the park's two sections before pulling into the station near the entrance.
We had heard that World Showcase was similar to a permanent world's fair and we couldn't wait to learn about different cultures and sample some of each country's culinary delights.
We started at Canada and worked our way around the World Showcase lagoon.
Canada was striking, with its cascading waterfalls, colorful gardens and informative CircleVision movie, O, Canada!
The architecture was diverse, with handcrafted totem poles and replicas of some the country's most popular hotels and chateaus. Entertainment included a pipe band.
Next door, the United Kingdom offered broad-spectrum look at the British Isles, everything from a glimpse into a quaint British countryside setting, as well as a typical city square, where a tea shop and fine china store grabbed our attention.
Across the way, we stopped for some authentic English fish and chips and a cold drink.
Then we walked across a pedestrian bridge, accentuated by steel railings and tall lampposts.
LIKE WALKING OVER THE SEINE
It was reminiscent of a stroll across one of the dozens of footbridges that span the Seine River … with a replica of the Eiffel Tower looming in the distance.
Indeed, when you looked over the railings to the right, there were ledges butting up against the waterway below, where a bicycle and a small boat were parked. It was a scene straight off a Parisian postcard.
Walking through the meticulously crafted France pavilion was a delight, with inviting odors emanating from Les Chefs de France restaurant, as well as a bakery filled with pastries.
The highlight for us was the film Impressions de France, a stunning travelogue through France's many diverse and beautiful regions. Equally impressive was the film's lilting score.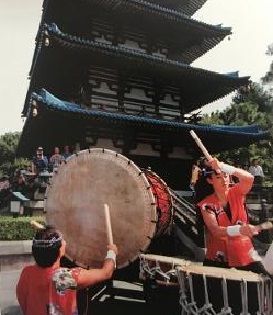 Japan was next up on our World Showcase tour. Both the blue-roofed pagoda and the bright red torii gate caught our eye as we approached, while the sounds of the Matsuriza, traditional Taiko drummers, were music to our ears.
Inside the pavilion, there were Japanese-themed exhibits, a department store and an assortment of fine dining options.
I have to admit, the first time I saw the show in the American Adventure, I was blown away. It was – and still is, for that matter – a stunningly imaginative, detailed presentation that left me awestruck. It was The Hall of Presidents, on steroids.
Disney's Imagineers blended a stirring film, rotating Audio-Animatronics sets, ranging from the 1700s to the 1940s, and an inspirational musical score in a powerful presentation of America's story.
It was 30 minutes that inspired me, left me humbled and proud to be an American.
As we walked out of the theater, I knew that I had witnessed something special … and I knew that I'd return again and again.
We walked next to Italy, which stands out for its elegant architecture. Beautifully replicated were such noted Italian landmarks as Bernini's Neptune fountain and the towering Campanile of St. Mark's Square from Venice.
We stopped to enjoy some lively entertainment in a large piazza.
Inside the L'Originale Alfredo di Roma restaurant, we sampled a slice of pizza.
Much like Italy, Germany offered authentically recreated architecture, great cuisine … but no entertaining show.
There was plenty to see inside the quaint shops, where classic Hummel figurines were among the items for sale.
And there was plenty of entertainment, particularly in the boisterous Biergarten restaurant, featuring authentically costumed performers, but we found ourselves wanting more.
So we settled for a frosty mug of German beer and a pretzel and walked over to the China pavilion, which fulfilled our desire for an entertainment experience.
Outside the pavilion, the ornate Temple of Heaven – surrounded by serene gardens – was breathtaking. Inside, we enjoyed the CircleVision 360 Wonders of China: Land of Beauty, Land of Time.
The last stop of our World Showcase walking tour was Mexico, whose exterior reminded us of an ancient Mayan pyramid.
Inside, there was a lively marketplace, called Plaza de los Amigos, where authentic items such as sombreros, pinatas and hand-carved trinkets were for sale.
The San Angel Inn offered guests a full menu of classic Mexican food and drink … as well as a front row seat to watch the pavilion's featured attraction: El Rio del Tiempo.
The attraction was a leisurely boat ride reminiscent of It's A Small World, highlighting the country's history and its many alluring tourist attractions.
I have to admit, I came away from our first visit to Epcot quite impressed.
BROAD RANGE OF ENTERTAINMENT, FOOD OPTIONS
First, there were a broad range of entertainment and, yes, educational experiences. Disney's designers seemed to have captured the art of making learning fun.
Second, the variety of international food options would satisfy even the most finicky palates. Tacos in Mexico, chow mein in China, a beefy burger in the American Adventure, fish-and-chips in England. Talk about options!
On the negative side, the Epcot of 1983 lacked thrill rides.
Guests in attendance during this time often said that Epcot was a park for adults, as if adults didn't enjoy coasters and the like.
It would take a while, but thrill rides would come to Epcot years later, with the additions of Test Track, Soarin', Mission: SPACE and, soon, the Guardians of the Galaxy: Cosmic Rewind coaster in the former Universe of Energy site.
In fact, Epcot is currently in the midst of a long-overdue refurbishment that will shine a new light on the park that was always known as a place where guests could be entertained, informed and inspired.
FIRST IMPRESSIONS OF EPCOT IN 1983:
I was immediately blown away by how spacious the park was, with wide walkways and plenty of open spaces.
Future World, as you might expect, had a futuristic feel to it, as if the designers were saying "this is how the world might look in 30 or 40 years." World Showcase, in contrast, was designed with a classic, traditional feel, with architectural styles harkening back hundreds of years.
The smell of burning wood caught our attention during the fall of the Roman empire scene while riding on Spaceship Earth.
In a Disney first, alcohol was available to guests at many Epcot pavilions, particularly in World Showcase.
I fell in love with the music played throughout Epcot. Each pavilion seemed to have its own catchy theme song. After a while, you'd come to realize that every piece of music played had a distinctive "Epcot feel" to it, which still is detectible today.
The people who worked at each World Showcase pavilion all hailed from that country, which meant that when you engaged them in conversation, you were hearing from folks who had real-life experiences in their home country, and weren't people reading from a script.
Second in a series. Next time: THE FIRST TIME I VISITED: The Disney/MGM Studios
Chuck Schmidt is an award-winning journalist who has covered all things Disney since 1984 in both print and on-line. He has authored or co-authored seven books on Disney, including his most recent, "The Beat Goes On," for Theme Park Press. He has written a twice-monthly blog for AllEars.Net, called Still Goofy About Disney, since 2015.