Christmas is a wonderful time to come together with the people you love (even if it's just over Zoom), and what better way to mark the occasion than a splendid Christmas dinner?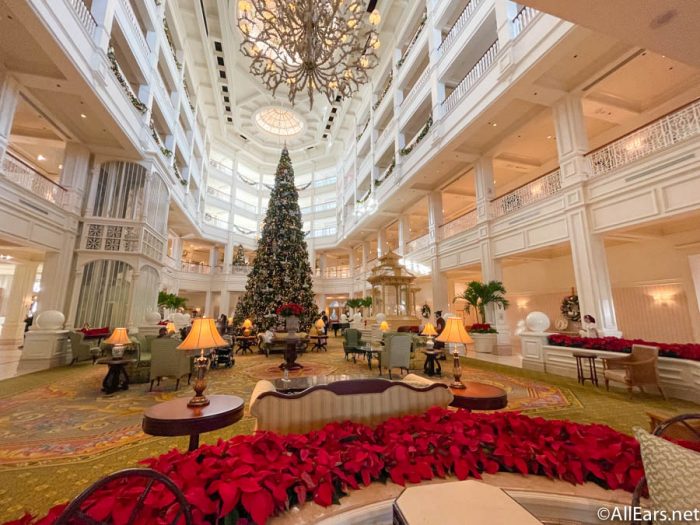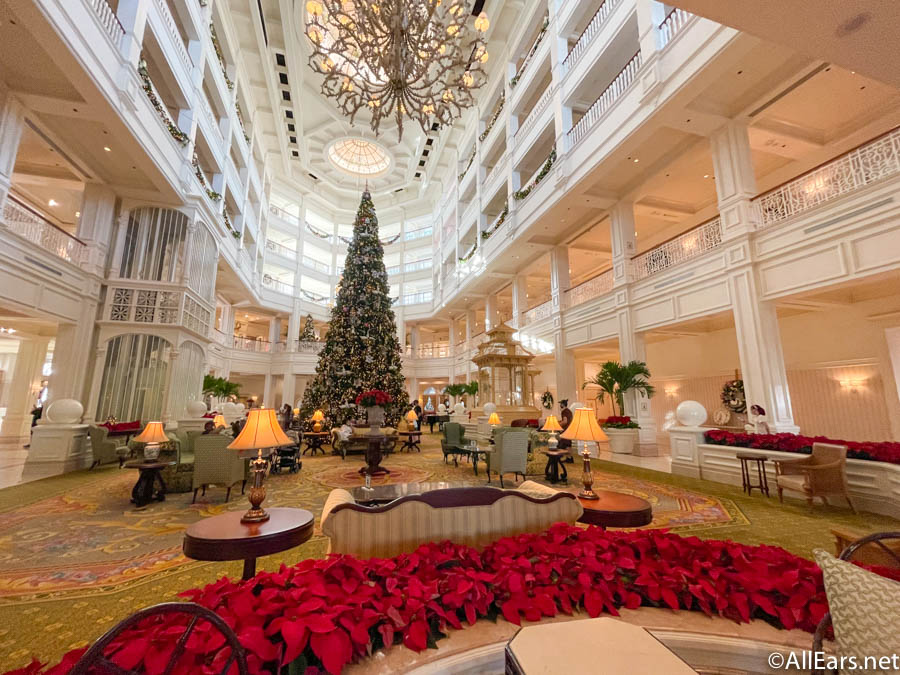 For this holiday season, you can use some of AllEars' recipes from the Disney parks to prepare amazing meals or some amazing treats to deliver in a socially distanced way!
Here are twelve Disney recipes sure to impress everyone at Christmastime.
1. Pecan Maple Bark (Festival of the Holidays, EPCOT)
Walt Disney World celebrates the winter holidays with numerous events, including the Festival of the Holidays. Taking place at EPCOT in the World Showcase area, this annual festival highlights diverse holiday traditions from around the world.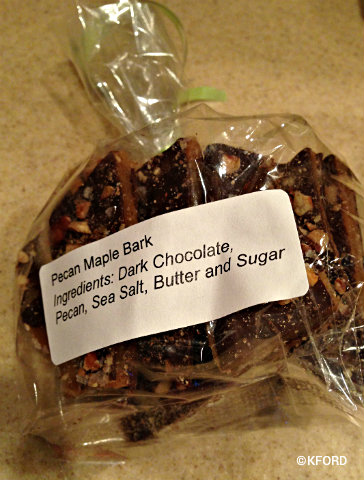 Over at the Canada pavilion, a popcorn cart serves — among other things — Pecan Maple Bark. A crispy snack containing chocolate chips and maple syrup, the Pecan Maple Bark makes for a great treat in the winter. This recipe makes 24 pieces.
Ingredients:
3/4 cup pecans
1 teaspoon sea salt
1 cup butter
1 cup granulated sugar
1/4 cup water
1 1/2 cups semi-sweet chocolate chips, divided
1 1/2 tablespoons maple sugar
Method of Preparation:
1. Combine pecans and sea salt in a medium pan. Toast over medium heat, stirring constantly for 1-2 minutes, until brown and fragrant. Cut into small pieces and set aside.
2. Melt butter in medium saucepan over medium-low heat. Once butter is melted, add sugar and water, stirring continuously until temperature reaches 295 degrees F. Immediately pour into a baking sheet lined with silicone baking mat and spread into a 9×13-inch rectangle. Cool for at least 3 hours.
3. Melt 3/4 cup chocolate chips in a small bowl and spread over one side of the cooled bark. Immediately sprinkle half of the chopped pecans and maple sugar over the chocolate. Cool for 2 hours until chocolate is set.
4. Melt remaining 3/4 cup chocolate chips. Turn bark over and spread chocolate on the other half of the bark. Sprinkle with remaining chopped pecans and maple sugar. Cool 2 hours until chocolate is set.
5. Break into 24 pieces. Store in an air-tight container for up to 7 days.
2. Christmas Bread "Julebrod" (Akershus Royal Banquet Hall, EPCOT)
Even outside of the Christmas celebrations, Disney World's gourmet cuisines work marvelously as holiday meals. EPCOT's Norway pavilion, for instance, has featured many Scandinavian recipes at its restaurants such as the Akershus Royal Banquet Hall, including Christmas bread.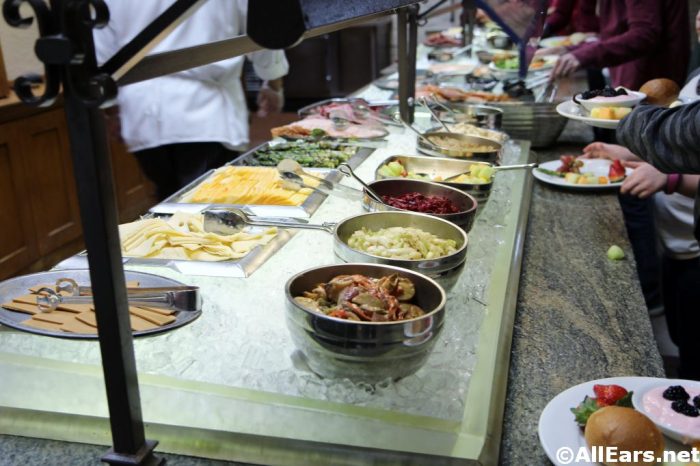 Also known as julebrod or "julecake", Norwegian Christmas bread dates back to pre-Christian Scandinavian customs, and it remains a traditional treat in the wintertime. It's another great way to add some international Christmas fare to your dinner.
Ingredients:
1 quart milk
3 ½ ounces fresh yeast
8 ounces margarine
8 ounces sugar
1 ½ teaspoon cardamom
3 pounds flour
4 ounces raisins
3 ounces chopped citron
Method of Preparation:
1. Heat milk to lukewarm and stir in the yeast.
2. Melt margarine and sugar together and add with the remaining ingredients to form a medium stiff dough.
3. Let rise.
4. Divide the dough into four parts.
5. Knead and form into loaves.
6. Let rise again.
7. Preheat oven to 425º F.
8. Bake approximately one hour.
3. Berry Cobbler (Artist Point, Wilderness Lodge)
Disney World resorts like the Wilderness Lodge also offer their own excellent dining options. Capturing the Lodge's elegant yet rustic style, Artist Point used to serve many delicious options, including the yummy berry cobbler. (The new Storybook Dining experience is still excellent!)
The sugary sweetness of the berry cobbler mixed with seasonal berries such as blueberries makes the cobbler a delight during the holiday season.
Ingredients:
3 cups all-purpose flour
1/4 tbsp. salt
2 1/2 tbsp. baking powder
1 1/8 cups granulated sugar
1/2 cup unsalted butter
2 eggs
1 cup heavy cream
2 cups blueberries or other seasonal berries
8 tbsp. brown sugar
8 tbsp. unsalted butter
Whipped cream or ice cream
Method of Preparation:
Combine the flour, salt, baking powder and sugar.
Break the butter apart into small pieces and mix it in. Add the eggs and stir until just absorbed. Add the heavy cream and mix just enough to incorporate (batter should be lumpy). Divide the dough into four pieces.
In four 6-inch cake pans lined with parchment paper, place the pieces of dough, spread evenly along bottom of the pans. Spread the blueberries on top of each piece. Sprinkle each with 2 tablespoons brown sugar. Dot each with 1 tablespoon butter.
Bake in a preheated 350º F oven for 15 minutes, or until an inserted toothpick comes out clean and dry and the cobblers are lightly browned. Cool to room temperature, add fresh berries (if desired) and serve with a dollop of chilled whipped cream or vanilla ice cream.
4. Eggnog Pound Cake (Swan and Dolphin Resorts, Walt Disney World)
At the Dolphin and Swan Resorts near Disney World's BoardWalk area, you can find other delicious foods to make for Christmas.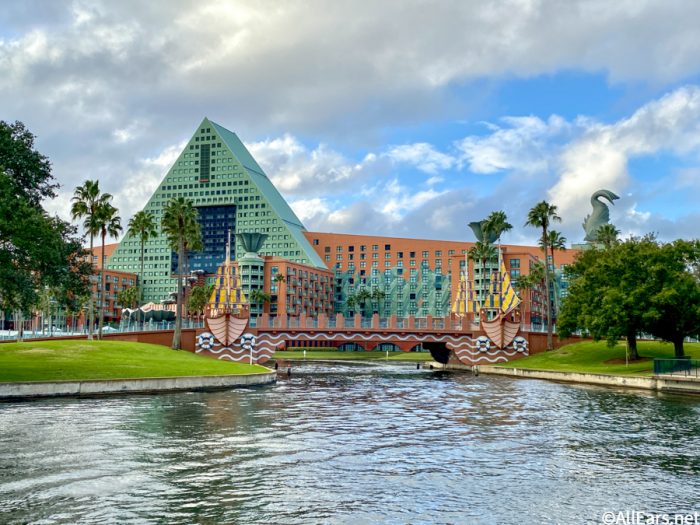 One particular dessert from the resorts that will stand out at your holiday feast is the eggnog pound cake. With just a few simple steps, you can bake this splendid dessert in your own home.
Ingredients for Cake:
1/4 Cup Dried Cherries (chopped)
1/4 Cup Dried Cranberries
2 Tbsp. Brandy
a 3 Cups All Purpose Flour
2 Tsp. Baking Powder
1/4 Tsp. Salt
1/8 Tsp. Grated Nutmeg
1 Cup Butter
2 Cups Sugar
3 Eggs
1 Tsp. Vanilla Extract
1 Cup Eggnog
Method of Preparation for Cake:
Marinate cherries and cranberries in brandy for 15 minutes. Preheat oven to 325°. Grease and flour bundt pan. Cream butter and sugar. Beat in the eggs one at a time. Add vanilla. Sift together the flour, baking powder, salt and nutmeg. Add flour mixture alternating with the eggnog. Mix well. Add fruit mixture. Bake for 1 hour. Cool for 10 minutes.
Ingredients for Glaze:
2 Tbsp. Brandy
2 Tbsp. Water
3/4 Cup White Sugar
Method of Preparation for Glaze:
Combine brandy, water and 3/4 cup sugar.
Presentation:
Place cake on serving dish. Spoon glaze over cake. Top with your choice of fresh fruits.
5. Apple Brined Pork Tenderloin with a Root Beer Demi Glace (The Wave, Contemporary Resort)
If you're looking for another entrée, you should try out the Apple Brined Pork Tenderloin. This mouthwatering and stylish meal is served at The Wave in the Contemporary Resort, but it's easy to cook on your own, too.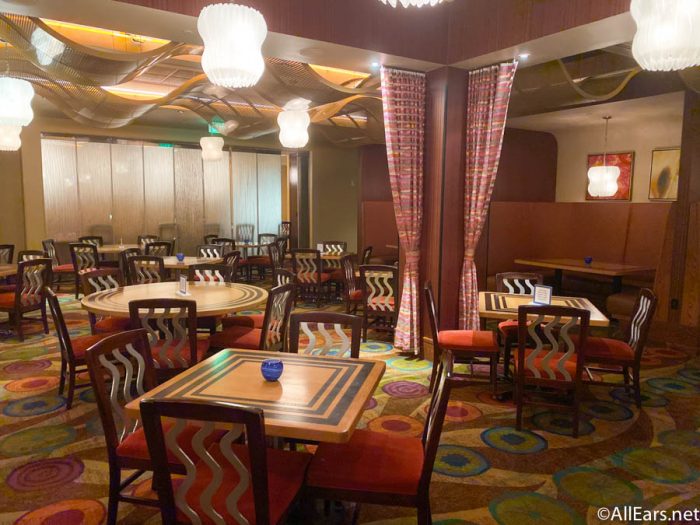 The Apple Brined Pork Tenderloin is customarily served with southern sweet mashed potatoes and spinach salad, but feel free to mix the entrée with other sides to fit the occasion. Please also note that the tenderloin can serve 16 people once prepared.
Apple Brine Ingredients:
1 cup apple juice
1/4 cup apple cider vinegar
pinch of black pepper
pinch of kosher salt
2 tablespoons brown sugar
pinch of red pepper flakes
Method of Preparation:
Add all together and bring to a boil to make clear and dissolve salt and sugar. Chill all the way down and then it is ready to use. Place pork loin, chop or tenderloin into marinade for 24 hours and then pull out. Grill very slowly on low heat or pork will char due to sugar content.
Root Beer Demi Glace Ingredients:
1 cup veal or beef stock
1 cup of your favorite root beer
1 teaspoon corn starch
1 teaspoon water
Add the root beer to the veal stock and bring to a low simmer. Let it cook slowly until it cooks down by 1/4. At this point, mix the water and cornstarch together and stir it into the demi-glace. Cook for another 5 minutes and then store in a warm place until ready to use, or refrigerate.
Bacon Vinaigrette (Dressing for the Spinach Salad) Ingredients:
2 tablespoons apple wood bacon
1/4 cup white balsamic vinegar
1 teaspoon Dijon mustard
1/2 cup olive oil
2 tablespoons bacon grease
1 tablespoon white sugar
1/2 tablespoon yellow onion
pinch of parsley
pinch of rosemary
pinch of salt
pinch of pepper
Cut bacon into half inch pieces and cook until crispy in a pan. Save bacon grease. Put aside 3/4 of the cooked bacon. Take the other 1/4 of the bacon and put it in the blender (or robot coupe). With the vinegar, mustard, and bacon grease. Blend well. Slowly add oil and let run. Add onions, sugar, herbs, and seasonings. Taste and add remaining bacon.
6. Roast Garlic and Gruyere Cream Soup (Victoria & Albert's, Grand Floridian Resort & Spa)
During the wintertime, having a hot soup can help warm things up for everyone. For a fancy and appetizing soup, look no farther than Victoria and Albert's at the Grand Floridian Resort and Spa. This high-class restaurant serves a menu harkening back to the Victorian days, and you'll be most pleased with the roast garlic and gruyere cream soup.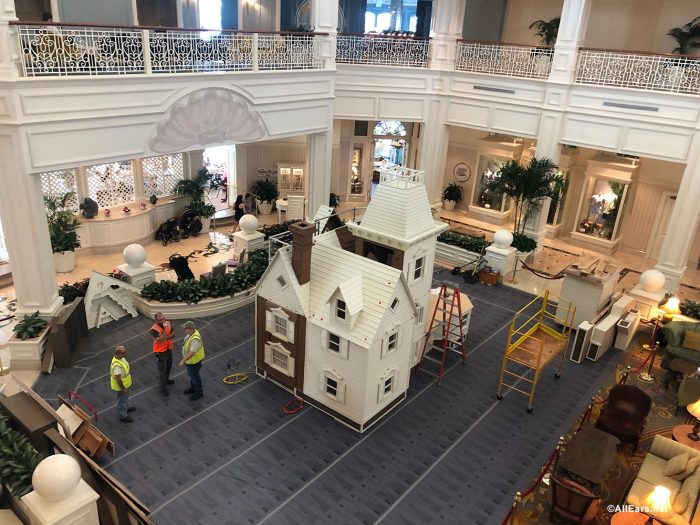 The soup's soothing warmth and rich flavor, combined with its sense of elegance, makes it ideal for a soup around Christmas time. Yet it takes little work to make the soup on your own, as long as you follow the steps below.
Ingredients:
1/8 cup olive oil
10 cloves of garlic
1 small onion, chopped
3 stalks of celery
1 bottom part of leek, chopped
4 cups of chicken broth
1 bottle of dark beer (6 oz.)
1 cup of heavy cream
1 cup of grated Gruyere cheese
salt & pepper to taste
Method of Preparation:
Brown garlic in olive oil, add onions, celery, and leeks and saute until tender. Add chicken broth, then bring to boil. Reduce heat, then add beer and heavy cream. Puree and add cheese. Strain and adjust seasoning with salt and pepper.
7. Banana Bread Pudding (Boma, Animal Kingdom Lodge)
Animal Kingdom Lodge is noteworthy for its stylized African theming throughout, and that includes its amazing restaurants. Boma: Flavors of Africa serves local cuisines from across many different African countries at the buffet, and its banana bread pudding is especially tasty.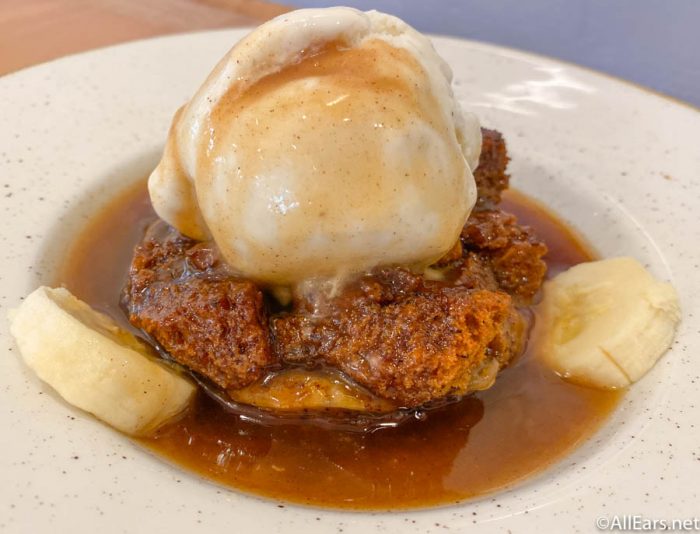 Once baked, Boma's banana bread pudding yields 12 servings of food.
Ingredients:
2 cups Milk
2 cups Heavy Cream
1 cup 3 T. Sugar
7 each Whole Eggs, beaten
1 teaspoon Cinnamon
4 tablespoons Butter
3 each Bananas, sliced
5 cups Croissants, brioche, or challah bread, cubed or one whole loaf of Texas toast, cubed
Method of Preparation:
1. Cut day-old croissant, brioche, challah, or Texas toast into cubes. Set aside.
2. In a large bowl and using an electric mixer, combine milk, cream, sugar, cinnamon, and beaten eggs.
3. In a 9×9 square or round pan, place one layer of bread on bottom. Place bananas on top, followed by a layer of bread.
4. Pour custard mixture over the entire dish, filling it 2/3 to ¾ full. Press top bread layer into custard to prevent the bread from drying out. Add more custard if necessary.
5. Place butter chunks on top of bread pudding.
6. Bake at 300 degrees for one hour or until an inserted knife comes out clean.
7. Serve with vanilla sauce (recipe below).
Vanilla Sauce
Ingredients:
3 cups Heavy Cream
1 ½ cups Milk
1 ½ teaspoons Vanilla Extract
9 tablespoons Sugar
2 tablespoons Cornstarch
6 each Egg Yolks
Method of Preparation:
1. Heat up milk, vanilla, heavy cream, and sugar.
2. Combine cornstarch with egg yolks.
3. Once liquid boils, temper some of the liquid into the yolks and stir vigorously. Then return tempered yolks into the pot.
4. Turn off the heat and stir continuously until well combined and thickened.
5. Transfer the sauce into a bowl and set over an ice bath to cool.
8. Vine Ripened Tomato Stack (Le Cellier, Epcot)
Want something unique, cool, and decorative to serve at your Christmas dinner? Le Cellier's Vine Ripened Tomato Stack could be just what you're looking for. The steakhouse serves high-end Canadian dishes, and this option certainly stands out with its stylish presentation.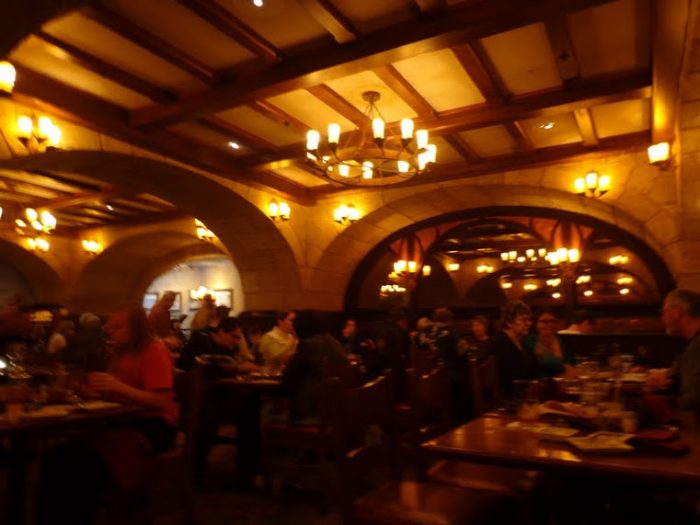 The towering veggies will stand out at the dinner table, serving as an edible centerpiece for the whole meal. Please note that you can prepare many of the items for the recipe up to a day ahead of time and refrigerate them until you're ready to prepare the stacks.
Ingredients:
1 large vine ripe tomato – thick slicked
½ ounce shallots
¼ cup spinach, picked, washed and dried
¼ cup julienne Shiitake mushrooms
2 tablespoons olive oil
2 tablespoons olive oil
1/2 ounce herb vinaigrette
Drizzle Balsamic Vinegar- reduced by 1/2
To Taste Salt
To Taste Black Pepper
Method of Preparation:
1. Pick and clean spinach.
2. Slice shallots and julienne shiitakes.
3. In a skillet, add enough olive oil to coat bottom of the pan.
4. Add shallots and sauté till tender.
5. Add spinach and stir to coat well and wilt the spinach, season to taste with salt and pepper.
6. Remove from pan and drain.
7. Let cool.
8. Return pan to heat and coat the skillet with more oil.
9. Add the shiitake mushrooms and sauté until tender.
10. Season with salt and pepper.
11.Remove from pan and allow to cool completely.
To Assemble Stack:
1. Slice the top and bottom off a large vine ripe tomato.
2. Slice the remaining tomato into 3 slices.
3. Season each slice to taste with salt and pepper.
4. Divide the cooked spinach and mushrooms evenly between the three slices.
5. Stack the layers on top of each other on a plate.
6. Drizzle with the Herb Vinaigrette and finish with the balsamic reduction.
Herb Vinaigrette
Ingredients:
½ cup sliced shallot
2 ¼ cups white balsamic vinegar
1 tablespoon fresh chopped rosemary
1 tablespoon chopped thyme
1 tablespoon minced garlic
½ cup Sauvignon Blanc wine
1/8 cup chopped chives
1/8 cup chopped parsley
2 cups extra virgin olive oil
To Taste Salt
To Taste Black Pepper
Method of Preparation:
1. Bring shallots, vinegar, rosemary, and thyme to a boil.
2. Take off heat.
3. Let completely cool and then add remaining ingredients.
4. Add rest of the ingredients.
5. Wisk together until incorporated, adjust seasoning as needed.
6. Chill, put in container, label, refrigerate. Holds for up to 2 weeks.
9. Kringle "Norwegian Pretzel" (Kringla Bakeri, Epcot)
EPCOT's Kringla Bakeri og Café serves many scrumptious Nordic snacks that are perfect for serving during the winter holidays.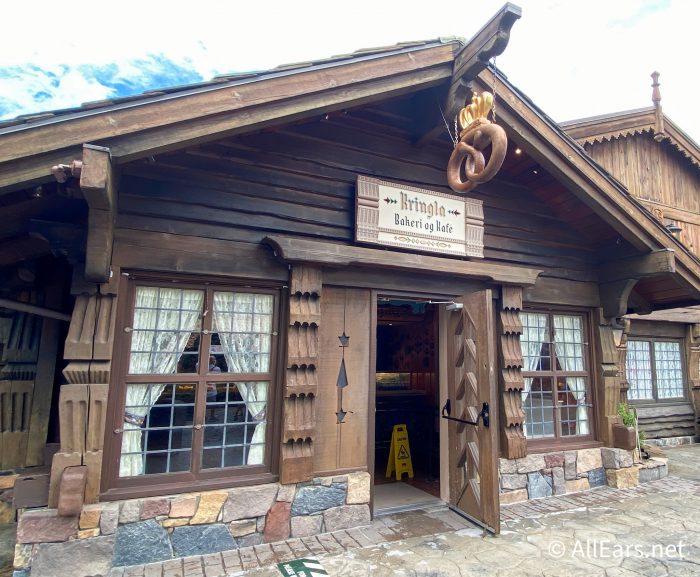 The kringle, for example, is a classic Norwegian pretzel iced with sugar and almonds. Its sweet and crunchy feel makes it delightful to have with coffee or as between-meal snack.
Ingredients:
1 pound 8 ounces bread flour
1 ounce malt
4 ounces granulated sugar
½ ounce dry yeast
3 ounces raisins
3 cups water
¼ teaspoon cardamom
Method of Preparation:
1. Place all dry ingredients into mixing bowl using dough hook.
2. Mix for one minute on low speed.
3. Add water and mix on medium speed until dough forms.
4. At the very end, just before dough is done, add raisins.
5. Remove dough from bowl and scale into four-ounce pieces.
6. Roll long strands and form into pretzels.
7. Let rise until doubled in size, then bake at 400º F. until golden brown.
Icing:
Ingredients:
½ cup sifted powdered sugar
2 teaspoons evaporated milk
¼ teaspoon vanilla extract
Sliced almonds
Method of Preparation:
1. Mix powdered sugar, milk and vanilla extract together. You can add a little more milk if to thick.
2. Pour icing in a plate.
3. Pour almonds in a plate.
4. Dip pretzel into icing and then into the almonds.
10. Braised Chicken Leg, Cheddar Chive Grits and Winter Vegetables (Swan and Dolphin Resorts, Walt Disney World)
Planning out wintertime menus requires considering the kinds of foods that are available around this time of the year. Certain "winter vegetables" like beets and Brussels sprouts, for instance, are good choices for holiday meals. Not only are these vegetables healthy, but they work well when matched with entrees.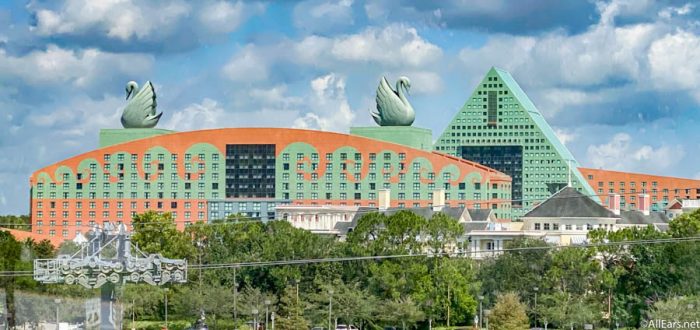 Another excellent entrée from the Dolphin and Swan Resorts is braised chicken leg, cheddar chive grits, and winter vegetables. When cooked with this recipe, the meal yields enough food to serve 4 people.
Ingredients:
2 pounds chicken legs
3 ounces olive oil
4 ounces flour
1 quart beef broth
4 sprigs fresh thyme
1 cup white grits
2 1/2 cups whole milk
2 ounces butter
1 cup white cheddar cheese
2 ounces fresh chives
1/2 cup button mushrooms
4 baby carrots, cut in half lengthwise and quartered
5 white pearl onions, peeled and cut in half
2 baby beets, peeled, quartered or large diced
4 Brussels sprouts, washed and cut in half
2 ounces melted butter
Salt and pepper to taste
Fresh herbs or micro greens for garnish
All vegetables may be altered to your preference
Method of Preparation:
Using a non-stick sauce pot on medium heat, add oil and start to brown your chicken legs, adding salt and pepper to taste.
Once the chicken has a deep golden color add fresh thyme and flour. Stir until flour absorbs all fat. Slowly add broth, to create gravy and simmer for 1 hour.
In another sauce pan, bring milk and butter to boil. Add grits and simmer on low heat. Once grits are tender, remove from heat and stir in cheese and chives. Season with salt and pepper.
In a mixing bowl, toss all vegetables with butter, salt, and pepper. Lay out evenly on cookie sheet and roast in oven for 35 minutes on 375 degrees.
Once vegetables, grits and chicken are done, arrange all components on a plate. Use fresh herbs or micro greens for garnish and enjoy!
11. Sugar Frosted Fruit Bites (Flurry of Fun, Hollywood Studios)
EPCOT isn't the only park to dive headfirst into the Christmas spirit. Over at Hollywood Studios, the annual Flurry of Fun spectacle has amazed winter guests with a dazzling display of lights, projections, music, and your favorite Disney characters.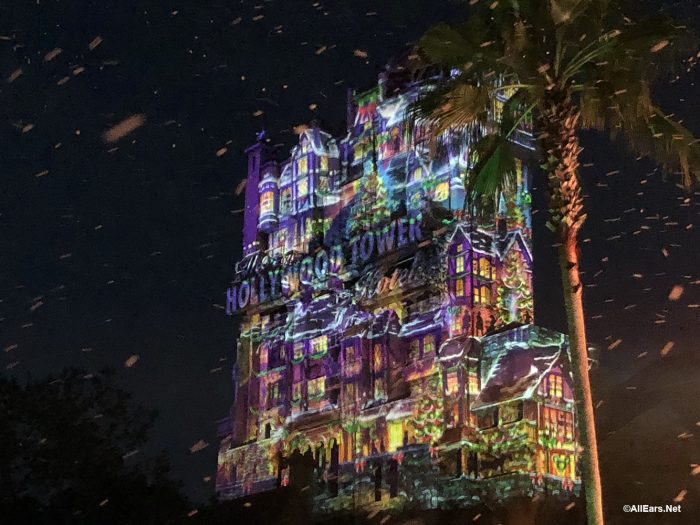 Not only that, but in years past, the fireworks show came with its own special snacks, including sugar frosted fruit bites. With this recipe, you can recreate the snack at home, making 48 bites at a time.
Ingredients:
Sponge
1 cup all purpose flour
3/4 cup lukewarm water
2 teaspoons instant yeast
Dough
2 1/2 cups all purpose flour
6 Tablespoons butter, softened
1/3 cup non-fat dry milk
1/3 cup sugar
1 1/4 teaspoons salt
2 teaspoons vanilla extract
Fruit
1/2 cup diced candied orange peel
1/2 cup golden raisins
1/2 cup diced candied cherries
2 tablespoons rum
1/2 cup sliced almonds
Vanilla Sugar
3/4 cup butter, melted
2 cups sugar
1/2 teaspoons vanilla extract
Topping
Powdered sugar
Method of Preparation:
For Sponge
1. Mix all-purpose flour, water, and yeast in small bowl
2. Rest at room temperature for one hour
For Fruit
1. Mix candied orange peel, golden raisins, candied cherries, and rum in small bowl
2. Rest at room temperature for one hour until rum is absorbed
For Dough
1. Combine sponge, all purpose flour, softened butter, dry milk, sugar, salt, and vanilla extract in bowl of an electric mixer fitted with a dough hook
2. Knead to soft, shiny dough. Add soaked fruit and any liquid to the dough and knead until combined.
3. Cover dough and rise in a warm place for 1 1/2 to 2 hours.
4. Line two baking sheets with parchment paper or silicone baking mats
5. Turn the dough onto a floured cutting board. Cut dough into 48 pieces and roll into logs that are approximately 1/2 in wide by 1 1/2 long. Place on prepared baking sheet leaving 1 inch between each piece. Cover and rise for 45 minutes or until puffy.
6. Preheat oven to 350°F.
7. Bake fruit bites for 18-20 minutes until light brown. Cool for 10 minutes.
For Vanilla Sugar
1. Place melted butter in small bowl.
2. Stir sugar and vanilla extract together in small bowl and set aside.
To Serve:
1. Coat baked fruit bites in melted butter, then roll in vanilla sugar. Dust with powdered sugar before serving.
2. May be stored at room temperature for one week or freeze for up to 3 months.
12. Couscous Salad (Restaurant Marrakesh, Epcot)
Having a nice salad ready helps complement the rest of the courses at Christmas dinner, and there are lots of interesting recipes to consider. If you like couscous, then you should check out the Couscous Salad served at Restaurant Marrakesh in EPCOT's Morocco pavilion.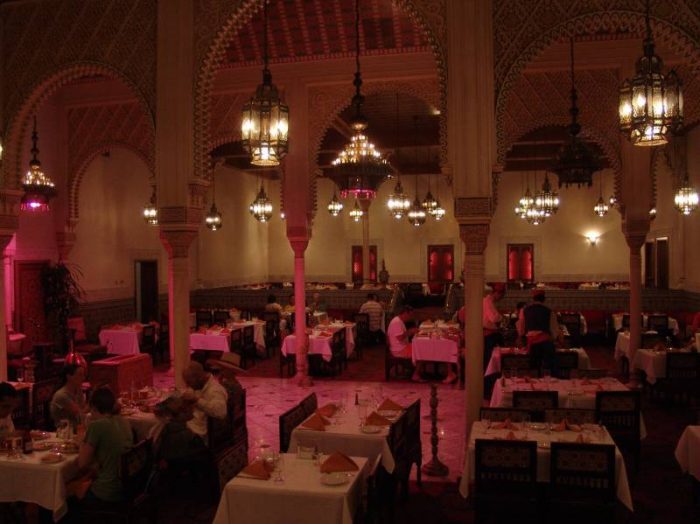 Restaurant Marrakesh's recipe for couscous salad yields 4 servings.
Ingredients:
Olive oil
1/2 of a red onion
1 teaspoon chopped garlic
1/2 of a sweet red bell pepper
1/2 of a sweet green bell pepper
1/2 of a chopped zucchini
Salt and freshly ground pepper to taste
Nutmeg to taste
Cinnamon to taste
1/2 cup olive oil
1/4 cup raisins
1/4 cup chickpeas (garbanzo beans)
1 cup orange juice
12 ounces cooked plain couscous
2 tablespoons chopped fresh parsley
1/2 cup tangerine segments or mandarin orange segments
Mint sprig for garnish
Method of Preparation:
In a large nonstick skillet, sauté onion, garlic, sweet bell peppers, and zucchini in olive oil. Season with salt, pepper, nutmeg, and cinnamon. Add 1/2 cup olive oil to vegetables along with raisins, chickpeas, and orange juice. Toss vegetable mixture with couscous and pan juices. Add parsley and gently fold in citrus segments. Mound mixture onto a serving platter and garnish with mint.
All of these wonderful recipes will bring some much-needed Disney magic to your Christmas meals this holiday season. You can find plenty of other swell recipes on AllEars, so don't forget to check out the rest of our Disney recipe collection.
What's your favorite food to have at Christmas? We can't wait to see what you have to share in the comments.
Join the AllEars.net Newsletter to stay on top of ALL the breaking Disney News! You'll also get access to AllEars tips, reviews, trivia, and MORE! Click here to Subscribe!