If you've been spending the majority of your days watching shows on Disney+ or Hulu, then you probably haven't seen a lot of commercials lately.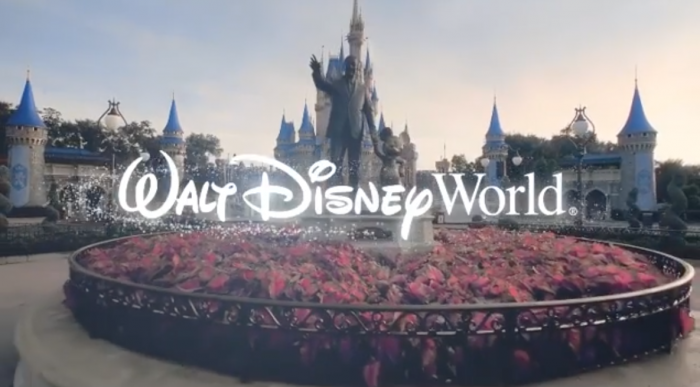 But if you watched traditional TV growing up, you know the magic of catching a Walt Disney World commercial showing you all the amazing reasons why you should visit the Most Magical Place on Earth! Whether it's the "I'm too excited to sleep" commercial or the one with Mickey standing on top of Spaceship Earth (yes, this is a real thing), Disney has had some adorable, funny, strange, and EPIC commercials over the years — and we're going through some of the most memorable ones here!
1971 Commercial
We start our promo tour at the very beginning with a commercial that was released during Disney World's opening year. It's…interesting. You may not have grown up watching this one, but you TOTALLY should check it out now. It follows a small girl as she tries to find her way to Magic Kingdom by asking for help from some classic Disney characters, but it's all a bit…unsettling.
We're not sure if this would have actually encouraged us to go to Disney World back then or just made us slightly creeped out, but it's certainly…something!
Delta Commercial
From 1971, we hop forward a few years to 1987, by which time Delta Airlines was the new official airline of Walt Disney World Resort. This commercial highlights that partnership and the magic of Walt Disney World with some EPIC dance moves (wait for the flips down Main Street, U.S.A.) and some EPCOT performers whose outfits we absolutely NEED to find ASAP.
Did you also catch that view of the Mickey Mouse hot air balloon, and the fancy outfits of the people on the plane (you mean people didn't just wear hoodies and leggings?!) — this promo is truly a gold mine of retro Disney goodness and we cannot get enough!
What a Year to Be Here!
Around 1989, we got another promo showing off ALL the new things at Walt Disney World including the opening of Disney-MGM Studios, Captain EO, and more!
What a year to be at Walt Disney World indeed! Around this same time, we also got a very exciting EPCOT Center commercial showing off some unique parts of the park that are still there and others that we've had to say goodbye to. But, most importantly, this commercial features Mickey Mouse standing ON TOP OF Spaceship Earth waving
But Mickey isn't just waving at us from Spaceship Earth, he's also waving from a Cinderella Castle turret, while Donald gets some quality relaxation time in the pool!
Where will Mickey wave from next? The top of the Tree of Life? All jokes aside, these retro commercials are awesome! Sometimes we can just take it for granted that all of these rides and theme parks exist, but it's amazing to see that sense of excitement when some of these things were all brand new!
20 New Reasons to Visit Disney World This Year!
Non-Disney fans may ask you "Why are you going to Disney again? Isn't everything just the same as it was before?" Well, if you got this question in the early 1990s, you could just play this commercial for them and show them 20 new reasons to visit Disney World this year! Golf, Pleasure Island, the Muppets, Dinosaurs (the old tv show), and a parade with GIANT floats are just a few of the reasons, but there are quite a few others that may totally surprise you!
Well, we'll probably be singing those numbers for the rest of the day, but getting to check out that adorable commercial makes it totally worth it!
There's Never Been a Better Time to Make the Dream Come True
In the 1990s, we also got a special Disney promo video featuring a little girl getting a very special wake-up call in Disney World and meeting all of her very favorite characters, including one special mouse at the end that she's waited her WHOLE LIFE to meet!
If only every morning could start with a wake-up call from Goofy, life would be a dream come true ALL the time!
First Steps
Did you have any major life milestones happen at Disney World? First lost tooth? First birthday celebration? Or maybe an engagement or wedding? Well, if you're the kid in this next commercial from the 1990s, you could say that you had your first steps at Disney World, and that's a pretty special memory for the whole family!
Also can we admit that we're ALL the dad and older brother in this commercial just pushing the whole family to go on the next Disney trip ASAP?! The fact that this commercial also has a tiny bit of the "Remember the Magic" song at the end makes it extra magical. That tune hits our heartstrings in a special way.
Millennium Celebration
Speaking of amazing Disney songs, anyone else start to tear up when they hear music from Disney's Millennium Celebration? We sure do! Well, get those tissues ready because this promo video has ALL that musical goodness paired with video of Illuminations, The Tapestry of Nations, and of course a precious Mickey moment.
There's so much to love about this commercial, and it reminds us that there's so much to continue to look forward to in the future.
Too Excited to Sleep!
Ever get so excited before your Disney World trip that you can't even sleep?! Then you'll relate to the kiddos (and parents) in this adorable commercial!
We've definitely all been there! This promo is (in our opinion) one of the most relatable, adorable, and memorable ones that Disney has ever released!
Happiest Celebration on Earth
While the last few commercials have featured Mickey and friends in their in-park form, this next promo shows Mickey, Donald, Goofy, and Jiminy Cricket in an animated form wishing for some new attractions and…their wish comes true in the form of Soarin' and more!
Curious to learn more about the Happiest Celebration on Earth? Check out some of press coverage of the new attractions and other special things that came to the Disney theme parks as part of this promotion.
Year of a Million Dreams
One of the most special promotions held in the Disney parks in the last few years has to be the Year of a Million Dreams. From free bonus FastPass tickets to granting stays in the Cinderella Castle Suite, there were so many special ways for the Cast Members to make some AWESOME magic every single day.
The Year of a Million Dreams was held at both Disney World and Disneyland, and this commercial is not Disney World specific, but we definitely felt like it was worth including. The promo video (and the whole campaign) really capture the sense that anything is possible at the Disney Parks.
Celebrate You!
Anyone else remember jamming out to the "Celebrate You" song Disney released during their "What Will You Celebrate" campaign? Well, you can softly dance along to the version of the song that's played in this video, showing some of the many life events you could celebrate with a trip to the Happiest Place on Earth.
What special events have you celebrated in Disney World?
So This is Love
We couldn't make this list without at least giving a quick shout-out to this pawsome commercial showing two furry friends having a romantic and fun adventure in the Disney parks.
This commercial is so cute it's simply un-fur-gettable!
Magic All Around
Just a few years ago, Disney shared a new promotional video showing all the magic that can happen if you stay at a Disney World resort hotel. Now, we haven't really seen Stormtroopers in our elevators just yet, but we do think that will be a very real possibility once Star Wars: Galactic Starcruiser opens!
Quite a few Disney World resorts have reopened so you can still take advantage of staying in the magic if that is something you love to do during your Disney trips!
Tomorrow Is Just a Dream Away
And now we end this post with a look at the present and future. Disney recently shared their newest promo video, reminding Disney lovers that tomorrow is just a dream away! The video features lots of different families planning trips, reminiscing on old trips, and creating magical memories right at home.
These are just a few of the promos Disney has shared over the years, but they're some of our favorites. Watching these commercials just makes us want to look at old vacation photos and start planning our next trip to the parks. Whether you're planning for a trip coming up in the next few days, or won't be visiting the parks for a few years, we hope these promos give you a little taste of the magic wherever you are!
Which of these commercials is your favorite? Let us know in the comments!
Join the AllEars.net Newsletter to stay on top of ALL the breaking Disney News! You'll also get access to AllEars tips, reviews, trivia, and MORE! Click here to Subscribe!