Storybook Dining at Wilderness Lodge's Artist Point restaurant made its debut on December 16. We've tried out the new menu, and saw the changes to this location. We also met some of our favorite, hard-to-find-in-the-parks characters!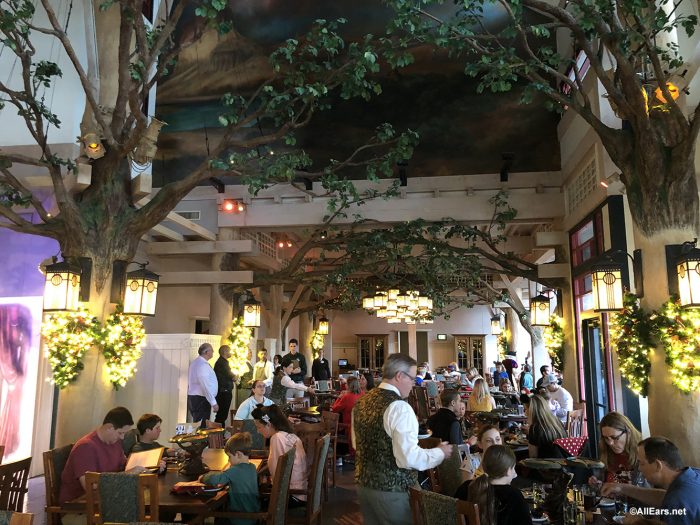 The new experience includes a themed prix-fixe style menu served in an enchanted forest.
As we entered Artist Point we saw some reminders of the previous decor, including the lanterns. The lanterns are now hanging among the branches of the cover of an enchanted forest. The large picture windows remain, allowing views of Wilderness Lodge — which makes the perfect setting for the story.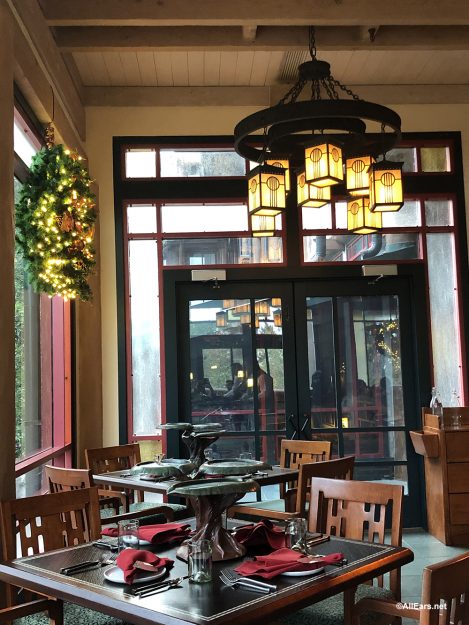 As we were seated we noticed several items on our table. What looks like a tree branch with large leaves serves as a Lazy Susan serving stand, and our napkins had an apple keepsake card on them. We learned this card has a very important use later in our dinner.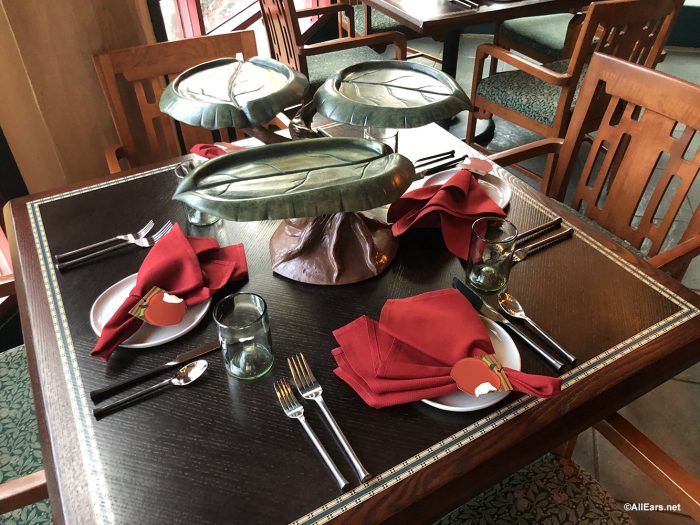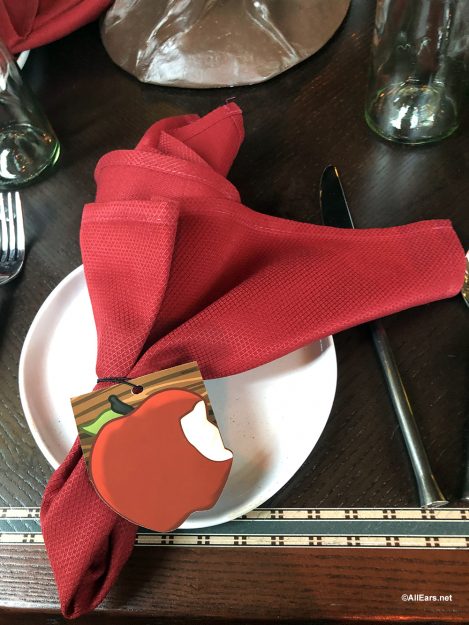 Though dinner is a prix-fixe meal, there are some selections to make from the menu. Plus, the menu starts with the tale of the forest and foretells of the dinner you are about to eat.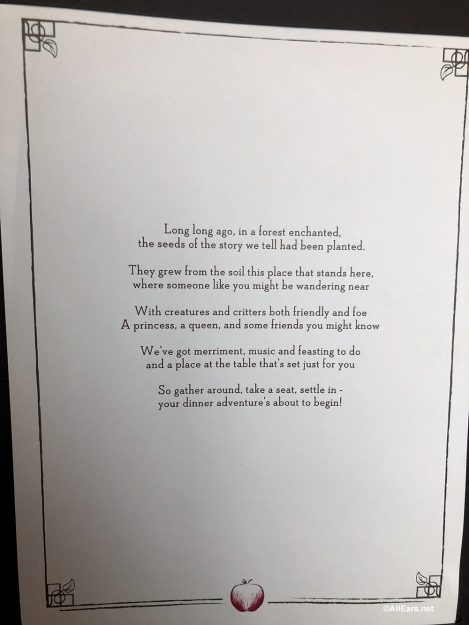 Cocktails, specialty non-alcoholic drinks, beers, and wine by the bottle or glass are available at an additional charge. If you are dining on the Disney Dining Plan your entitlement includes one serving/glass of an alcoholic or specialty drink.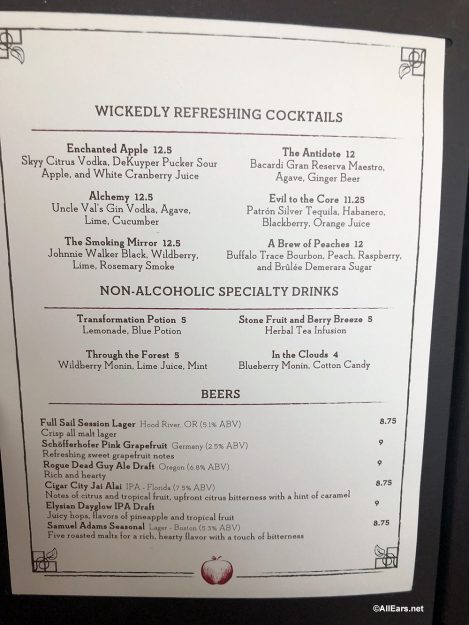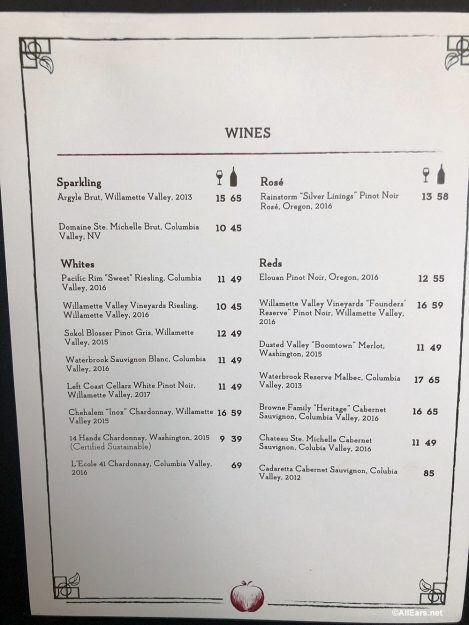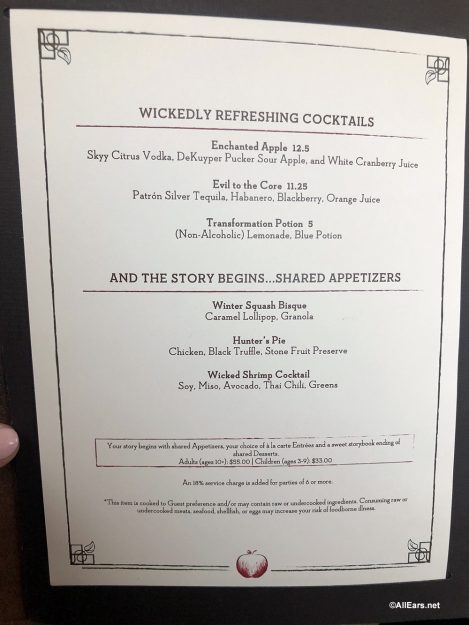 We tried the" Enchanted Apple" cocktail, which will be a hit if you like sweet and sour drinks. The non-alcoholic "Transformation Potion" is an ordinary glass of lemonade that you transform yourself with a bottle of blue potion that you mix in with a sugary stirring stick. This is sure to be a hit with the kids and kids at heart.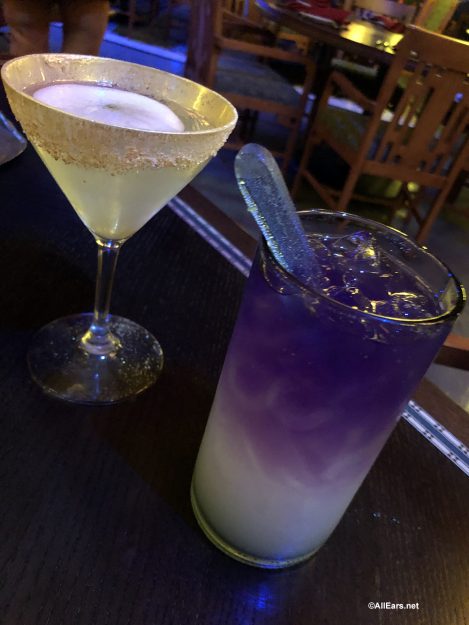 First course is an assortment of appetizers that are shared and served on your Lazy Susan.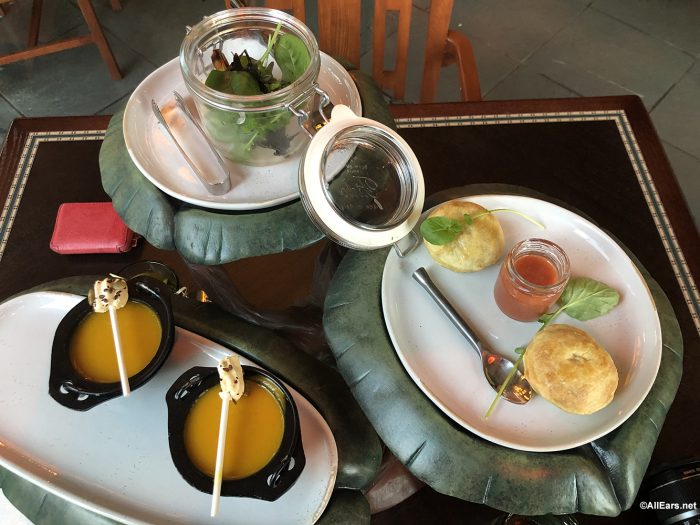 The Winter Squash Bisque comes with a marshmallow lollipop topped with pumpkin and other seeds. As you stir your bisque with your lollipop it adds a sweet, creamy touch to the bisque. Of course, you can also enjoy the lollipop on its own (we saw some kids doing this)! The soup is served in mini black cauldrons — keep your eyes open for details like this throughout the meal.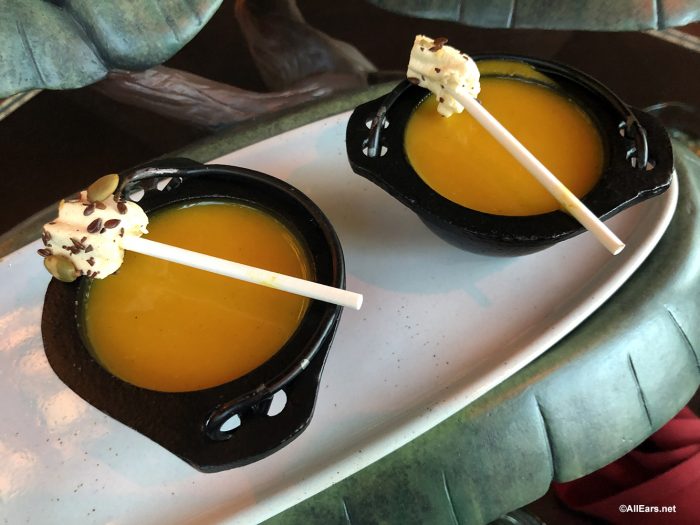 The individual Hunter's Hand Pies are stuffed with chicken and black truffle served with a stone fruit preserve. We found the preserve added some sweet to the savory pie — but try the pie without the preserve first, you may really enjoy enjoy it on its own.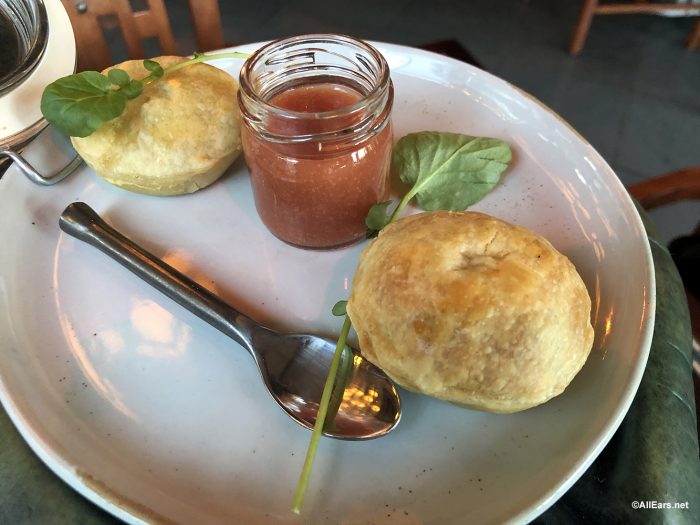 The third appetizer is a Wicked Shrimp Cocktail with soy, miso, avocado, Thai chili, and greens. This one hit the mark for us a bit with theme, but may be a tad spicy for you if you are averse to spices.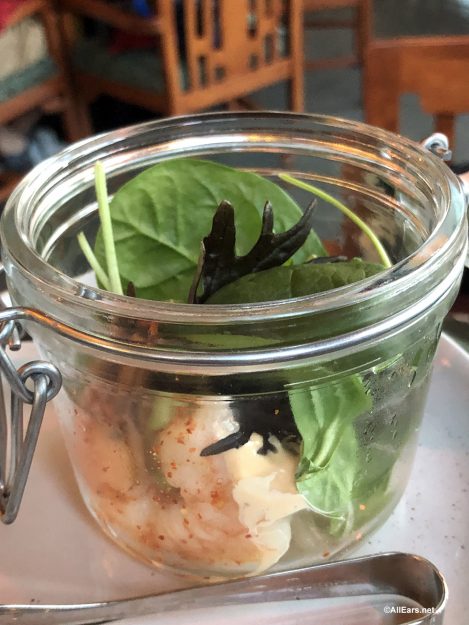 There are several options to select from for your main course. Selections include a Seafood Stew, Prime Rib, Gnocchi, Roasted Chicken, Veal Shank, or Snapper. We ordered almost all of the dishes to give them a try and review them for you!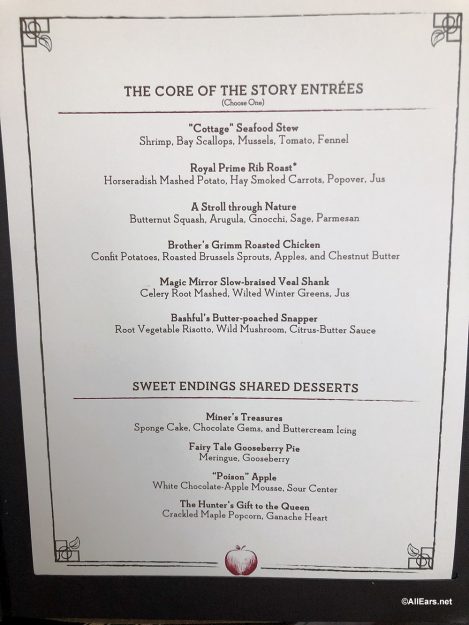 First up, the "A Stroll Through Nature" dish. This is the only vegetarian option on the entree menu. We thoroughly enjoyed the flavors in this gnocchi dish. The butternut squash, sage, Parmesan, and arugula blend together really well to make a rich, creamy dish.  We could hear other positive comments about this dish at other tables as well.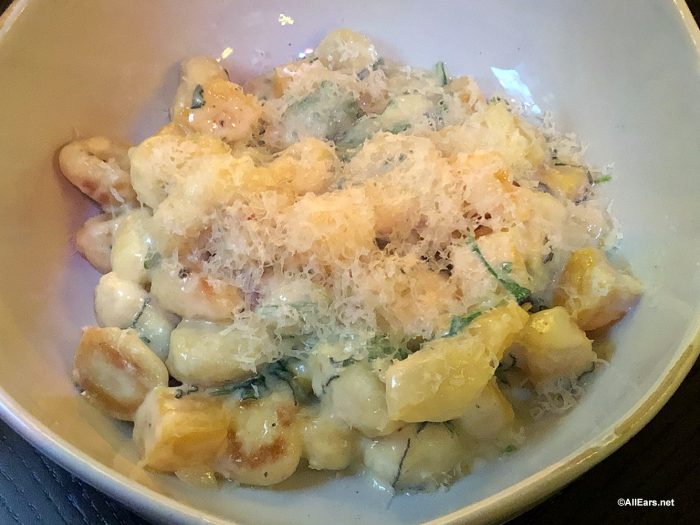 "The Brothers Grimm Roast Chicken" was another excellent dish with a creamy chestnut butter adding a unique twist and flavor — especially to the confit potatoes. We appreciate the nod to the Brothers Grimm, the original publishers of Snow White, as well.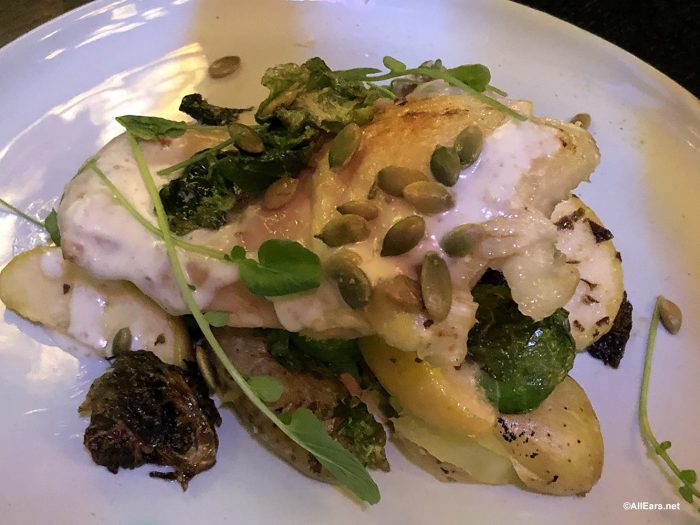 The "Magic Mirror Slow-Braised Veal Shank" is everything you would expect from a veal shank, and more. This was falling-off-the-bone tender, and the gravy serves as a strong, delicious complement to the perfectly cooked veal. However, the celery root mashed was a little watery for our taste.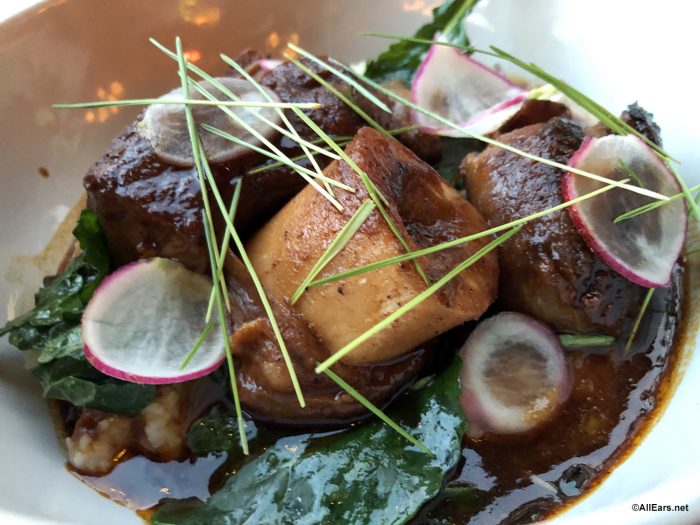 We opted for "Bashful's Butter-Poached Snapper" as our seafood option for the evening. This was the only dish that was slightly disappointing. The snapper is light and buttery, but the only real flavor in the dish comes from the risotto. Even though not our favorite, we'd give it a second chance in the future.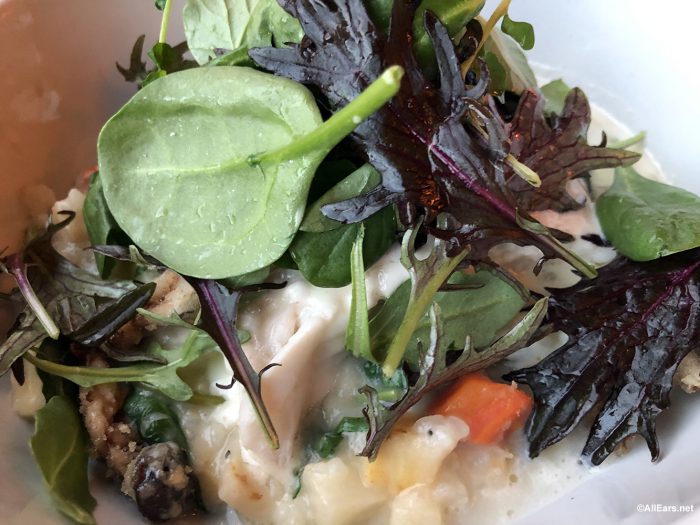 We saved the best for last. With a name like "Royal Prime Rib Roast" we had high expectations for this dish, and they were met and exceeded.  Juicy, tender, flavorful — plus that popover on the side — what more could you want? Oh, there's horseradish mashed potatoes as well! Head's up though, the smoked carrots are strong in smoky flavor and might not be to your taste.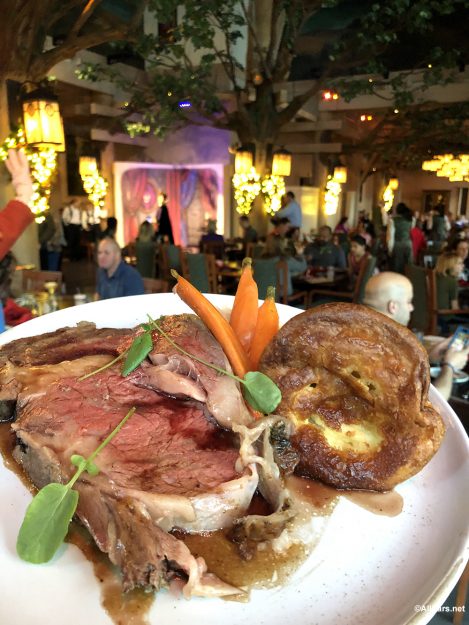 You may think we couldn't eat any more, but your meal is well paced — and you take breaks to meet some friends.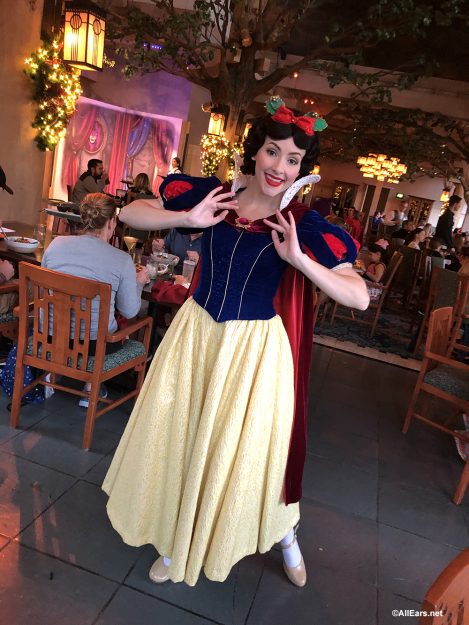 In addition to Snow White, you get the chance to meet some rarely-in-the-park characters — Dopey and Grumpy! You can usually only meet the Seven Dwarfs during special events such as Mickey's Very Merry Christmas Party.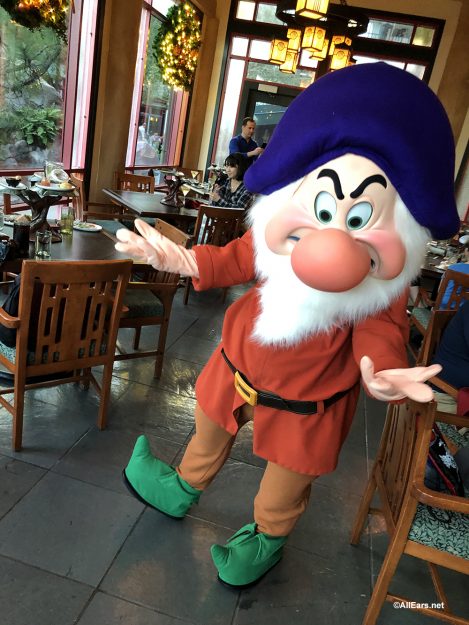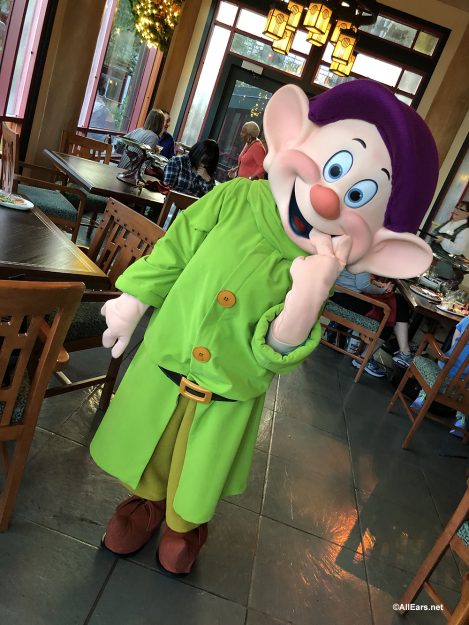 Remember that apple on your napkin? It serves as an autograph card! The Queen may not always be in the mood to give autographs, as she is temperamental. We were lucky enough to catch her in a good mood (for an Evil Queen that is).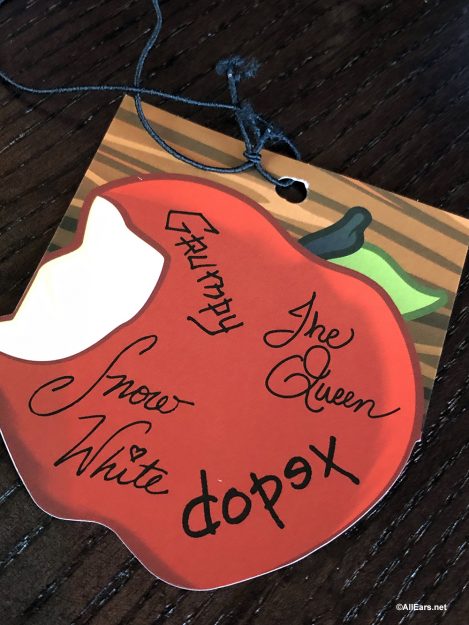 Now on to the most important part of a meal, the desserts.  Desserts are served in the same style as appetizers on the Lazy Susan, so no difficult decisions to make, you get to try ALL of the desserts on the menu!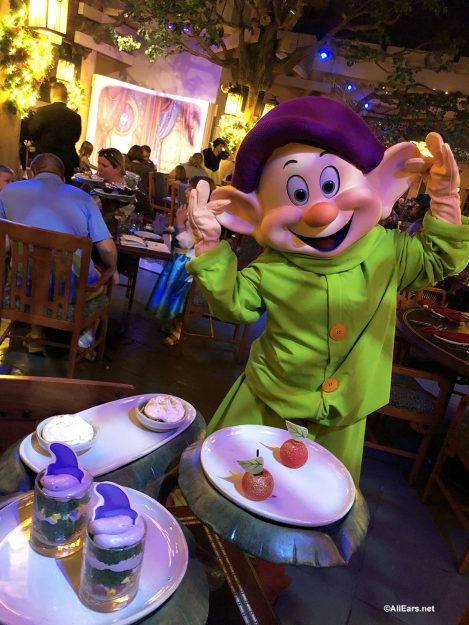 "Miner's Treasures" is made up of layers of sponge cake, buttercream frosting, and gems from the mine (candy covered chocolate).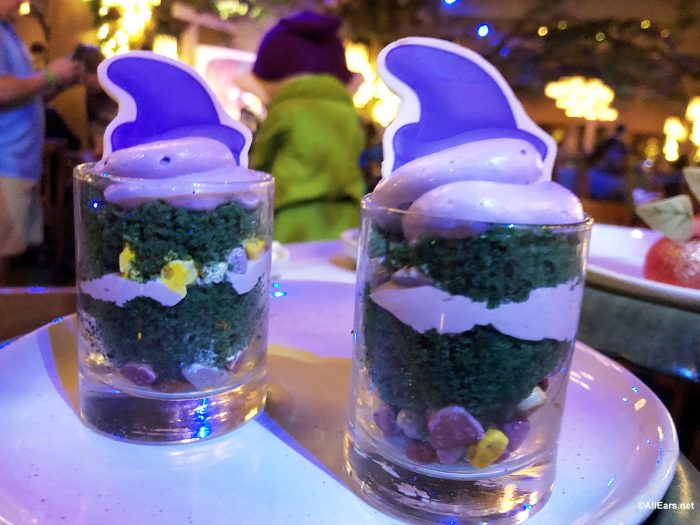 The "Fairy Tale Gooseberry Pie" is a sweet and tart gooseberry filling topped with a healthy dollop of meringue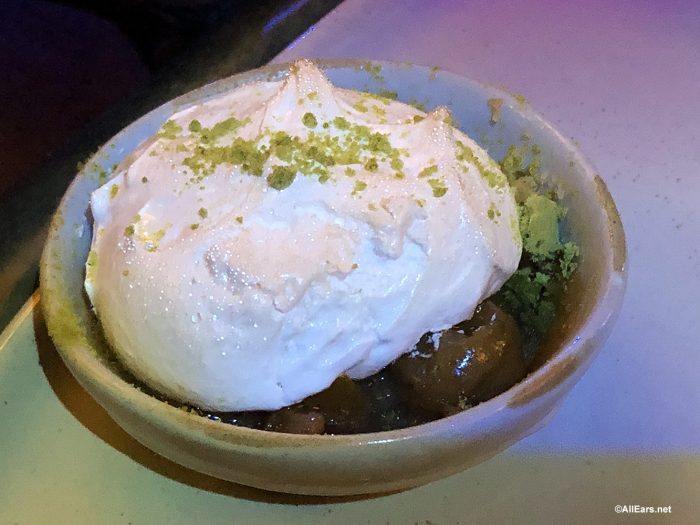 The most picturesque dessert is the "Poison" Apple.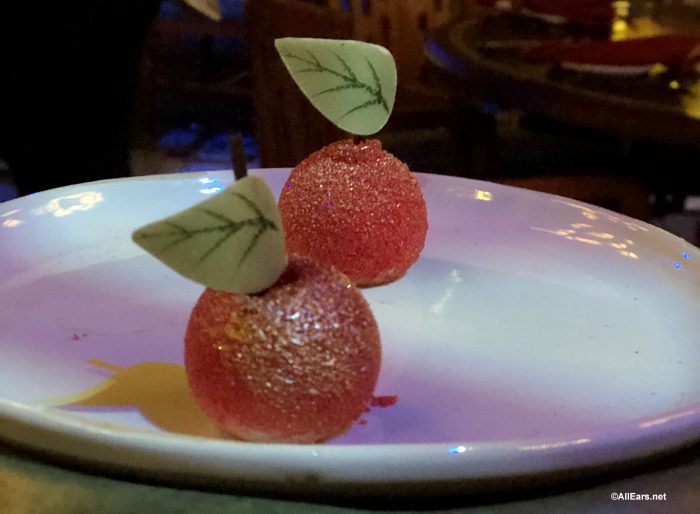 This is a white chocolate mousse with a sour apple center, which we found helped soften some of the sweetness coming from the mousse.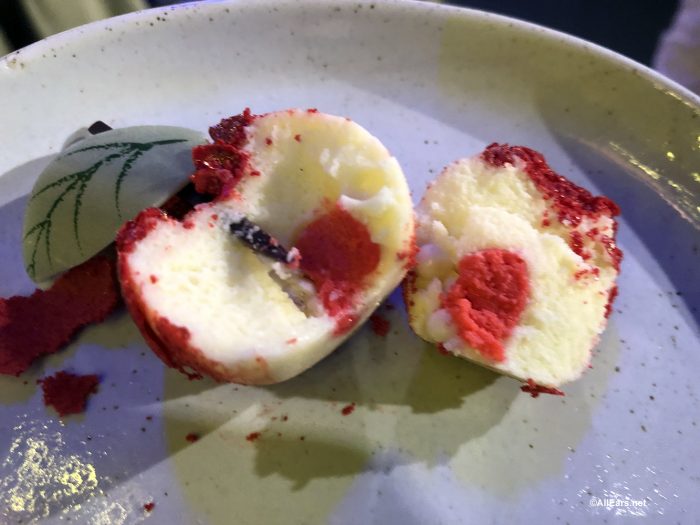 Just when you think your meal is done, there is a grand finale that is presented in a very dramatic fashion. Your server will come over with a smoking box and inside is "The Hunter's Gift to The Queen".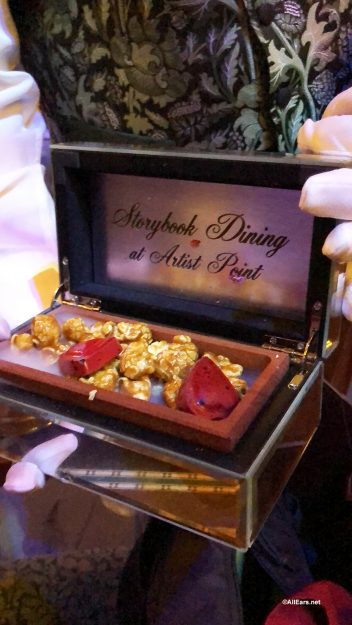 This is crackled maple popcorn and chocolate ganache hearts. It is a fun and sweet way to end the meal. As the menu says, this was the end of our Storybook Dining meal… but it's not the end of our review!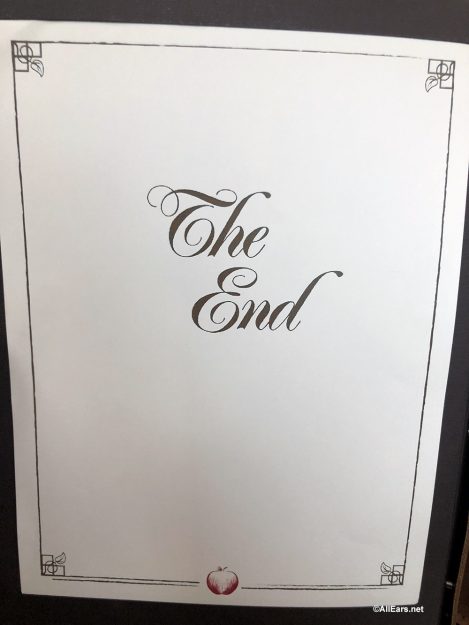 There is a kids' menu here that includes several kid-favorite and friendly options, as well as some activities. Options include Royal Prime Rib Roast, Grilled Chicken, Vegetarian Steam Bun, Prince and Princess Pasta with a choice of red or cheese sauce. Chicken Tenders are also available by request.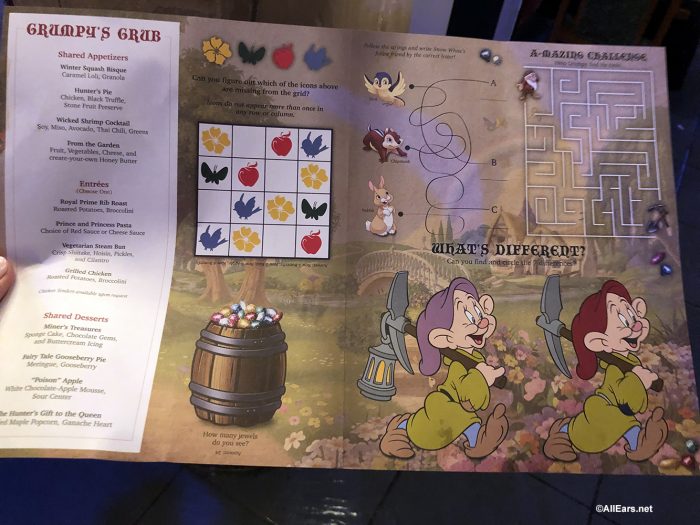 No visit to the world of Snow White would be complete without meeting the Evil Queen. She is another character that is hard-to-meet in the parks, so it is a special treat to meet her here. Her set looks like an open book, with the infamous Magic Mirror looming in the background.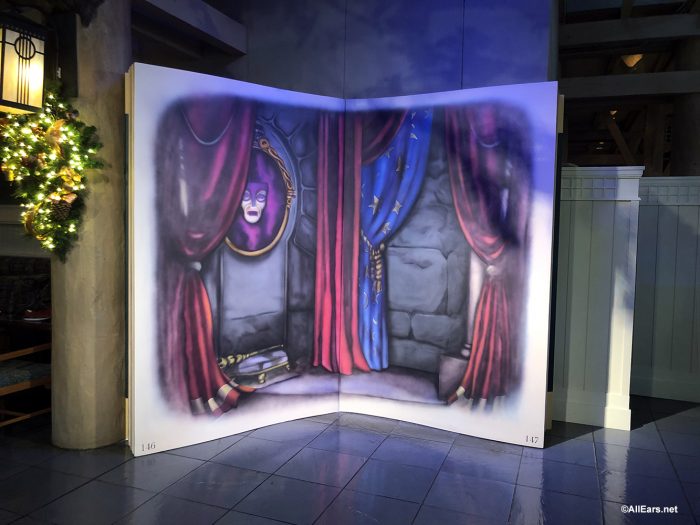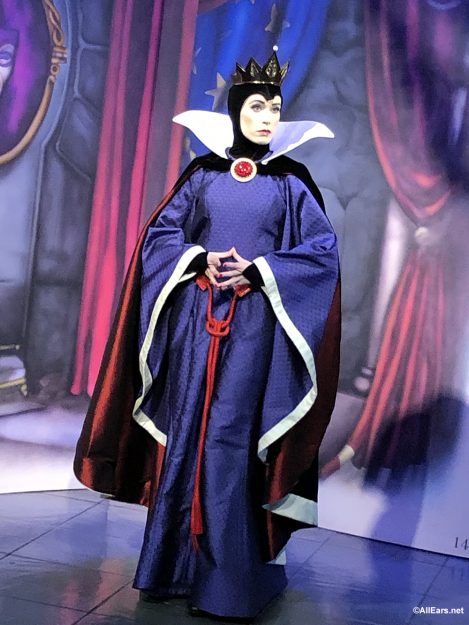 We enjoyed our meal and the experience here at the transformed Artist Point. The dishes have been well thought out and executed. We especially liked the concept of the shared appetizers and desserts, allowing everyone at the table to try a lot of items.
Though some will miss the former Artist Point, the quality and thoughtfulness in the dishes as well as the service level from cast members has not been compromised for this experience.
Storybook Dining at Artist Point with Snow White is offered for dinner from 4 to 9 p.m. each evening. The out-of-pocket cost for Adults (ages 10 and up) is $55.00, and the cost for Children (ages 3-9) is $33.00. For guests participating on the Disney Dining Plan, the meal requires one Table Service entitlement. Storybook Dining at Artist Point does not currently accept Tables in Wonderland.
Do you have an Advanced Dining Reservation for this new experience? Let us know in the comments below.
Remember! When you're in Disney tag us @allearsnet in your photos!
Want more AllEars.Net content? Be sure to check out our YouTube Channel for reviews, news, information and more! 
Subscribe to the AllEars® newsletter so you don't miss any exciting Disney news!