Reservations are open now for the new Storybook Dining at
Artist Point
that starts Dec. 16 at Disney's Wilderness Lodge.
is inspired by the forest setting of Disney's animated classic, "Snow White and the Seven Dwarfs."
During this immersive character dining experience, you'll be visited by Snow White and a few of her forest-dwelling friends. As an added treat, you might even have an evil encounter with Snow White's nemesis, the Queen.
With a seasonal themed menu, the dining experience promises to combine classic dishes with playful presentation.
Dinner begins with a range of appetizers that includes Hunter's Pie with chicken, black truffle, and stone fruit preserve; Winter Squash Bisque with caramel loli and granola served in an adorable black cauldron; Wicked Shrimp Cocktail with soy, miso, avocado, thai chili, and greens; and From the Garden, an array of fruits, vegetables, cheese, and create-your-own honey butter.
You'll then have your choice of several entrees, such as: Royal Prime Rib Roast with horseradish mashed potato, hay-smoked carrots, popover, and jus; Magic Mirror Slow Braised Veal Shank with mashed celery root, wilted winter greens, and jus; or  Seafood Stew with shrimp, bay scallops, mussels, tomato, and fennel.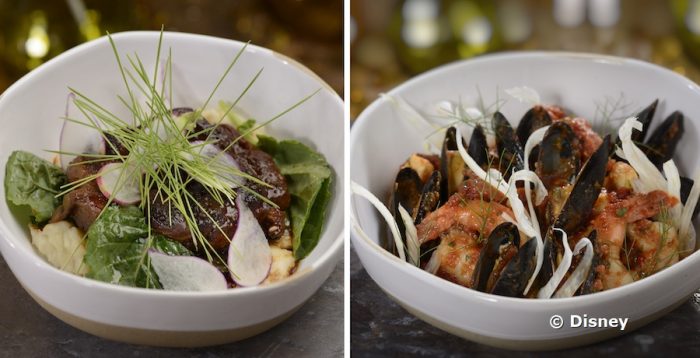 The kids' menu includes the same appetizers and desserts as the adults', but their entrees range from Princess Pasta (with choice of red sauce or cheese sauce) and Vegetarian Steam Bun (with crip shiitake, hoisin, pickles, and cilantro) to Royal Prime Rib Roast and Grilled Chicken, served with roasted potatoes and broccolini.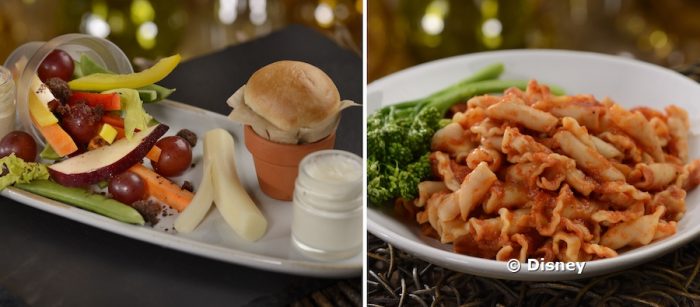 The Miner's Treasure headlines the dessert selections — it's sponge cake with chocolate gems,and buttercream icing. There are also Fairy Tale Gooseberry Pie with meringue or a "Poison" Apple made of white chocolate apple mousse with a sour center. The Hunter's Gift to the Queen rounds out the list of choices — crackled maple popcorn and ganache hearts.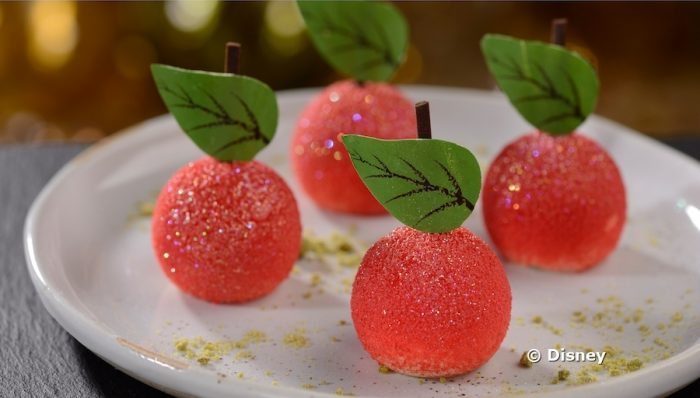 New cocktails and non-alcoholic mocktails include the Enchanted Apple with citrus vodka, sour apple, and white cranberry juice or The Smoking Mirror with scotch, wildberry, lime, and rosemary smoke.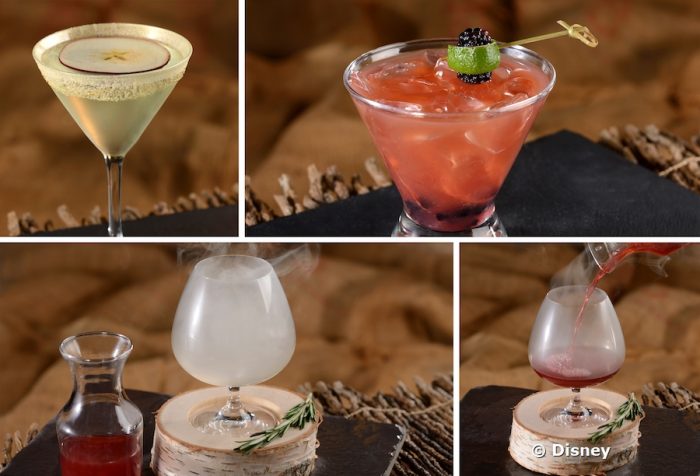 Evil to the Core has silver tequila, habanero, blackberry and orange juice. The restaurant also offers a variety of beers and wines from Oregon and Washington State.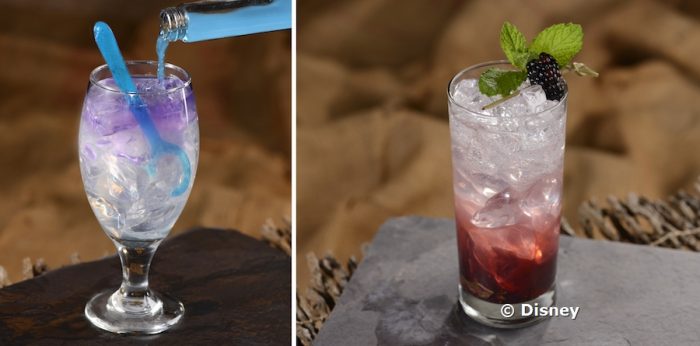 Non-alcoholic options include the Transformation Potion with sparkling lemonade and the Stone Fruit and Berry Breeze with herbal tea infusion.
Price for the dinner is $55 for adults and $33 for children ages 3-9 (tax and gratuity not included), or one Table Service credit on the Disney Dining Plan. Each guest will receive one of each appetizer, their choice of entrée, and one of each dessert as well as their choice of non-alcoholic fountain beverage (alcoholic and non-alcoholic specialty beverages are not included). All menu items are subject to change.
For the full menu and to make reservations, visit the Walt Disney World website or call (407) WDW-DINE (407 939-3463).
Are you excited for this new character dining experience? Let us know in the comments!
And to give you an idea of what dining with the characters is like, here's a look at some other character meals around the World: