Every time we stay at one of the Walt Disney World Resorts we're immediately reminded of why we love being at this special place so much. The details of each hotel are so rich, unique, and plentiful that it's no wonder we go home with loads of new inspiration and design ideas.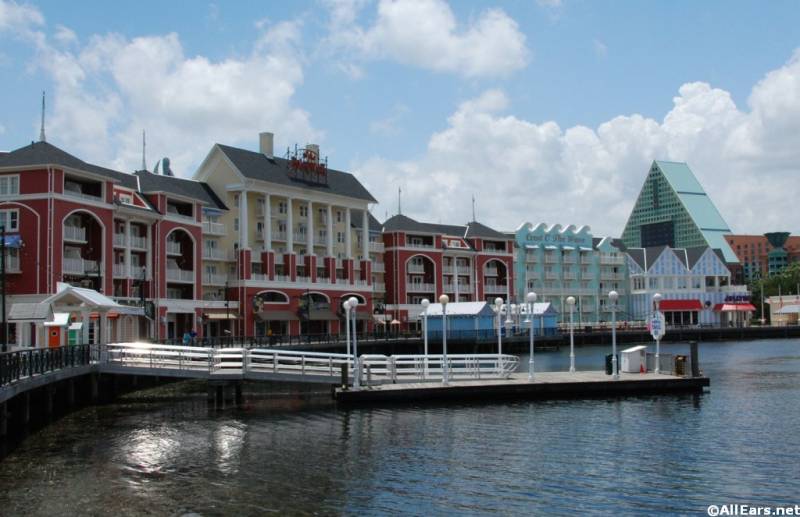 Here are our favorite five interior design ideas inspired by the Resorts of Walt Disney World!
Create Custom Storage Solutions
We don't know anyone who doesn't need more storage in their lives (except maybe Marie Kondo, and we don't know her know her). Keeping clutter at bay can seem like a full-time job with all the kids' stuff, bills, and good ol' fashioned miscellany that seems to accumulate on every flat surface in our houses! That's why when we saw this chest of drawers at Disney's Yacht Club Resort that had personalized name plates on each drawer, we knew we were stealing this idea for our busy lives.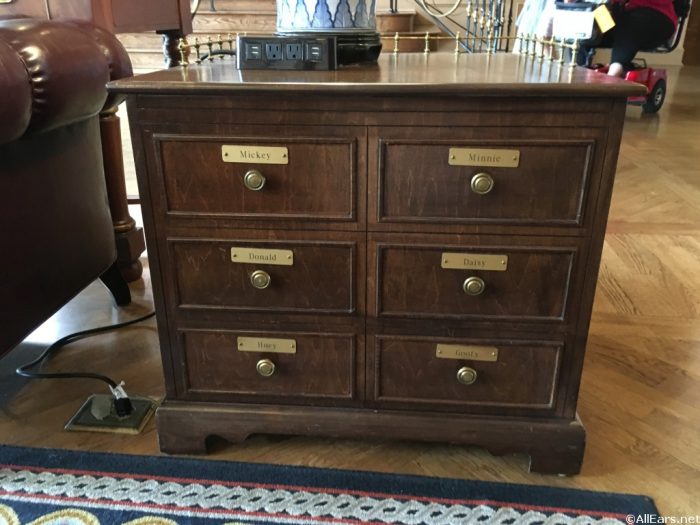 Not only do the nameplates add a sweet touch of whimsy, but now everyone has a spot to keep their chargers, cozy socks, books, glasses (basically whatever is strewn about your family room at the moment!) in one tidy, super-organized spot!
Add the Unexpected 
Speaking of whimsy, you'll notice a lot of playful decision-making throughout the Disney World Resorts. It's these conscious design efforts that keep even regal, stately hotels like the Grand Floridian from feeling too stuffy. For instance, we were blown away by the elegant, tree branch-like chandeliers at the Enchanted Rose Lounge which opened recently. The rest of the space features opulent moldings and huge murals, so these little touches added a  something playful to the space.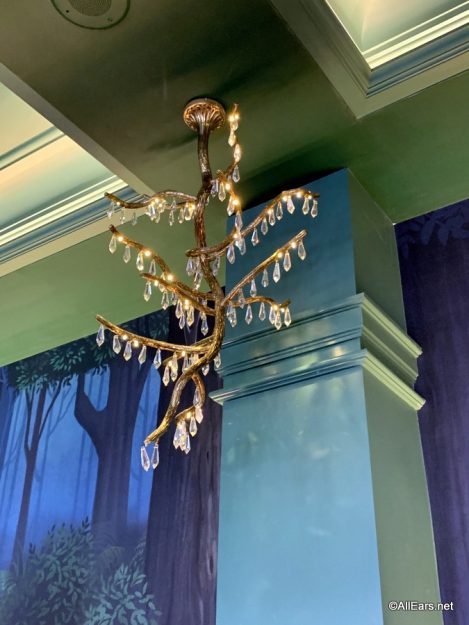 Another one of our favorite statement pieces can be found over at BoardWalk Inn & Villas. At first glance, you may be wondering why an elephant is perched above the fireplace in the lobby. But as you explore the space, you'll find a black and white photograph of a life-sized building that resembles the elephant statue — that's because it's a model of an actual 1880's seaside attraction!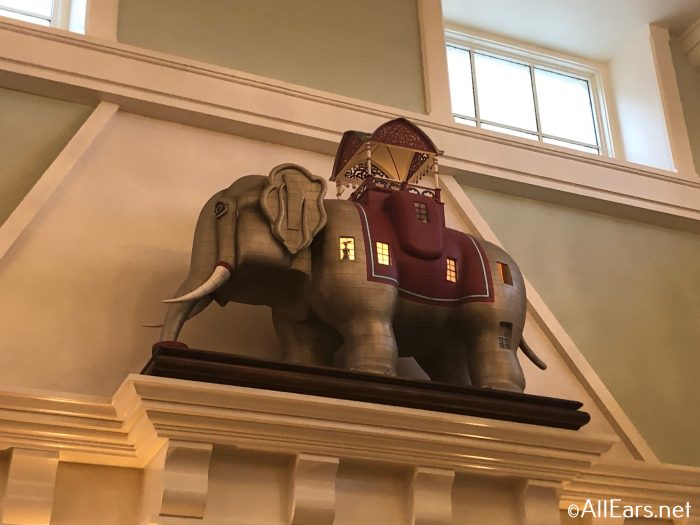 We love seeing conversation pieces like this — and learning the stories behind them! We're inspired to find treasures on our journeys to spark conversation back at home!
Symmetry is Visually Pleasing
Do you know that feeling you get when you walk into a Disney Resort and immediately feel at ease in the space? Whether you're aware of it or not, a lot of this has to do with Disney's use of symmetry. When things like furniture or artwork are symmetrically placed in a room, your mind can relax because it doesn't need to organize and make sense of all the objects around you. Disney sure knows how to get us in the perfect ideal mindset for a peaceful vacation, which is why we'll be buying things in pairs for our homes going forward!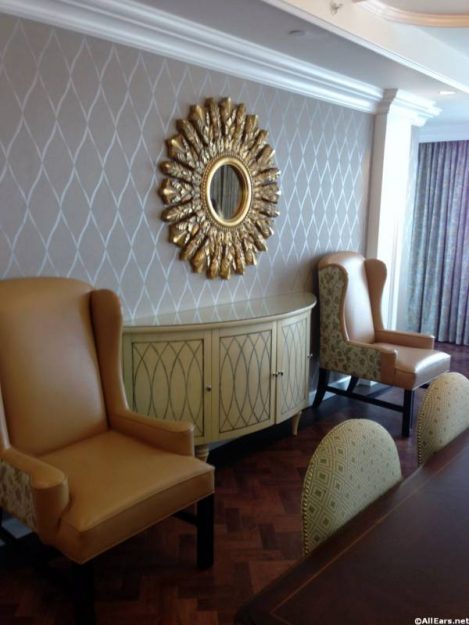 Fresh Flowers Give Rooms Life
We can't say enough about the breathtaking floral arrangements we see throughout the Disney Resorts on our visits; each is more stunning than the last! We know these arrangements don't come cheap, but the vibrancy and life they breathe into rooms is priceless. You'll notice Disney has fresh flowers mostly in its lobbies, restaurants, or common areas where everyone can "stop and smell the roses." And while the flowers we'll be buying for ourselves won't be nearly as fancy, even a small bouquet or a green houseplant can have a cheerful impact in a space in need of some warmth!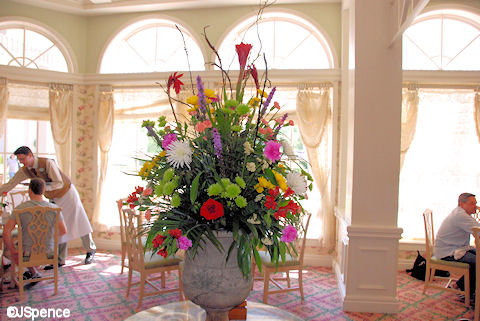 Smart Use of Materials
In Disney's newest Resorts (like in Gran Destino Tower at Coronado Springs Resort) and recent refurbishments (all over), we're finally being introduced to a more modern Disney aesthetic than we've seen in the past — and we're loving it! The decision to use a bold graphic tile with a repeating pattern in this Gran Destino powder room, for example, creates a focal wall behind the vanity and is a clever use of the material. They could have gone overboard and tiled all four walls or used flimsy wallpaper instead, but we're happy to see a new thoughtful, restrained, and practical style and can't wait to see how Disney implements this going forward.
We hope we've inspired you to take a closer look at some of the ways the Walt Disney World Resorts use interior design to create livable and special spaces — and maybe even to implement some of these designs in your own home!
Have you ever been inspired by something you saw at a Disney World Resort that you tried at home? Let us know all about it in the comments section!
Want More AllEars? You know you Do! Follow us on social media!