In a place as magical as the Magic Kingdom, there is lots to behold! We're talking flying elephants, pirate adventures, and space ranger quests… just to name a few!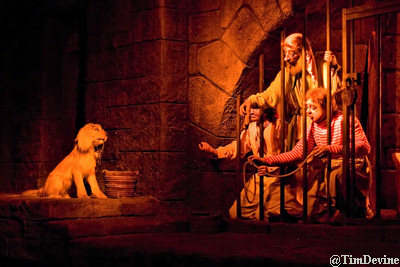 So where should you go to refuel during your day of adventure and magic? That is what we are here to debate today!
After careful consideration factoring in taste, menu, and theming, we've come up with our list of the Magic Kingdom Quick Service Restaurants ranked from worst to best.
Now before we dig in, it's important to note that this list is limited to "full scale" quick service restaurants only. We won't be including any walk up windows, carts, or table service locations. OKAY, enough chit chat, let's get to the rankings.
Some of you may be thinking, huh what? That walkway between Main Street and Tomorrowland actually serves food?! And you wouldn't be too far off.
The only reason Tomorrowland Terrace lands in last place on our list is because it's rarely open. As a seasonal location, it usually only operates during extremely high volume park days — think Spring Break, Christmas, Fourth of July. Because of the lack of availability, we're kinda forced to rank it last.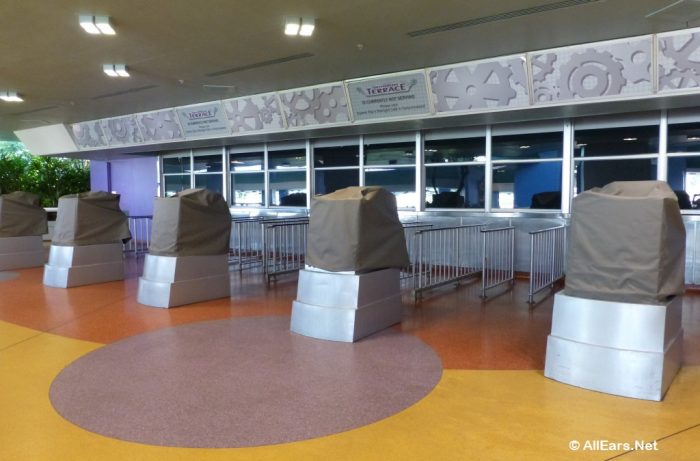 That said, the food options are pretty good. At least they were when we were there a few months ago (Spring Break 2k19). The menu has varied a lot over the years — from traditional theme park eats to Asian noodle bowls. Right now it's somewhere in the middle. They have burgers and chicken strips, but also (delicious) Asian Chicken Lettuce Wraps.
TBH, Tomorrowland Terrace would rank higher on our list if it was open more often — the food is pretty decent, there's something for everyone on the menu, and even though it's outside, the view of Main Street and the Castle is hard to compete with. But until it's a more permanent option, it sits at the bottom of our rankings.
Tortuga Tavern is located directly across from Pirates of the Caribbean, and was formerly known as El Pirata y El Perico (The Pirate and the Parrot). It was once open seasonally, but now is generally a full-time establishment at Magic Kingdom.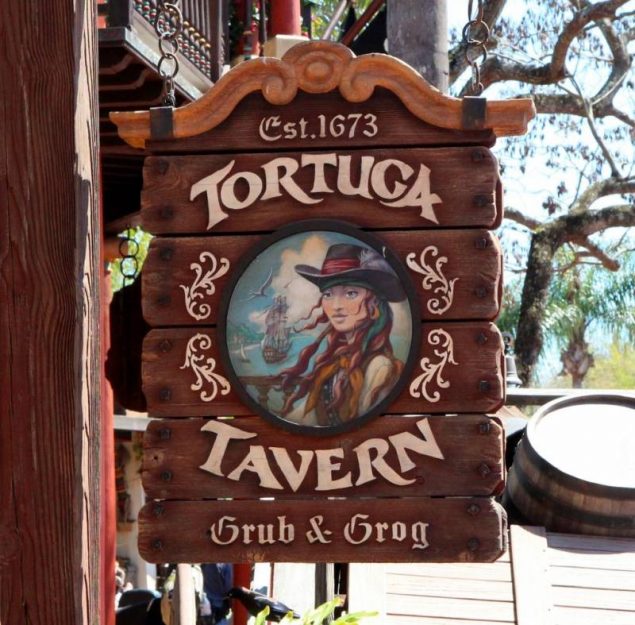 Tortuga Tavern is… fine. The menu is pretty small compared to other locations and mainly features various hot dogs. You can get some "tropical" inspired dishes such as a Jerk-smoked Brisket Sandwich, and it's also where you can grab a Turkey Leg. But we'd rather get a hot dog on Main Street (keep reading!), and Tortuga is pretty close to another spot we generally prefer (keep reading, again!).
Pinocchio Village Haus is tucked away neatly in Fantasyland near "it's a small world." In fact, you can wave at the boats going by while inside the restaurant if you get the right seats!
Pinocchio Village Haus serves pizza and other Italian-based dishes, which may come as no surprise as Pinocchio is an Italian-based tale. Unlike spots like Pizzerizzo or Pizzafari, these are flatbreads instead of the round, individual pies. For that, we give them credit. You can choose from cheese, meat lovers, margherita, and more. Plus they serve various pastas, breadsticks, soup, and salad.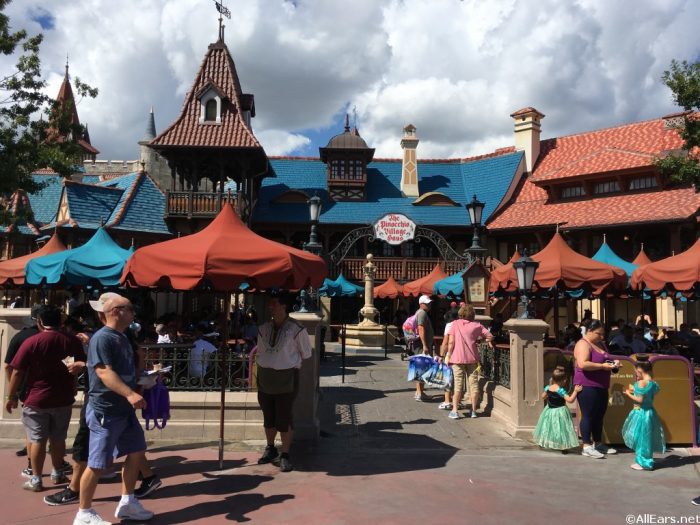 However, they still aren't our favorite spot to dine in MK. There are MUCH better spots to get pizza in Walt Disney World, so if you're craving a pie, we recommend planning to dine at one of them during your vacay. Still, these pizzas will get the job done, and it is a good spot for picky eaters to dine. But the competition is getting fierce, and Pinocchio just isn't as memorable or iconic as the rest of the list.
Two words: Sonny Eclipse. Two more words: Toppings bar.
Cosmic Ray's Starlight Cafe is located in Tomorrowland and truthfully reminds me of Chuckie Cheese (in a good way). Probably it's because of the animatronic musician.
Cosmic Ray's has three different ordering bays, each with different items. This is a big reason it ranks in the middle of the pack (as opposed to the bottom). There is something for everyone. Eating lighter? Grab a Greek salad. Vegan? There's a Plant-based Sloppy Joe. Picky kid? Chicken nuggets. Really going for it on vacay? Dig into a bacon mac & cheese topped hot dog.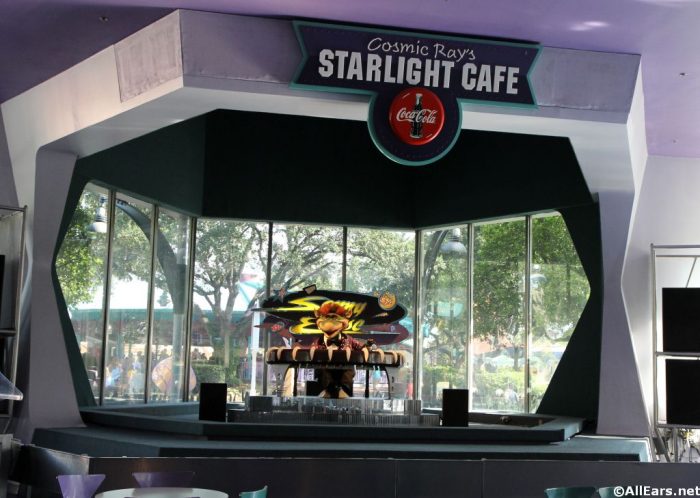 We also love anywhere with a toppings bar. You'll find everything from sauteed veggies to fun sauces like a Sriracha Aioli. Use these items to (literally) spice up your meal and make it your own! Will a meal at Cosmic Ray's change your life? Likely, no. But we sure do appreciate the menu variety, air conditioning, and toppings bar.
The menu is basically one item in different variations, and there's hardly any seating, most of which is outside… this is breaking all our rules! But yet… Casey's lands in the top half. Why?
NOSTALGIA. That's why. Grabbing a dog (or corn dog nuggets, let's be honest) at Casey's Corner is quintessential Disney at its finest. Picture it now — the castle right there, the pianist tickling the ivory keys, and a foot-long and fries with ketchup in your mouth. If you're gonna get a hot dog in Disney World, get it at Casey's.
Sometimes you gotta break the rules. And in this case, you're rewarded. (With Corn Dog Nuggets.)
Located in Frontierland (just around the corner from Tortuga Tavern), this spot features Tex-Mex with a few theme park classics thrown in. Choose from fajitas, rice bowls, nachos, and burgers. And every entree comes with a trip to the fixins' bar (read: toppings bar).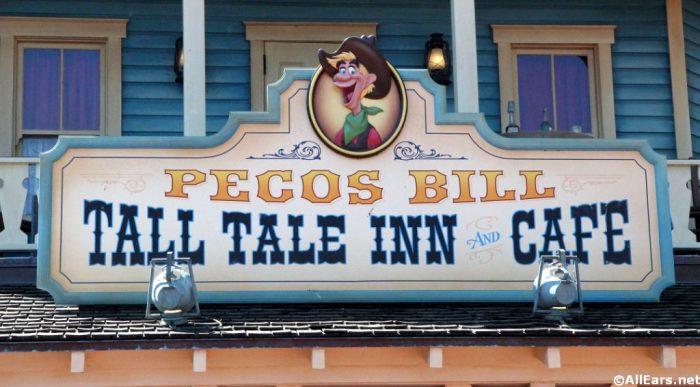 Pecos Bill's has a decent variety and will likely appeal to picky eaters while still satisfying those who crave something a little different. The servings are very generous as well — two could split the fajitas, especially if you load up on extra toppings at the bar. And more than that, the food is consistently good, there's plenty of indoor seating, and did we mention the awesome toppings bar?
Be Our Guest is a bit different than a classic restaurant — it takes reservations for every meal of the day, but it's still considered a quick service at breakfast and lunch (with a full service dinner). So for the purpose of this list, we are not factoring in dinner.
Be Our Guest Restaurant is located IN the Beast's castle in New Fantasyland. You can dine in one of three rooms themed after Beauty and the Beast — the Ballroom, the West Wing, or the Rose Room, which was designed especially for the restaurant.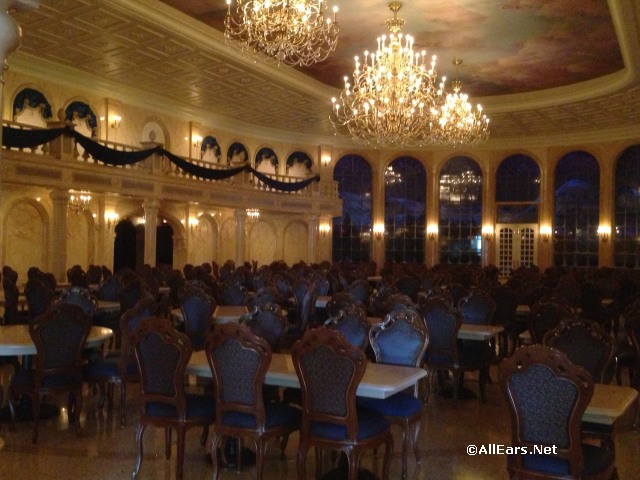 Location and theming wise, this spot gets highest marks. It really feels like you've walked into the movie! Food quality and menu variety also get top grade. The menu is far from what you'd expect at a quick service location — think Coq au Vin Braised Chicken, Tuna Nicoise Salad, or a French Dip Sandwich.
The only complaint we have about Be Our Guest is the price. It's very expensive for Quick Service, especially at breakfast. If possible, we HIGHLY recommend using the Disney Dining Plan as it's an excellent use of a Quick Service credit. If you are paying out of pocket, lunch is definitely the sweet spot, where your meal may be a little pricey, but it's going to be high quality and filling.
You may not expect quick-service seafood to top our list, but alas, here we are.
Columbia Harbour House is located in Liberty Square and serves up seafood platters, lobster rolls, chicken pot pies, and hush puppies. It may not seem like it at first glance, but there is actually a decent amount of variety in the menu. Healthy eater? Try the grilled salmon plate (I promise it does NOT taste like quick service food.) Are you a vegetarian? Check out the Lighthouse Sandwich. Picky? Chicken nuggets or mac and cheese. Keeping it simple? Tuna salad sandwich. Can't decide? Try a combo platter of fried fish, shrimp, and chicken.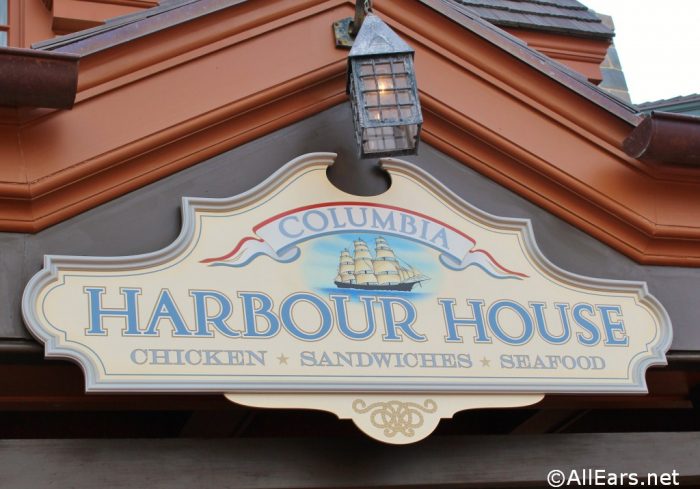 Columbia Harbour House is also delightfully themed. Designed after Revolutionary War-era New England, you'll notice lobster traps, drawings of ships, maps, and other nautical touches. It's fun yet not overwhelming. Plus, it's all air conditioned, and there's a second level which is generally less crowded — and therefore a great place to grab a seat and relax for a bit.
Columbia Harbour House checks all of our boxes — interesting yet appealing menu, fun for the whole family, delightfully themed, quality food, and of course, air conditioning. Check it out next time you're frolicking through Magic Kingdom!
Don't believe me? Take a look at our reader reviews!
What is your favorite Quick Service spot in Magic Kingdom? Let us know in the comments!
Want to read more of our writers' takes on all things Disney? Take a look at these recent posts:
Be sure to follow @allearsnet on Instagram and Twitter!
Click below to subscribe to the AllEars® newsletter so you don't miss any of the latest Disney news!