The all new Gran Destino Tower at Coronado Springs opened this week and we have shared with you all kinds of information — from room tours to a full resort walk-through!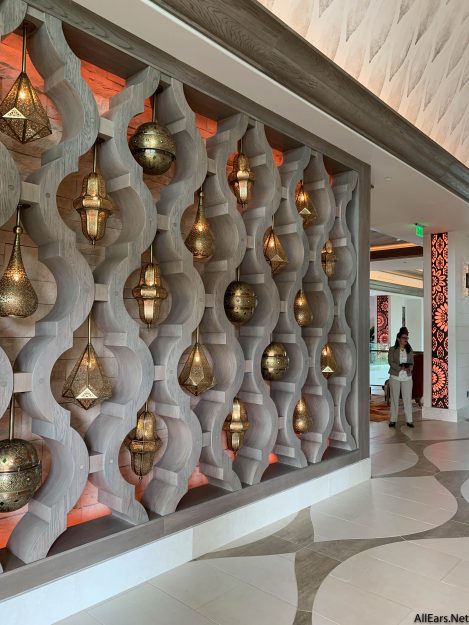 We also shared a first look at the restaurant, Toledo – Tapas, Steak, & Seafood, and took a peek at the lounges at the new Tower.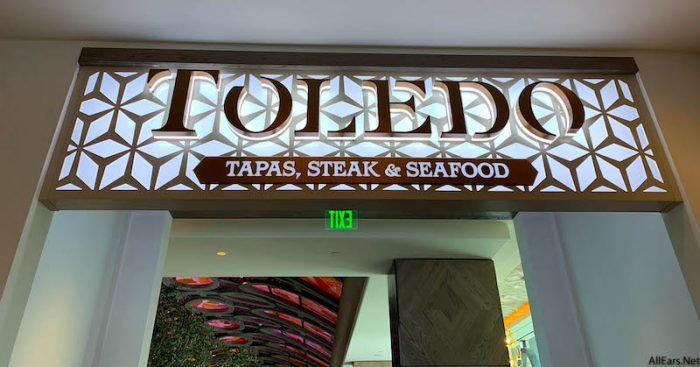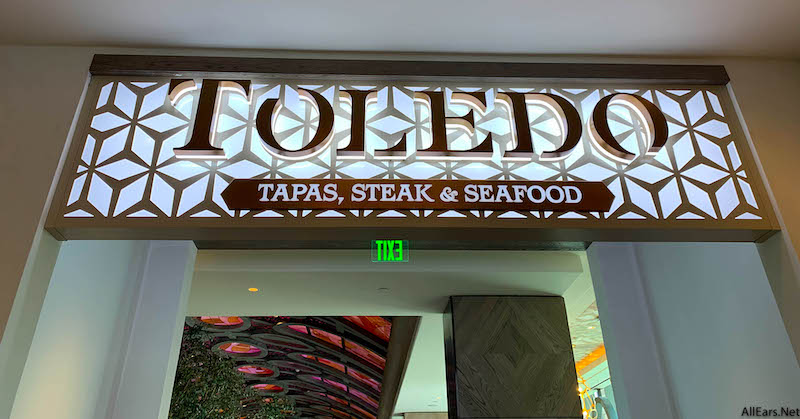 But now, we are excited to share what we ate when we dined at Toledo, as well as a few thoughts on the experience.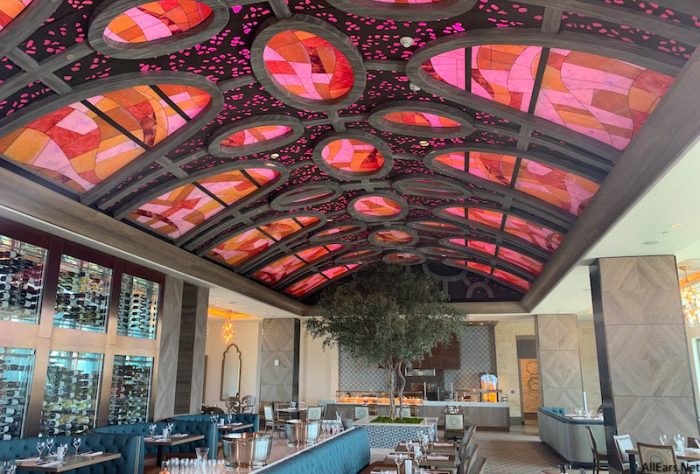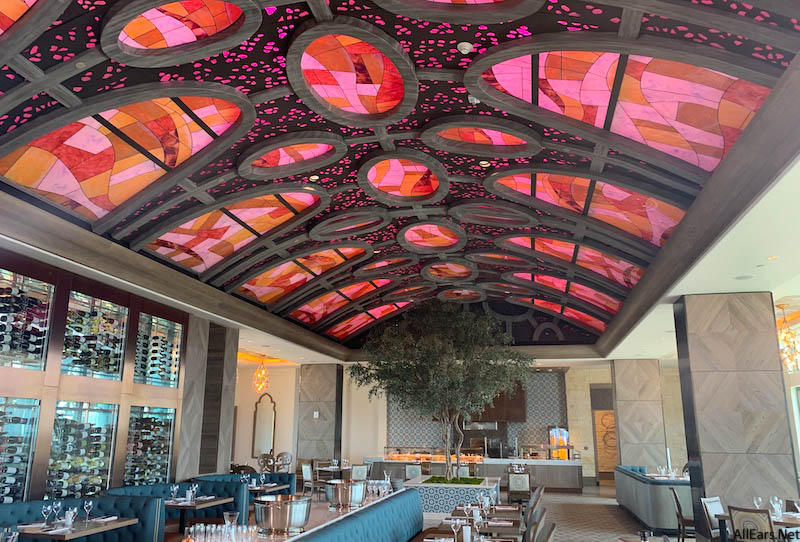 The restaurant itself is stunning — with its brightly colored ceiling, open tapas kitchen, and huge wine cooler. You can see all of the details in our full walk-through; this restaurant is visually very appealing and the details are gorgeous.
One of the best parts about Toledo, and Gran Destino Tower in general, is the view. During our dinner we could see Hollywood Studios right from our window — can you spot Galaxy's Edge and the Tower of Terror?
I should note, that while you CAN see fireworks from Gran Destino Tower, it's not the same fireworks dining experience of, say, California Grill. They did not pipe in the music as they do at some locations near Magic Kingdom. I would guess this is because the current fireworks at Hollywood Studios aren't as grand as those at Magic Kingdom, and therefore it's not worth interrupting your meal and conversation to dim the lights and play the music.  But still — it's always fun to see!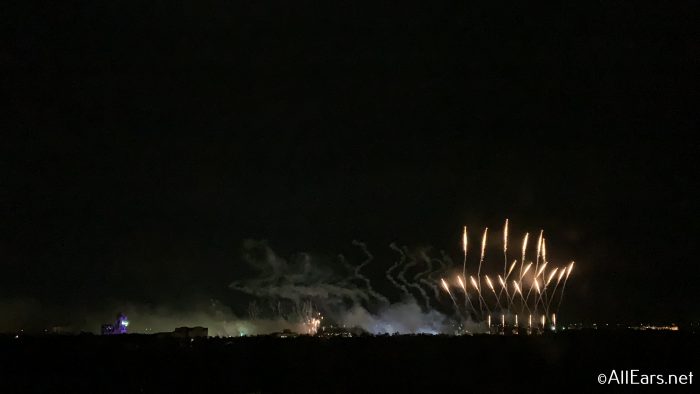 But back to the food!
Toledo — Tapas, Steak, & Seafood features Spanish cuisine. In fact, when it comes to ingredients, our server told us that "if it can be flown in from Spain, it was."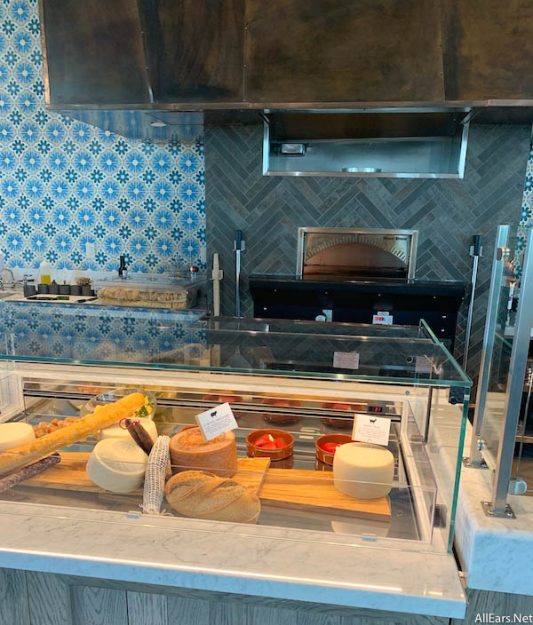 One of the menu highlights is the wine list — with more than 100 wines to choose from. We were told about 80 percent of the wines are Spanish, with the rest Californian. They were hand-selected by a Disney Master Sommelier just for Toledo.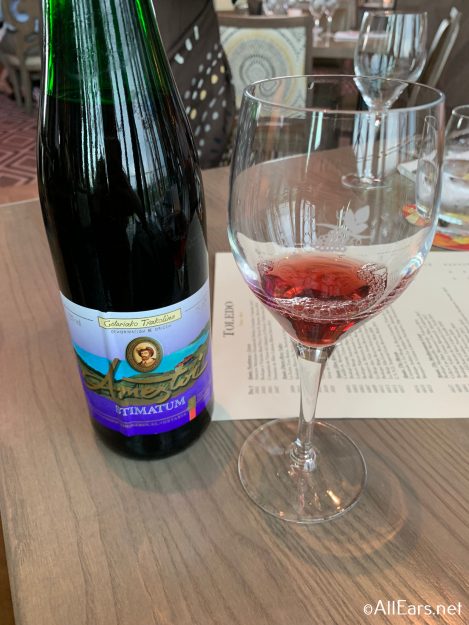 Our server was fabulous and asked what kind of wine I typically enjoyed, then brought me a taster of a bottle he recommended. He was right — it was a winner! His knowledge of the wine list (and menu in general) was very impressive, and really enhanced our experience.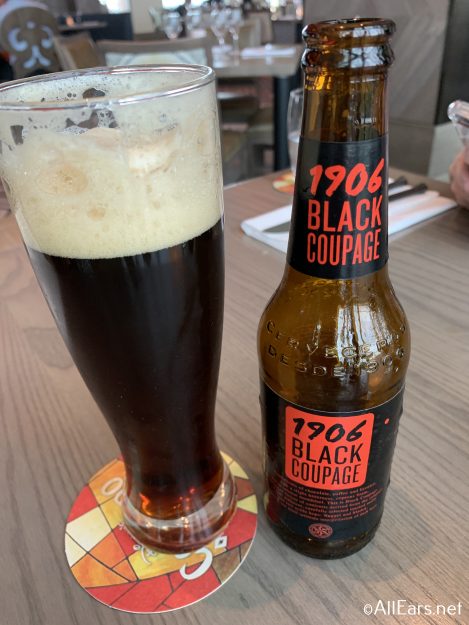 Another member of our party tried one of the Spanish imported beers that was brought in just for Gran Destino Tower! The Black Coupage is available by the bottle, but we also noticed a Spanish draft beer available at Toledo, as well as the other lounges in the Tower.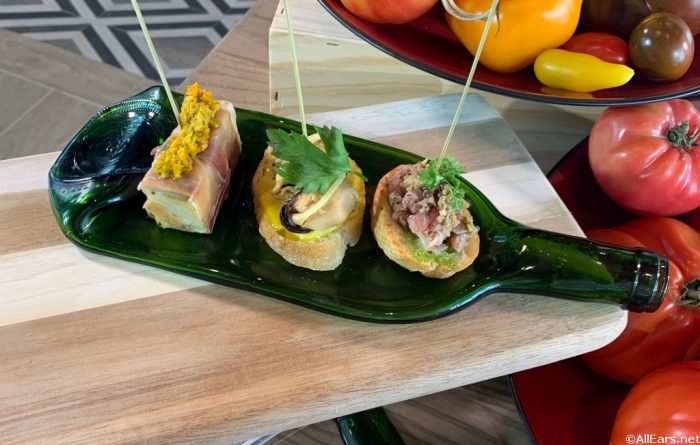 The menu starts with Tapas, which are divided into three sections. Pintxos are a bite — designed to pack a big flavor punch in a small package. We were able to see and sample a few Pintxos at a media event. Pictured above you'll see (from left to right) the Traditional 'Tortilla Espanola' Spanish Potato Omelet, Chilled Marinated Mussels 'Escabèche', and Olive Oil-poached Tuna with Lemon. Each of these are $3 and a fun way to start the meal.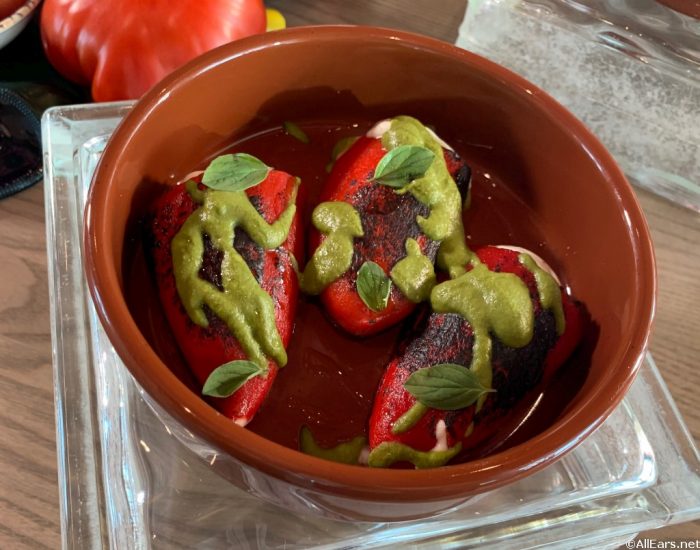 Cazuelas are the next option on the menu. These are a little bigger — the traditional portion you expect when you think "tapas." We were able to see the Stuffed Piquillo Peppers and Charred Octopus at the media event as well.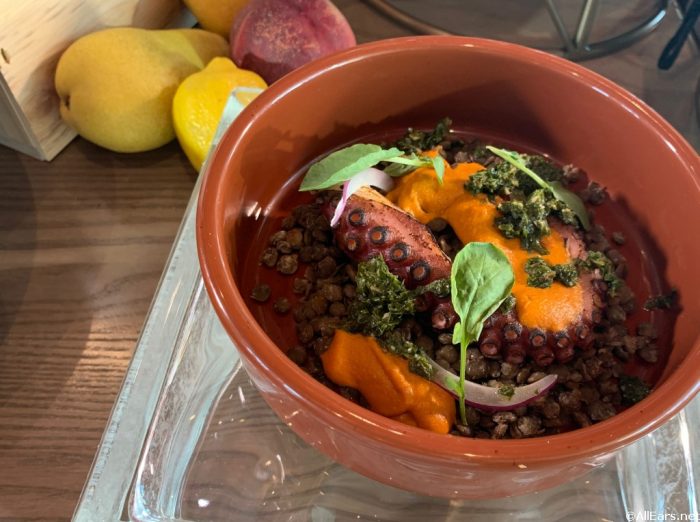 The final portion of the Tapas menu is the Boards. These are various meat and cheese boards, with, of course, Spanish meats and cheese. The Artisanal Manchego Cheese Vertical board features three differently aged Manchego Cheeses. We were able to sample some of the jamon iberico and manchego and it was fabulous!
My ideal dinner is in fact meat, cheese, and wine so Toledo has already stolen my heart before we even got to the main course.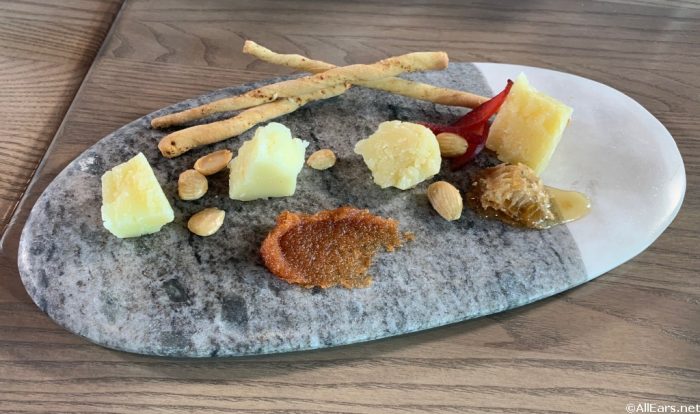 On the main menu, there are additional appetizers. We were excited to order some during our full dinner here!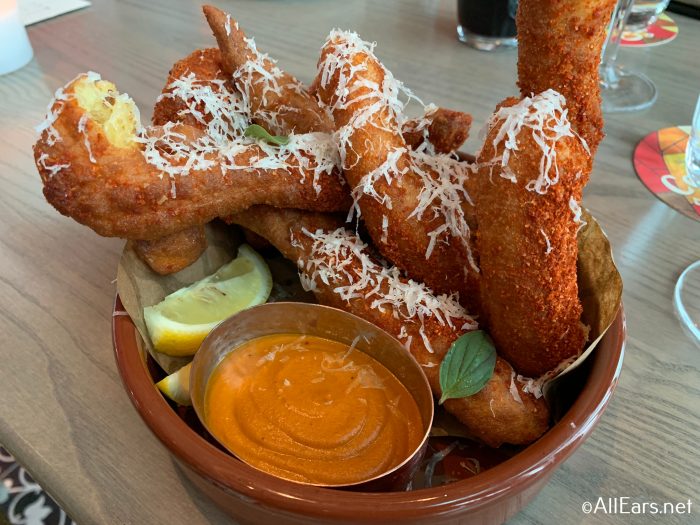 First up, the Savory Churros! These friend dough fritters are as tasty as they are pretty. Swapping cinnamon-sugar for romesco cheese and spicy aioli dipping sauce, they are a far cry from the traditional theme park churro.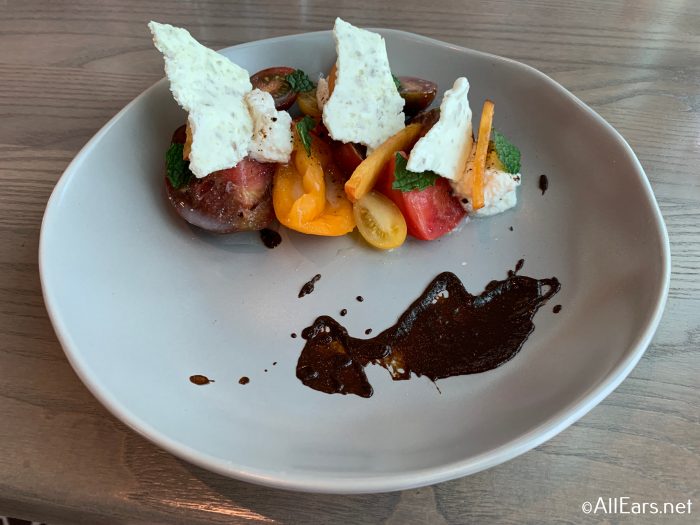 The Heirloom Tomatoes dish is a fresh and colorful appetizer our whole table enjoyed. Supplementing the fresh tomatoes are stone fruit, house made-farmer's cheese, fermented garlic, torn mint, and it's topped with yogurt crisps.
Onto entrees! The day prior to our meal, we were able to see and sample the Hanger Steak which was perfectly cooked and beautifully presented.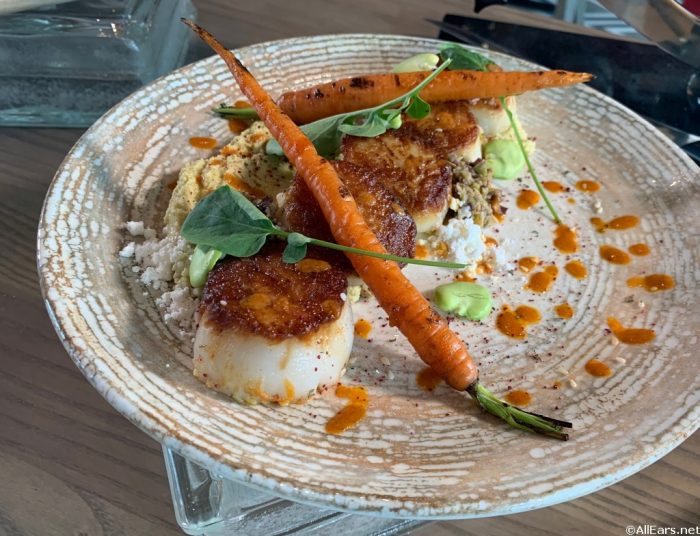 We were also able to see and sample the Scallops at the event, which were also cooked to perfection. If you enjoy scallops these are a wonderful choice.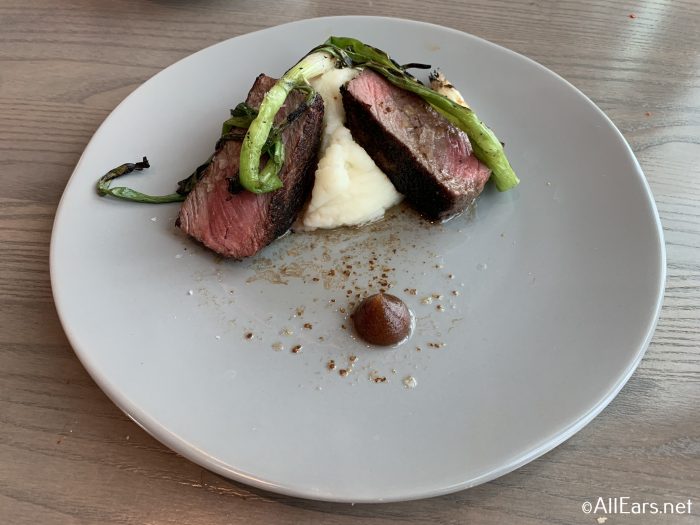 For our dinner, we wanted to try a few other items, so we started with the Manhattan Filet. It's served with olive oil-potato purée, grilled onions, dates, and a sherry vinaigrette. The date jam really elevated the dish from a typical meat and potatoes meal, and it was delicious.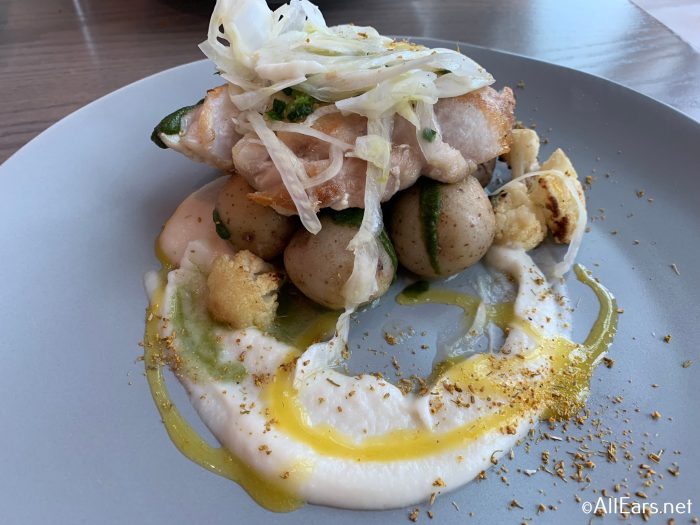 We also ordered the Golden Tilefish, which is finished with petite potatoes, cauliflower, fennel, and a Valencia orange sauce. The sauce was the real standout here, and the fish was well cooked. However, if you're not a "fishy-fish" person this one is not for you.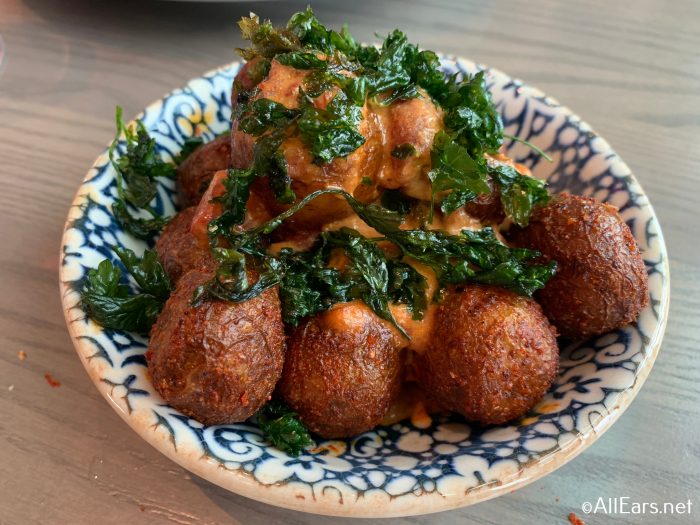 We also ordered a side of 'Bravas' Potatoes for the table. These perfectly fried potatoes are topped with a spicy pimenton aioli and fried herbs. The sides are absolutely big enough to share with two people — in fact, depending on how many tapas you try, two people could likely split one entree and a side for a perfect meal.
And what meal is complete without dessert? First up, a photo of the Classic Crema Catalana from the event. This is the Spanish version of a Creme Brulee.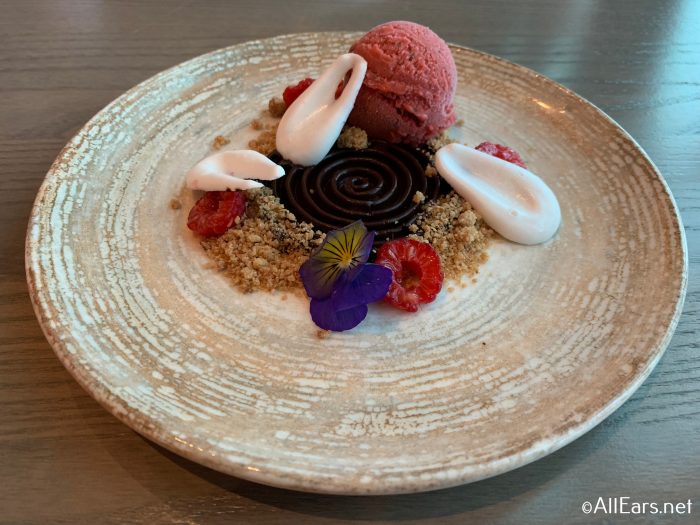 At dinner, we ordered the Chocolate-Avocado Mousse, which is a plant-based dessert served with strawberry-basil sorbet, coconut crumble, edible flowers, raspberries, and vanilla meringue. You can taste the avocado through the chocolate, but if you're a fan of the fruit then you'll likely enjoy it! The coconut crumble and vanilla meringue were my favorite part.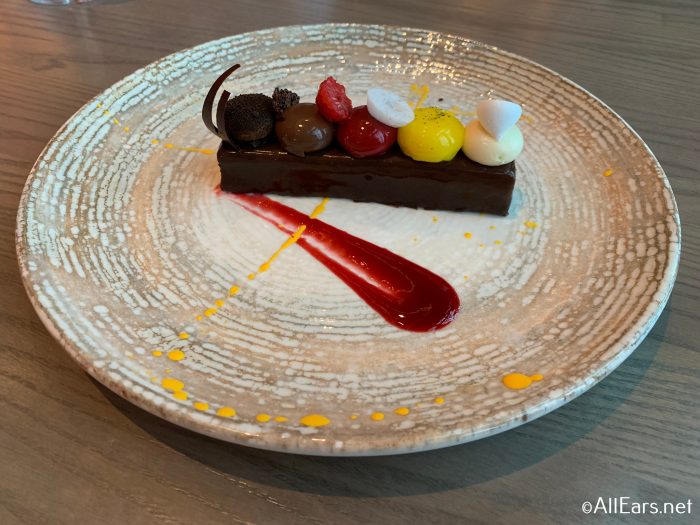 The Toledo Tapas Bar is the real winner though! It's basically a giant wafer covered in chocolate (kinda like a Kit-Kat candy bar), and topped with five different dollops of flavor — Coffee, Chocolate, Raspberry, Lemon, and Cheesecake. It's like a progressive dessert, with each bite being different from the last! Not only was it tasty, but it's now one of my favorite full service desserts that I have ever had.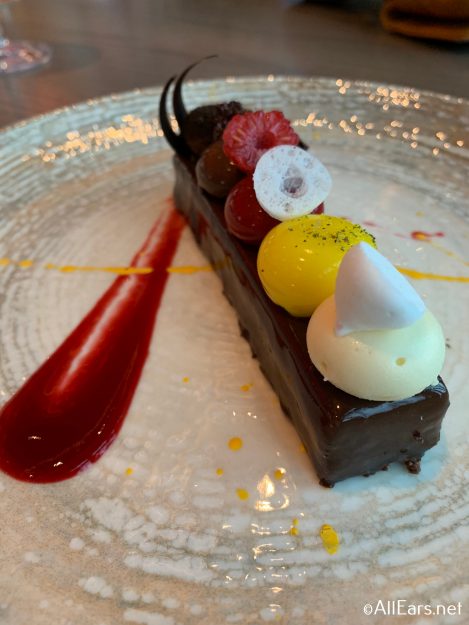 Overall, I was very impressed with Toledo. From the fresh ingredients, unique menu, and stunning restaurant to the incredible service, it was a real winner in my book. The truly surprising part about Toledo is that it's only ONE table service credit on the Disney Dining Plan, making it truly a steal.
Currently there is a 10 percent discount for Annual Passholders and Disney Vacation Club members, however there are no Tables in Wonderland or Cast Member discounts at this time.
Another great thing about Toledo is that you can choose what kind of experience you want to have. If you aren't interested in a full meal, this would be a great date night spot where you could enjoy a few tapas and great glass of wine.
I really enjoyed our visit to Toledo, and I already cannot wait to go back!
Disclaimer: While we dined at Toledo and other resort locations at our own expense, AllEars.net was also an invited media guest at the grand opening of the Gran Destino Tower at Disney's Coronado Springs. This did not affect our opinions, however. Our opinions are our own.
Are you planning to dine at Toledo — Tapas, Steak, & Seafood? What is your impression of the menu? Let us know in the comments!
Learn more about the new Gran Destino Tower at Coronado Springs Resort in these recent posts!
Be sure to follow @allearsnet on Instagram and Twitter!
Check out our YouTube Channel for reviews, news, information and more!
Click below to subscribe to the AllEars® newsletter so you don't miss any of the latest Disney news!