Bienvenidos! Today, we are going to be exploring Disney's new Gran Destino Tower, which is an extension of the renovations being made at Disney's Coronado Springs Resort. The resort officially opens to guests tomorrow, July 9, 2019, but we've had the pleasure of receiving a bit of a preview!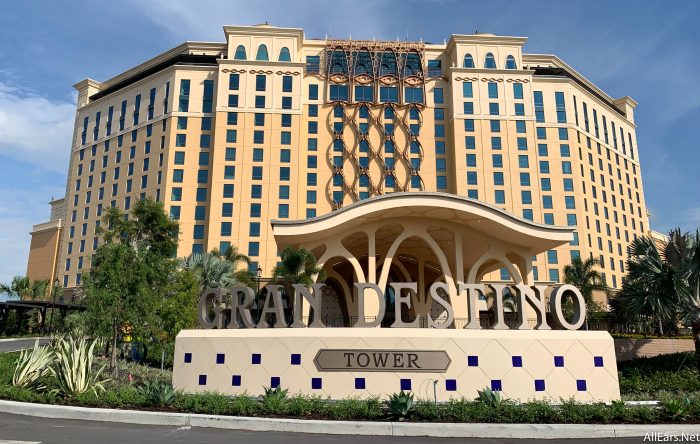 Coronado Springs and its Gran Destino Tower are moderate Disney resort options, which means they have full-service restaurants, food courts, room service (limited), luggage service, swimming pools with a slide and hot tub, on-site recreation,  and bus or boat transportation.
This tower, which now serves as the main entrance point for resort guests (both those staying in the tower, and elsewhere in the resort) is adding a total of 545 NEW guest rooms. This includes 50 suites, two of which are called "Presidential Suites". There are also 44 deluxe suites, and four king rooms. All of these suite options have club level access to the Chronos Club, which is located on level 15.
The transformation of Coronado Springs and the new Gran Destino tower have been inspired by — according to Disney press releases — "the adventurous spirit of great Spanish explorers and historic innovative Spanish artists, writers, and architects."
Let's see if you can spot that inspiration as we take a step inside the tower's brand new rooms together.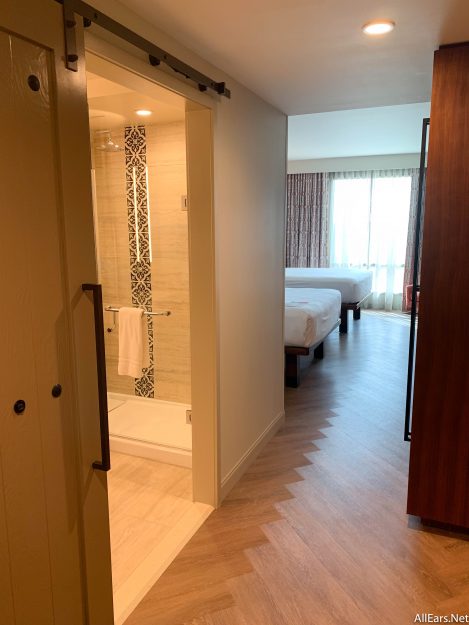 To our left, we spotted a nice sliding barn door that led into the beautifully appointed restroom.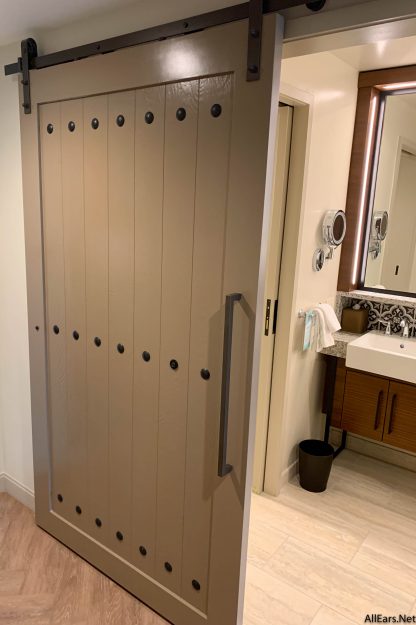 The restroom has two sinks, a light-up mirror, and under the sink cabinetry.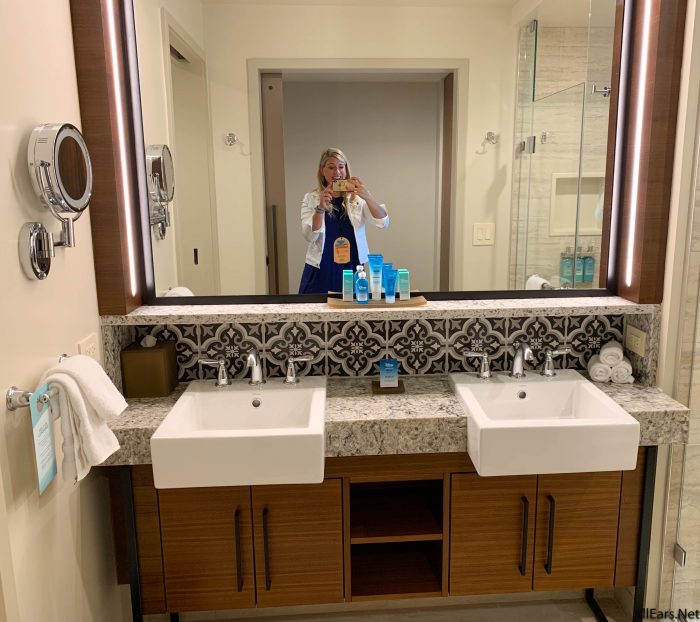 The walk-in shower has the same black and white tile backsplash as seen behind the sink.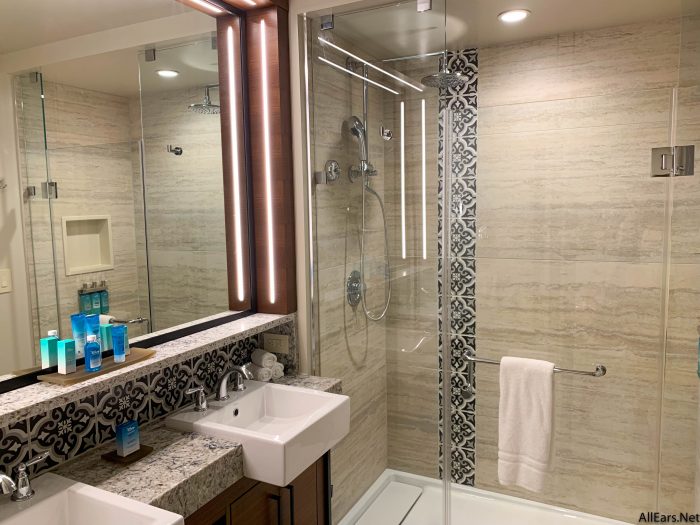 The toilet is located in a separate, private area.
Restroom amenities include H2O+ products and a hairdryer.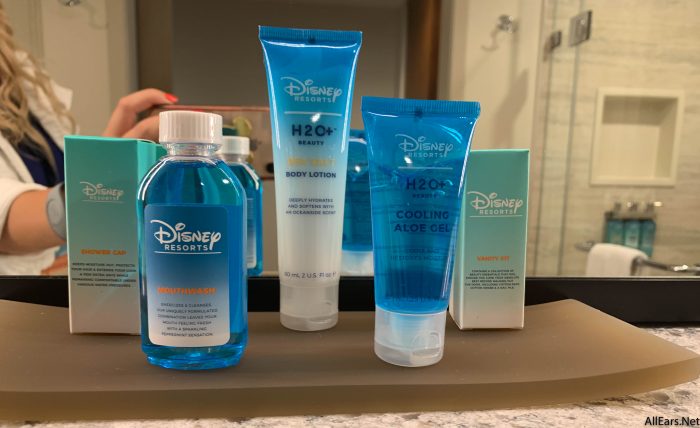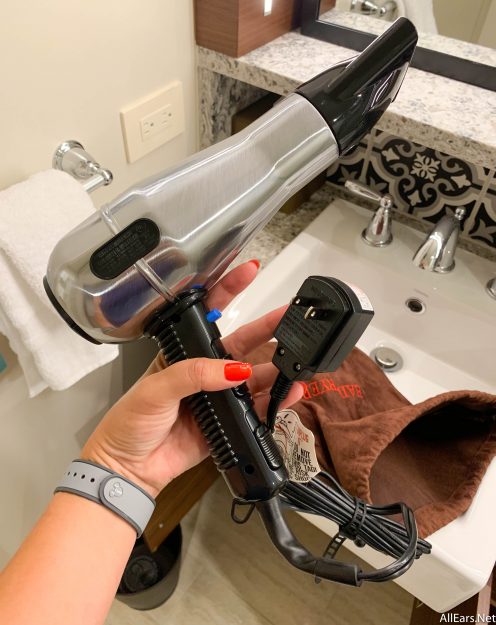 And of course, Disney is pushing to help conserve in these hotel rooms as they have been throughout all their hotels. They ask that you please reuse your towels.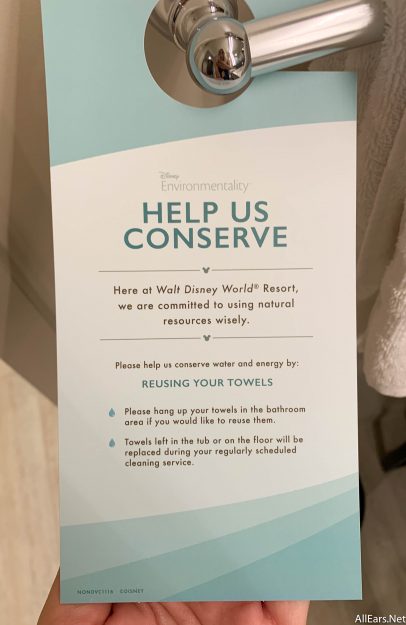 Another way they are doing this is by installing refillable bottles of H2O+ body wash, shampoo and conditioner in the shower.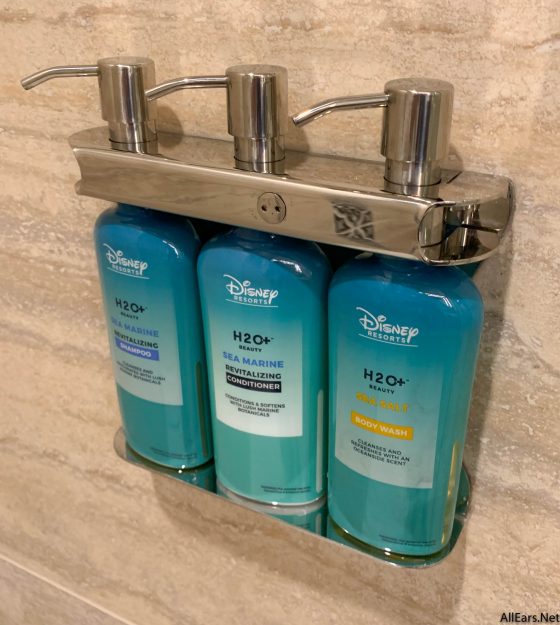 Now let's enter the actual bedroom portion! The room was set to 72 degrees Fahrenheit on a very high-tech looking thermostat!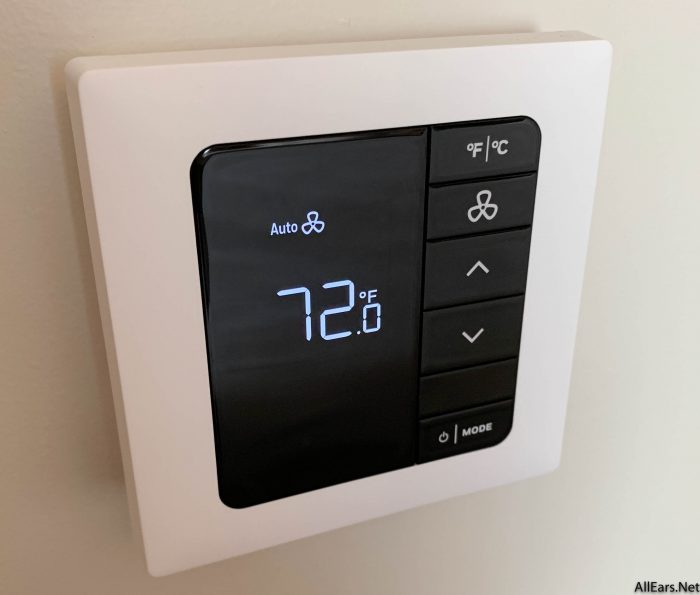 The entire room has light hardwood floors, which give the room a lighter, airier feel.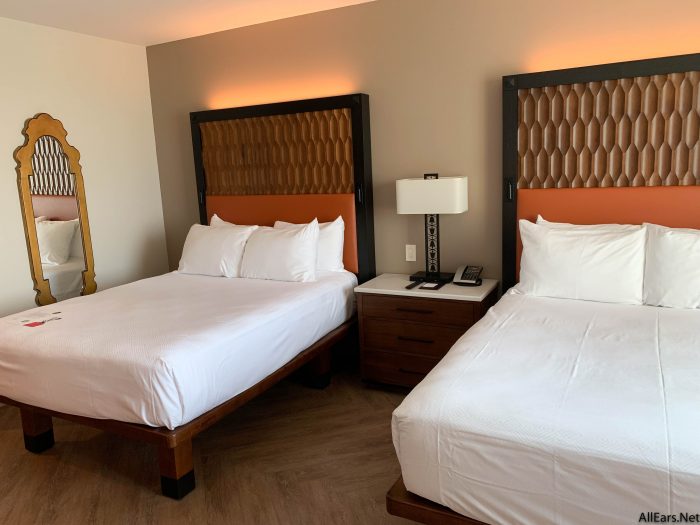 The headboards, lighting, and colors really reflect the Spanish inspiration.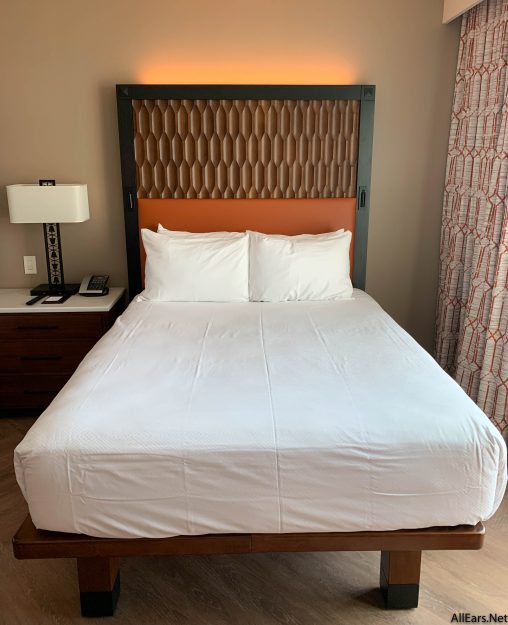 Next to the bed is a lamp, complete with a few traditional outlets, USB outlets, and a telephone.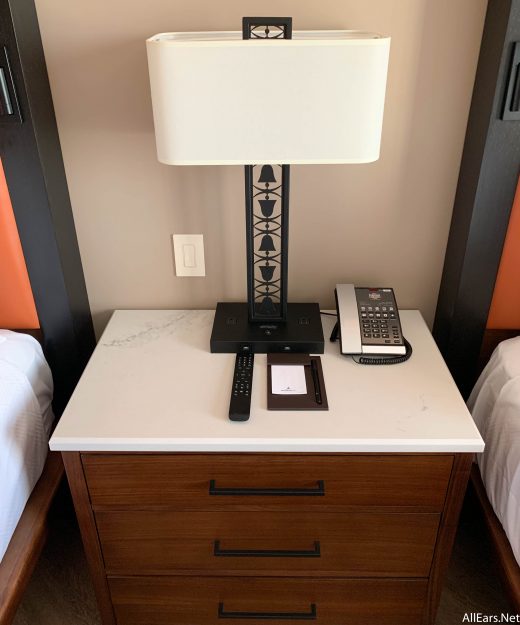 We did not have a balcony but we sure did have a fantastic view of the Tower of Terror over at Disney's Hollywood Studios!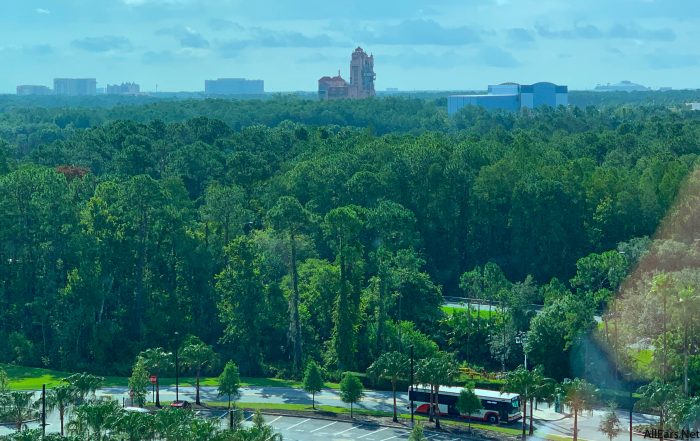 We received a warm welcome as we entered the room on our hotel television screen.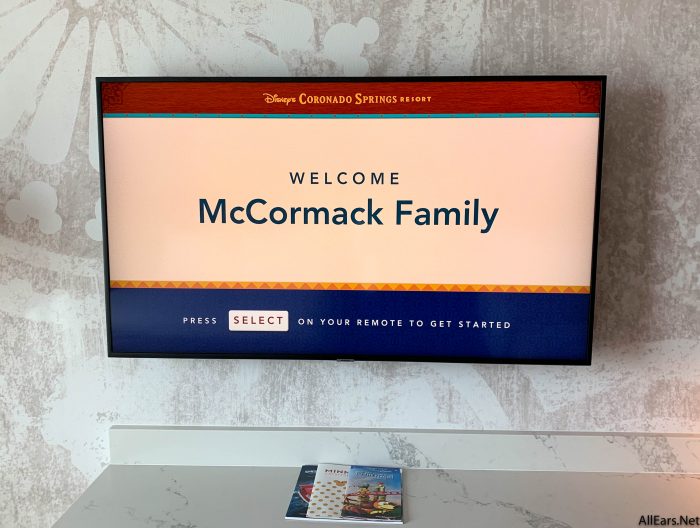 We also had a nice welcome note from the hotel's general manager. One interesting thing — a QR code at the bottom of the letter can be scanned and used to contact the GM if you have any concerns.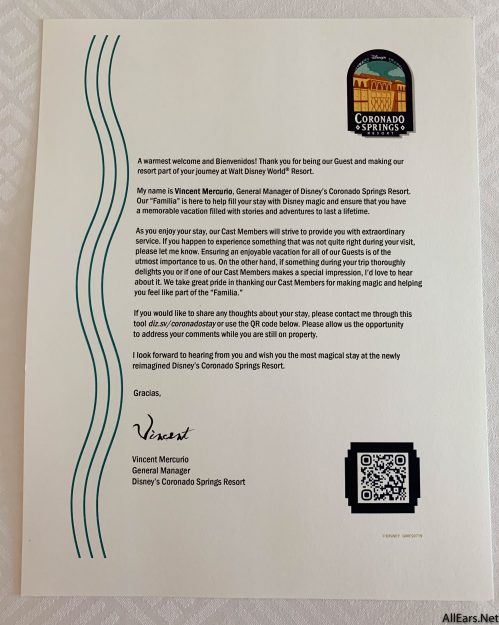 In need of a quick bite? Or don't feel like leaving the room to search for food? Well, that shouldn't be a problem with Minnie Eats + Treats.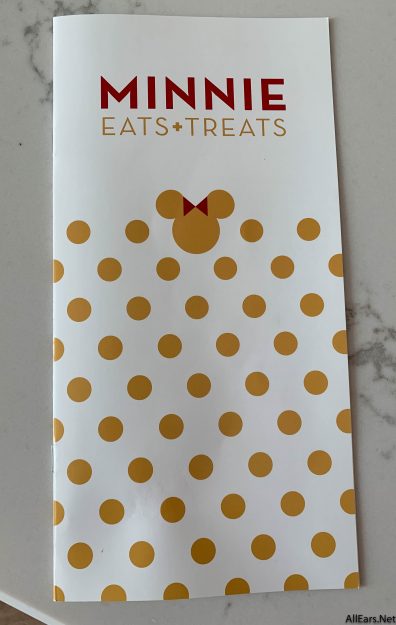 The menu features drink options like non-alcoholic beverages, wine, cocktails, beers, and cider.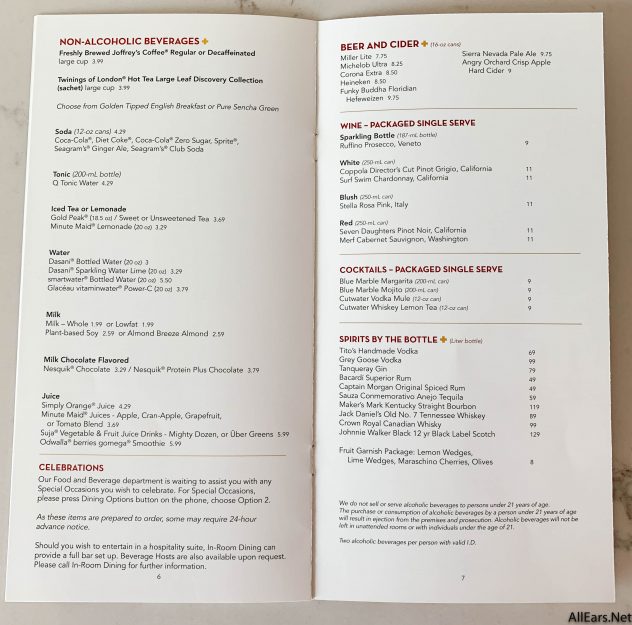 There are breakfast and dinner options as well. Breakfast will be served from 7 to 11 a.m. and can be ordered by clicking the Dining Options button on your phone. Once you do this, you will choose option 2.
Breakfast options include things like pancakes, omelet, overnight oats, and more.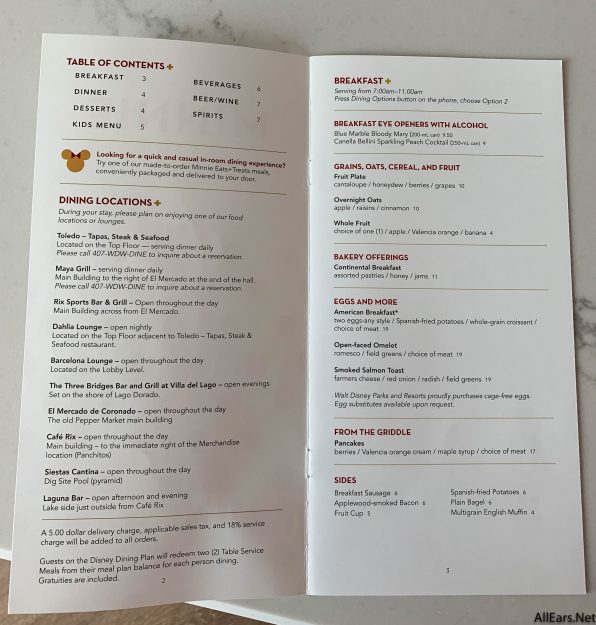 Dinner is served from 4 to 11 p.m. and can be ordered the same way. A few of these options are buffalo-style boneless chicken tenders, a gourmet burger, a grilled cheese sandwich, and pizza.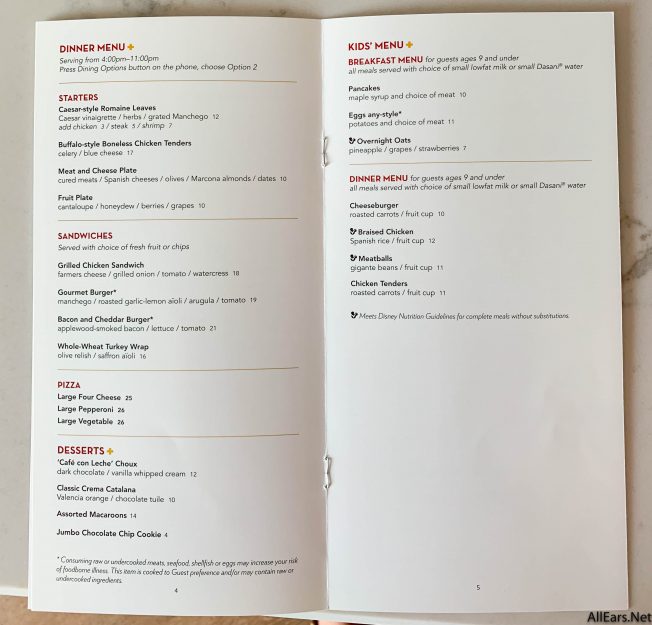 Click here for the FULL GRAN DESTINO IN-ROOM DINING MENU!
Room amenities include a Keurig one-cup coffee maker, a mini fridge, a safe, and an iron and ironing board.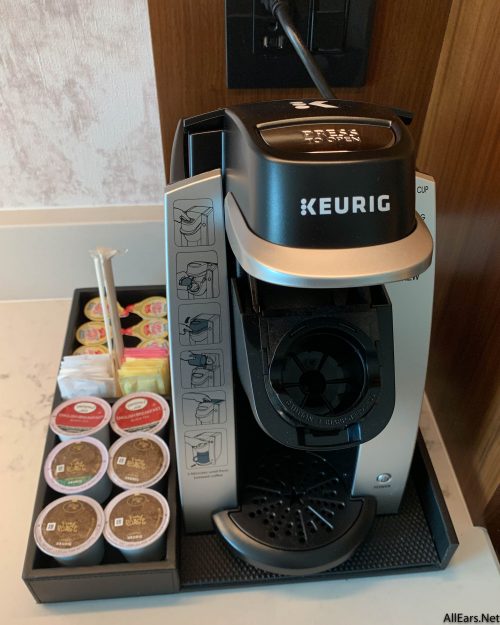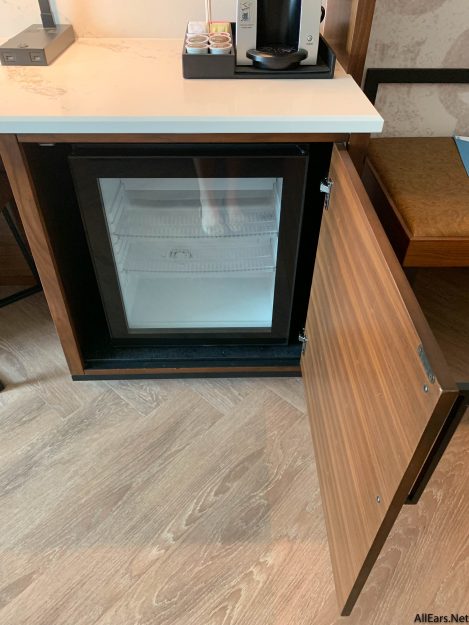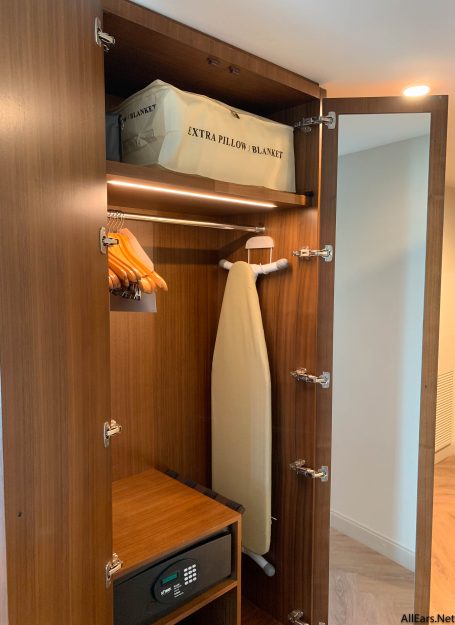 The TV is a very nice feature of the room. When you get started the TV will bring you to a home screen with a number of options.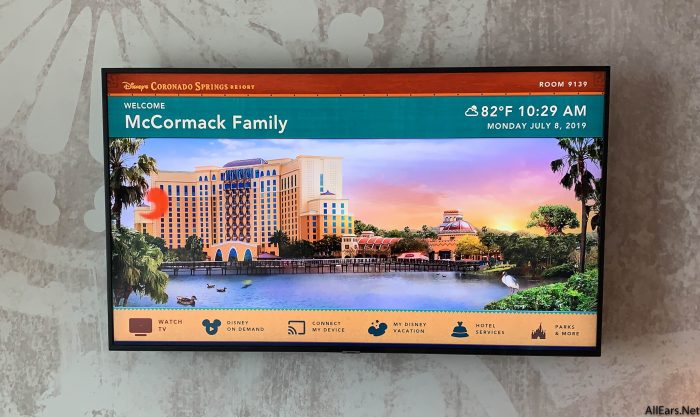 You can watch TV, Disney on Demand (movies and tv shows), connect to your device (WiFi info and that QR code we mentioned earlier), my Disney vacation (which will be your personal PhotoPass photos), hotel services (different pages for dining, shopping, guest services, activities, spa & fitness), and transportation. There are also pages for each park, water park, Disney Springs, all complete with hours of operation and entertainment show times.
The 1,800 previously existing Coronado Springs rooms have also been fully updated with new fixtures, furnishings, and lighting.
These rooms are currently booking for around $234 a night for a tower room with a standard view. You can view the prices and make your reservation here! 
Also, be on the lookout for our overview of the hotel's new suites and food and beverage facilities, including the Dahlia Lounge, Barcelona Lounge, and the resort's new rooftop dining location, Toledo. We're also going to bring you a complete overview of the tower, which will give you a glimpse at the insanely stunning two-story lobby.
Disclaimer: AllEars.net was an invited media guest at the grand opening of the Gran Destino Tower at Disney's Coronado Springs. This did not affect our opinions, however. Our opinions are our own.
What do you think about the new rooms? Are you booking a stay in Gran Destino soon? Let us know in the comment below! 
Be sure to follow @allearsnet on Instagram and Twitter!
Check out our YouTube Channel for reviews, news, information and more!
Subscribe to the AllEars® newsletter so you don't miss any of the latest Disney news!