D23, the Official Disney Fan Club, has clued us in to a number of treats around the Disney Parks that will help us keep cool this summer, whether in California or Florida. As a bonus, all of these treats featured are non-dairy!
Just about every regular Disney theme park-goer knows about Dole Whip, the pinapple-y good soft serve that you can find on both coasts. You can enjoy the Dole Whip in Walt Disney World at the Magic Kingdom's Aloha Isle. You can also track it down at Animal Kingdom at Tamu Tamu., as well as at a few locations within the Polynesian Village Resort, like Pineapple Lanai. It even pops up in Epcot during some festivals!
If you find yourself in the California theme parks, you can gobble up this goodie at the Tiki Juice Bar in Disneyland's Adventureland.
When keeping cool in Florida on summer days you can enjoy several other treats, both in the parks and at the resorts.
Magic Kingdom:
Storybook Treats in Magic Kingdom introduced the Peter Pan Float this summer. It's Sprite with a soft green Key Lime Soft Serve. Be sure to order this without the chocolate feather adornment to make this truly dairy-free. It's $5.49 or a snack credit on the Disney Dining Plan.
Gaston's Tavern is home to LeFou's Brew.
Epcot:
L'Artisan des Glaces in the France Pavilion offers several flavors of Sorbets .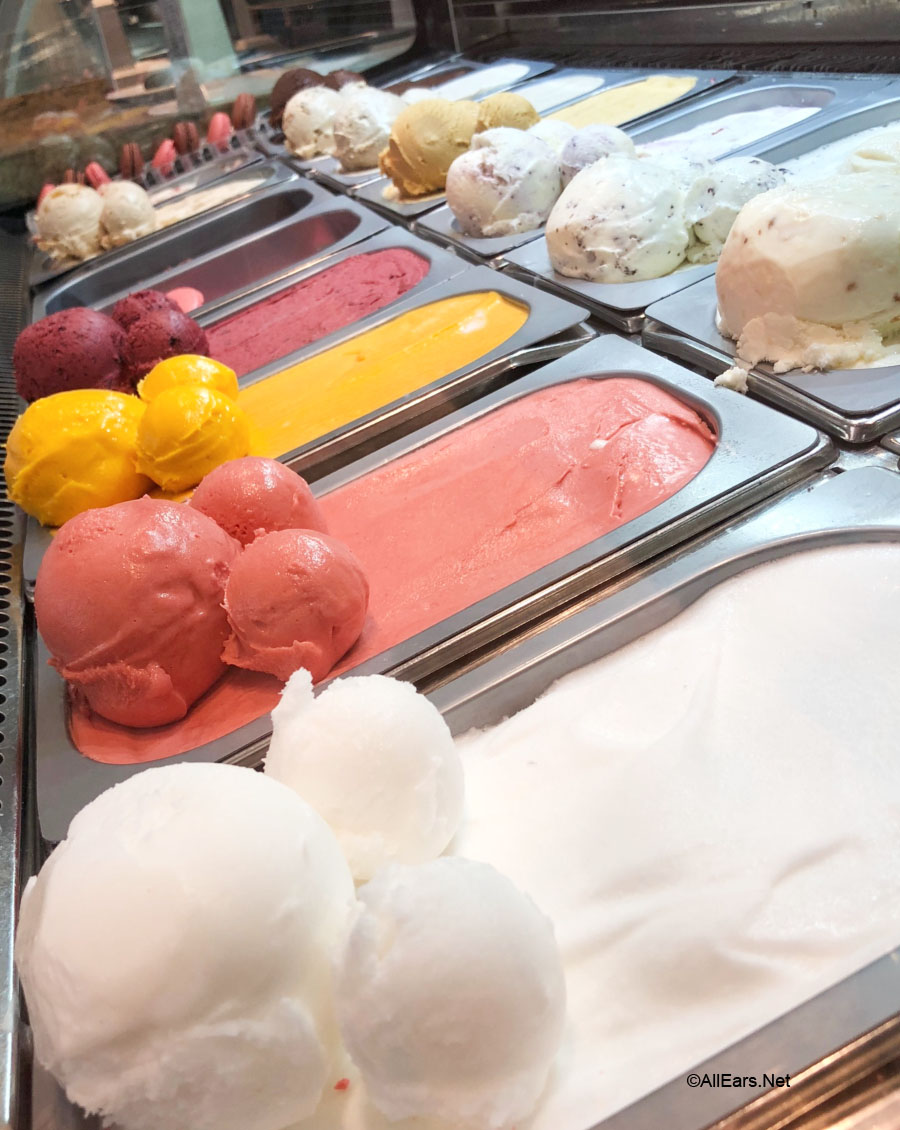 Disney Springs:
Goofy's Candy Company has a host of flavors that you can mix and match for their Goofy's Glaciers (slushies)
If you're visiting the California theme parks there are a host of dairy-free treats in both Disneyland Park and Disney California Adventure, too.
Disneyland:
Tiki Juice Bar serves up the classic Pineapple Dole Whip, as mentioned above.
Maurice's Treats is home to the Boysen Apple Freeze
Disney California Adventure:
With the recent opening of Pixar Pier, DCA debuted a new snack spot called Adorable (not Abominable!) Snowman Frosted Treats, many of which are non-dairy. A particular favorite is the It's Lemon soft-serve, which can also be made into the Pixar Pier Frosty Parfait: it takes the non-dairy lemon soft serve and adds a blue raspberry swirl for $5.99.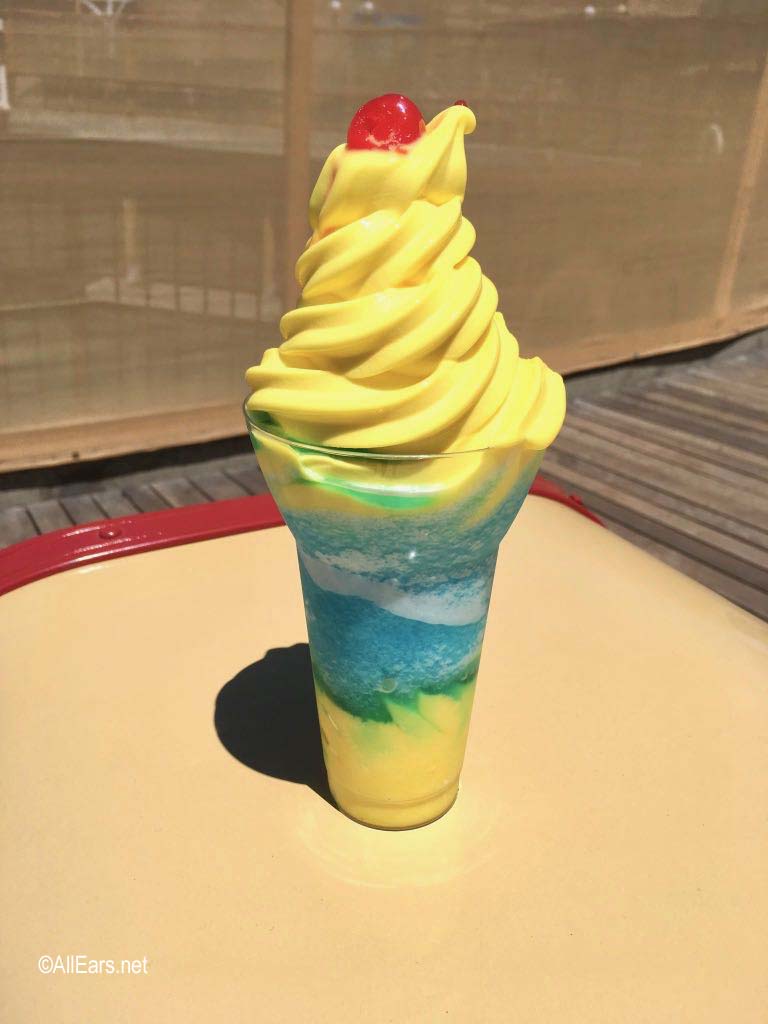 And the Cozy Cone Motel offers several non-dairy treats:
Ramone's Pear of Dice Soda
Fillmore's Fuelin' Groovy All Natural Lemonade
Fillmore's Fuelin' Groovy Pomegranate Limeade
Doc's Wild Grape Tonic
Red's Apple Freeze (pictured below)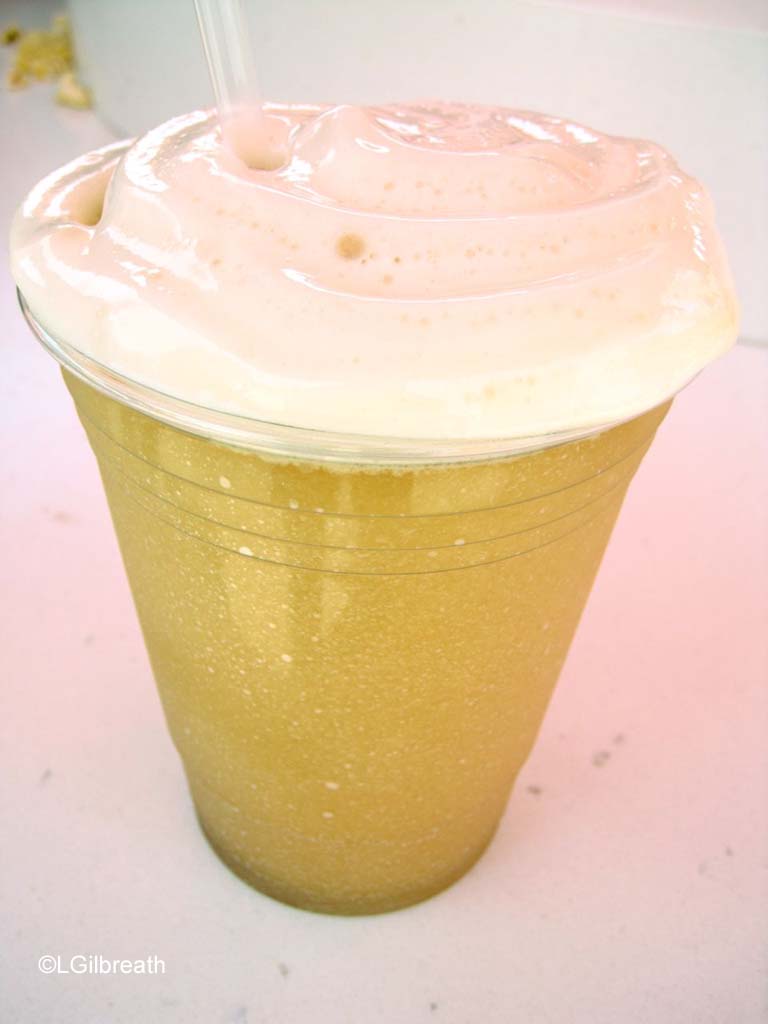 It is encouraging to see Disney offering more options for vacationers with food sensitivities and allergies. If you have a food allergy or sensitivity always be sure to let a cast member know. Depending on the location, you can either ask to see the ingredients list, speak with the chef, or receive an allergy-friendly menu.
And whether you're going to Walt Disney World or Disneyland, be sure to check our Dining section before you go — we have menus for most dining locations, with lots of enticing photos to whet your appetite!