By Guest Blogger Elizabeth Brown
We attended the Royal Tea Garden Tour at Epcot on Monday, May 13. We checked in at the Rose & Crown podium at 9:30 AM. It was raining heavily, but they were prepared to talk about the tea in the covered patio area if necessary. Luckily, the rain let up by the 9:45 start time so we were able to walk across to the garden just behind the Tea Caddy shop in the UK pavilion. Our guides were Owen and David, cultural representatives from the UK. One small change they made this year was the addition of a headset microphone for the guide, which was a huge improvement over last year.
We started off with a bit of history about Twinings, the tea company. They are the longest running tea company in the world, and still being managed by members of the Twinings family. Both black tea and green tea come from the same plant, but the way the leaves are processed produces the different teas. Black tea has more caffeine, and if steeped too long can produce a bitter taste. Herbal teas do not contain any actual tea leaves, but instead are comprised of herbs or blends of herbs. There are also some cold brew teas that are designed to be steeped in cool water. Owen suggested making ice cubes from brewed tea to prevent the tea from being too watered down. He also gave us a tip for an alternate use for tea bags. Placing dry tea bags in your shoes overnight will absorb odors! (Just be sure to throw the tea bags away afterwards.)
After learning about the different varieties of tea and the way they are processed, we returned to the Rose & Crown patio for tea and scones. This was another improvement over last year, when the only seating area was the uncovered patio (it rained on our tour last year as well, and it was tricky to stay out of the rain and still enjoy the tea and scones). There were 2 scones in each box – one sweet, one savory. They were accompanied by an Earl Grey infused butter and clotted cream with jam. Tea was arranged on 3 tables – 2 for hot tea and 1 for cold brew. We were encouraged to try as many varieties as we liked, as there were many different flavors to choose from such as Lady Grey, Orange with Cinnamon, Peppermint and cold brew Peach. Owen and David were on hand to answer any questions, and they presented each guest with some tea bags to take home.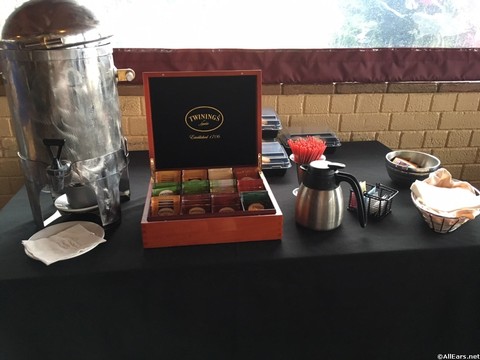 The tour is $18 per person and lasts approximately 30 minutes. We really enjoyed this experience, and would definitely recommend it.