Actress Eleanor Audley strikes a menacing pose, left. To the right is Maleficent, the character based on Ms. Audley's distinctive look.

Do the names Tom Hanks, James Earl Jones, Irene Bedard and Jodi Benson ring a bell? Of course they do. How about Eleanor Audley? Not so well known, right?
All of the above mentioned actors have lent their vocal talents to some of the most recognizable characters in Disney animated history.
Doing voice work on animated feature films has been a time-honored tradition among actors and actresses since the very first talking cartoon shorts. Walt Disney, in fact, got into the vocal side of animation by supplying the voice of Mickey Mouse for several decades.
These days, doing voice work on films can be a relatively easy payday for actors.
To be sure, it's considered a win-win situation for just about everyone involved. When movie producers lure top-tier talent to lend their voices to an animated feature film, the name recognition usually spurs increased ticket sales; for those actors and actresses who sign up to do character voices, they can take a more laid-back approach. Wardrobe, hair and makeup are not a concern when all the director cares about is the sound emanating from their vocal cords. And the voices are recorded in a climate-controlled studio instead of some remote location halfway around the world.
Many big-name stars have taken on voice roles, creating truly memorable characters.
There's Tom Hanks' unforgettable voice work as Woody in the Toy Story franchise; James Earl Jones as Mufasa in The Lion King; Irene Bedard as the title character in Pocahontas and Jodi Benson's interpretation of Ariel in The Little Mermaid.
In the early days of animated film voice work, though, the actors and actresses who supplied their vocal talents were truly anonymous. And rarely did they receive credit for their important work.
In fact, during the search for an actress to voice Snow White, Walt Disney took the then-unprecedented step of not watching the candidates during their auditions: He secretly listened to them from his office.
"I didn't want to be thrown by looking at the person, because I only wanted their voice," he said. "The sound stage was right next to my office. We had a microphone there, and in my office, I had a big speaker. The person who was coming in to audition didn't know that I was listening."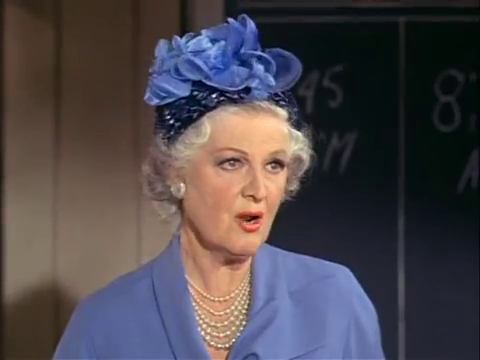 Ms. Audley during one of her many TV roles.

Eleanor Audley was one of those actresses who first auditioned for the attentive ears of Walt Disney when she tried out for the part of Lady Tremaine in Cinderella. Nearly a decade later, both her voice and her facial features helped her secure perhaps the most important role of her Disney career.
Ms. Audley was a relatively busy actress in the 1950s and 1960s, particularly once television gained a strong foothold in households across America.
She received a steady paycheck working on dozens of popular TV shows, including the Disney-produced show The Swamp Fox, which starred Leslie Nielsen as the lead character, Francis Marion. Her other television credits included I Love Lucy, Perry Mason, Dennis the Menace, The Twilight Zone, My Three Sons, Mister Ed, The Beverly Hillbillies, Green Acres and The Dick Van Dyke Show. She also appeared in more than a dozen movies.
Her work on Disney films was where she received a full-throated endorsement from fans and colleagues alike.
The villainous Lady Tremaine, voiced by Eleanor Audley.

She began by voicing the devilish Lady Tremaine in the animated classic Cinderella, which was released in 1950. "It was challenging, a bit grueling, but overall most satisfying," Ms. Audley said of her vocal assignments with Disney.
But perhaps her most recognizable role came during her work on Sleeping Beauty, which was released in 1959, enabling her to stretch the limits of what an evil animated character could be.
Ms. Audley not only voiced the film's chief protagonist, Maleficent, she also served as a live-action model for Marc Davis' interpretation of what he later called "the mistress of all evil." Indeed, when you look at side-by-side photos of Ms. Audley and Maleficent, there's a striking resemblance.
Ms. Audley in character as Maleficent during the creation of "Sleeping Beauty."

"Working with her was great," Davis said of Ms. Audley. "There's a lot of the facial look that I have put into Maleficent that really is Eleanor Audley. Her look was just right. She was a wonderful, wonderful lady, and a very fine actress."
For her part, "I tried to do a lot of contrasting to be both sweet and nasty at the same time," Ms. Audley said.
Aside from her Disney movie credits, she supplied her voice to one of the most interesting characters on one of the most beloved Disney theme park attractions of all time: The disembodied head of Madame Leota inside the crystal ball seen during the Haunted Mansion attractions at both Disneyland and Walt Disney World.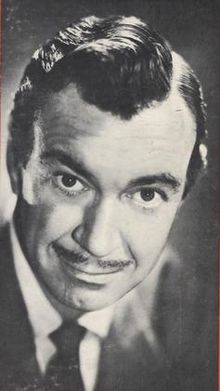 Veteran singer and voice actor Thurl Ravenscroft.

The narrator during your trip on those fabled doom buggies in the Haunted Mansion is another legendary voice actor named Thurl Ravenscroft. His voice can be heard during the finale's "Grim Grinning Ghosts" song.
In addition to his contributions in the Haunted Mansion, Ravenscroft's Disney attraction credits include vocal work in the Country Bear Jamboree as the bison named Buff, Pirates of the Caribbean and the Enchanted Tiki Room, where he plays Fritz. Mein goodness!
Perhaps his most well-known and certainly longest-running TV character was as the voice of Tony Tiger in Kellogg's Frosted Flakes commercials.
You know, the ads that proclaim "They're … G.R.R.R.R.E.A.T!"
His distinctive voice can be heard on at least a dozen Disney films, among them Dumbo, Peter Pan, Alice in Wonderland, Lady and the Tramp, The Jungle Book and Mary Poppins.
Not too coincidentally, Ravenscroft also worked on Sleeping Beauty, but unlike Ms. Audley, whose likeness inspired the look of one of the film's main characters, he was relegated to the role of backup singer.