The Disney Channel will be offering new programming this summer, with new shows at 9:00 a.m. EST/PST on weekdays and 8:00 a.m. EST/PST on weekends. Disneyland kicked off the new programming lineup with Disney Channel GO! Fan Fest on Saturday May 12. Events for fans included a cavalcade down Main Street and panel discussions and meet and greets in Hollywood Land at Disney California Adventure.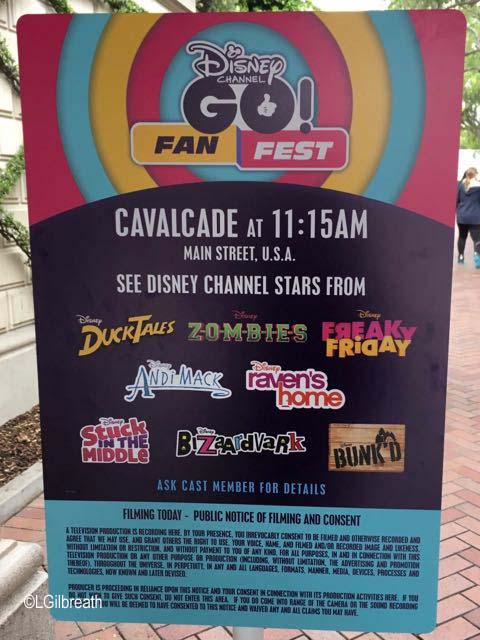 The Cavalcade included Disney characters and stars from some of the Disney Channel shows, such as Raven Simone from "Raven's Home".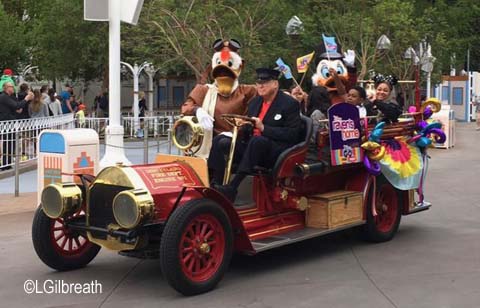 Also stars of BuNK'D and Bizaardvark.
Andi Mack.
Stuck in the Middle, ZOMBIES, and Freaky Friday.
Duck Tales was the final element.
Cavalcade video:
In Disney California Adventure, there were panel discussions throughout the day in Stage 17. I saw a little bit of the final panel, with stars from the movies ZOMBIES and a new remake of Freaky Friday.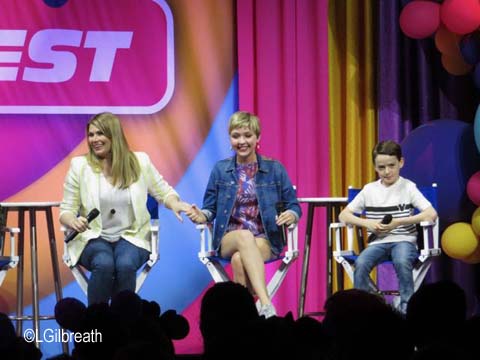 Wristbands were distributed earlier in the day for meet and greets with Disney Channel stars.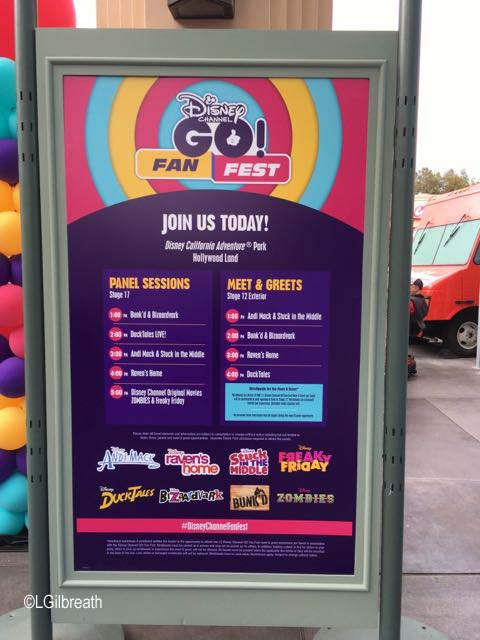 Also in Hollywood Land throughout the day was a meet and greet with Scrooge McDuck and Launchpad McQuack.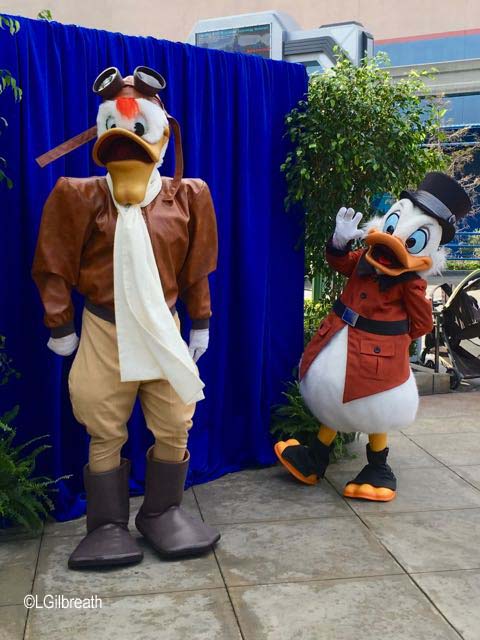 I spent a lot of time simply wandering around Disneyland. I wasn't the only one – I saw Belle and Gaston wandering around Fantasyland.
In Tomorrowland I watched March of the First Order from two different viewpoints, and was able to put together a more complete video than I did last week. There's really no way to see the entire show because it moves through Tomorrowland. The best place to see the "show stop" is by the stroller parking sign between Star Trader and Star Tours. There's a couple of stormtroopers who come out on patrol in Tomorrowland a few minutes before the March begins – if you stand near where they end up you'll have a good view of the show stop.
The Sulley popcorn bucket is back in stock – it had sold out in Pixar Fest's first week. I saw it in both Disneyland and Disney California Adventure.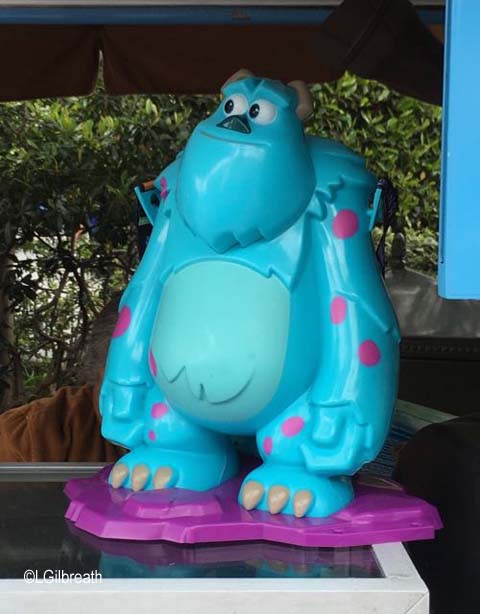 New this week at Disney California Adventure is the Infinity Gauntlet Souvenir Sipper. I saw it in Hollywood Land at the two beverage stands outside the Hyperion Theater as well as the Studio Catering Co. food truck. $20, and comes with choice of soft drink. These were very popular – I saw lots of guests wearing them.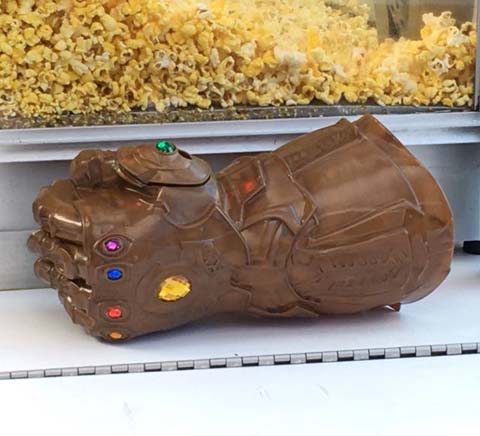 It's spring at Disneyland, and that means ducklings. 🙂 I saw a mom and her babies sleeping in a planter.
I also saw a family of geese.
While watching a jazz group in New Orleans Square, I noticed Minnie Mouse in one of the Club 33 windows above.
I had the opportunity to take a ride on Hyperspace Mountain this time. I don't think it's any different than it was before, but that doesn't really matter, because it's still a great ride. Lots of people were cheering when they returned to the loading area. 🙂
Lee found a great spot for us in Town Square for the Pixar Play Parade, which he hadn't seen yet.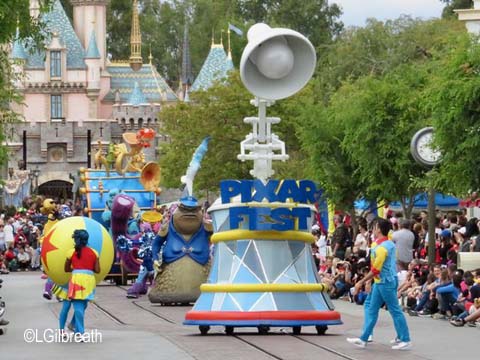 There were no flames from baby Jack-Jack…no doubt as a result of the Maleficent fire at Magic Kingdom last week. 🙁
We were standing behind a group of senior citizens who were sitting on a bench – it was fun to see Carl Fredricksen acknowledge his peeps. 🙂
In Disney California Adventure we watched some testing of the new Incredicoaster with multiple vehicles on the track simultaneously. It looked like a test of normal operating conditions.
And, it's not a trip to Disneyland without trying at least a couple of Pixar Fest food items! At Royal Street Veranda I had the Potato Leek Soup in a sourdough bread bowl ($11.49). It was very good, especially since it was an overcast and somewhat cool day. I was surprised that it had a couple of big pieces of mushroom in it, though.
I also sampled the Coco Pot du Creme at Rancho del Zocalo ($5.99). It was layers of Mexican chocolate mousse and chocolate cookie crumbs. It was just OK – I don't really like the cinnamon chocolate flavor of Mexican chocolate. The dessert was topped with orange chocolate curls, resembling marigold petals, and they really were orange flavored. In my world, chocolate and orange should NEVER be mixed!
Lee and I shared the Mint Chip Shake from Schmoozies ($5.99). It was made to order, and the cast member took his time with it, given all of the different-colored swirls it has. I like my shakes really thick, and this wasn't – I could easily sip it through a straw. Still, it had a good flavor – not overly minty.
One of the souvenir items during Pixar Fest is a straw with a detachable backpack clip – the clip features Luxo, Jr. and the Pixar Ball. $5.99 So cute!
Even though it was a Saturday, the parks weren't super busy, and it was a very pleasant day just to hang out – one of my favorite ways to spend a day at Disneyland.