I think my teenage daughter's wish just came true.
Walt Disney World has announced that its three hair salons are offering Character Couture Packages, which are the next best thing to a Bibbidi Bobbidi Boutique for adult women.
My 13-year-old daughter has been infatuated with the Bibbidi Bobbidi Boutique for about a decade now. Over the years, she has visited the Fairy Godmothers in Training to prepare for birthdays and days that we were attending Mickey's Not-So-Scary Halloween Party. Two years ago, she even visited the children's salon onboard the Disney Dream. For the last several years, however, she has lamented the fact that once girls pass age 12, they can no longer receive these magical makeovers.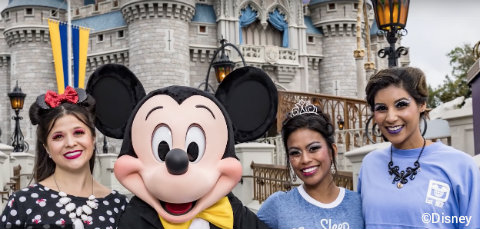 But now there is a new option to fill that void at Walt Disney World. Children, teens and adults can book Character Couture Packages at Ivy Trellis at the Grand Floridian Resort and Spa, La Vida Health Club at Coronado Springs Resort and Ship Shape at Disney's Beach Club. There are three packages:
Storybook Style: Classic character-inspired hairstyle — $50 for a child ages 4 to 14 and $80 for an adult. This service takes 25 minutes.
Magical Makeover: Classic character-inspired hairstyle and makeup — $75 for a child ages 4 to 14 and $105 for an adult. This service takes 55 minutes.
Timeless Transformation: Classic character-inspired hairstyle, makeup and nails — $90 for a child ages 4 to 14 and $120 for an adult. This service takes one hour and 25 minutes. Nails will be painted in a color appropriate for the character chosen or the guest may choose character nail art for an additional $3 per nail.
All three packages include a tiara for the participating guest.
Of course, the first thing my daughter asked was what characters are available for these makeovers. A cast member in the Ivy Trellis salon told me that the cast members in the salons have the ability to create any classic Disney character for each guest. This is a custom experience and they will work with guests to fulfill requests. Note that hairstyles may be limited to the type and cut of hair that each guest has. Among the makeovers are princesses, villains, the Fab Five, galactic styles and hero and heroine styles.
Walt Disney World salons are open daily from 9 a.m. to 6 p.m. Appointments are strongly recommended. To make a reservation, call 407-WDW-SPAS. The booking window is much longer than for other experiences on Walt Disney World property; a cast member told me she has already booked an appointment for 2019.
If the guys in your party are feeling left out, The Pirates League in the Magic Kingdom offers makeovers for both children (starting at age 3) and adults. Guests can choose to be transformed into pirates, empresses or mermaids with a variety of packages that range from $18.95 to $99.95. Reservations for The Pirates League can be made up to 180 days in advance and are highly recommended. For booking, call 407-WDW-CREW. The Pirates League is open from 9 a.m. to 2 p.m. daily.