What makes a good travel photograph? In our case, what makes a good Walt Disney World travel photograph?
The photo below of the Fez House at the Morocco pavilion of Epcot's World Showcase is a very interesting photo to me and, hopefully, to you. Is it a photo Disney would use in a brochure or on its website? Possibly. I decided to take this photograph for a few reasons. It was late in the day and the light was allowing the lighting from the lamps to color the interior of the Fez House in warm yellow colors. The natural light coming in from overhead was blue from the Sun being low in the sky. I liked the contrast between the artificial and natural lighting. I stopped down the aperture to f/8 to keep most of the frame in focus. The door way acted as a frame to the home.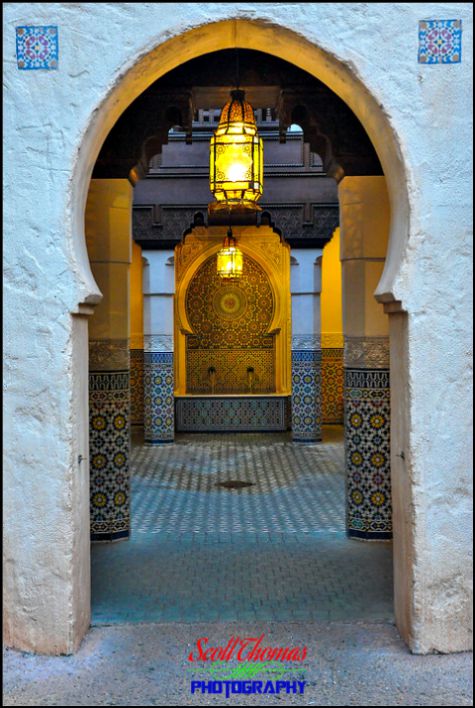 Looking into the Fez House at the Morocco pavilion.
Nikon D750/28-300VR, 1/50s, f/8, ISO 6400, EV 0, 48mm Focal Length.
Later that night, I asked the people with me to stand in front of the same doorway and had them look into the Fez House. I think this photo is more interesting as it shows curiosity which is one of the traits which motivate us to travel. With the sunset, all the light is now coming from the artificial light casting everything into a warm yellow color.
I think this photo would be more apt to be used by Disney in its advertising of World Showcase and/or the Morocco pavilion.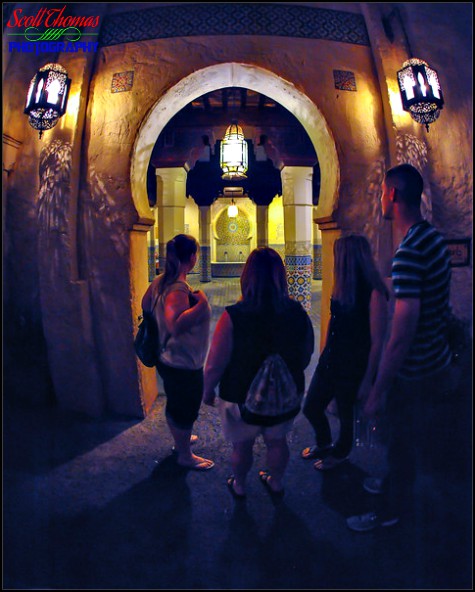 People looking into the Fez House at the Morocco pavilion.
Nikon D750/Sigma 15mm Fisheye, 1/80s, f/2.8, ISO 6400, EV 0.
While I may like the first photo better, the second one has more value and is more interesting to people.