Scheduled for release sometime later this year on the Playstation 4 and XBox One, the long-awaited KINGDOM HEARTS III (KH3) is finally beginning to lift the veil a little and give us a glimpse at what lies ahead for Sora and his Disney friends. Recently, we were invited to a premiere event that featured a panel with Franchise Director Tetsuya Nomura and Co-Director Tai Yasue, and then gave us some hands-on time with the new game.
[For those who want to get up to speed on the Kingdom Hearts saga, you can play the recently released bundles KINGDOM HEARTS HD 1.5 + 2.5 ReMIX and KINGDOM HEARTS HD 2.8 Final Chapter Prologue about which I previously wrote.]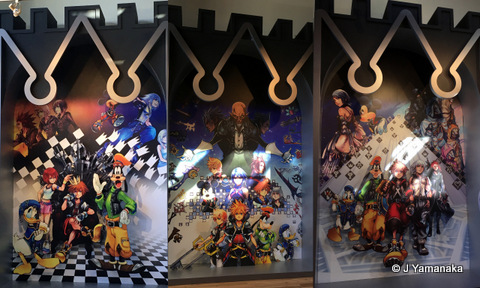 Some notes from the panel:
[Unattributed photos/video are courtesy of Square Enix/Disney]
–The Kingdom Hearts series has been going on for about sixteen years.
–While it does follow a single story line, the overarching theme is "heart."
–KH3 will conclude the "Dark Seeker Saga," and will be a resolution of the fight against Xehanort.
–Knowing that everyone may have different entry points into the Kingdom Hearts series, they feel that anyone can enjoy KH3 on its own and then return to play from the beginning if they are interested in more of the story.
–KH3 is the first title to include the worlds of Pixar.
–The size and scope of each world is determined by the themes and concepts they assign to them. In Toy Story, they wanted to include robots the player could ride and control, and in Hercules they wanted a large-scale enemy–so the levels were designed to feature those elements.
–The process of making Kingdom Hearts is similar to that of making the animated features, with storyboarding, voice direction, etc.
–To better allow players to enjoy the verticality of some worlds (like Hercules) the flow-motion mechanic, introduced in Kingdom Hearts 3D: Dream Drop Distance, will be back.
–Link abilities (also from Kingdom Hearts 3D) return with the capacity to summon characters such as Ariel and Wreck-it Ralph who assist the player with specialized attacks: Ariel jumps and leaves puddles of water from which fountains spray up, while Ralph creates exploding blocks.
–New to KH3 are Keyblade transformations which are world-specific and deal accentuated attacks after the player scores enough consecutive hits–in the Toy Story world, the keyblade becomes a Hyper Hammer. Multiple themed Keyblades can be equipped and used in different combinations.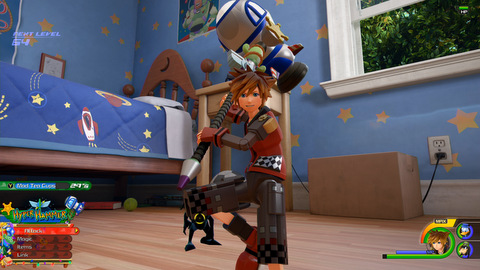 –"Attractions" is another new element of combat, where Sora can summon theme park ride vehicles which each have characteristic attacks and finishing moves.
–They are close to finalizing the release date and plan to announce it early next month (perhaps at E3?)
The second half of the event was the hands-on demo. We were first able to play a few of the minigames that are throwbacks to classic Disney shorts and 80s handheld consoles.
Next was actual core gameplay. The first scenario was a Titan boss battle from the realm of Hercules. Here, the Autorunning feature that allows Sora to make small leaps on his own, as well as run up 90 degree walls was introduced. For people who are platforming-impaired such as myself, this is a huge advantage, because I can literally sit around trying to make one jump for an entire afternoon. We also got to use the Attraction attack which was visually stunning and dealt a lot of damage if you could remember to execute the finishing move, but seemed kind of non-intuitive depending on the ride vehicle used–it was easy to conceptualize how to shoot from the Astro Blaster car, for example, but I spent several attacks wondering how to aim a train.
The last segment we were shown was the world of Toy Story. This area showed off the extent of world-building they were able to do and really let players explore the various scenarios. The different effects used by the area-specific Keyblades were shown off well, along with the Giga robots Sora can enter and control, and the characters he can link. The impressive part of this world was just how accurate it looked and felt compared to the original films. Everything looks authentic down to the different gaits all the characters have running from location to location. The fact that the game is fully voiced now–not just the cutscenes–with a lot of the original voice actors only serves to make it even more of a cinematic experience.
From what we saw, the next installment of Kingdom Hearts looks to be a smooth continuation of Kingdom Hearts 3D with improved movement, audio/visual components, and variation in combat. If it's still a little challenging for me to control the camera and figure out what's happening during some of the more flamboyant attacks, well that could easily be either a correction between now and release, or more likely, operator error. In any case, if the demo is any indication, exploring the previously-announced worlds of "Big Hero 6" and "Tangled" in KH3 is something to avidly anticipate.