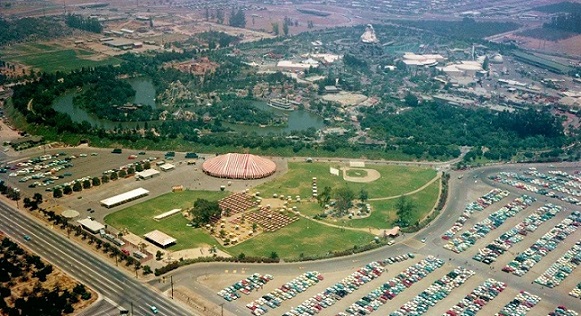 An aerial view shows Holidayland during its heyday, right outside the berm at Disneyland.

Much has been written about the berm at Disneyland … those large mounds of dirt, cleverly placed foliage and other inconspicuous obstacles which keep Disney guests from seeing the outside world, effectively insulating them from reality.
As Disney Legend John Hench once said: "When you go to the park, there is no horizon. Just Disneyland. The park achieved its own kind of reality, like the virtual reality games the kids are playing with. I told them we were doing this years ago. Disneyland is virtual reality."
For several years in the late 1950s and early 1960s, there was an area just outside the park that was an extremely popular Disneyland attraction, even if it wasn't part of that virtual reality world inside the berm.
It was called Holidayland.
Milt Albright, a member of Disneyland's first public relations team, is credited with coming up with the idea for Holidayland. Albright began his Disney career in 1947 as a junior accountant at the Disney Studios. In the spring of 1954, he became manager of accounting at Disneyland.
"I got to come down here [to Disneyland] because they wanted somebody they could trust," Albright said. "Didn't have to be very smart – just honest."
Milt Albright was a key member of the Disneyland PR department during the park's early days.

After transferring to the park's publicity staff right after Disneyland opened, Albright was tasked with creating ways to increase park attendance during slower times of the year. One of his ideas was to entice employees of local businesses and their families to come to an area where they could enjoy each other's company outside the office.
Of course, that concept reinforced Walt Disney's belief that Disneyland should be a place where parents and children could have fun together.
"Holidayland was outside the berm about where the show buildings for Pirates of the Caribbean and the Haunted Mansion are located today," said Disney Legend Tom Nabbe, who first made a name for himself in Disney circles as the original Tom Sawyer on the island named for the Mark Twain character. "Corporations would rent it out for company picnics.
"Holidayland had a softball field, a kids' playground, and a big tent covering an area with picnic tables," Nabbe added. "The tent was left over from The Mickey Mouse Club Circus, [a Disneyland attraction featuring the Mouseketeers] which closed late '55 or early '56."
Holidayland was about nine acres and could hold as many as 7,000 guests. Food was available, as well as beer, which wasn't sold inside the gates of Disneyland. By around 4 in the afternoon, Holidayland guests were permitted to enter Disneyland.
"The picnic party guests would have access to the Magic Kingdom via a roadway by the Frontierland train station," Nabbe said.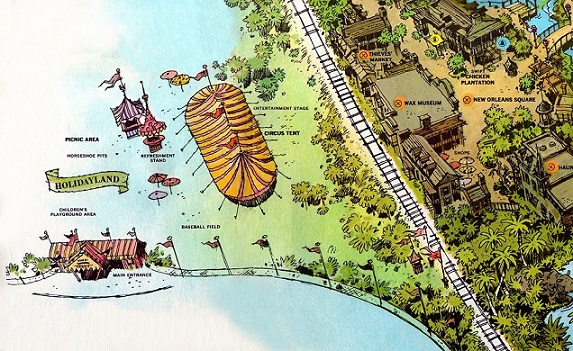 A rendering of Holidayland.

Holidayland was fenced in and had its own separate entrance at the edge of what was then Disneyland's main parking lot. In addition to the red and white circus big top, there was a variety of playground equipment, such swings, a jungle gym and see-saws, as well as a horseshoe pit for the adults.
Charlie Ridgway, a veteran newspaperman who joined Disneyland's PR department in the early 1960s before transferring to Walt Disney World to head up the PR team in Florida, remembered with fondness a yearly event held in Holidayland for members of the press and their families.
"Walt had a picnic at the beginning of the summer when he was announcing what he was adding in the way of entertainment and new attractions," Ridgway said. "Those picnics – in an area of the park called Holidayland – became a very favorite place for news people to go.
"They handed out pink woven picnic baskets filled with sandwiches and so forth for the family. The baskets became something of a prize.
"It was very much a family affair. Newsmen were not used to having their families invited to come with them."
Jack Lindquist, who worked in the same department as Albright and would go on to become president of Disneyland, also remembered Holidayland and its creator.
"There were five or six undeveloped acres adjourning the park where corporations could have picnics," Lindquist said. "Their CEOs could make speeches and there were all kinds of activities for everyone to enjoy. Then, around 4 in the afternoon, they could go into Disneyland."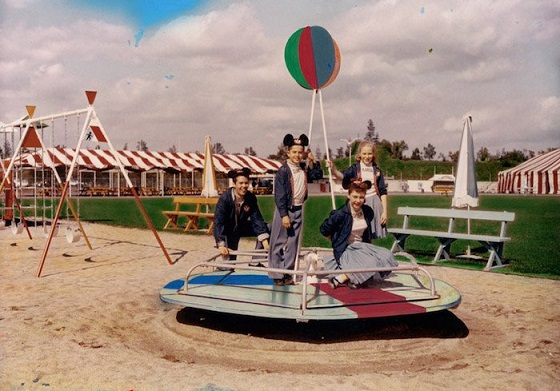 Four of the Mouseketeers pose for a photo on one of Holidayland's kiddy rides.

The Holidayland events were usually held during the slow times of the year in the fall, winter and spring, which fed into Albright's mission of bringing more guests into the park when attendance was down.
"Milt was a very interesting guy," Lindquist added. "He was an accountant at the Studios … a finance guy. Along the way, [Disneyland PR boss] Ed Ettinger got to know Milt and I guess he asked him if he'd like to come work in the PR division at Disneyland in group sales. He was one of the first people sent to Anaheim to work at Disneyland. Milt became part of Ed's public relations team when the park opened."
And Milt took to his new job like Donald Duck to water.
He decided to make better use of an unused area of the property within earshot of Adventureland, aiming it at the corporate market in Southern California. And much like everything else Albright conceived, Holidayland was a big success during its brief, but legendary run.
Holidayland opened on June 16, 1957, and ran through September of 1961. Guests had to purchase a separate ticket for Holidayland, but that ticket also served as your admission into Disneyland.
There were several reasons for Holidayland's demise, among them a lack of shade, no restrooms on the site and no lighting once the sun went down.
But according to Albright, "It wasn't any one thing that killed Holidayland. It was just the combined effect of a whole lot of things." The fact that Disneyland's attendance began to skyrocket following the introduction of the Matterhorn Mountain bobsleds, the submarine voyage and the monorail in 1959 also played into Holidayland's demise.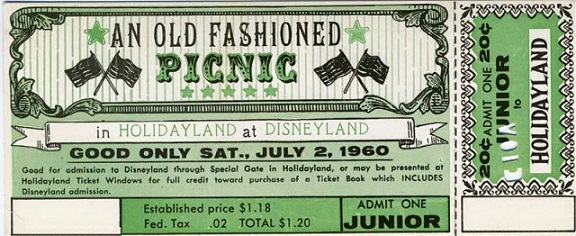 A junior ticket to Holidayland.

Albright followed up his Holidayland success by helping to create the Magic Kingdom Club, which was geared to companies and organizations. Magic Kingdom Club memberships could be purchased by company employees, who would receive perks, such as park discounts.
As for Holidayland, some of the land that once housed the area is now part of the entrance way to the Downtown Disney complex. In addition, there's a pickup and drop-off area for trams that take guests to and from a Disneyland parking structure on the former Holidayland property.
Another aerial photo shows how close Holidayland was to what would become New Orleans Square.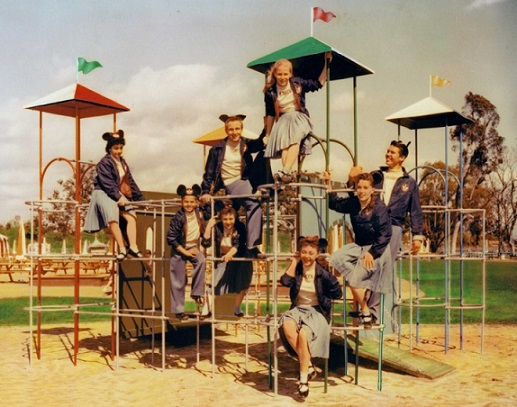 A full lineup of Mouseketeers poses for a photo in Holidayland. That's Annette Funicello, left, who doesn't seem all that thrilled to be perched atop the bars.