Last week at Walt Disney World I spotted a family wearing matching t-shirts. Mom and the kids all had shirts that read 'Best Day Ever' but Dad's shirt read 'Most Expensive Day Ever'.
It's sad, but true; Disney is an expensive vacation destination . . . but last week Carol and I enjoyed a real bargain at Disney's Animal Kingdom. We went on the 'A Path Less Traveled' tour that is being offered for a limited time as part of the Animal Kingdom 20th Anniversary celebration.
The tour combined the best elements from a few 'behind the scenes' tours we've done in the past, so we knew from the moment we booked it that we were in for a good time.
Here's how Disney described it on their web site:
That's a whole lot of entertainment for $59.00; it really is a surprising bargain from Walt Disney World. There's even a discount available for Annual Passholders and Disney Vacation Club members!
On Wednesday April 18th Carol and I stopped at the Curiosity Tours kiosk at 10:20 and checked in for the first part of the 'A Path Less Travelled' tour.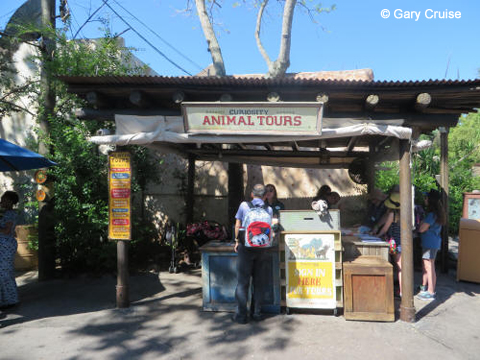 The cast members on duty gave us our pre-printed lanyards and instructed us to meet at 10:30 near the entrance to Kilimanjaro Safaris. That was just a few minutes away so we hung out and chatted with our tour leader, Heather.
At 10:45 sharp our group was all assembled so Heather led us to the Rafiki's Planet Watch train.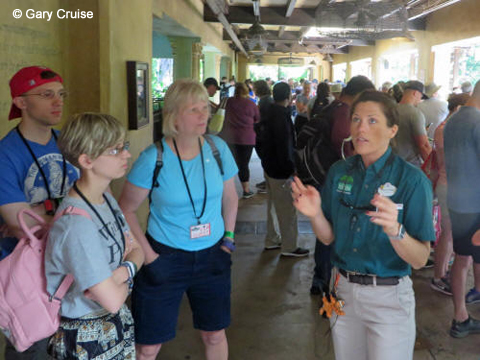 After our ride to the Conservation Station she took us backstage to food receiving and preparation area. We were not allowed to take any pictures while we were backstage.
Several cast members in the food preparation building enthusiastically described their jobs. They use three ring binders filled with menus as they prepare specific rations of food, often they have an individual menu for each animal. The daily diet is usually packed into Tupperware dishes and delivered to zookeepers who take it to the animals.
They took time to explain the foods they use as 'enrichments' to train the animals or reward them for good behaviour. The elephants really like peanut butter so it is used in their training; tigers like the scent of cinnamon so it is sometimes sprinkled on their food as a reward. Other 'enrichments' included Kellogg's Mini Wheats, honey and a number of other surprising food products you probably have in your home.
When I spotted a box of tea bags I asked about them . . . Did you know that gorillas really enjoy a nice hot cup of tea? Yes, they drink it out of cups!
I immediately developed a mental image of a massive gorilla fist holding a delicate china cup, with the pinkie finger sticking out ever-so daintily! Wouldn't that be a sight to see!
We left the food building and crossed the parking lot to hear about Disney's Purple Martin Project. There were three tall posts along side of the cast parking area, each holding a pod of about twenty gourd-shaped nests for Purple Martins and dozens of the birds were swarming around the nests.
One of the posts had all the nests lowered and one of the project experts, Jason, explained the program to us as he passed around one of the gourds. It was a real nest from the lowered pod and it had some martin eggs in it.
As each of us looked at the nest and passed it on, Jason shared some interesting statistics about the Purple Martin project; it all began as part of the Flower & Garden Festival when people were urged to 'make your home a habitat' for martins.
The project took a huge step forward in 2005 when it moved to Animal Kingdom under the watchful eyes of the zoologists.
There are now eleven towers in five locations around Walt Disney World. There are Purple Martin houses backstage at Animal Kingdom, EPCOT, Port Orleans Riverside, Saratoga Springs and a new one in front of The Magic Kingdom. Each nest is examined regularly, all fledglings are banded and migratory patterns are carefully studied.
An astounding 50% of the Purple Martins born at WDW return there from the rainforests of South America to nest and, of those who return, 50% return to the same nest where they hatched. Jason was enthused by the resounding success of the project, and described how determined they are to expand it across Disney property.
From the martin nests we carried on, across the parking lot, to the Veterinary office, laboratories and clinic. Several of the animal care experts explained the animal's medical care procedures, the species management projects and breeding programs, and we met a Flemish Giant Rabbit. His name was Fluffywick or Fuzzywig . . . Fluffy-or-Fuzzy something! Fuzzy was plagued with ear infections and his condition was resolved with surgery, his ear canal was removed, leaving him with one floppy and deaf ear. It doesn't seem to have slowed Fuzzy down at all; he was a great performer, very well trained and cute as a button. Carol wanted to bring him home!
The first part of our tour ended at 12:10 p.m., we hung around talking with Heather for a few minutes then looked at a few of Rafiki's displays in the Conservation Station.
We met a lizard named Skittles!
After a nice lunch at Yak & Yeti we slowly wandered back to Harambe, Carol shopped a bit while I waited near the Curiosity Tours kiosk to check in for part two of our 'A Path Less Traveled' tour, the 3:00 p.m. Caring For Giants tour.
This was the third time on the Caring for Giants tour for Carol and the second time for me. Our guide once again whisked us backstage and we boarded a bus to the elephant berm where we met Mel, one of the elephant experts.
She told us all about the elephants, their names, traits, habits, personalities and quirks.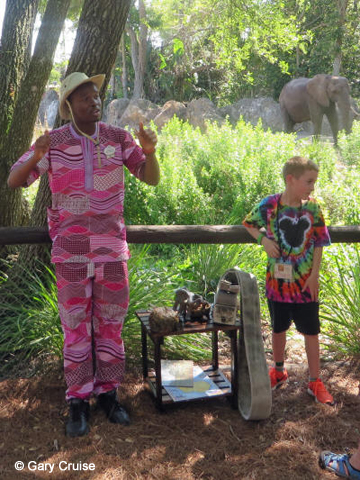 Lungelo from South Africa talked about the challenges faced by elephants in their home environment and the steps being taken to ensure their survival.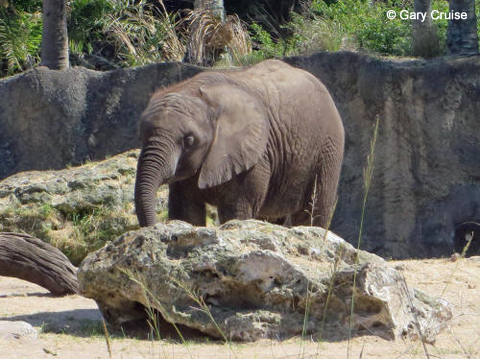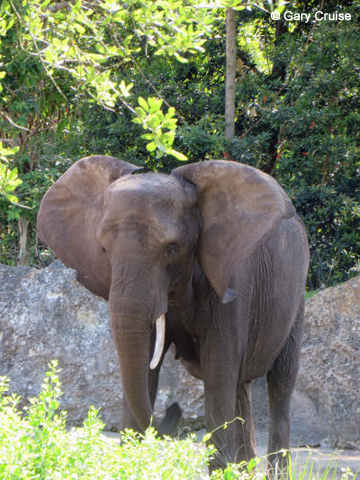 We heard some fascinating information that we hadn't heard on previous tours and our hour with the giants went by far too quickly. We caught the bus back to Harambe and picked up our treats, a cold drink, Mickey pretzels and cheese.
The third and final part of the package was VIP seating for the 8:00 p.m. Rivers of Light show. It's a visual feast, an intriguing mix of color, water, animation, live action and music. The need for environmental responsibility is clearly and very powerfully presented in a highly entertaining way.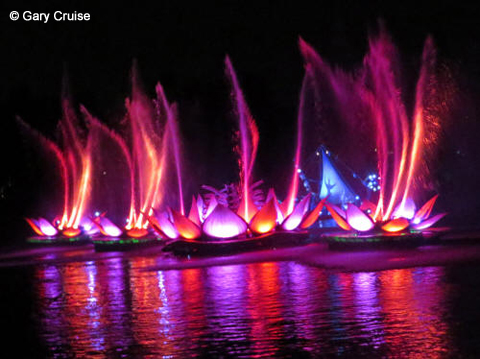 What a magnificent way to end a superb day at Disney!
The tour made our day very enjoyable, but we still had time to do a few of our favourite things! In the morning, before we first checked in, we wandered the trails around the Tree of Life to see the creatures that live there.
After our trip back to the Elephant berm we took a trip with Kilimanjaro Safaris, enjoyed a Yeti encounter at Expedition Everest and saw a launch from Cape Canaveral.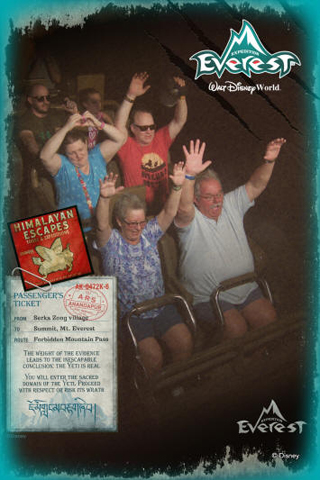 Yes, it was a very full day for us!
If you want to enjoy the 'A Path Less Traveled' tour you will have to act fast, it's only offered until May 5th. If you're an Annual Passholder or a Disney Vacation Club member be sure to ask about a discount!
Read about other 'Behind The Scenes' tours HERE.