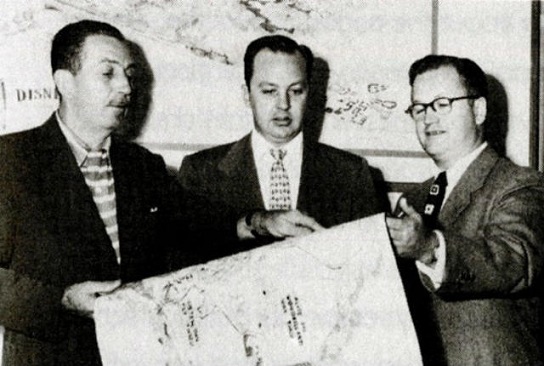 Walt Disney, left, goes over plans for Disneyland with C.V. Wood, center, and Harrison [Buzz] Price. [The Walt Disney Company]

Disney Villains are all the rage. These days, bad is good.
You can't go anywhere in a Disney park without crossing paths with the likes of Lady Tremaine [a.k.a. the Wicked Stepmother], her daughters Anastasia and Drizella, Ursula from Little Mermaid, Mother Gothel from Tangled or the Evil Queen from Snow White and the Seven Dwarfs … not to mention Captain Hook, Cruela deVil and Jafar.
And to keep this popular, if villainous, story line current, the Disney Channel regularly features a mischievous group of teens known as The Descendants … some of the offspring of the aforementioned evildoers.
But there is one Disney villain who may well be the nastiest of them all … a man who despite being "treated like a son" by Walt Disney himself, fell so out of favor after about two years into his Disney's employment that he was unceremoniously shown the door.
His name was Cornelius Vanderbilt Wood, or C.V. for short.
In the early 1950s, when Walt Disney was giving serious consideration to building Disneyland, he and his brother Roy went to the well-respected Stanford Research Institute, which was founded by the trustees of Stanford University in 1946 as a center of innovation to support economic development in the region. They went there to seek their guidance on a proposed theme park project. Among the people they encountered at Stanford were Harrison [Buzz] Price … and C.V. Wood.
Buzz Price was instrumental in selecting the site for Disneyland: A plot of orange groves located in the sleepy Los Angeles suburb of Anaheim. "We hit it right on the nose," Price said years later of the land he pointed Disney toward. "That was the perfect place" for Disneyland.
Price was one of Walt's most trusted advisers
Although never a Disney cast member, Price became one of Walt's most trusted advisers. He even helped in the selection of central Florida as the site for a Disneyland sequel. Buzz Price was so important to the company that he was named a Disney Legend in 2003.
During their dealings with the Stanford Research Institute, both Walt and Roy Disney were impressed with C.V. Wood, so much so, that they hired him away from SRI in 1954 and made him a Disneyland vice president. His responsibilities included assisting Price in site selection, helping to acquire property rights, hiring key personal, and supervising construction … in short, his contributions were critical to Disneyland during the months leading up to opening day.
But Cornelius Vanderbilt Wood would go on to become the most nefarious figure in the annals of the Walt Disney Company. Actually, you can't find his name anywhere in those annals. What little is known about him has been cloaked in mystery for decades.
Despite the fact that Wood was instrumental in helping Walt Disney realize his dream of building a park where parents and children could have fun together, he was written out of most official accounts of the creation of Disneyland after he left to company in 1955.
D23, the official fan club of the Walt Disney Company, does name Wood in its listing of key Disney personnel. It reads:
Wood, C.V., Jr. (1921-1992) Walt Disney hired Wood from the Stanford Research Institute in 1954 to be vice president and general manager of Disneyland, Inc., a post he held for 22 months. During this period, Wood supervised the site selection and land purchase, and the first year of operation of the park. He left in 1956 to become a consultant to the leisure industry.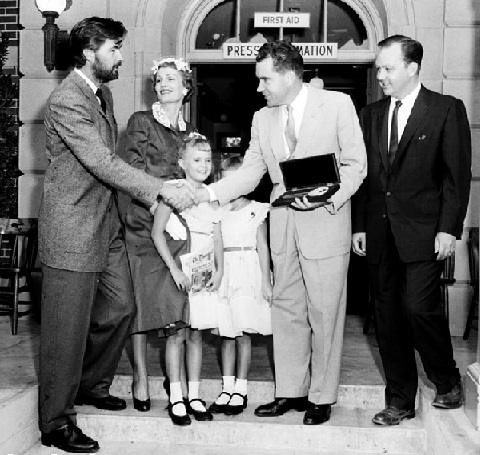 C.V. Wood, right, joins Disney TV star Fess Parker, left, as they greet then-Vice President Richard Nixon and his family on the steps of Disneyland's City Hall. [USC Digital Archives]

That involvement in the "leisure industry" included the creation of theme parks around the country in the late 1950s/early 1960s, including Magic Mountain in Colorado, Pleasure Island in Massachusetts, Freedomland in the Bronx in New York City and the first Six Flags park in Texas.
In addition to C.V.'s contributions to the creation of Disneyland, he also brought on board several other key players in the Disneyland story, including Joe Fowler and Van France, both of whom became Disney Legends.
'The ideal Disney representative'
According to France, Wood "was the ideal Disney representative" when it came to scooping up land in Anaheim. "He was young and charismatic. He could charm farmers out of their orange groves with his Texas drawl. I don't know and I don't even want to know about some of the ways borders were changed and people persuaded to sell their land to Disney. The historical fact is that in a short time, Walt had about 340 acres of land on which to build his dream."
Wood was born and raised in Texas. According to many of the people who knew him, he was a charming, brilliant man. He had a bright future in just about any field he chose after graduating from Hardin Simmons University in Abilene, Texas, after gaining admission on, of all things, a rope twirling scholarship.
His first job of note was during World War II, where he was employed by a company that built the B-24 bomber. It was during this time when the lives of Wood and Van Arsdale France first became intertwined; the two would cross paths again on several occasions later in their careers.
After the war, Wood headed west and got a job with the prestigious Stanford Research Institute. Stanford, with Buzz Price leading a team that included Wood, conducted an extensive site selection study for the Disneys, whittling the choice down to a spit of land covered in orange groves in Anaheim.
Once the land was selected and the property purchased, Wood oversaw the massive construction project. With opening day about six months away, it was Wood who realized that training all the new employees who would run the park was crucial. So he called on his war-time buddy, Van France, to set up a training program at Disneyland for the new employees.
After hiring France, Wood brought another prominent figure into the Disney fold, this time a retired Navy admiral named Joe Fowler, who had a distinguished 35-year career in the military. Fowler was initially hired to consult on the building of the Mark Twain riverboat; he would go on to lend his expertise on not only Disneyland, but on the construction of Walt Disney World years later.
Much has been speculated as to why Wood fell into such disfavor.
During the years leading up to Disneyland's opening, Walt Disney decided to take dozens of the most talented artists, engineers and architects from his Disney Studios staff and have them work solely on Disneyland. He called the group WED Enterprises. WED was "Walt's playground," according to John Hench, one of those artists tapped for this elite team. According to France, the members of WED were the "true believers" in Walt's dream. Walt went so far as to pay his WED team out of his own pocket, which didn't sit well with the Disney Company's board of directors.
Once Disneyland was up and running, relations between Walt Disney and C.V. Wood began to sour. Still, Wood had a very visible presence in the park. During a visit by then-Vice President Richard Nixon and his family, Wood was photographed with them and Disney star Fess Parker on the steps of City Hall.
According to France in his memoir, Window on Main Street, "Woody was a very independent person and, my god, so was Walt Disney, so it was only natural that that [relationship] wouldn't last, so Woody left." That was less than a year after Disneyland opened.
France would leave Disney, too, actually going to work for Wood when he decided to build theme parks of his own around the country, most notably Freedomland in the Bronx, which was open from 1960-1964.
But France would return to work with Disney after Freedomland's demise and, in fact, would go on to attain Disney Legend status. Wood, on the other hand, became a pariah.
In my book, Disney's Dream Weavers, I surmised that the creation of WED created a schism within the Walt Disney Company … people aligning themselves with Walt, others siding with Wood.
I wrote: "Perhaps the words of Abraham Lincoln, Walt Disney's boyhood hero, influenced the decision to part ways with Wood: 'A house divided against itself cannot stand.'"
In Disney Legend Bill Sullivan's book, From Jungle Cruise Skipper to Disney Legend, Sully goes where very few authors have had the guts to go before: He actually devotes several pages to C.V. Wood.
He talks about C.V. and a bunch of his "buddies from Texas" [Van France included] who were working at Disneyland when he was a young cast member at the beginning of his Disney career. "They were a good bunch of guys," Sully said.
Sullivan comes to the same conclusion that many have: That Walt and C.V. just didn't get along.
This colorful map was used to publicize Freedomland, an America-themed park created by former Disneyland vice president C.V. Wood.

"I can't remember seeing him with Walt, but I heard that the two had some clashes," Sully wrote. "C.V. thought he did a lot of good stuff and was not shy about letting people know it. … C.V. left in January of 1956 and went back east and took some of his people with him. He opened up an amusement park called Freedomland that didn't last long."
For a time after leaving Disney's employ, Wood touted himself as "the master planner of Disneyland," which did not sit well with the Disney hierarchy … as did the fact that Freedomland became known as "the East Coast Disneyland."
"He was clearly a con man and behaved like it," is how Disney Legend Bob Gurr refers to Wood.
And fellow Legend Marty Sklar added: "I don't think people understood what Disneyland was all about and the fact that it was a labor of love with Walt Disney and he personally kept it that way. I think that some of the things that were done in the wake of Disneyland's success were really done to take advantage of people. [Walt] wasn't trying to rip off the public, it was just the opposite."