A few months ago I heard my computer sound a ding! When I looked to see what had caused the alert I discovered that a stranger from Brazil was trying to contact me on Facebook Messenger. "Hmm," I thought, "I wonder what this is all about."
Then I remembered a nice Brazilian couple Carol and I met at The Magic Kingdom November 6, 2016. It was about 9:30 in the evening; Carol and I were sitting at a table in front of Casey's Corner waiting for the nightly "Wishes" fireworks which would begin at 10:00.
I noticed a young couple standing not far away — they were obviously looking for seats. I raised my arm, got the fellow's attention, held up two fingers and then pointed at the two empty chairs at our table. They both had beaming smiles when they joined us.
Over the next half hour, in spite of their halting ability to speak English and our total inability to communicate in Portuguese, they told us about their amazing Disney romance. He proposed to her in 2012, in front of Cinderella Castle; they honeymooned at Walt Disney World in 2015 and were back celebrating their first anniversary in 2016. A real fairy book tale!
We enjoyed a delightful time with some complete strangers that night . . . so I wondered if they were the ones trying to connect on Facebook. I clicked on 'Yes' and accepted the friend request.
Nope, turned out it wasn't them; it was an electrical engineer from Rio de Janeiro; his name is Victor. He attached the picture below and said, "Hello Gary, do you recognize this?"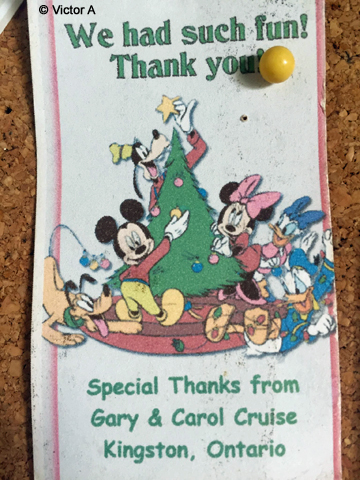 It was a 'cast appreciation card'. Carol and I used to carry them with us at the parks and hand them to cast members who had gone above and beyond to give us special service or a taste of Disney magic.
So that simple picture told me that Victor and I had shared something special in the past . . . but I had no clue what it was.
When I asked Victor to elaborate he was quick to respond. Victor was a college student and had been working at Walt Disney World, as part of the Disney College Program, when our paths crossed briefly. Ten years after he went home from his year-long adventure at Walt Disney World he pulled out what he calls his 'memory box' and he found that cast appreciation card inside.
The story he told me took me back a full decade to Wednesday December 12, 2007. That was the day when Victor and I sang a duet in Casey's Corner restaurant at the Magic Kingdom. Yes, you read that correctly, we sang a duet!
It's one of those things that I remember very vaguely. I remember that it happened but, for the life of me, I cannot remember the details.
So, the version I'm about to describe is how I see it occurring in my minds eye . . . and it may bear very little resemblance to what actually happened!
That Wednesday was a bittersweet day for Carol and I. It was the last day of a 12-day stay at Walt Disney World; we were heading home the following morning. It had become a tradition for us to spend the last morning of our vacation at the Magic Kingdom, then head back to Fort Wilderness Resort & Campground to pack up the motor home for the 1,400 mile drive home. We had a great morning, we rode The Haunted Mansion, Peter Pan, Snow White, Space Mountain and visited the Monsters Inc. Laugh Floor, then it was time to go.
We stopped at Casey's Corner for a hot dog, one of our favorite lunches at the Magic Kingdom.
Carol waited at a table out in front while I went in to order our food. We're always a bit blue when we leave the Magic Kingdom that last time, so I suppose that I was probably just overcome with emotion when I walked through Casey's door.
I spontaneously burst into song and started belting out a stirring rendition of 'Take Me Out To The Ball Game'. After a couple of bars Victor joined me and our voices combined in a melodious harmony that held all the other hungry vacationers in spellbound rapture.
By the time we got to ♫♪One, Two, Three strikes you're out!♪♫ we had added choreography and we finished our performance with a flourish, ♫♪At the old BALL GAME!♫♪
As you might expect, in the version of the story that I choose to remember, the crowd went wild and gave Victor and I a resounding ovation!
That's Victor on the left.
What do you suppose actually happened to cause a curmudgeonly old Canadian to join in song with a Brazilian college student and sing an American sports anthem?
I don't think it really matters why it happened. What's important is that it did happen and it was magical.
When our song was over Victor gave me a complimentary bag of Cracker Jacks and I handed him that little card which he later tucked away in his memory box. We both carried on, unaware that our lives would briefly connect again ten years later.
Thank you Victor for reaching out across 5,000 miles, between continents, to remind me of that brief moment of Disney magic we shared years ago.
Thanks for showing us all that Disney magic really can span the globe!