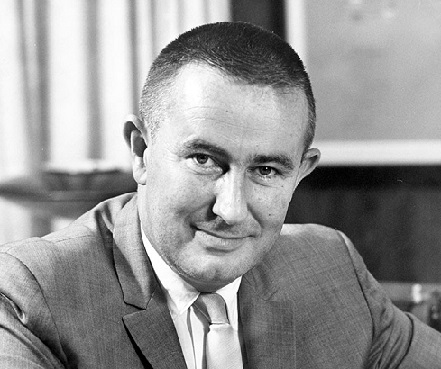 Disney Legend Jack Lindquist made significant contributions to solidify the success of Disneyland. [The Walt Disney Company]

During the first few years of Disneyland's existence, although hopes and expectations were very high, "the success of the park wasn't a slam dunk," according to Marty Sklar, the Disney Legend and former head of Walt Disney Imagineering who began his storied career as an intern a few weeks before the park opened in 1955.
Think about that for a minute: Disneyland, which regularly draws millions of guests each year, will be celebrating its 63rd anniversary in July and is widely regarded as the center of the Disney universe, wasn't a sure thing. In fact, during those early years, the park was closed on Mondays and Tuesdays, in part to cut costs.
According to Jack Lindquist, who was hired to head up the park's marketing department in 1955: "It wasn't until 1958 that everyone started to feel this [Disneyland] is going to stay … that this is going to work. And it's something special," he said during an interview with me in 2015.
It was Jack and Marty, along with Ed Ettinger, Milt Albright, Eddie Meck, Eleanor Heldt, Carl Frith, Phil Bauer, Dorothy Manes, Charlie Nichols and Lee Cake, who were chiefly responsible for promoting the park, making sure that their strategies would lure guests to The Happiest Place on Earth in Anaheim, Calif.
And it was Jack Lindquist who was responsible for dreaming up some of the most successful park promotions … thus assuring that Disneyland would, indeed, be the slam dunk everyone had hoped it would be.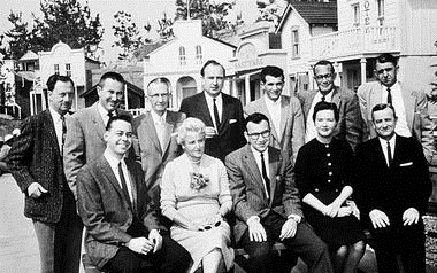 The Disneyland publicity department in 1956. That's Jack Lindquist, top row, second from the left, and Marty Sklar, seated, center. [The Walt Disney Company]

Jack was on the outside looking in when Disneyland was being built in 1954. He worked for a marketing firm in Los Angeles and among his accounts was the Kelvinator appliance line. Kelvinator was one of dozens of Disneyland's corporate sponsors, so Jack was allowed to tour the park weeks before it opened. He was very impressed when he left the hectic construction site.
Jack was among the thousands of invited guests on hand for Disneyland's opening day, July 17, 1955. Like everyone else in the park for the momentous occasion, he saw first-hand the chaos and confusion that punctuated the day.
But that didn't deter him a few weeks later when a Disneyland representative called his office and asked him if he could recommend someone for the top marketing position at Disneyland.
"The job sounded pretty good, so I recommended myself!" he said.
Jack hit the ground running and was in the thick of many successful promotional campaigns, most of which helped solidify Disneyland's long-term success. Jack had a hand, along with Marty Sklar and Milt Albright, in the creation of the hugely successful Magic Kingdom Club, Disney Dollars and Grad Nites.
But there were many other ideas which sprang out of Jack's fertile imagination … ideas that were ahead of their time and radically altered marketing strategies throughout the entertainment industry.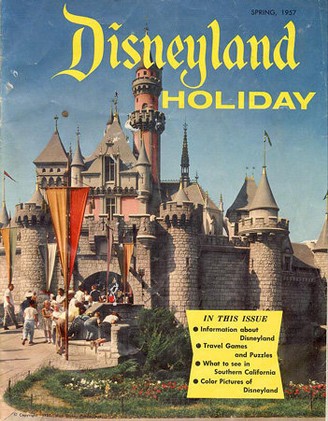 The Spring 1957 edition of Disneyland Holiday magazine, which was developed by Jack Lindquist and Marty Sklar. The name was changed to Vacationland Magazine when the publishers of Holiday Magazine became upset.

The first was Vacationland Magazine.
"When Marty and I created Vacationland Magazine, we wanted to use the same theory [as the Magic Kingdom Club] of reaching people with something different," Jack said. The magazine was published from the mid- to late 1950s.
"Most of the hotels and motels throughout California used to have racks in their lobbies. On these racks, all of the attractions throughout the state were featured in pamphlets. Again, we didn't want to do the same old thing. So Marty and I developed the magazine concept; Marty was the editor and I did the marketing."
Originally, the magazine was called Disneyland Holiday. "But the people at Holiday Magazine were not happy with us using that name," Jack said.
Still, "the magazine was a tremendous tool for Disney, very unique. It had all the info on the park, but it also had all the things happening in the area, not just Disneyland … Knott's Berry Farm, Catalina Island and so on. At its height, in California, Nevada and Arizona, I think we distributed 300,000 magazines four times a year."
As far as getting the product to the public, "we hired two guys [Bill Schwenn and Frank Forsyth] who delivered all the magazines," Jack said. "They were on the road most of the time and they built a tremendous rapport throughout the area. Everyone got to know them and like them.
"It was one of those ideas that worked beyond our wildest dreams."
Another successful idea was the concept of selling tickets in advance for special events. In 1957, it was decided that Disneyland would open its gates to celebrate New Year's Eve, Disney-style. Jack thought it would be a great idea to make the night a special ticketed event, but 5,000 tickets needed to be sold just to break even. So, tickets were sold in advance at a variety of businesses in Hollywood, Long Beach and Los Angeles.
The night was a big success and the idea of advance-sale tickets caught on. "In those days, nobody sold advance tickets," Jack said. "If you wanted a ticket, you went to the venue the day of the event."
When Disneyland turned 10, it was Jack who dreamed up with the term Tencennial and it was his idea to come up with a variety of tie-ins and promotional events all linked to the year-long celebration.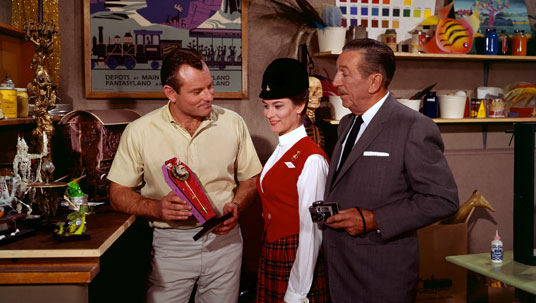 Disney Legend Rolly Crump, left, shows off his latest project to Disneyland Ambassador Julie Riehm and Walt Disney. [The Walt Disney Company]

Coinciding with the Tencennial was Jack's Disneyland Ambassador Program. "A young lady would be selected from among all the employees and she would represent Disneyland in the park and around the country," Jack said.
"They would host VIPs and heads of state in the park when Walt wasn't able to meet with them."
I asked Jack to describe the process of introducing an idea or a promotion and then getting it approved by Walt. His answer was a bit surprising.
"In those early days, we presented ideas to Ed Ettinger, who would take them to the Disneyland park operating committee, then on to the studio. In those days, Milt, Marty and I didn't have much direct contact with Walt."
When Jack came up with the ambassador program concept, "I wrote a memo, sent it to Ed Ettinger, who sent it to the studio. Two weeks later, Ed called me into his office. On the original memo was written: 'Let's do it.' It was signed by Walt himself."
Julie Riehm [now Julie Casaletto] was Disneyland's first Ambassador; she was named a Disney Legend in 2015 on the occasion of Disneyland's 60th anniversary.
In 1966, it's a small world opened in Disneyland after a successful run at the 1964-1965 New York World's Fair. It was Jack's idea to enhance the opening ceremonies by having a children's choir pour water collected from around the world into the boat ride's flume. Jugs of water — 77 in total, from places like the Amazon, the Seine and the Danube rivers — made for a truly memorable experience.
A ticket for the inaugural Disneyland Grad Nites event in 1961.

Jack would go on to become the first president of Disneyland before retiring in 1993 on Mickey Mouse's 65th birthday. He was named a Disney Legend in 1994. His window on City Hall refers to him as "The honorary mayor of Disneyland." A few years ago, he published his memoir, In Service to the Mouse.
He also played a key role in setting up the marketing strategy for Walt Disney World and Tokyo Disneyland. In addition, he had a hand in signing up several countries to join the World Showcase lineup at Epcot. During that period of time, Jack was reunited with his old buddy from their Disneyland PR days … Marty Sklar.
The creation of Grad Nites gave Disney the opportunity to work closely with the Anaheim-area community to come up with a popular program that was, in reality, born of tragedy.
"Grad Nites were started when Bill Schwenn and I went to a meeting in the San Gabriel Valley," Jack said. "We got a call from a group or parents who wanted to talk about having a graduation thing in the park. I think it was a group of four parents. The year before, there had been a tragic accident.
"The San Gabriel parents wanted to find a safe place for their kids on graduation night. We asked them how many kids they were talking about and it was a class of 190. If the entire class went with a date, that was about 400 people, which wasn't feasible."
But Jack was intrigued by the thought of opening the park to high school grads.
"Eventually, we went back and started talking to people, like the chief of police in Anaheim, the sheriff of Orange County, the Los Angeles police chief. They all said we were out of our minds, taking high school seniors and their dates and putting them in Disneyland. They said 'they'll probably burn the place down.'"
Jack and his team started visiting different high schools in the San Fernando Valley to gauge interest. First and foremost, Jack told the schools' reps that there would be a strict set of rules.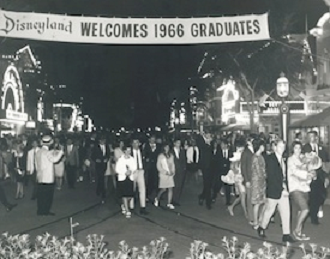 Students stream into Disneyland for the Grad Nite event in 1966.

"If you wanted to go to Grad Nite," Jack said, "the boys must wear coats and ties, no school IDs or anything that identified their school would be allowed. Girls would wear party dresses."
Moreover, participants would arrive at the park by 11 p.m. and stay through 5 in the morning. They would arrive by bus and leave by bus. Each school was required to supply one adult chaperone for every 20 students. Disney would supply coffee and refreshments.
"The parents said, 'OK, let's give it a try.' We ended up with 9,000 kids that first night [in 1961] from probably 30 high schools. They paid 6 dollars a ticket. It was a huge financial success for Disneyland and a great experience for millions of graduating seniors over the years."
Grad Nites are still going strong at Disneyland, although things have changed drastically since that inaugural event some 57 years ago. For one thing, they are now held at Disney's California Adventure and they run from 9 p.m. to 2 a.m. For another, they will be held on select nights 18 times this May and June.
And the prices and options have risen dramatically. If you want to attend the party, a ticket costs $79. If you want to spend time in California Adventure beforehand, it'll cost $99. And if you want to experience the party, California Adventure and Disneyland, it'll cost $139.
Still, Jack Lindquist's concept of promoting the park in an enjoyable way has endured, cementing his position as one of Disneyland's all-time greatest cheerleaders.

Related Link:
Jack Lindquist: A rich legacy and a fun-filled career with the Walt Disney Company