SeaWorld Orlando has extended its Seven Seas Food Festival through April 29, giving visitors an additional two weekends to enjoy all the live entertainment and cuisine, including the Latin specialty dishes that debut this weekend.
Both the Brazil and Mexico markets are part of the festival from start to finish, serving guest favorites, such as Churrasco, grilled skirt steak with chimichurri and garbanzo frito, and Grilled Corn on the Cob with Cheese, respectively. But the Latin-infused foods offered at the Specialty Market have an emphasis on favorites from Puerto Rico.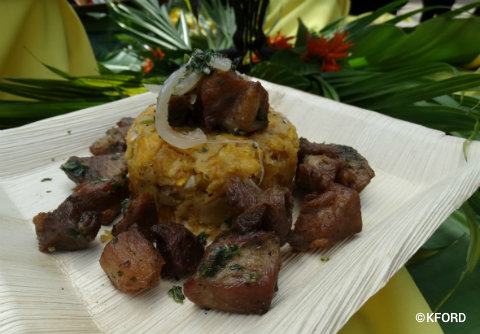 One of the new items is the Mofongo with Carne Frita, which is garlic-mashed plantains with onion mojo served with fried pork. This is a traditional dish in Puerto Rico. The other is a twist on another favorite from the Caribbean island — a Crazy Empanada.
"The No.1-selling empanada in Puerto Rico is the Pizza Empanada," Executive Chef Hector Colon told me. "So, I took a Pizza Empanada and I cut it at the back and I put some ground beef, lettuce, tomatoes, cheese and I finish it with Mayo Ketchup. The Pizza Empanada is always going to sell, but the Crazy Empanada is something different that [visitors] haven't seen before."
For those who want a little less "loco" in their empanadas, SeaWorld is serving the plain pizza empanadas, as well as the pastries filled with ground beef and seasoned pulled chicken.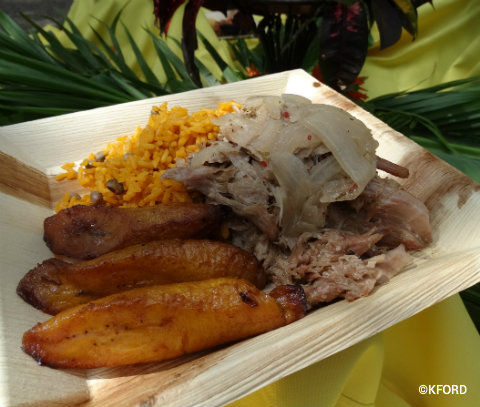 Visitors also will find Lechon Asado, the traditional roasted pork rubbed with Caribbean seasonings, Pigeon Peas and choice or ripe or sweet plantains. Look for skewered flame-grilled chicken or pork finished with sweet and spicy barbecue sauce and served with fried tostones (fried plantains).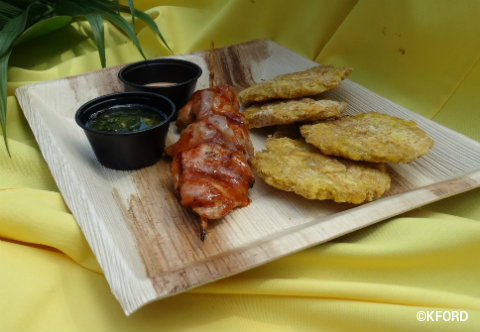 Finally, don't miss the Bacalaitos.
"The best-selling Latin dish during the food festival is the Bacalaitos, which are codfish fritters. We sell twice as many as the pizza empanadas," Colon told me. "You don't see them around. You see them only at festivals or in the streets in Puerto Rico, so when you see them, you always want to stop by and eat them."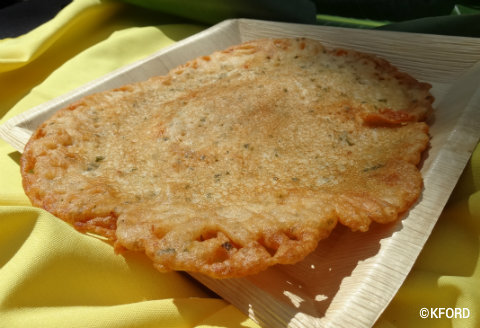 At the same Specialty Market along Bayside Pathway, visitors will find a selection of specialty drinks, including Mojitos, Margaritas, Cuba Libre and frozen Red Sangria.
Prices at the Specialty Market range from $5 to about $15 per dish. That's because some of the items, such as the Crazy Empanada, are Sampler size and others are meal portions.
Compared to many other food festivals and food trucks, Seven Seas is affordable — especially if you purchase a punch-card-style lanyard. Each punch entitles you to a food or beverage, and the lanyards can be shared among friends and family. Also, the lanyards do not expire until the end of the festival on April 29. A 10-punch lanyard is $40 and a 15-punch lanyard is $60. (Pass members can save 10 percent on each Sampling lanyard by purchasing online in advance.) Considering that most dishes cost between $4 and $6 — with some more — this is definitely the way to go. There are more than 60 food dishes, 70 beers and 50 wine and spirits at the 2018 Seven Seas Food Festival.
In addition to the food, SeaWorld visitors can tempt their senses with the reggaeton, salasa, Latin pop and merengue concerts in the park at Bayside Stdium on Saturdays and Sundays that are included with their admission.
Performers announced so far:
March 31: Eddie Palmieri
April 1: El Gran Combo
April 7: Yandel
April 8: Jerry Rivera
April 15: N'Klabe
DISCLAIMER: I was a guest of SeaWorld Orlando for the media preview of the Seven Seas Food Festival. This did not affect my story, and my opinions are my own.