To all who come to this photo trivia game, Welcome! Along the way, the photos can make us relive memories and see details Walt's Imagineers put into everything we love in Walt Disney World!
Cindy Pink wanted to make sure we knew she was at Disney's Aulani, sitting in the hot tub and watching the dolphins swim by. Gee, thanks for rubbing that in, Cindy. (Bring me a t-shirt!)
Patti Mccaffrey, meanwhile, is at Walt Disney World! Wishes for safe travels and magical vacations to you both!
Warren Handy! You totally waited for your wife to leave the room after submitting a wrong answer, and then submitted the right one?! Hey, Maureen's laughing it off or else I'd warn you to watch your back! LOL
From last week: Challenge #315:

And here's the answer:


Copyright © Erin Blackwell
The clue here was that it's a landmark in Hidden Mickey (and other characters). Because this is the very first Hidden Oswald! He is located in the pavement outside of the entrance to Enchanted Tales with Belle. Halfway in the path between her place and the construction wall for the Seven Dwarfs Mine Train. If I haven't mentioned it before, I'm a big Oswald fan and so glad he's back in the Disney family. When I heard this was here, I had to go find it! Now I'm just waiting for the Meet and Greet!
Let me have a second to squeal: Look at my Mickey and Oswald! (And my Pal Mickey's Pal Mickey, and then his little Pal Mickey.) They're celebrating Mickey's big brother getting his own Hidden character in one of their dad's parks.
Phyllis was the first to send in the correct answer! Congratulations to Phyllis and all our winners this week! Robert Wescovich, Kristi Strembicki, Daniel Record, Donna Frank, Theresa Rucando, Kim Riley, Dawn Miller, Beth Mcmeekin, Jennifer Harmon, Pollyanna Buff, Nancy Ahlsen, Sharon Pierce, Hillary Waldroop, Carol Ney, Linda Ranatza, Bill Mckim, The Gunnels Family, Team Hill, Michelle Darabaris, Lynette Michalos, Jodi Lupp, Debbie Desimone, Al Desimone, Belicia Cullen, Scott Cullen, Jessica Curley, Jim &Lorie Sonnen, Robin Fitts, Deb Ragno, Grumpy's Groupies, Kelly Sroka, Marilyn C, Chloe C, Pam Vanaustin, Elizabeth And Vicki Edwards, Chad Citro, Maryann Romagnano, Matt Wildey, Melissa Littman, Bryankruse, Juanita Cowan, Jeremy Reichelt, Karen Bellamy, The Patterson Family, Nan Amor, Les Stewart, Patti Mccaffrey, Judy Simonsen, Virginia Pierce, Maureen Handy, Theresa Maradei, Sara Holloway, Michael Frisbee, Alan Mize, Jim Finley, Matt Holley, Karen Schlumpf, Emily Hudson, Jackie Graebel, Ashley P. , George Mundy Jr, Nathan York, Joseph M. Zafia, Jackie Klafeta, Jane Johnson, and Claire Gregory. Each of you are entered in this month's winners' drawing.
_____________________________________________________ _____________________
Challenge #316 Where in the world is this?
We're in the parks again! Does this look familiar?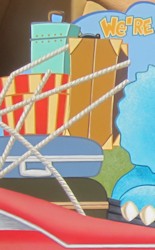 Do you know? Do you have a guess? Please send in your answer, before the end of the day on Thursday, January 30th, by clicking on the blue box below. Please do not post answers using the Feedback Form link at the bottom of this post.
See you next week, Players!


_______________________________________________________________________
Everyone who sends in a correct answer to a Where in the World Challenge this month will be entered in a drawing at the end of the month for some special AllEars® goodies!