To conclude my report on the annual EPCOT 2013 Trade Celebration I want to share some photos of the gifts and merchandise that I brought home from the event. If you missed Part 1, you can read it HERE.
As I mentioned in my previous blog, this year started last September with the first pin of the month being released at the 2012 event. I purchased the broken mirror pin that had the picture of Cruella in the background. At that time I was undecided whether I would keep the pin or trade it based on the fact that I didn't think I could get all 13 pins and I wasn't a particularly villainous fan. However, with the help of some friends, a few trades and purchases of my own I did end up with all 13-Refections of Evil pins. The last pin was made available on the event Random Selection Process. The "RSP" is a sort of lottery used to allocate Limited Edition pins which are sold in small edition sizes.
I was lucky this year and got all the pins that I put on my Random Selection Process order.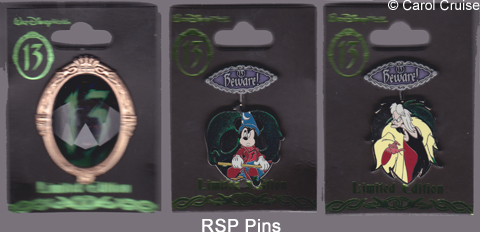 Every year there are mystery pins and this year was no different. Each attendee could purchase up to 6 boxes. Each box contained 2 mystery pins and if you were lucky one of those pins could be a chaser. The Villains are limited release and the chasers, bricks to go with each Villain, are all limited editions of 213. I got a chaser in every one of my boxes.
When you picked up your goods on registration day you also got the items from the Vinylmation Random Selection Process.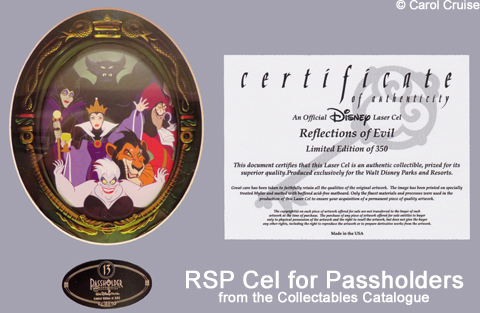 There were also registration gifts for each event.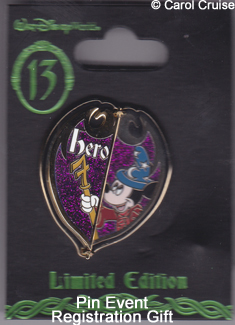 On Friday, the "Club 13" Day, I spent most of my time looking on the pin boards and in Vinylmation boxes for the event Vinylmation chasers and the event Mystery Pin mirror shards. I was able to find them all.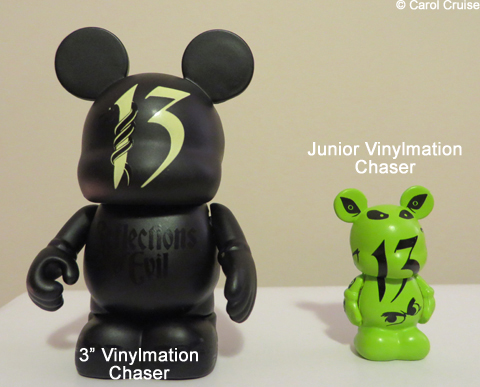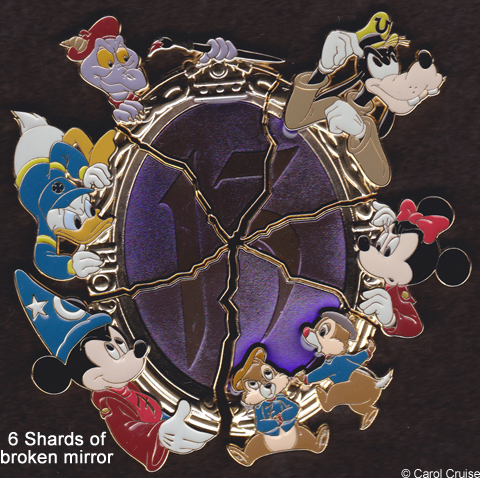 There was a merchandise store with Limited Edition items specific to the event or items released early to event attendees. There were also a few items left over items from the Random Selection Process and a 13- Reflections of Evil completer pin, a Limited Edition of 500.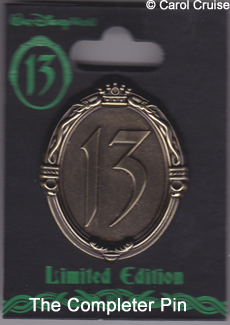 During the event they brought in cases of the not yet released Nightmare Before Christmas 2 Vinylmation Series. Registered guests could purchase these before they went on sale to the public. I bought 2 boxes and I got the chaser . . . lucky me! This series is scheduled to be released at D Street in late October, just in time for Halloween.
We received our lunch in this nice insulated lunch bag.
At the conclusion of the Club 13 Trade Day (Friday) we received a parting gift, the Reflection of Evil mirror and a pin.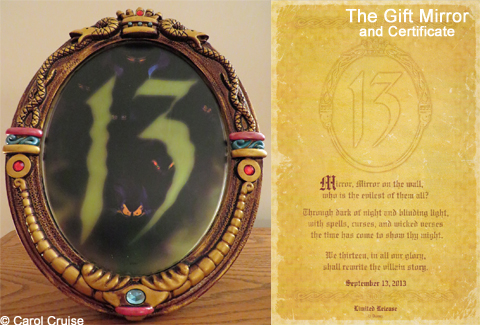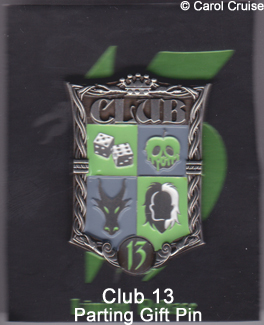 The Saturday Villainous Breakfast gift pin.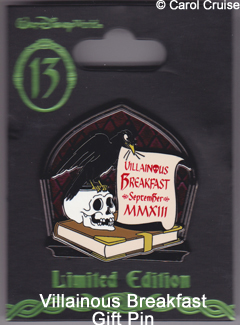 I purchased a mat from the merchandise store that I can display my pins on.
At then end of the pin trading event we were all given a boxed pin set that contained Villain prospects from Pixar.
The Sunday morning Villainous Breakfast gift is one of my favourites, the Evil Daisy Duck.
I mentioned in my blog that I was able to make some good trades with the chasers I got from the blind box, this is my favourite. It is the chaser from the Vinylmations Classic Collection, released November 12, 2012.
That pretty much summarizes why my suitcase was almost overweight on my flight home!