To all who come to this photo trivia game, Welcome! Along the way, the photos can make us relive memories and see details Walt's Imagineers put into everything we love in Walt Disney World!
Happy Hanukkah to everyone celebrating this special festival!

And to Cheri Palmisano, I just wanted to say:

Clay and his family are Disney right now. See they're waving from there.


Oops, there they go, back into the parks.
Kerri Coggins and Penny, on the other hand, are suffering post-magic vacation blues, while Jason & Melinda Lenz are going through their own Disney blues, wishing they were there at Christmas again. A consoling arm around your shoulders: there, there. We know how you feel!
Here was the challenge last week: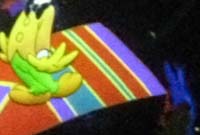 And here's the answer:


Copyright © Erin Blackwell
José Carioca rides with Pancho and Donald Duck in the Gran Fiesta Tour in Epcot's Mexico pavilion! I ride this a few times every trip!
Karen Ramirez, I'm thrilled to feature your homeland Mexico's pavilion! It's my favorite!
Mary Beth Tarbet, I love the San Angel Inn too!
Stephanie Dollar, of course you can say you preferred the El Rio del Tiempo River ride! A couple other Players said the same thing. I miss the old World Showcase buses and I'm loud and proud about it. 🙂
Craig was the first to send in the correct answer! Congratulations to Craig and to all the readers who got the answer right: Virginia Pierce, Carla C , Danielle Ciotti Harsley, Ken Maikowski, Brian Yesutis, Paul Dickson, Janet, Tinkerbell Wells, John Klein, Cynthia Hitchcock, The Kahle Family, Ed Elder, Mary Beth Tarbet, Pam Tees, Hannah Couture, Nicole Amidon, Kara Cummings, Megan Krainski, Wendy T Faler, Ed Hogan, Kenny, Lorine Landon, Stephanie Mcnamee, Deb Ragno, Team Hill, Billie Jean Albolino, Ken Jackson, Hillary Waldroop, Chuck Sands, Lisa Moore, Barbie, Wendy Barney, Michael Scholz, Alicia Henderson, Lindsey Nozal, Jessica Iglesias, Craig Livingston, Ali Yesutis, Deborah Hulsey, Andrew Carrieri, Candice Grimes, Shelley Diederich, Brandon Schukei, Callie Conrad, Susan Barbash, Mark Benton, Stacey, Patti Gumiela, Emily Dagney, K. Beasley, Jenny Brennan, Pat, Marie Seilus, Katie Morgan, Olszak Family, Kathy Morris, Kerry-lynn Mcgregor, Scott O'donnell, Jodi Cook, Kelly Cummings, Gabriella, Terry And Matthieu, Erin Dagney, Christine Dagney, Pollyanna Buff, Colette S, Melissa Such, Jeffery Terrell, Karen Ramirez, Courtney Payne, Brent Lollar, Deme Grabert, Scott Greenbaum, Sabrina Allen, Sharon Pierce, Janna Jewett , The O'meara Family, Kameo Crea, Paul Knott, Morgan M., Misty Mehelic, Les Stewart, Erin Hammer, Sharynne Smith, Linda Scrivano, Laurie Walker, Karen Schlumpf, Wendy Snelgrove, Tim Johansen, Stefanie Vandiver, Mitchell Holmes, Phil Vickers, Patty Carty, Vera Williams, Derek Carty, Evanna Huda, Hayley Valk, Malesky Family, Larissa Huda, Lori Rienhardt, Emily Hudson, Stephanie Newell, Tom Koval, Dawn Bach , Claire Gregory, Kye Layton, Michaela O'brien, Cindy Pink, Patti Mccaffrey, Doug Olson Family, Jason &Melinda Lenz, Chris, Gretchen, And Katie Barnes, The Kertes Family, Maureen Handy, Rob Jacob, The Parker Family, Robert Hildebrandt , Mickey Eckert, Jared Orth, Robert D. Bostic, Mickey Eckert, Danielle Murgia, Stefan Owens, Lisa Zitek, Chloe Mayhew, Bruce Hinterleitner, Emily Watson, Rob &April Team Vanderpool, Chris Kelly, Heather Pedulla, Andrew Swiatowicz , Herb Miller, Jennifer Bourg, The Moore Family, Carrie Kwiat, Kevin Scott, Clay, Mike Haeberle, Betsy Silvestri, Noah Schweizer (8 Yrs Old), Walter N. Clark, Russ Morgan, Reagan, Charis Barron, Megan W, Amanda, Kristen Mccoy, Kathryn Willer, Gabrielle Childs , Rebecca Keenan, Carrie Henderson, Kristin Olmedo, April Haddock, Jack, Bill, And Ryan Foley, Melesia Love, Brian Gallant, Mike Haven, Jenny Stoneburner, Kerrie Hogan, Christopher Hall, Lee Anastasi, Chris Bauman, Kathryn Hughes, Kate Fischer, Tricia Noble, Erin Loring, Dennis Loring, Andrew Weed, Karrie Duffey, Andy Schumacher, Jeremy Reichelt, Anastasia Macneil, Anita Jodouin, Sara Holloway, Patrick Broaddus, Mike Cerce, Jared Meeker, Sandiealbrecht, Kendra Hettel, Elaine Tomko-deluca, Alan Mize, Terry Garvey, Steve Knapp, The Patterson Family, John Snider, Jullie Pudem, Amy P, Mike Kaczanowski, Francis Lachance, Jason Skow, Carla Leger, Emily S., Cheri Palmisano, Emily S., Dave Fullerton, Stephanie Dollar, Wayne Witherspoon, Evelyn Vertefeuille, Ashley Wilson, Hobbes And Snorky, Nicole Shuler, Paula B, Antoinette Leblanc, Rob Blundin, Mike Mondoux, Trina Noggle, Jackie Purcell, Sue Vanvleet, Karen Davis, Carolyn Como, Bonnie Tulenko, Matt Holley, Allison Caputa, Duskin Henard, Ashley P., Miguel Gonzalez, Michael Nanney, Maryann Romagnano, Dave Kanigowski, Sandy Kanigowski, Lisa Palmer, Kelsi , Brian Sherwin, Gloria Martin, Caroline Burmester, David Ballard, Bob Burge Jr, Janice, Jennifer Bogdan, Diane Ramos, Melodye Berry, Mark Franklin, Penny, Trina, Dan Dufault, Melissa Kirk, Roye Ann Morris, John Foggo, Jeremy Mccaffrey, Elaine Kleinhenz, Kerry Mccaffrey, Jen Tremley, Karen Drum, Linda Ranatza, James Hickey, Jennifer Cravener, Clinton Dickinson, Monica Owens, Kathy And Ronald Berry, Sherri Pell, Kristi Strembicki, Chris & Maranda Nichols, and Kerri Coggins,. Each of you are entered in this month's winners' drawing.
_____________________________________________________ _____________________
Challenge #259: Where in the world is this?
Another park challenge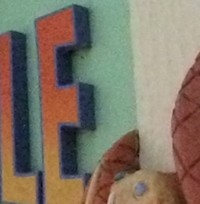 Do you know? Do you have a guess? Please send in your answer, before the end of the day on Thursday, December 20th, by clicking on the blue box below. Please do not post answers using the Feedback Form link at the bottom of this post.
See you next week, Players!


_______________________________________________________________________
Everyone who sends in a correct answer to a Where in the World Challenge this month will be entered in a drawing at the end of the month for some special AllEars® goodies!