Recently I attended a special media preview to learn more about the new Be Our Guest Restaurant located in the Fantasyland Expansion at the Magic Kingdom.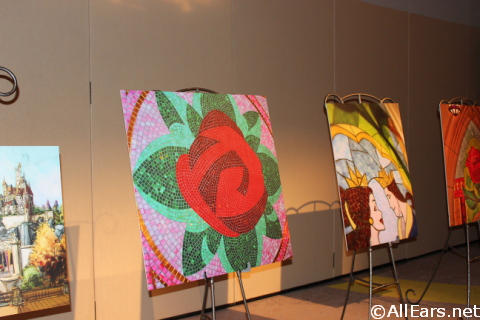 The room was set up with large artwork, most of which had already been published on the Disney Parks Blog.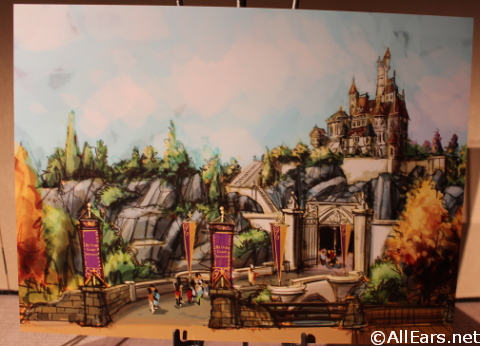 However, we were able to see the dining room set ups for the Ballroom and the West Wing.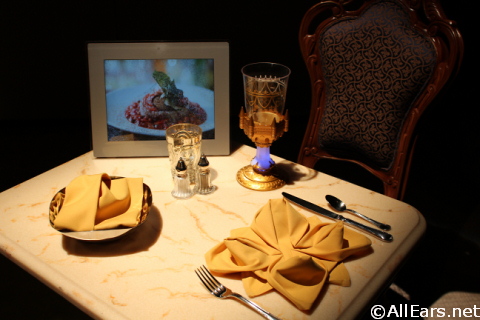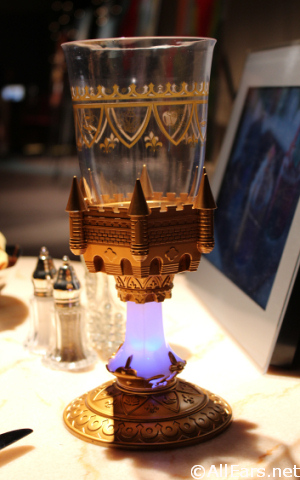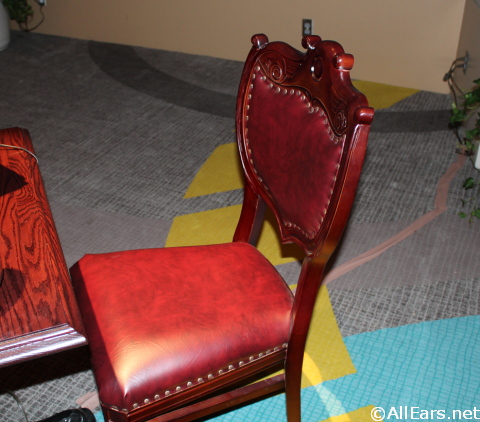 The restaurant has three distinct dining rooms:
The mysterious West Wing, featuring an enchanted rose,
The Rose Gallery with twirling, larger-than-life figures of Belle and Beast (this dining room available at lunch only); and
The Ballroom, elegantly styled with a domed ceiling, twinkling chandeliers and views of softly falling snow.
All three dining rooms will be open for lunch, but only the West Wing and Ballroom will be open during the dinner hours.
Chris Beatty, Senior Concept Designer-Director, Walt Disney Imagineering, details what guests will experience as they cross the bridge into the restaurant..
When asked if there would be enchanted objects in the restaurant, Chris responded "Well actually there are some enchanted objects in the restaurant but I will hold that surprise for when we open."
I asked Chris to describe the 3 dining rooms in the Be Our Guest Restaurant.
In addition to hearing from Imagineer Chris Beatty, the Food and Beverage team had a big announcement!
Maribeth Bisienere, Vice President Food & Beverage and Merchandise Operations Integration, Walt Disney Parks and Resorts told us Be Our Guest restaurant will serve wine and beer at dinner. This is a first for a the Magic Kingdom during regular operating hours.
"Food and Beverage has become an immersive part of the guest experience. When it opens you will be fully immersed in the story. We need to tie together WDI and Food and Beverage and entertainment and merchandise together so we can make sure the entire story is told."
Jason Cha-Kim, Beverage Manager, Food & Beverage Line of Business, Walt Disney Parks and Resorts shares the wine and beer details:
The wine list is focused around the great wine growing regions in France. We will feature the leading French beer which is Kronenberg 1664. No North American beers will be offered. About 20 wines are on the list, almost all available by the glass.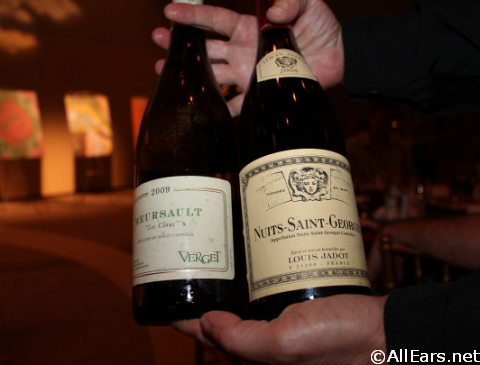 There is a signature non-alcoholic beverage for Be Our Guest that is called the L'Amour Vrais which means True Love in French. Will be served in a light up castle cup, over ice, topped with a fruit foam topping. All natural fruit juice punch, made up of pomegranet, blueberry, wild berry, apple juice.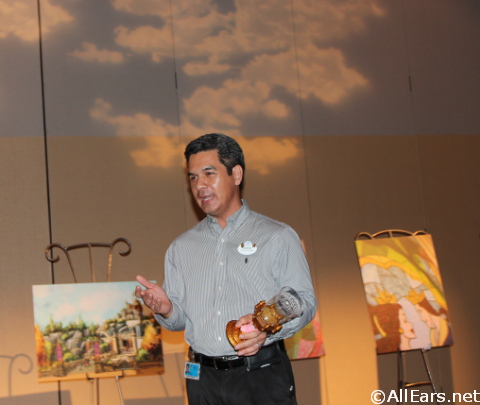 Lenny De George, Executive Chef, Food & Beverage Concept Development, Walt Disney Parks and Resorts tells the rest of the food concept story.
Menus are themed around French foods. While the items may sound fancy, they are very comfortable foods.
We will sneak some vegetables in the food. There will be a Mickey shaped meatloaf for kids (with hidden vegetables in it). Sweet potato fries instead of regular fries. Carrots in the ketchup.
Pre-opening Menus:
Be Our Guest – Lunch– Fast Casual
Be Our Guest – Kids Lunch– Fast Casual
Be Our Guest – Dinner
Be Our Guest – Kids Dinner
Be Our Guest Wine List – Dinner Only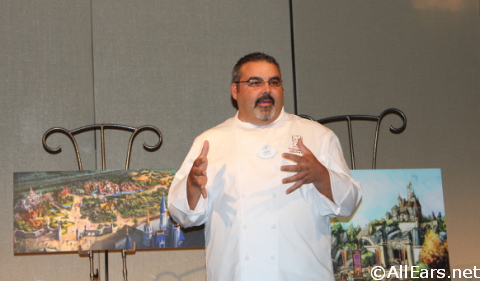 First we were given the Charcuterie Plate – assorted cured meats and sausages served with cornichons, pickled onions, and toasted whole grain bread.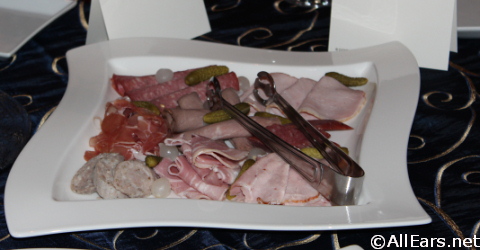 I really enjoyed the salad trio: Three Individual Bowls of Roasted Beet, Gold Raisin and Orange Salad; Green Been, Tomato and Roasted Shallot Salad; and Watermelon, radish, and mint salad.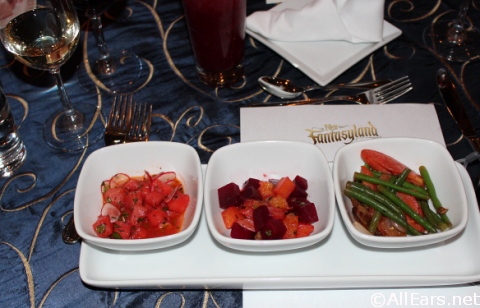 Roland Muller, Chef de Cuisine, Food & Beverage Concept Development, Walt Disney Parks and Resorts and Michael Deardorff, Chef, Be Our Guest Restaurant, described the main course of pan-seared Salmon on Leek Fondue – served with creamy saffron-crushed potatoes. This was a King Salmon from Oregon.
Totally honest here, I really enjoyed the salmon. I don't like salmon and never have it (other than a taste) but something about this salmon was delish!!!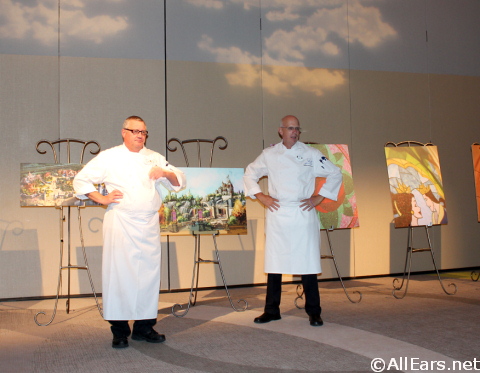 Chef Michael added: "When you see the dining room you will be absolutely amazed at the detail. I suggest you watch the movie before you dine."
Of course, we all had to taste the "gray stuff" and it was delicious! I had to find out what it really was and the chefs explained it was oreo cookie panna cotta that is whipped! YUM!
Stefan Riemer, Pastry Chef, Food & Beverage Concept Development, Walt Disney Parks and Resorts was next to tell us all about the special Dessert Trolly and what we can expect!
Lots of cupcakes and cream puffs to choose from. Everyone seemed to love them. Dessert is currently planned to be included with the cost of your meal.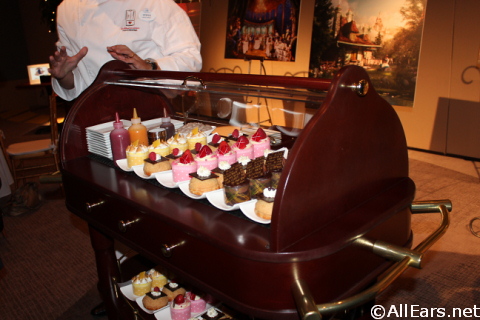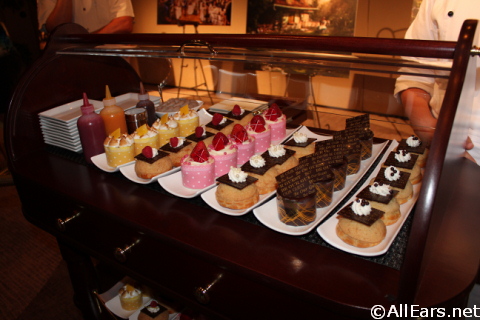 This is the Gluten Free – No Sugar Added: Lemon-raspberry cream puff -filled with lemon custard. I liked it. Certainly different than the regular no-sugar added bland desserts served at most places.
So there you have it. An in-depth look at Be Our Guest, officially in soft opening on November 19, 2012!