I've created a second "Common Bonds" quiz. Here is a reminder of how the game is played. I will be giving you three words or phrases that have something in common. It will be your job to figure out where at the four Walt Disney World theme parks these words would all be applicable. For example, if I were to say City Hall, Emporium, and Horse-drawn Trolley, the common bond would be Main Street. Some of these common bonds are easy. Some are fairly difficult. However, the answers to many of them can be found in my blogs and articles.
As always, this quiz is just for fun. No winners will be announced and no prizes awarded.
Here are the answers for yesterdays questions. Best of luck!
Common Bonds 1
Lucifer
Birds with ribbons
The letter "C"
These three identifiers can be found at Cinderella's Wishing Well in the Magic Kingdom.
To read my blog about this mini-attraction, click here.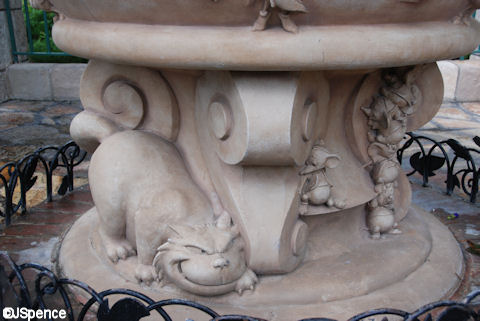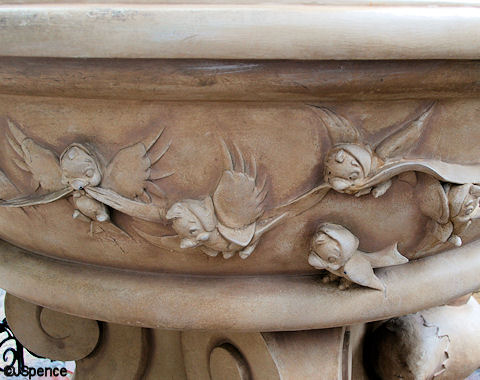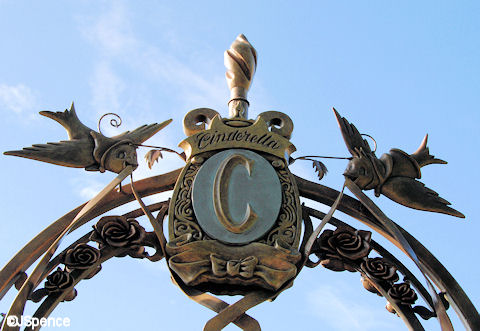 Common Bonds 2
Tea
Bells
Forbidden
Although most people call the ride "Everest" or "Expedition Everest," the full name for the attraction is "Expedition Everest – Legend of the Forbidden Mountain." Located at the Animal Kingdom, portions of the queue for this attraction wander through a tea plantation. In addition, we see a sign for the Royal Anandapur Tea Company in the Yeti Museum. Also in the queue are numerous bells which are irresistible to guests.
To see my blog about Expedition Everest, click here.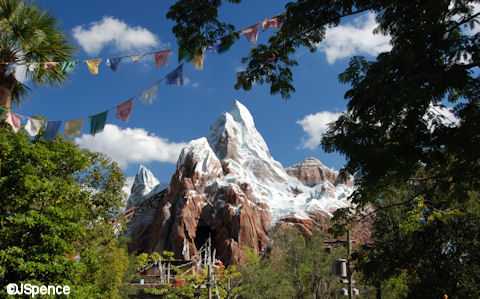 Common Bonds 3
Signal
Pluto's Palace
Rotating globe
There are several traffic signals along Hollywood Boulevard at Disney's Hollywood Studios. Pluto's Palace is one of the shops found on this thoroughfare. A rotating globe can be found atop the Crossroads building at the end of the street.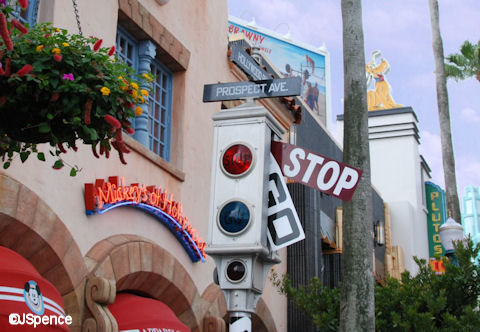 Common Bonds 4
Hot air balloon
Ms. Liberty
Banana cream pie
A hot air balloon can be seen high above the Muppet*Vision 3D attraction at Disney's Hollywood Studios. Out front is a fountain with Miss Piggy playing the part of Ms. Liberty. And during the show, Fozzie Bear tries to throw a cream pie into the audience.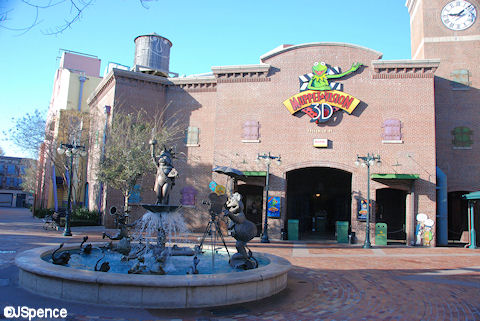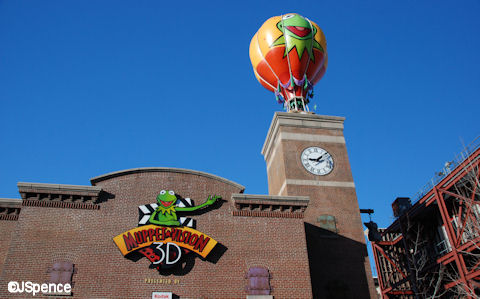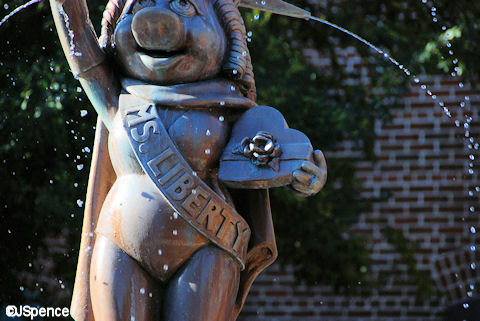 Common Bonds 5
Crawdad Shoals
Grinding Corn
Beacon Joe
Crawdad Shoals is one of the markers along Rivers of America in the Magic Kingdom. Along the shores we can see a Native America woman grinding corn and Beacon Joe smoking a pipe.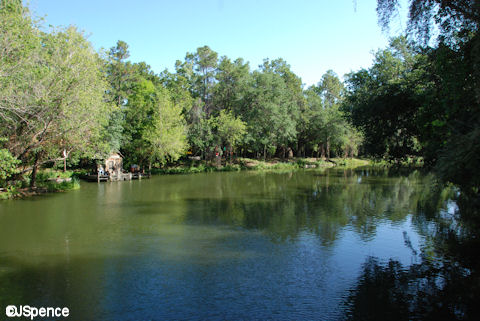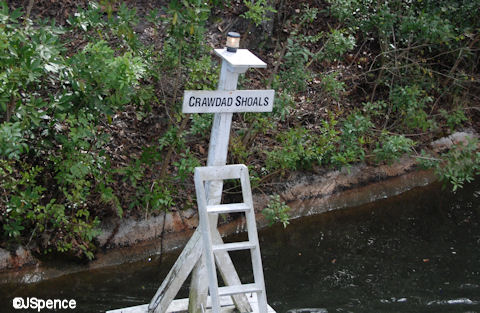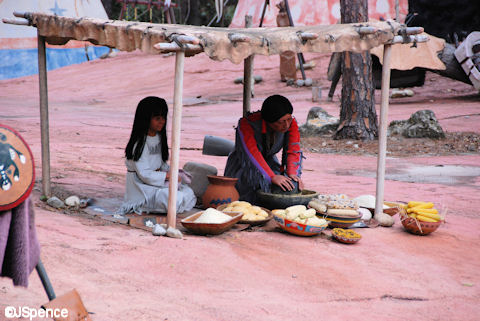 Common Bonds 6
John Michael Higgins
Heat Chamber
Thermal Imaging
John Michael Higgins is the actor who portrays the part of the Test Coordinator on the old Test Track attraction at Epcot. During the course of the ride we enter a Heat Chamber and undergo Thermal Imaging.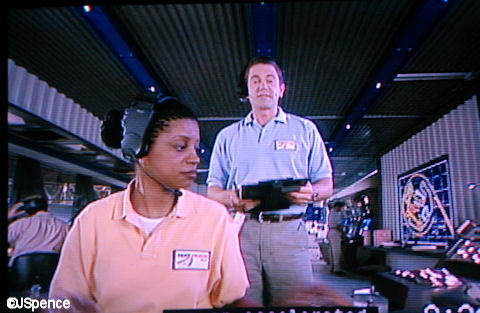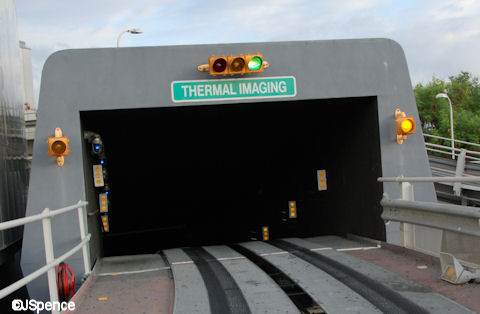 Common Bonds 7
Castle
Candy maker
Drums
The castle at the Japan Pavilion at Epcot is modeled after the Himeji Castle. The Matsuriza drumming group performs at the base of the pagoda several times each day. And Miyuki amazes audiences as she takes heated rice dough and transforms this putty-like substance into amazing creatures. Flamingos, dragons, flowers, scorpions, and more come to life before your eyes.
To see my blog about the Japan Pavilion, click here.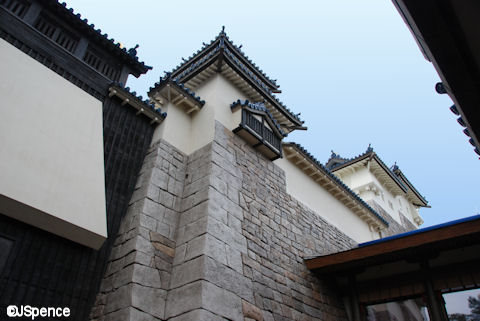 Common Bonds 8
Dragon
Fishing
Hiking
Camp Minnie-Mickey at the Animal Kingdom was a placeholder until Beastly Kingdom could be built. This land was to be the home of mythical creatures. An indication of this future land can be seen from the bridge leading into Camp Minnie-Mickey. Along the banks of Discovery River is a stone dragon. Further along we see Daisy, Huey, Dewey, and Louis hiking along a wilderness trail. And later we discover Mickey and Goofy fishing as Pluto keeps a watchful eye.
Common Bonds 9
Termite mound
Suspension bridge
Stone turtle
Along the Pangani Forest Exploration Trail in the Animal Kingdom we encounter a decaying termite mound. To enter the gorilla habitat, we cross a suspension bridge. To exit this area we walk beneath a rock formation that resembles a turtle.
To read my Pangani Forest Exploration Trail blog, click here.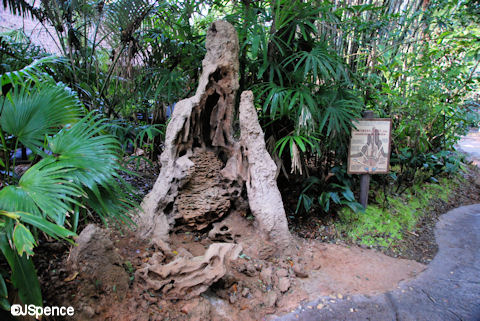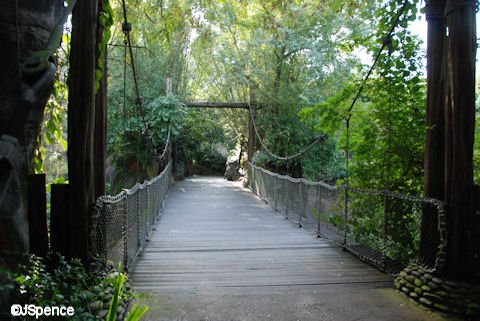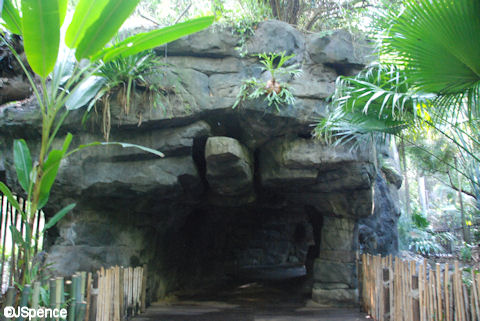 Common Bonds 10
Grumman Gulfstream
Oil pump
PT boat
On the Studio Backlot Tour at Disney's Hollywood Studios we see Walt's private airplane. Dubbed "The Mouse," this Grumman Gulfstream flew Walt over the Florida property during the purchasing phase of "Project X." At Catastrophe Canyon we see an oil pump. In another part of the tour we see a naval war battle in which a PT boat is torpedoed.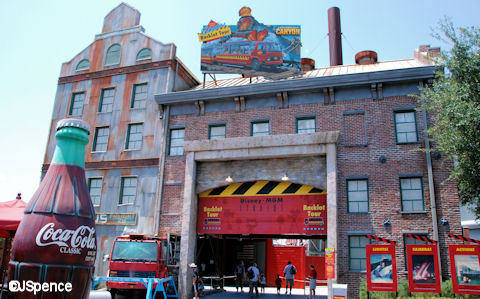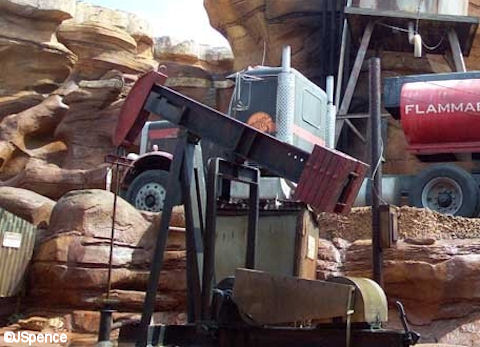 Common Bonds 11
Vegetable garden
Bees and hives
Undertakers
When riding Splash Mountain at the Magic Kingdom, we pass by a vegetable garden planted by one of the critters. When searching for Brer Rabbit's laughing place, Brer Fox and Brer Bear encounter a number of bees. And just before ascending Chickapin Hill, two vulture undertakers warn us of impending doom.
To see my blog about Splash Mountain, click here.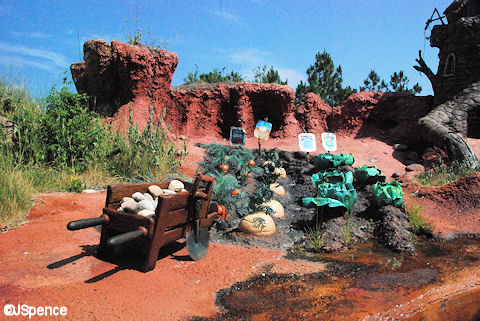 Common Bonds 12
Tile mosaic
Timon and Pumbaa
Hot air balloons
Flanking both sides of The Land Pavilion entrance at Epcot are two tile murals. These murals are mirror images to one another with the exception of one tile. Within the lobby of this pavilion are five hot air balloons. Timon and Pumbaa host an attraction here titled "Circle of Life – An Environmental Fable.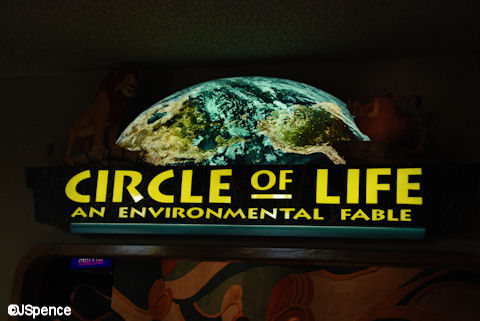 Common Bonds 13
Winged lion
Donkey
Masks
The entrance to the Italy Pavilion at Epcot is marked by two massive columns. Atop one is a winged lion. Another sight found here is a donkey pulling a cart. And in the La Gemma Elegante shop you can find a large selection of Venetian masks.
To read my blog about the Italy Pavilion, click here.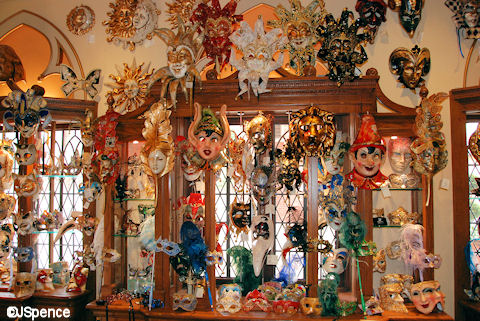 Common Bonds 14
Water tower
Airstream
Quonset hut
Out front of Restaurantosaurus at the Animal Kingdom is a water tower. Two of the dining rooms of this eatery are located inside an Airstream trailer and a Quonset hut.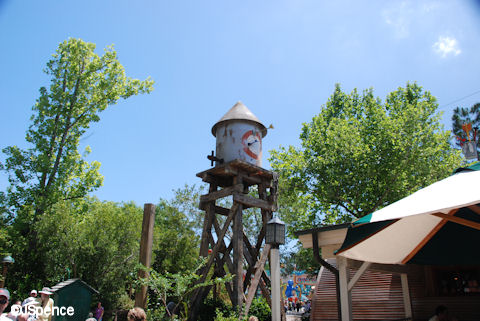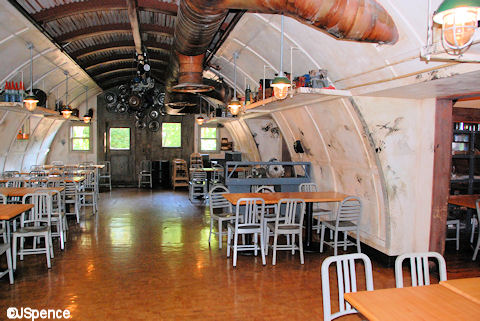 Common Bonds 15
Agrabah
London
Africa
These locations are three of the places Donald Duck visits while under the spell of Mickey's sorcerer's hat at Mickey's PhilharMagic in the Magic Kingdom.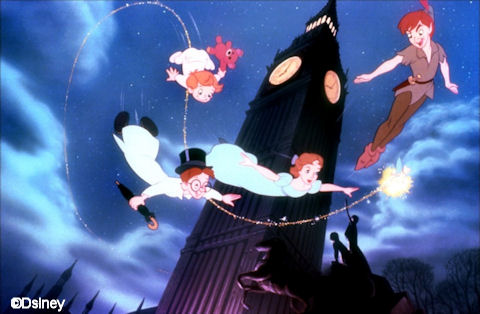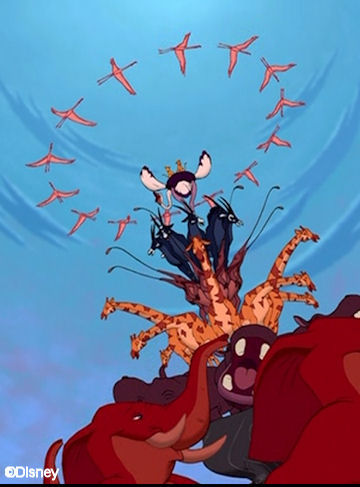 Common Bonds 16
Wallace Beery & Marie Dressler
Charles Foster Kane, Xanadu Compound
DROP ANCHOR FOR A SNACK
"Min & Bill" was a hit MGM movie that starred Wallace Beery & Marie Dressler. Min & Bill's Dockside Diner at Disney's Hollywood Studios recreates the waterfront theme of this movie. There are a number of crates waiting to be loaded onto the ship. One of them is addressed to Charles Foster Kane (from the movie Citizen Kane). On the side of the ship are the words, "DROP ANCHOR FOR A SNACK."
To read more about this spot, click here.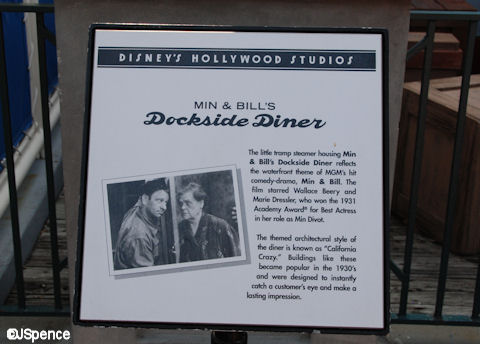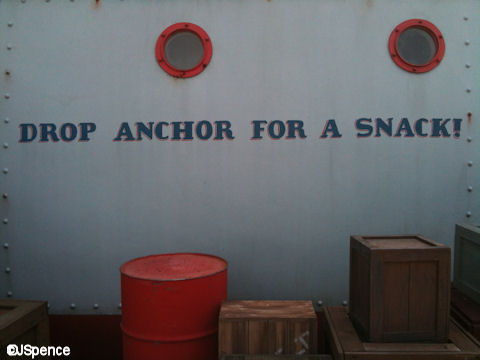 Common Bonds 17
20,000 Leagues Under the Sea
Figureheads
Model Ships
On the second floor of the Columbia Harbour House at the Magic Kingdom, is a picture of San Francisco in 1866. This matt painting was taken directly from the Disney movie, "20,000 Leagues Under the Sea." Throughout the restaurant are a number of ship figureheads and model ships.
To read my blog about the Columbia Harbour House, click here.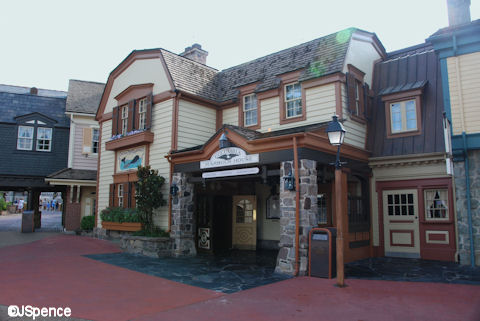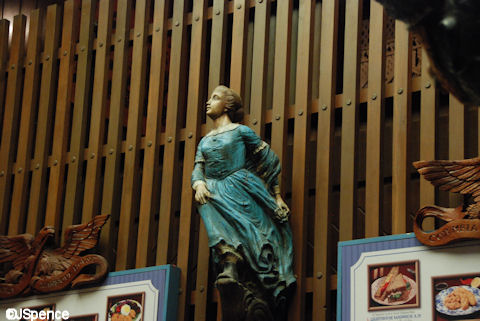 Common Bonds 18
Lifeguard shack
Bruce
Mine! Mine! Mine!
Out front of the attraction The Seas with Nemo and Friends at Epcot we see three seagulls squawking "Mine! Mine! Mine!" In the queue we discover a lifeguard shack with the sounds of the pounding surf in the background. And inside the pavilion we find everyone's favorite shark, Bruce.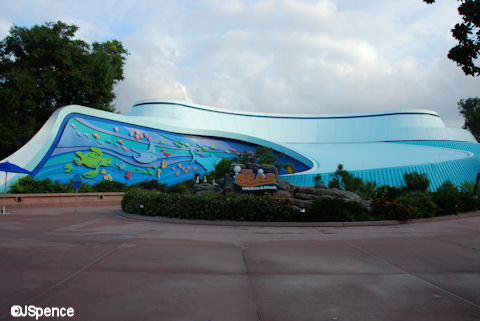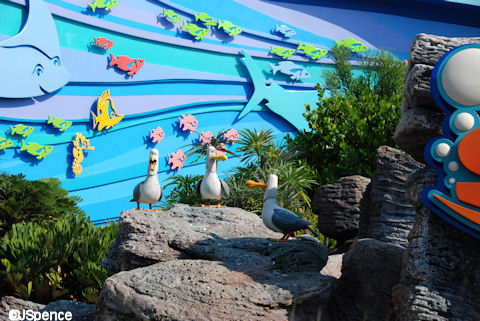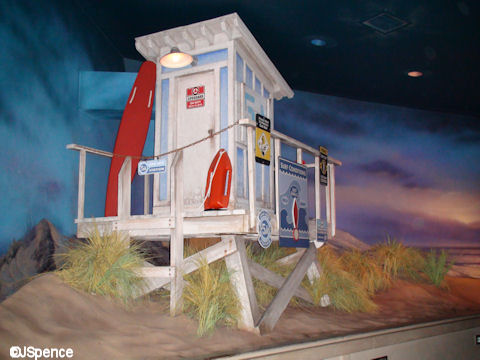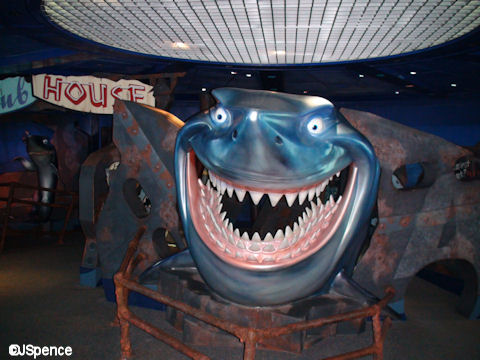 Common Bonds 19
MRS. WITHERSPOON (BEFORE THE INCIDENT)
TINKERBELLS PRISON
GEPPETTO'S CANDLE FOUND IN MONSTRO
In the waiting room just outside the Voyage of the Little Mermaid at Disney's Hollywood Studios are a number of off-the-wall artifacts. I've only listed three here, but there are many more. I strongly suggest you explore this area thoroughly the next time you're waiting to see this show.
Common Bonds 20
Dragon
Sarcophagus
Birdhouses
The first animal you encounter on the Maharajah Jungle Trek at the Animal Kingdom is the Komodo dragon. Later you encounter a sarcophagus containing the remains of Ananta, the founder of the Kingdom of Anandapur. In the aviary we discover a number of elaborate birdcages.
To read my blog about the Maharajah Jungle Trek, click here.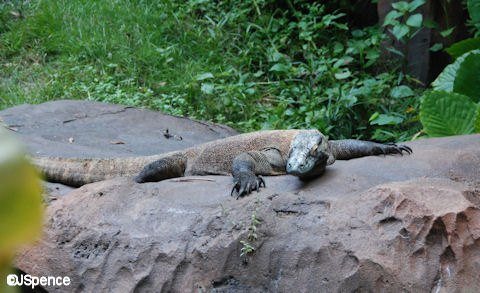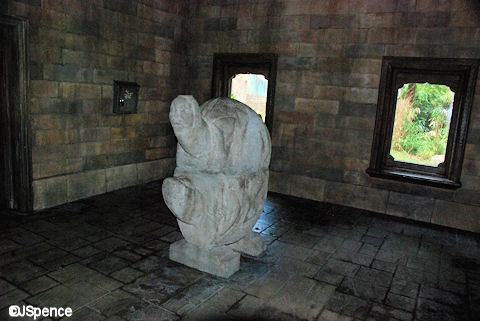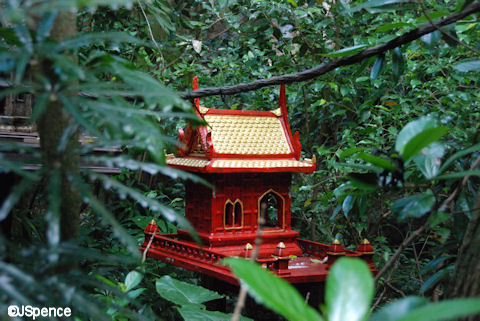 Common Bonds 21
Upside-down Room
Camouflage Room
Nocturnal Room
Each of the dining rooms at Pizzafari at the Animal Kingdom is themed for a particular group of animals. For example, the Upside-down Room is filled with humorous paintings of animals that live the majority of their lives hanging from tree limbs or other objects. The Camouflage Room depicts animals that use their coats to blend into the environment. And the Nocturnal Room showcases animals that sleep by day and hunt by night.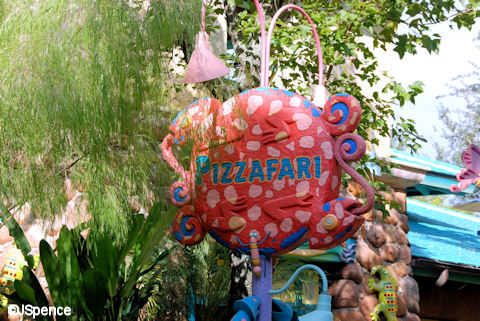 Common Bonds 22
Canoes
Chevrolet Woody
Wood carver
At the "African" Outpost at Epcot, we find three canoes berthed on the beach. Nearby, a vintage Chevrolet Woody is loaded with Coca-Cola, ready to make deliveries. And master carver Andrew Mutiso transforms wood and soapstone into beautiful works of art.
To see my blog about the Outpost, click here.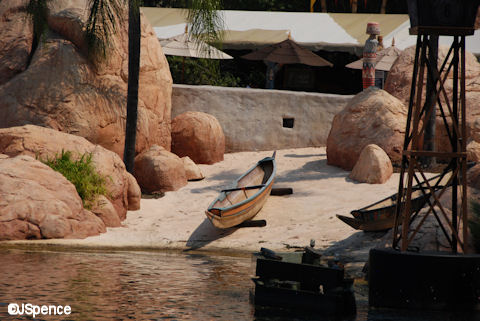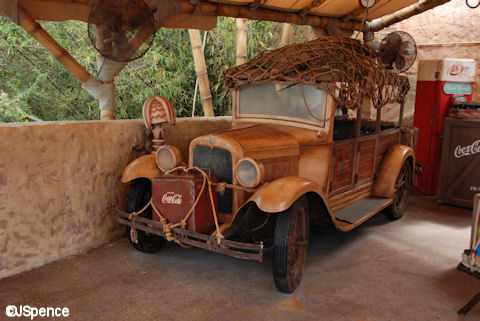 Common Bonds 23
Don Quixote & Sancho Panza
Hippopotamus
Ferris Wheel
All three of these diverse sights can be found on "it's a small world" in the Magic Kingdom.
To read the feature article I wrote about this attraction, click here.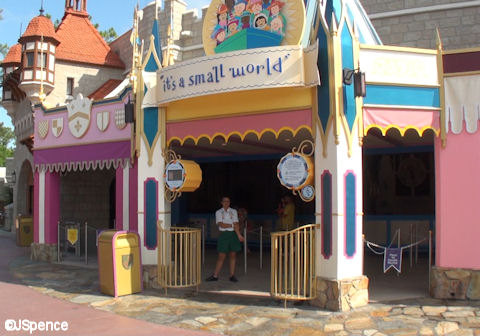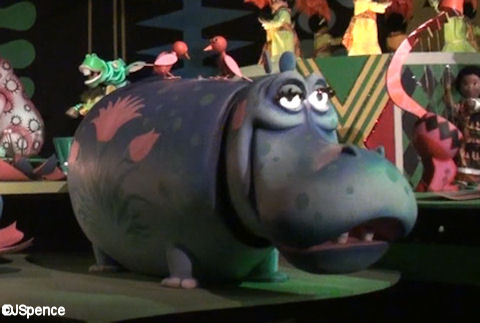 Common Bonds 24
Victory with Vegetables
Rosie the Riveter
Anaheim Produce
At the Sunset Ranch Market at Disney's Hollywood Studios we find a victory garden next to Catalina Eddie's. A nearby restaurant pays homage to Rosie the Riveter with Rosie's All American Café. And fruits and other assorted snacks can be purchased at Anaheim Produce.
To see the piece I wrote about the Sunset Ranch Market, click here.
Common Bonds 25
Boulangerie de L'ami
Café Olé
Produits de la Mer
If you guessed the France Pavilion at Epcot, you're not even in the right park. These names all refer to facades and props used in the Lights, Motors, Action! – Extreme Stunt Show at Disney's Hollywood Studios.