Before I jump into what's new, those of you just joining us can catch up here. Newbie and the Geek Take Walt Disney World
During one of our earlier phone calls, Yoli mentioned using a travel agency to book her flights to and from Orlando. As if! Please, I knew that would never happen because I can't sit still long enough to let someone else do the research. Just ask my high school reunion committee who have dubbed me Super Sleuth because I found a whole bunch of classmates, and it wasn't easy. Fast forward to a phone call in early September. I called Yoli to go over airfare I had found given that she wanted to fly in and out of the same airport (such a diva) and, AND!, limit her airport choices from 5 (LAX, SNA, BUR, LGB, and ONT) to 3 (Los Angeles, Santa Ana, and Ontario).
While my pal lounged in the shade by the pool while being fanned and fed grapes by two gladiator-like studs (scratched record sound). Wait, this is Yoli we're talking about, right? They fed her popcorn, not fruit. Also, she might have been sitting at her fluorescent-lit desk at work. It's alright, I called when she was just going off the clock. While my pal half-listened, I pummeled my way through nearly every airline's website plus Kayak looking for flights that landed in and took off from MCO around the same time as mine. The other contingents were price, route, layover locations for time and ease of reaching the next gate. Many, many, many screens and options led me to twist Yoli's long-distance arm into breaking her rules and finding a price she liked ($291.00), routes I approved (Phoenix & Charlotte), and layovers that are liveable (90 minutes & 73 minutes). She'll land about 2 hours before me and go home an hour after me. Oh, and she's flying out of one airport and landing at another. Tee hee hee. Thanks, US Airways.
With that giant task out of the way, I could go back to training her and asking millions of questions. I swore I had ordered a free Disney Parks Vacation Planning DVD for her months and months ago but she didn't receive anything. Back to the website, this time I had it shipped to my house so I could see exactly what she would see ahead of time. I swear this is the only type of micro-managing I've ever done. It's really not my style. Well, I watched said DVD and as a regular visitor I thought they could have done better including eliminating very old footage of entertainment at World Showcase.
Yoli's birthday was last month. A portion of her 7-day Magic Your Way We Don't Have to Park Hop ticket is her birthday present. Another portion is her Christmas present. The rest she paid me back for. When I'm wealthy, I can do more. Since we have this ginormous trip ahead of us, I couldn't send her just a birthday card. She also got the book Walt Disney World Little Known Facts About Well Known Places. She loves it. She also has the Disneyland edition. I want the Disneyland edition. (pouty face).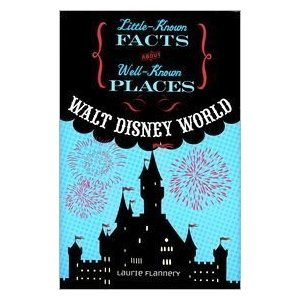 Wouldn't you know it, just a few minutes after I came home from mailing her present, the mailman delivered the vacation planning DVD from Disney. I laughed then I watched it. The following weekend it made it's way to the post office and eventually into Yoli's hands. I have no idea if she's even watched it yet. Yoli, are you doing your homework?!?!?!?
The other pieces of this planning puzzle are hotel reservations, finding a good deal on a rental car, a few more ADRs, secretly planning surprises, and coordinating with friends. I jumped in head first to find us a place to stay near the airport on the night we arrive. Whoa. What? You're staying off-site the first night? Yep. Are you insane? In this situation, no. Hear me out before you throw me into Yzma's laboratory and shove potions down my throat.
Yoli lands around 10 PM. I land around 12 PM. If we were to stay on-site, we'd arrive close to 1:30 AM after collecting luggage and the rental car. It'll be pitch black out and my Californian amiga would be deprived of that fantastical rush we all get when we see and drive under or past the giant purple signs with Mickey and friends welcoming us. I've got to do this trip right by my friend. I can hear you all agreeing with me. Yes, Sheryl S. in New York, it would suck if she missed out on that experience. Thank you for understanding.
Many, many, many days and hotel website comparisons later, we have, fingers crossed, a decent room booked a short drive from the airport. We'll be able to get a good night's rest (given we can actually calm down) and be ready for our magical adventure to commence.
As for the rest of our stay, we are officially booked onsite and it came as a not-as-easy-as-it-should-have-been task. Like many of you, I was going loca waiting for Disney to announce discounted resort rates for January. After studying historical discount release dates on Mousesavers.com, my best guess was early October for the news. I was right! On October 4th, the first set of deals was released for Disney VISA cardholders. The weird part is my happy anxiousness vanished and I wrote to my pal John Ames from MouseFanTravel. He got me some numbers which seemed a bit off to me. John planned on calling Disney back in the morning to check things out further. Call it a Gibbs-esque gut feeling, I HAD to call Disney and find out immediately. Also, I'm just really nudgy sometimes.
I talked to a very nice Cast Member originally from Santa Barbara, CA now living in central FL. She came up with the exact same prices as John but (and here's where the course changed) she said my hotel was only 5% off. I read the ad to her but she very nicely repeated the discount. Reservation agents can't receive e-mail but they can go on the Internet. Luckily, she obliged my request and I read her the advertisement's URL letter by letter, slash by slash, and underscore by underscore until it popped up on her monitor. She began reading it aloud and when she got to my resort said, "Uh oh." Immediately, she asked to put me on hold and spoke with her supervisor. When she came back she had good news, they were going to take care of me but had to book the reservation now. It took longer than usual because to get the deal meant booking us at a different resort at the proper discount and then having another reservations location "upgrade" us to the right hotel so the discount stuck. Phew!
But what about John?! I asked if he could be credited and the Cast Member said no so I tried calling him but he couldn't pick up. If this situation happens to you, let your travel agent know you booked your resort or package but want him/her to still handle it for you. They'll have you sign a consent form that literally allows them to take over your reservation. This way the agent gets his/her commission and if you run into any problems while on vacation, he/she will handle them for you as well as special requests.

If your travel agent doesn't answer his/her phone, there's probably a good reason.
As for Advance Dining Reservations, I have made only 2 so far. Parks aren't crowded in January and I don't foresee long waits for walk-ups. It would be nice too if Yoli saw a restaurant that interested her. My friend is a picky eater, like a kid, so sometimes I send her menus to read and sometimes I ask sneaky questions. Here's the perfect example, I asked Yoli if she eats sushi or fish sticks. She said she eats fish sticks. Well, there really aren't any fish stick meals in the parks per se but (who knows where I'm heading with this?) Yorkshire County Fish Shop in the United Kingdom pavilion serves fish and chips. Ha! It's a small step out of her kiddie meal box. Heck, we can split the order, walk it off and then try pastries in France. I'll just tell her they sell fancy cookies. She'll bite.
Have you visited my Facebook page?